Firstly, I would like to say straight away I have not been paid by NaturVits, nor have they approached me regarding reviewing their Omega-3 chewables. I am writing this article genuinely as the two loves in my life are travelling and health/fitness.
Whenever I go travelling, any work I have done in the gym goes straight out the window as I accept I will have to start from scratch once I return home. I always set out a plan of body weight exercises to do 4 times a week, however the moment I'm cycling down a mountain or standing on a beautiful beach, all those ideas of squats and press-ups seems to disappear from my mind.
Just the same with health, I try to carry on eating healthily when abroad, however it isn't always easy to eat protein while on the go. I can't throw a chicken in the oven every time I'm peckish or nibble on some cottage cheese. I do however manage to find a way of getting around all these obstacles to eat relatively healthy and maintain as much muscle and shape as I can.
The one area which always slips me by is getting Omega-3 into my diet while travelling. I am definitely not a fan of oily fish, while childhood food poisoning experiences has always left me a bit dubious with eating seafood while abroad. Drinking cod liver oil is literally my worst nightmare, while I can't swallow capsules. Altogether, I'm stuffed!
However, the other day I came across NaturVits Omega-3 with Vitamin D3 chewables. This got past the issue of getting the thing down my throat (seriously, I'm really bad with swallowing pills). However, anyone who has had cod liver oil through childhood will remember that fishy after taste and that grimy moment when you burp and smell fish guts. NaturVits chewables come as orange & lemon flavoured, while they actually taste pretty good.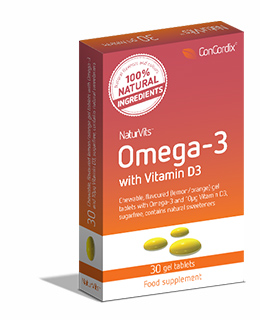 This was accomplished a long time ago with vitamin tablets, making it easier to tempt children to get their vitamins into their diet, however it seemed like a never-ending story waiting for an equivalent with Omega 3.
I can now proudly say I will be buying these in bulk before I jump on a plane again. Tinned sardines and flax seed oil will keep me going while I'm at home, however these will be the perfect supplement for my upcoming trip to Asia. They come as a pack of 30 gel tablets, to be eaten once a day, while they don't take up much room at all, making this an easy one to squeeze into the bag.
Some of your extra stats for each gel tablet, to anyone who wants to know…
600mg fish oil (340mg containing omega 3 fatty acids)
Vitamin D3 cholecalciferol – 200% of your recommended daily allowance.
My final note would be that all supplements should be used to support a healthy balanced diet, not as a replacement for food. Make sure you eat healthily and exercise when you can. I'm always happy to offer advice in regards to building out a full workout plan for travelling.