I moved to Brighton around 12 years ago for University and have been on a scary amount of pub crawls, however it is fair to say the bar scene has certainly changed since when I moved down here. However I realised people were still relying on me to detail where they should go when visiting Brighton, so I thought why not write up a detailed pub crawl exploring the best this city has to offer. I might make further crawls based on student budgets or focused on certain drinks (e.g. G&T or craft beer tour of Brighton) however this will be the generic dream pub crawl of Brighton for anyone visiting.
The World's End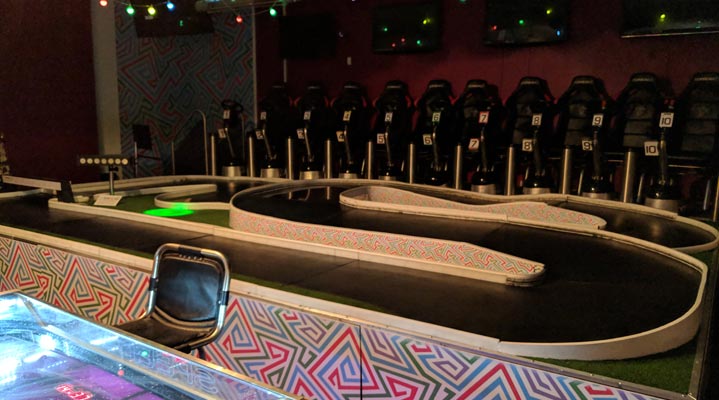 This is our starting point, based around a 15 minute walk from Brighton station (walk down Trafalgar Street to get to London Road. The bar has a VR gameset at the back, while it also has a huge selection of craft beers. In fact, they offer 50 different craft beers!
As you walk up the stairs, there is an entire arcade hidden away! My favourite is the giant 10 player racing experience, which is a great group game (costing £3 per person). Beyond this, there are a number of retro games, such as Tekken, Time Crisis and Speed Ball.
If that wasn't all enough, they also have an immersive escape rooms called Lady Chastity's Reserve.
The Hob Goblin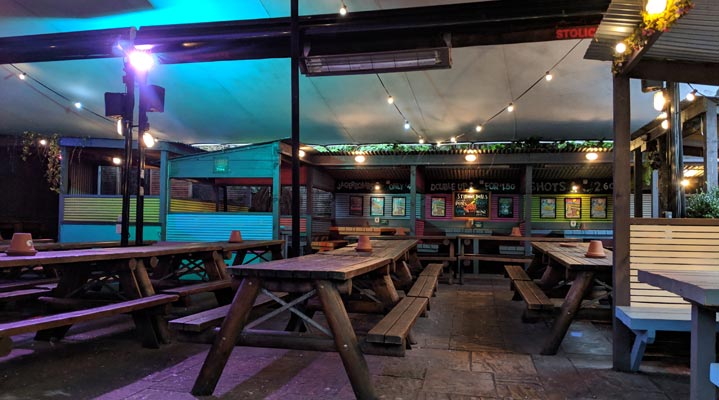 Some of the most bizarre graffiti you will find in this street art filled city, the Hob Goblin has a huge beer garden, perfect for summer crawls. This is actually a second pub which has an escape rooms, something of a trend in this city.
Following all the bizarre experiences in The World's End, this one is a little calmer, but it's a great place for big groups, while it also has a photobox where you can get some funny snaps (plus they play them on a loop on the TV screens).
Shuffle Bar & Kitchen (if in the evening)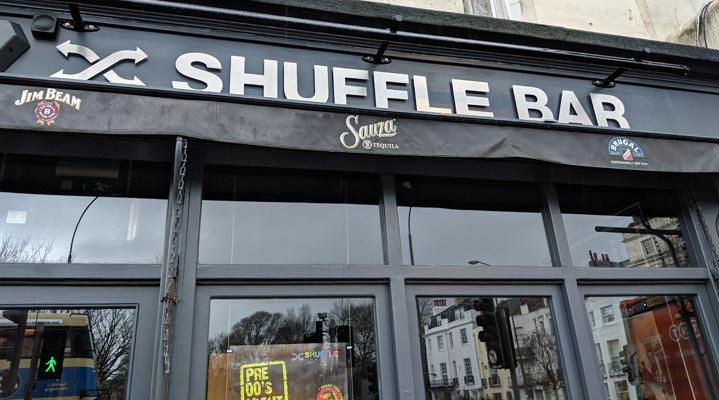 Just another cocktail bar? Far from it. As the name might suggest, the music played is completely chosen by the people visiting. The bar's jukebox is accessible by your phone, so you can pick the tunes that will play while you're there (or the table next to you will).
Only issue is this one only matches the evening pub crawls, as it opens at 5pm, therefore if you're doing a Saturday afternoon pub crawl then you might want to skip this and head straight on.
Meatliquor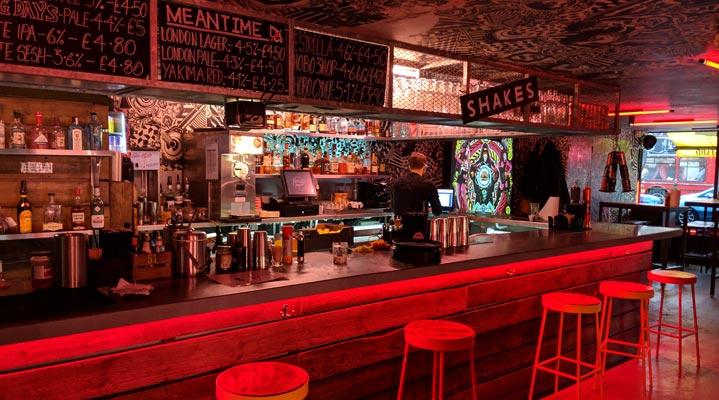 Drink good, meat gooood, what's not to like? This psychedelic themed bar is a great place to stop for lunch, although get ready for a hard drink!
This is a common favourite for Brighton locals who enjoy a guilty treat, with food coated in cheese! But the reason it has made the list on a pub crawl of Brighton is because of its dangerous mix GameOver, which you can only get a maximum of 2pp. Packed with vodka, gin, rum, tequila, triple sec, pisang ambon, absinthe (oh yeah baby), fresh lemon juice and red bull tropical. Now that's an extreme version of a Long Island Iced Tea!
North Laine Brewhouse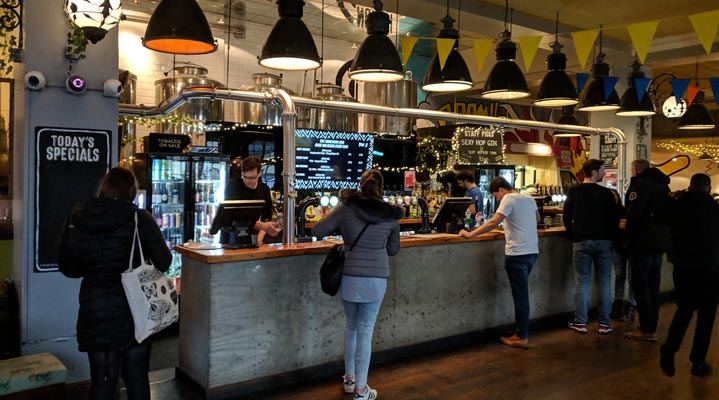 This pub has its very own brewery and there is a fair chance you already would have had a craft beer from there in your life, especially having come from The World's End. While this is the biggest appeal of the pub, it also has table tennis at the back and some great lunch time options.
This pub is also the entry to the North Laine's, while I'm considering writing up a separate blog post on a pub crawl of the North Laine's, as there are about 5 or 6 you could visit here, but I've left them off as they aren't necessarily the most exciting the city has to offer.
The King & Queen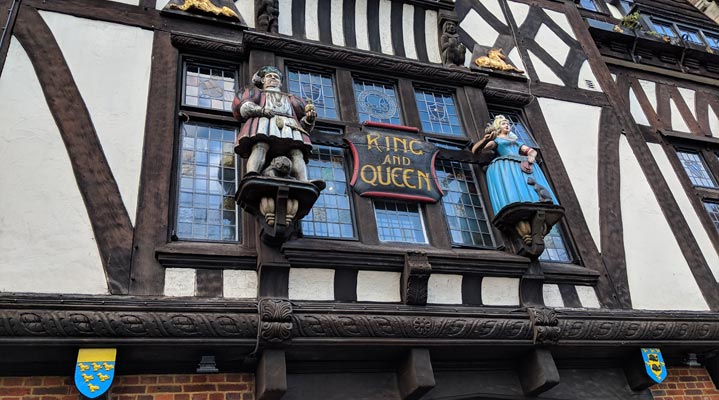 This is considered to be the best pub in Brighton for watching sport, however expect huge crowds. If you do go to watch the football, get there way before the match kicks off, as you will struggle to find a space. Odd fact for you, this is the home to one of the biggest Liverpool FC fan groups outside of Liverpool.
Outside of football, the bar has a pool table upstairs and can be pretty lively over the weekend.
Las Iguanas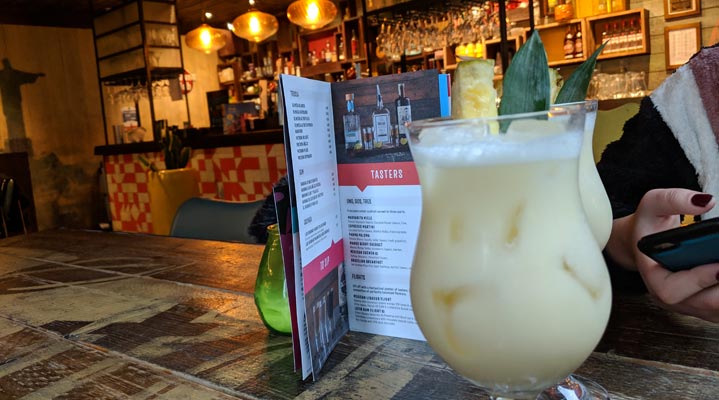 This is one of the only chains you will find on the list, but you know what you are getting and they do offer amazing service. The cocktails are buy one get one free any day of the week, plus in Brighton they make amazing pina coladas. If you fancy booking an activity in advance, you can arrange cocktail making here as well.
An added bonus is the area opposite is regularly converted into pop-up bars, so it is worth keeping an eye out to see if anything is going on.
The Hope & Ruin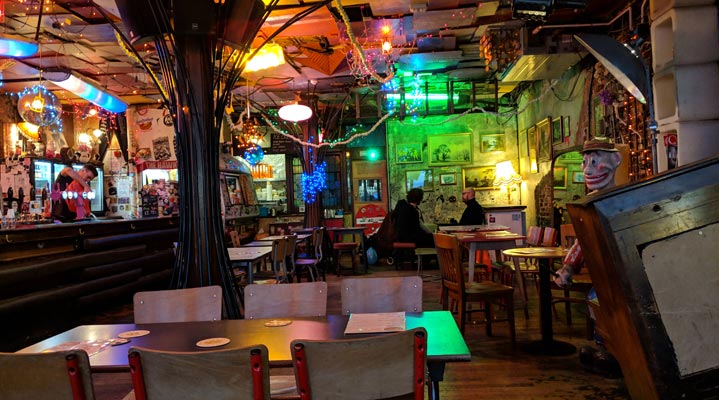 More commonly known as the Hope, this bar has easily one of the oddest décor's in Brighton, with a creepy clown as the stair banister and a caravan as the kitchen. A warning in advance, this bar gets very busy on weekends, so you might struggle for a table on a Friday night.
The Hope occasionally has live music upstairs or in the bar, while they also cater for vegan's if you have a fussy group.
Black Lion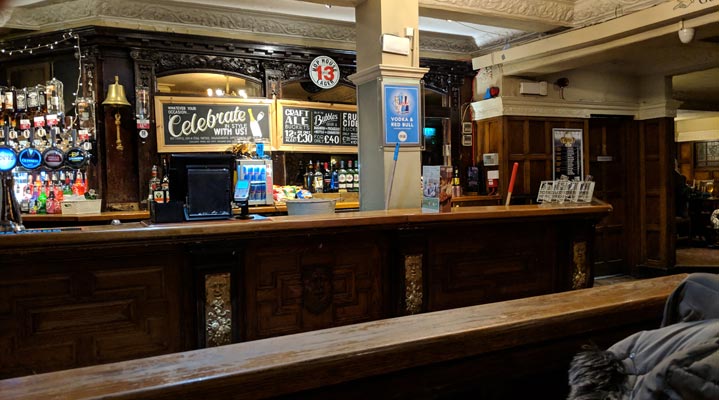 One of the most popular bars in Brighton and located next door to the traditional Cricketers pub, the Black Lion stays open till late and they have a dance floor, while often playing live bands. The garden area has plenty of table space, while its also a good place to escape to if the music is too loud.
The Mesmerist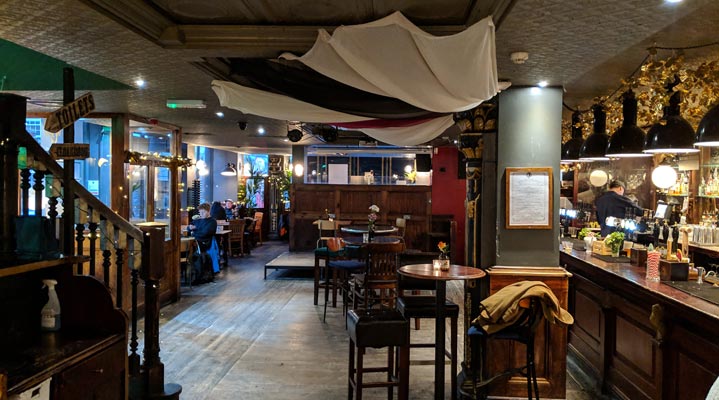 Make sure you look dapper when arriving, as the bouncers here are absolute a**h****s (seriously, the worst bouncers in Brighton). But this is a great place if you fancy a 1950's feel, with a live jazz band often playing some old school classics. The décor is luxurious, while the cocktails taste great and there is another photobooth if you fancy some random comedy shots of your group.