Having just returned from our week long trip to Corfu, I wanted to divulge some details around the hotel we stayed at, in case this might be of use for anyone else looking to book their stay at the Aeolos Beach Resort.
Our trip was booked via Jet2Holidays for the Aeolos Beach Resort, based on an all inclusive booking for 4 nights for the two of us.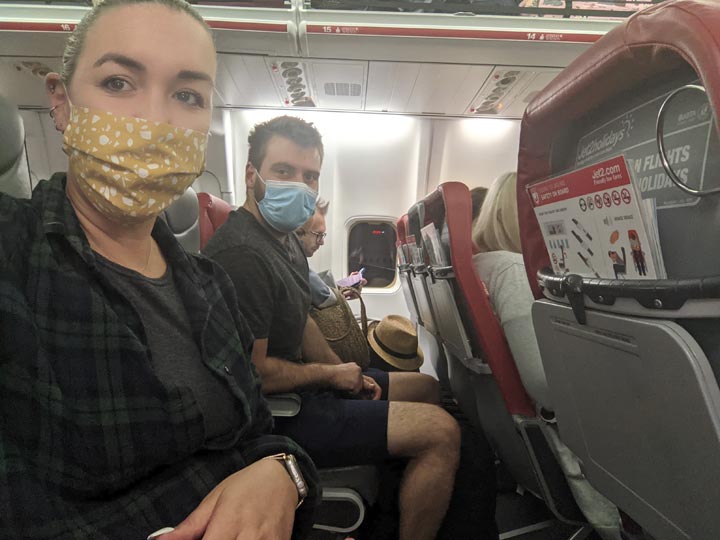 The best part about booking with Jet2Holidays is that everything was included, such as the flights, accommodation, transfers and being all inclusive, it meant we didn't have to worry about separately paying for food and drinks.
I don't often do package holidays, but I'm 100% converted!
What Was The Pool Like?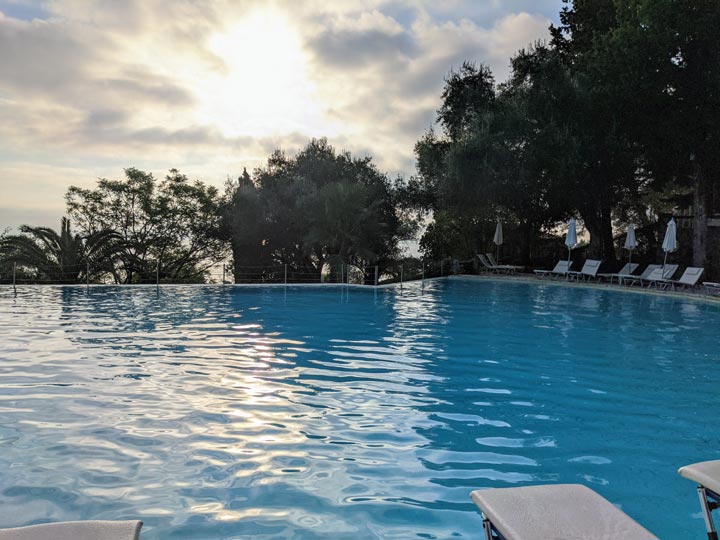 There were two swimming pools, the first one is the Lagoon pool and the other is the family pool.
The Lagoon pool is much larger, which is used throughout the imagery on their website, with plenty of sunbeds available meaning there wasn't that desperate rush to put your towel on one in the morning.
We actually spent most of our time near the family pool, as there was a bar right next to the pool, meaning you can quickly grab yourself a cappuccino, a cocktail or a glass of fizz.
They run a number of activities each day in or around the family pool, such as water polo, water exercise or a game similar to beer pong (where you won a bottle of sparkling wine).
The pools were kept perfectly clean and were the perfect cool down when facing the 31 degrees heat.
On day one, you swapped money at reception for towel card keys. You could then go to the bars and swap the cards for towels, then either swap them back for cards at the end of the day, or trade them in for clean towels if you prefer.
At the end of your holiday, you can swap the cards back for cash again. Each card key was 10 euro's.
What Restaurants Did They Have?
As you walk into the hotel, on the right hand side you will find the main restaurant, which is where you will eat most of your meals.
This is a buffet style restaurant, which was relatively large, ensuring you get a nice combination of options.
At breakfast time, they had a large section dedicated to the typical hotel fry-up ingredients, including scrambled eggs, fried eggs, beans, potatoes (chips and wedges), bacon, sausages etc.
There was a big bread section, including bagels and croissants, for any carby fans.
They also had a cereal section, where Raquel enjoyed the local version of Coco Pops. We didn't try any of the other cereals so I'm afraid we can't report back too much on this subject.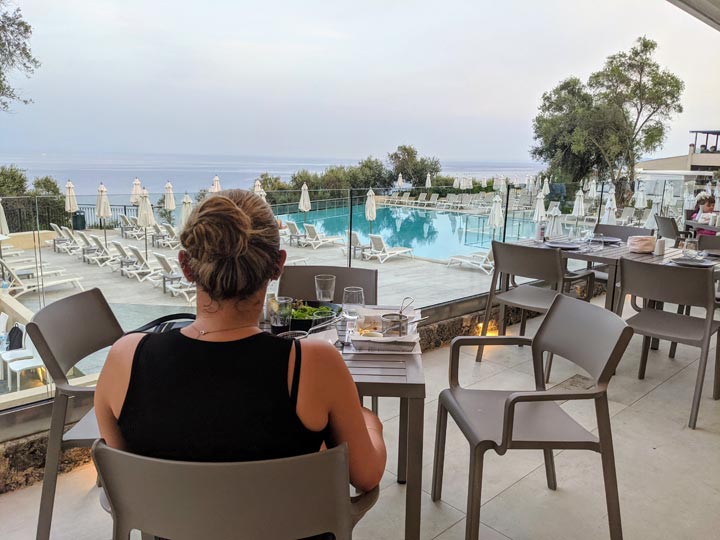 I'm a big fan of fruit and yogurt, so I was delighted to see a number of great options around this. They had watermelon, honeydew melon, fruit cocktail, tinned peaches, dried apricots, raisons, fresh apricots, almonds, walnuts, plus a few different yogurts.
One thing not many people noticed was a smoothie section, which I made the most of each day, with a chef making it fresh that morning in the blender.
For lunch, they had a number of popular food options, such as Bolognese, tortellini, ravioli, chips, lasagne etc.
They also had a salad section, with olives, cucumber, tomatoes, plus a range of different prepped salads available.
However, one important recommendation I would offer for any pizza or pasta fans would be to skip the main restaurant at lunch and to head down to the Beach Bar.
Follow the passage out the front of the hotel and follow the signs as you head under the road to the hotel beach section, where there is a bar and restaurant.
While this restaurant needs to be booked for the evening, you can go for lunch easily. Here they serve pizza, which tasted great, meaning we ended up eating lunch here virtually each day.
You can also get pasta, however you have to order the entire dish rather than it being a buffet style.
This is a great option if you plan on spending time on the beach soaking up the sun and swimming in the sea, or scuba diving and looking at all the fish up close.
Nearby the beach bar is the dessert section, a favourite place of mine! Here you can get ice creams, crepes, waffles or cakes. I enjoyed eating crepes with lemon and sugar, made in front of you to order.
I previously highlighted that the beach bar restaurant needs to be booked in advance, well you get one free dinner during your stay at both the Beach Bar restaurant and the Ionio restaurant.
The Beach restaurant provides you with a seafood heavy meal, with several starters provided before your main and dessert.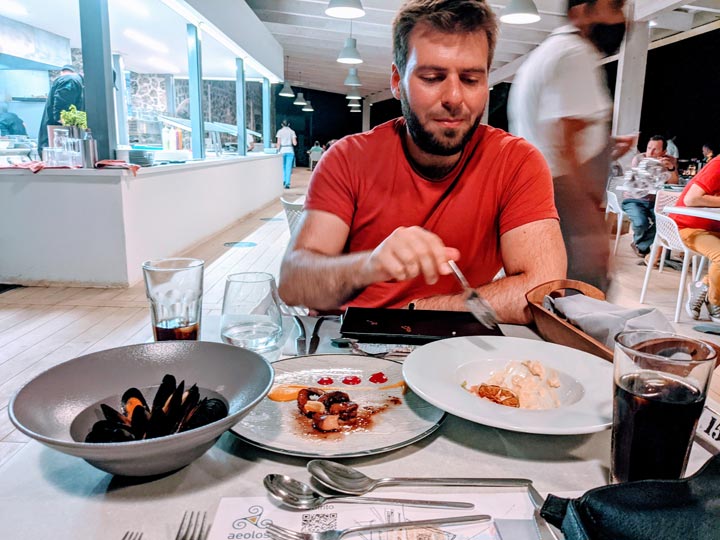 I'm not a big fan of seafood, however I was a huge fan of the Ionio restaurant dinner, my favourite food of the whole holiday.
They provided several starters, including Gyoza pita bread, a gorgeous feta cheese dish, a Greek salad and a pea soup with meatballs.
For the main, we both opted for a grilled burger, which might sound unadventurous, but it was really delicious. This was followed by a traditional Greek dessert, which was cream based with a hint of lime.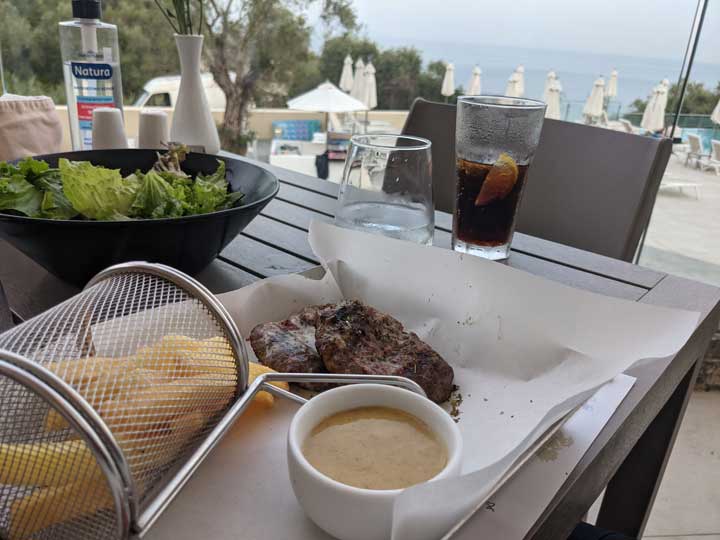 If you wanted to, there is a private table area which you can eat at on the beach, however there is just one table at the end of a line of candles and it has to be booked in advance.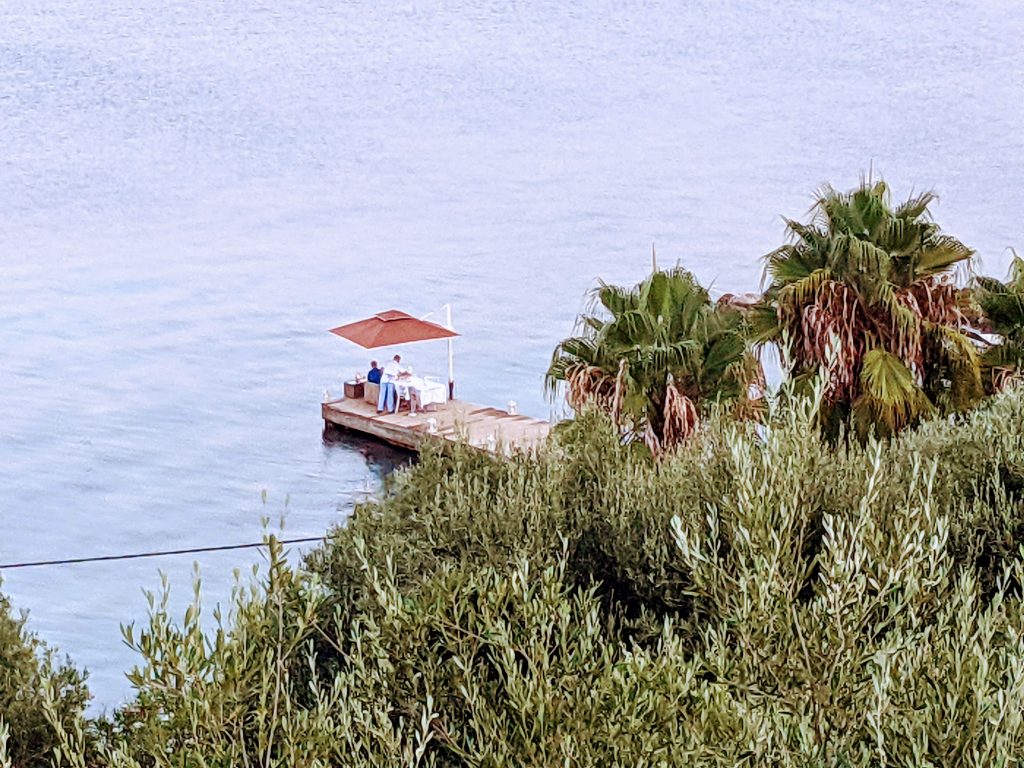 This is mainly for people proposing it seemed, costing £100pp, so not for your average holiday!
All Inclusive Drinks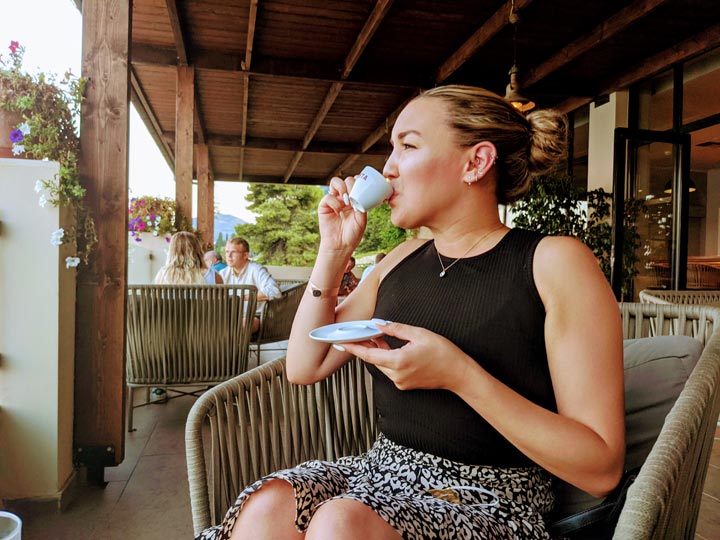 I'm sure a lot of people are like me and are instantly curious about what they will be drinking while on holiday, especially as this info is never published on hotel websites.
I therefore wanted to list the drinks you get included in the all-inclusive offerings, so you can start fantasising about sipping on a cocktail near the beach.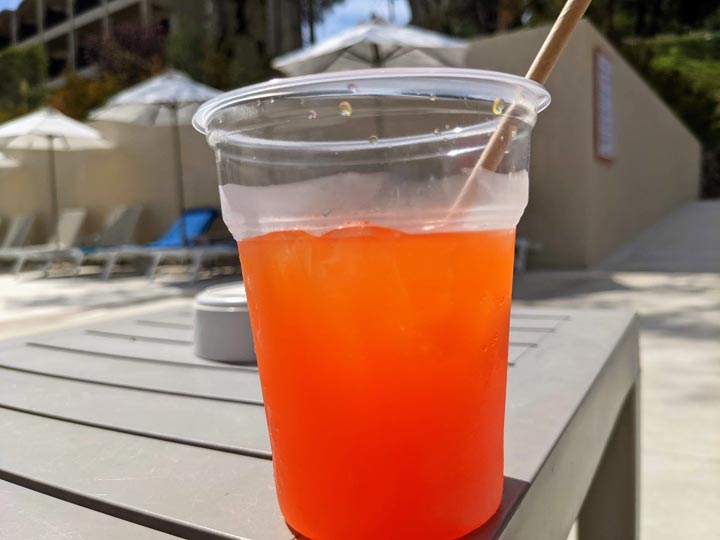 Cocktails
Aeolos Dream – vodka, koum quat, orange juice, grenadine
Tequila Sunrise – tequila, orange juice, grenadine
Pina Colada – rum, batida de coco, malibu, pineapple juice
Greek Kiss – ouzo, lemonade, grenadine
Sex On The Beach – vodka, peach schnapps, grenadine, orange juice
Americano – bitter, red vermouth, soda water
Whisky Julep – whisky, sugar syrup, angostura bitters
Frozen Mojito
Frozen Margarita
Frozen Vodka Watermelon
Drinks
Whisky
Vodka
Gin
Tequila
Rum
Ouzo
Liquors
Brandy
Beer
Wine
Soft Drinks
Coca cola
Coca cola zero
Sprite
Lemonade
Orangeade
Juices
Filter coffee
Espresso
Cappuccino
Instant coffee
Tea
Of the cocktails, the best tasting were Bramble and Sex On The Beach. If you want a cappuccino, most bars don't have the full facilities so they give you a basic coffee, but the bar near reception (open from 5pm) gives you a proper cappuccino, which tastes great.
Activities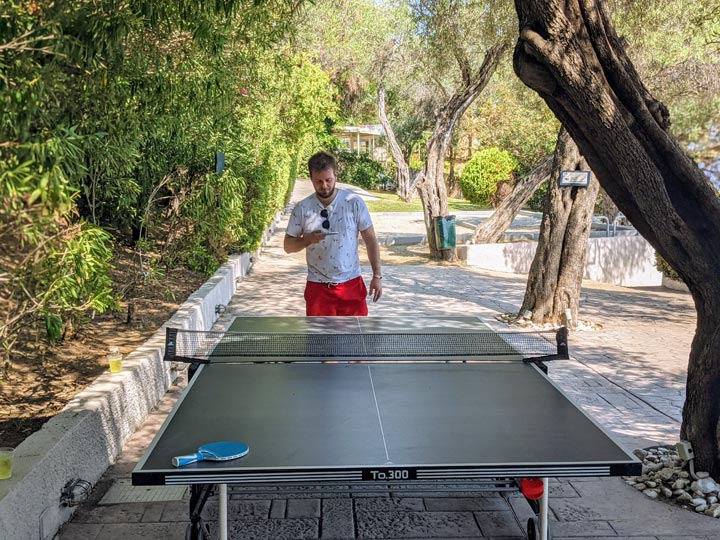 Down by the beach bar they have a table tennis table and two pool tables. Unfortunately, you had to pay to play pool, however you could play table tennis for free.
The table tennis balls and bats are behind the beach bar, so you just need to ask the staff to use them.
At the top of the hotel is the tennis courts. These are proper courts, so they're great for tennis fans, but the hill is quite a climb, so be prepared to be sweaty before even starting, count it as your warm up.
They also had an evening activity each night near the family pool. One night there was a magician, while the next they had local musicians perform.
The Room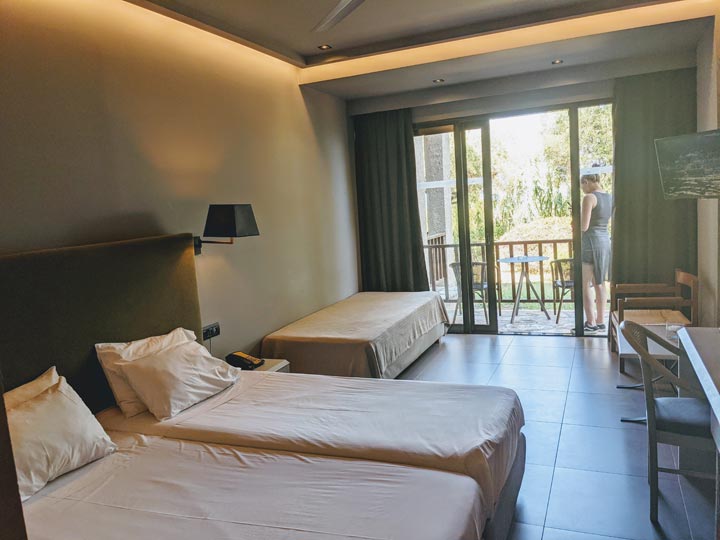 We ended up with twin beds, but we didn't feel the need to complain as they're pushed together and were fine. The room was a decent size, while there were also chairs on the porch in case we fancied a calm evening with some wine.
Our room was garden facing, but you can pay a bit extra to be able to see the sea or to be close to the pool if you prefer.
In the room, you get plenty of wardrobe space for hanging up clothes, a safe and a fridge, which contains a bottle of water.
The shower worked a charm, while they provided two bottles of shampoo, two bottles of shower gels, 2 bottles of conditioner and two bottles of body lotion per day.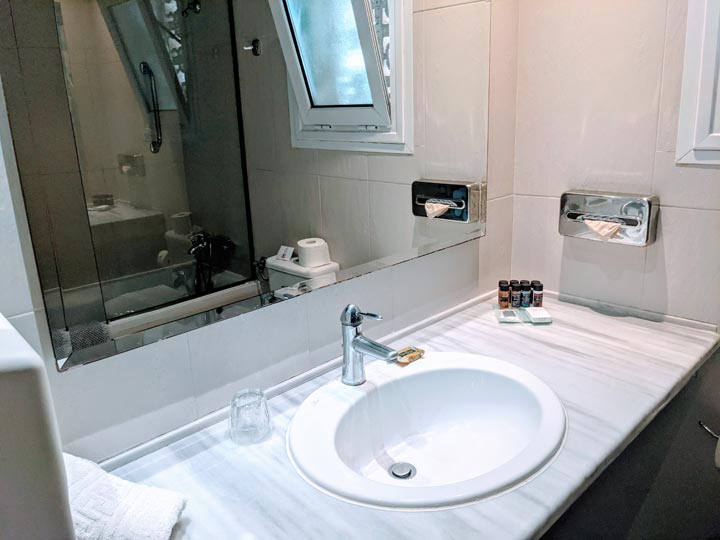 They also had a hair dryer attached to the wall, which was powerful, unlike some hotels we've stayed at.
There was a spare extra bed in the room, which was useful for holding all of our possessions and opening our bags onto.
The Location
The Aeolos Beach Resort is based in the middle of Corfu, below the town centre. On the transfer bus, we were 25 minutes from the airport, with us the first port of call before the other hotels either located on the North or South of the island.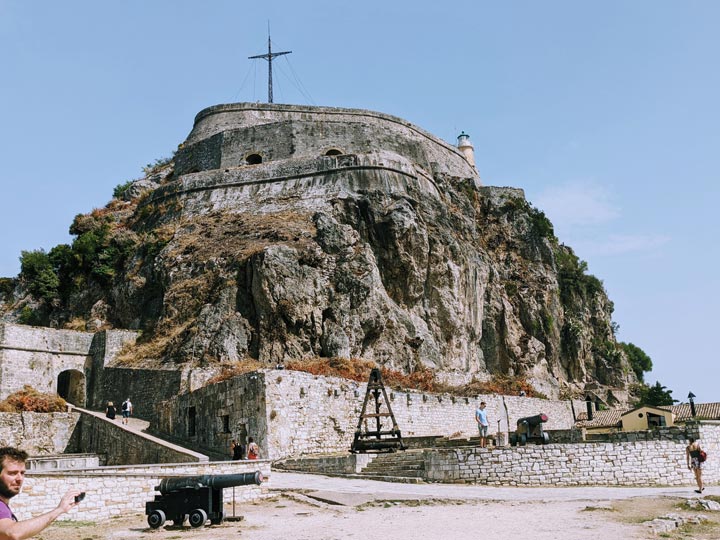 Taking a taxi to town was incredibly expensive, around 45 euro's, however there is a bus stop right outside the hotel that has the 6 bus take you directly to town. Just the same on the way back, it drops you right outside the hotel, so no need for expensive taxi fees.
Covid Protection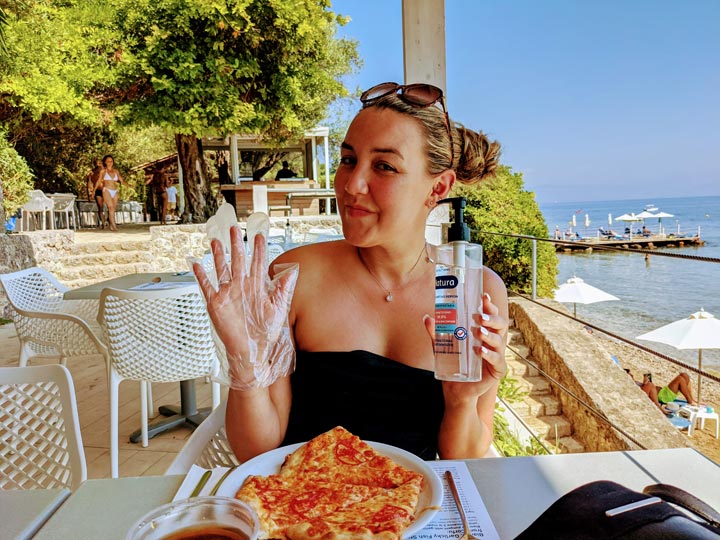 In the buffet restaurants, they had disposable plastic gloves setup so you can put them on and grab the handles without potentially spreading or getting Covid.
They also had a number of other rules in place. For example, you had to wear the face mask while inside the hotel, except for when drinking or eating, but outside or near the pool you didn't have to wear it.
If you need to get tested before returning home, they have a doctor that comes to the premises each day. You simply need to book it in advance, which can easily be done by email.
Getting Here
We flew to Corfu via London Stansted, which took around 3 hours. You can book your Jet2 flights from London Stansted easily online, while they fly from all over the UK.
As Gatwick is our conventional option, we have only been to Stansted once before, therefore we booked into a hotel for the night before, so we could catch an early flight and make the most of the day.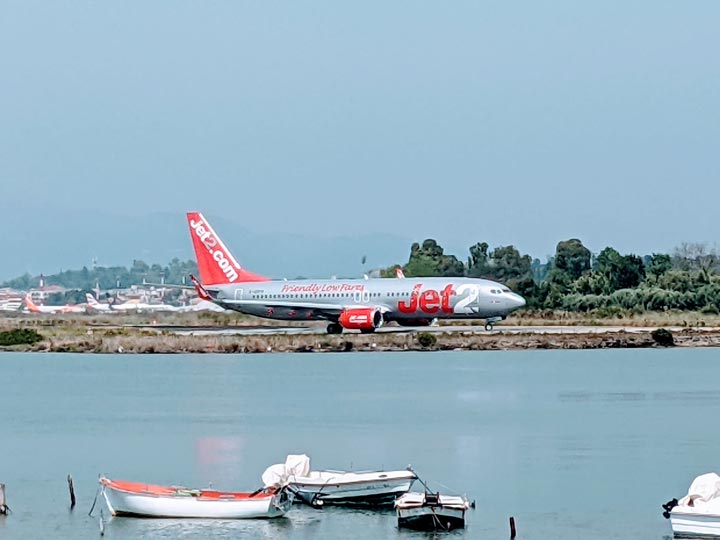 Looking at the comparison between trains and coaches, we opted for National Express, as the times were virtually the same, however the tickets were much cheaper and it was a direct coach, meaning we wouldn't have to keep changing like with the trains.
The seats were cosy, there was plenty of leg room and the coach driver was incredibly friendly. They offer coach trips from all over the UK, so this is certainly worth looking into if you're used to simply booking the train.