Finally, after all the lockdowns and getting our jabs, we got a holiday and we couldn't be more happy to say we went to the island of Corfu, which exceeded any of our expectations.
Booked up on a Jet2 flight to Corfu, we spent 5 days staying at the Aeolos Beach Hotel Resort, just south of the airport.
We tried our best to tick off as many things to do, despite being in an all inclusive resort which leaves you not wanting to leave the pool (or the bar), but we found some absolute gems along the way.
We've listed our favourite things to do in Corfu, in order of what we feel you'll enjoy the most.
1) Aqualand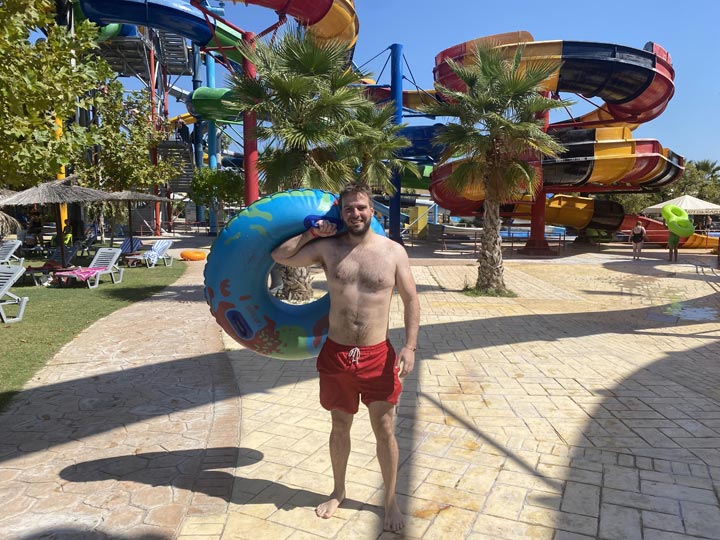 We are slightly hooked to water parks and this was easily one of the best we've ever been to. Aqualand Water Park didn't seem to make many other people's list, which we feel might have prevented other people of being aware there was a water park in Corfu, but we feel this is a shame as it was the best day we had during our stay, bringing us so much joy.
The rides came in all different sizes and 'scare levels', so you can pick the one that suits you. Hey, if rides aren't your thing, you can easily chill out on the Lazy River and soak up those sunrays.
Aqualand was located not too far from the airport, in the centre of Corfu, however we had to take a taxi as it would have taken multiple buses from where we were based.
2) Watch Planes Land Right Above You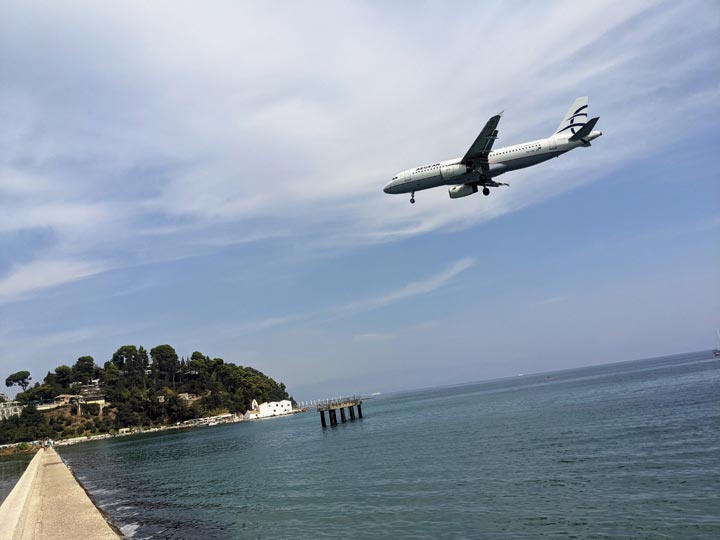 This might sound odd at first, but this is 100% one of the best things to do in Corfu. You have several different angles you can enjoy this from, but my favourite was Корфу смотровая площадка посадки самолетов.
Ok, quick translation, this was the little bridge that takes you across the water to the Café Kanoni. The plane goes right over your head and lands mere metres away on the runway.
The sound is immense and it is oddly exciting to watch, we ended up watching multiple planes going overhead for around 45 minutes. Watch our videos if you want some inspiration, as I loved them.
3) Old Venetian Fortress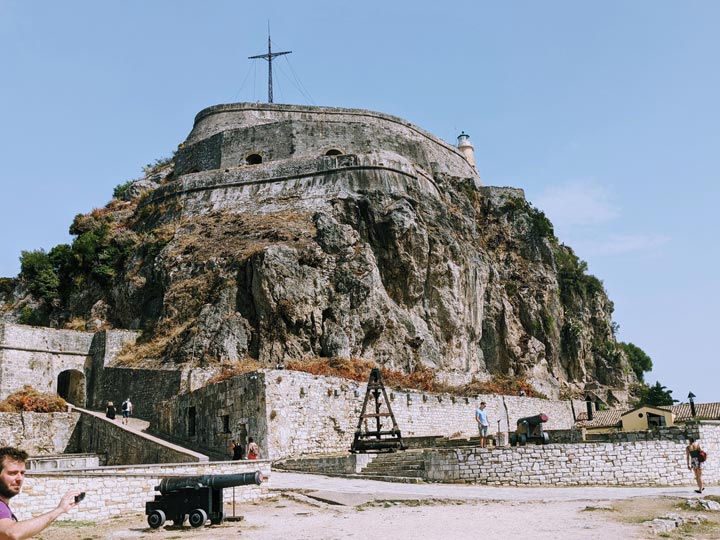 The Old Venetian Fortress cost 6 Euro's per person to enter as an adult, while it offered great views as you walk up to the top, seeing all over Corfu.
Considering the heat, you might want to take this slowly and appreciate each level, as we paced to the top and were pretty sweaty once we got there.
There are a number of cannons placed along the Old Venetian Fortress, old weaponry that would have been used throughout history to protect Corfu from sea attacks.
4) Eat at either Café Kanoni or Skybar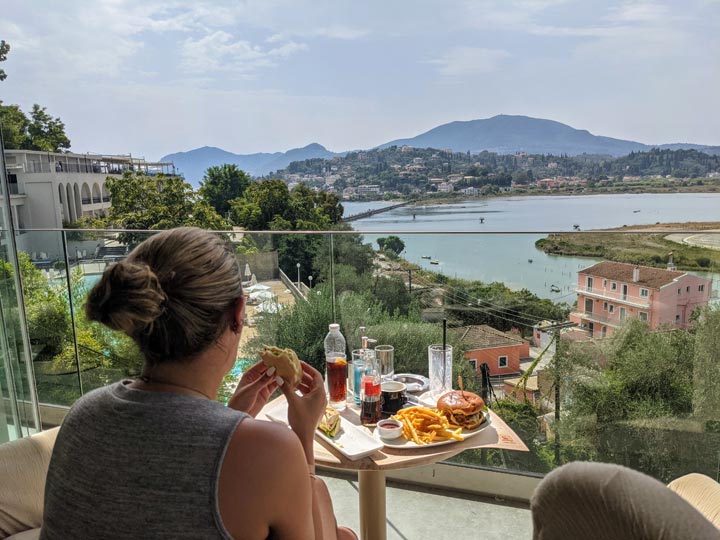 I previously mentioned watching planes land above you, well you can also stop off at the Café Kanoni, where a canon is placed at the front of the restaurant, to eat some lunch while watching planes land right in front of you.
Again, it sounds odd (like you're in an airport), but it offers such spectacular views that you'll feel like you could sit here all day.
One alternative I wanted to highlight was the Skybar. The Café Kanoni offered the best views and angles for the planes landing, however it was incredibly busy and we couldn't spot a spare table.
On the other hand, we walked 1 minute up the road and found Skybar, offering great views and with plenty of free tables. The food was also amazing, I can highly recommend the cheesecake milkshake for anyone with a sweet tooth.
5) Visit Pontikonisi Island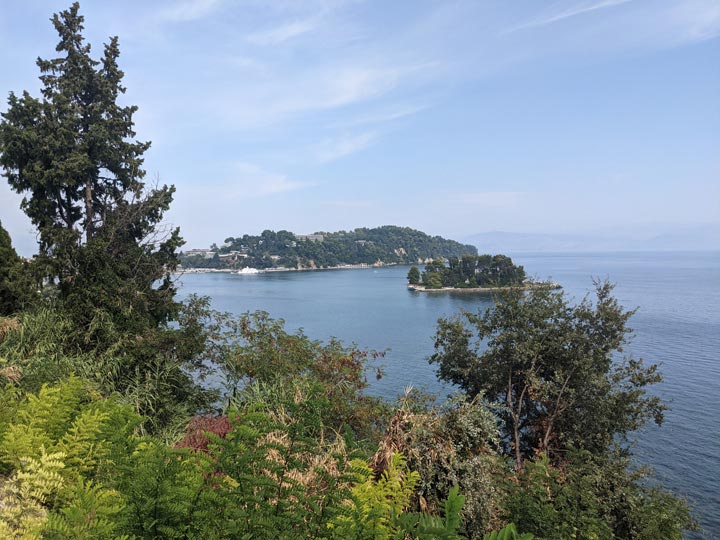 Another spot located right near Café Kanoni, you can take a short boat trip across to Pontikonisi island.
It's commonly known as 'Mouse Island' as apparently it looks like the shape of a mouse from above, however they wanted to highlight that there are no mice on the island, so no need to worry if you're squeamish around these animals.
6) Hop-on Hop off Bus Tour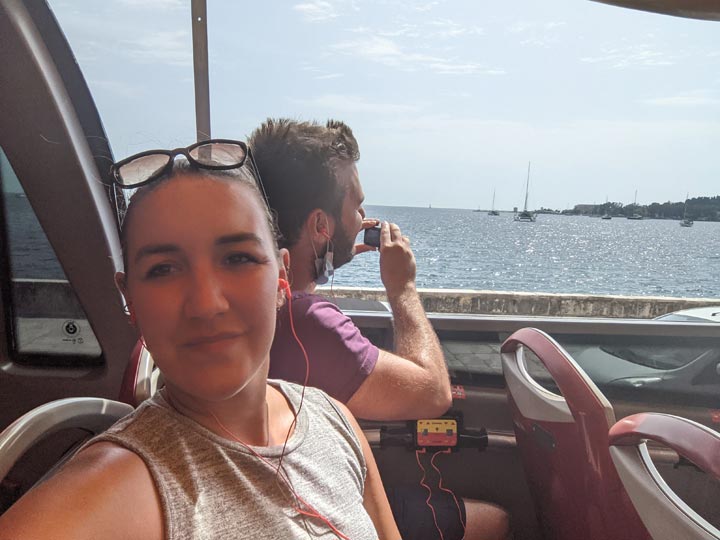 This recommendation comes with a slight downside. I'm a huge fan of Hop-on Hop-off buses, I believe they offer you a chance to easily get around a town to all the main routes without having to worry about getting on the right bus, learning about the culture and allowing you to tick off a lot of activities in a day.
However, there were only 7 stops on the bus route, most of which were a walkable distance from each other. There was apparently also a blue route, but that was closed when I visited. Considering we did Berlin last year, where the route had around 20 stops, all with plenty to do, this is certainly a location with a short number of items to tick off along the route.
I did however enjoy listening to the history and culture of Corfu on the headphones they provide, while the full bus route lasts one hour.
The cost was 19 euro's per person, so a bit hefty when you don't get many stops, but it's a good way to tick off a lot of the tourist attractions in a day.
7) Visit Old Town – Bazaar of Corfu Old Town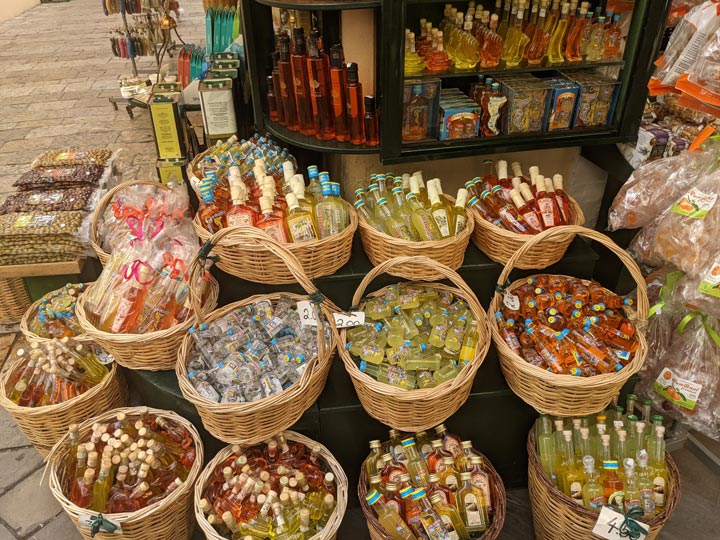 This is something many people recommended before we visited. Specifically, they highlighted Old Town to walk around, however I most enjoyed the Bazaar of Corfu Old Town.
This is a marketplane that is open every day except Sunday's, known as Campiello, with a range of shops and stands where you can pick up a great souvenir or something nice to wear on your holiday.
8) Go On A Hike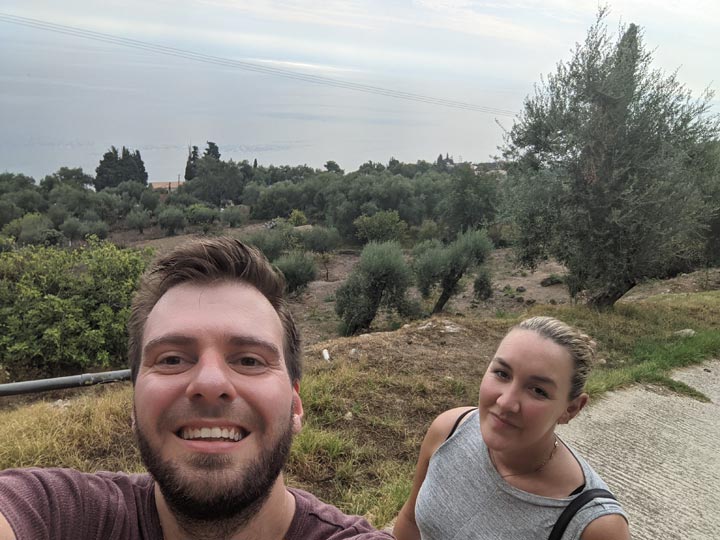 During the pandemic, unable to go on trips abroad, me and Raquel got really into walks up hills and throughout the country side, helping us to burn calories while take in beautiful views.
Corfu certainly has a wealth of views available, with various mountains dotted throughout the island. Whichever part of the island you're on has local walking routes, so you may want to enquire with the hotel staff or concierge for recommendations.
We hiked directly from our hotel, being on a hill, but remember to pack lots of water, as you drink a lot more in that heat.
I'd also recommend avoiding the midday heat, so head up early in the morning, we went for around 8:30am, meaning the temperatures were certainly bearable, but by 11am it got quite intense.
9) Get A Boat Trip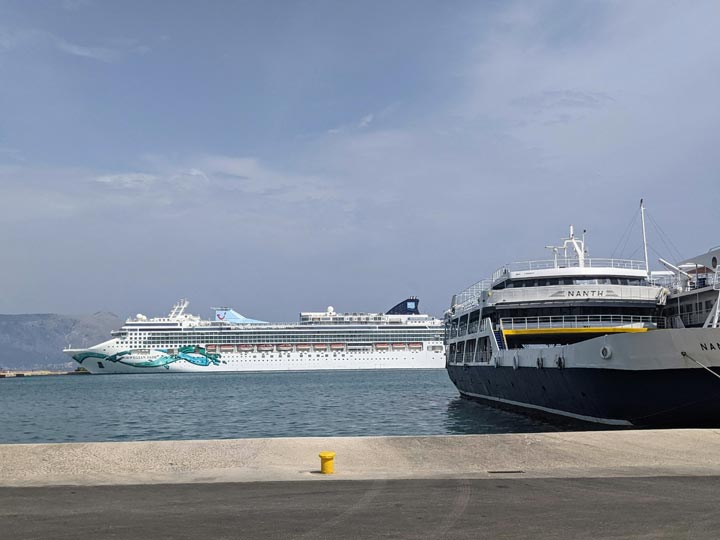 There are a number of boat trips you can take in Corfu, including to the Blue Caves, whether you want a two hour trip, a half day or a full day. Many will provide you with lunch and snacks, while you may also want to enquire if they have a toilet on deck.
We even saw a pirate boat go past us several times and I cannot express how much I wish I had my Jack Sparrow costume on me…That's right, I have a Jack Sparrow costume, I need another fancy dress party.
10) Cathedral of Saint Spyridon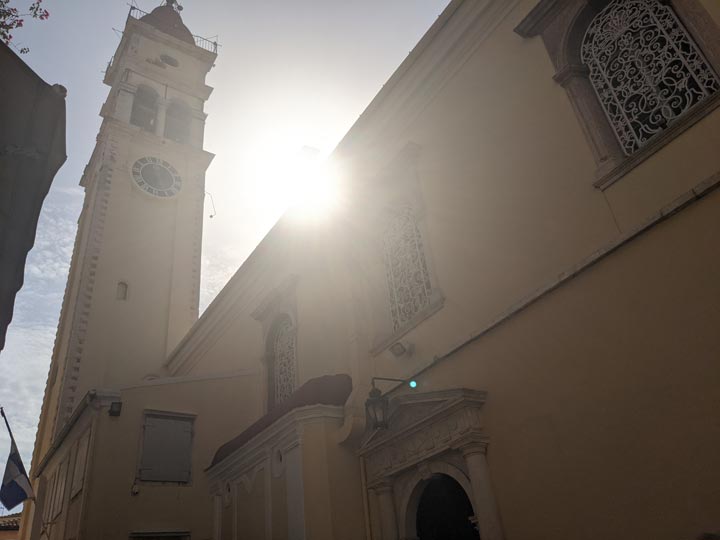 The Saint Spyridon church was built in the 1580's and seemed to attract quite a big audience, with people lighting candles in the Greek Orthodox church.
I couldn't get any imagery or videos inside as they ban it and I don't want to be disrespectful at all, but it was very pretty inside. I'm not a religious guy, but I admire the architecture and history of the building.
This Cathedral can be found in the Old Town, nearby to the Bazaar, making this all easy to tick off within a short time.
11) Eat at Spianada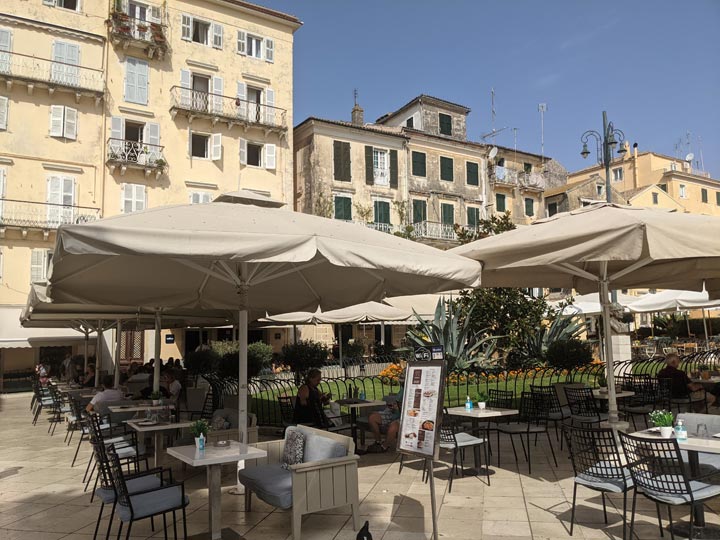 One of the best areas to sit down for something to eat, the Spianada park in front of the sea made for a great view, while there were plenty of restaurants available, including The Address 92, The Meat Corner, Josephine and Kohlias Café.
After a day of trekking around town and ticking off tourist attractions, this is a great place to stop for lunch and to run through all of your photos.
12) Relax By The Pool & Stay All Inclusive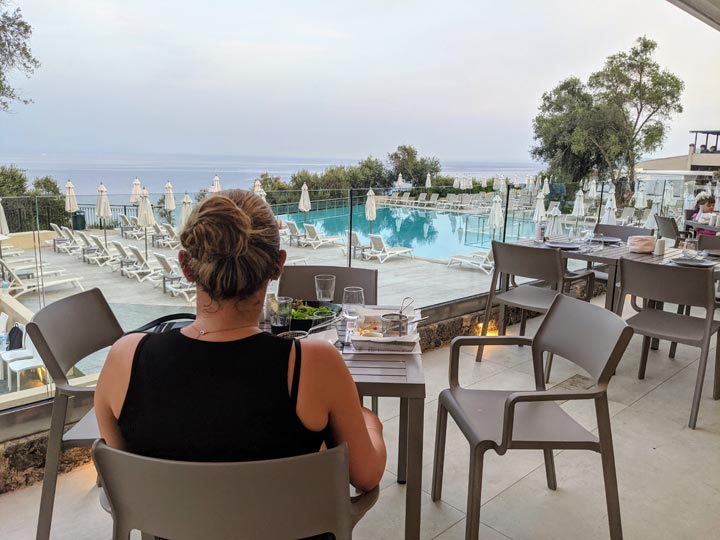 When you read a list of things to do, they're often overly focused on things you can do outside of your resort, but relaxing by the pool, sipping a pina colada and joining in with the hotel activities was incredibly fun and much needed.
With all the stress of the past few months, it felt amazing to finally switch off and sit by a pool without thinking what I should be doing or answering emails to clients.
If you're on holiday in Corfu, you might want to occasionally remind yourself to take a day off, spend some time by the pool and eat your body weight in naughty treats. Seriously, I had a crepe with lemon and sugar and I haven't had that in years, it tasted scrumptious.
If you haven't booked your holiday yet, you might want to check out the package Jet2holidays to Greece as they're really decently priced and they include both accommodation and flights, plus you can add on transfers.
13) Snorkelling


This can be done directly from most hotel beaches, or you can go on a boat trip where they will take you to areas where you can expect to see lots of fish.
In fact, we were simply jumping waves (well, mini waves) when we saw fish all around us, so you can expect to see them even when really shallow.
Of course, if you'd rather do scuba diving then this is available with a number of boat trips, but we kept ours basic as we haven't got our PADI qualification yet, still on the bucket list.
14) Banknote Museum of the Ionian Bank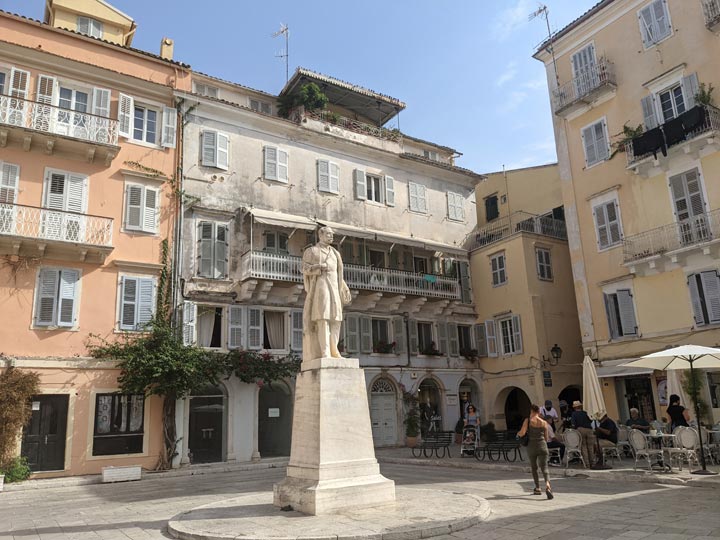 Ok, when I highlight this one, I more mean the area than the bank. It was located in a beautiful square with a statue in the middle and beautiful buildings surrounding it, with the Ionian Bank museum being the most stunning.
The museum houses 2,000 items around their currency, dating all the way back to 1822, while it's the only museum of its kind in the world.
15) Statue of Count Von Der Schulenburg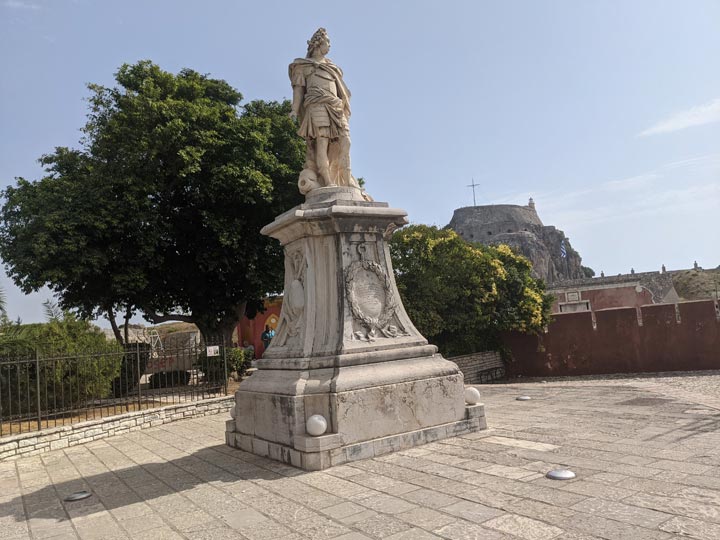 Located near the Spianada park and right alongside the Hop-on Hop-off bus stop, the statue of Count Von Der Shulenburg is a tribute to the man that helped to defend Corfu from the Turkish invasions.
The Hop-on Hop-off bus audio tape talks a bit about the history and the battles against the Ottoman empire, while this statue was created by the Italian artist Antonio Gorradini to recognise his achievements.
We may look to add more items to this list over time, so if there is anything you think should be added, please do let me know either in the comments or by email.