The Preikestolen is known under a number of names, such as Pulpit Rock and Preacher's Pulpit. There is no doubt however about the views being some of the best in the world, as the giant cliff stands 604 metres high, above Lysefjorden. If you plan on hiking the pulpit, you should start at Preikestolen Mountain Lodge as there is an easy path the entire way up. You should be looking at a 6 hour round trip, including a couple of hours at the top to admire the views, so it is worth setting off fairly early.
The Preikestolen Mountain Lodge does have places available, so if you would prefer to stay close by, it might be worth booking a room, however it wont come cheap. Alternatively, there is a camping space for you to set up a tent. There is a car park, but it isn't cheap, so decide beforehand whether it would be better to rent a car or looking for an alternative form of transportation.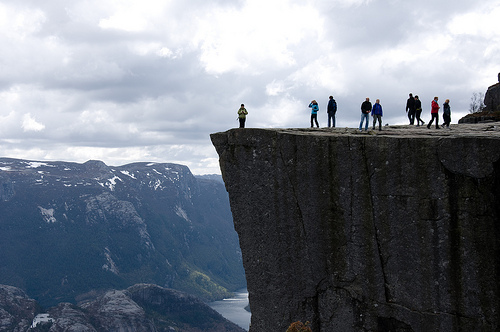 If you do plan on visiting, make sure you come through the summer as much of the trek is blocked off through the winter due to the icy conditions. The trek all opens from April 20th, so plan your holiday around this fact and make sure you are completely packed and prepared.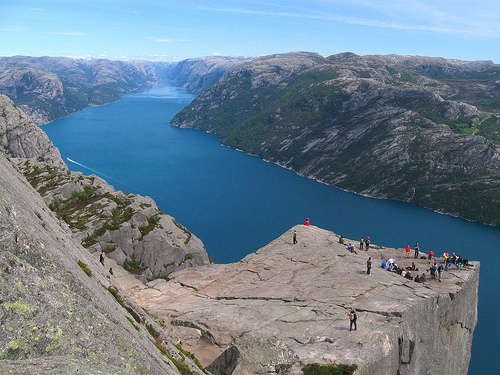 Around 130,000 tourists visit Pulpit Rock each year, making it one of the biggest tourist attractions in Norway, so you might also want to time your visit so you aren't going during the school holidays. Either way, it shouldn't make a huge difference as there is plenty of cliff space to dangle your legs off (if you're brave enough).
You also have the option of viewing the cliff by boat, which can be fun to do the day before you climb up it, to build anticipation and to get a variety of photos.
There are also no safety rails so if you have a fear of heights, this might not be for you. Also, be very careful if you have young children with you and make sure to hold their hands the entire time while at the top of the cliff.