If you saw our video of the best things to do at Christmas in Brighton then you will have seen our festive baking class at Brighton Cookery School. Well I'm delighted to say we've returned to try out their Spanish Tapas Wine & Dine Class.
We're heading to Barcelona in July, so it was great to get an early culinary lesson in Spanish food so we will know which dishes we love on the menu.
What Did You Make?
We created five separate dishes, being Ajoblanco, Espinacas con garbanzos, Bunuelos de bacalao with red pepper sauce, chicken skewers Andalusian style and Albondigas in a red wine, onion and tomato sauce.
1) Abondigas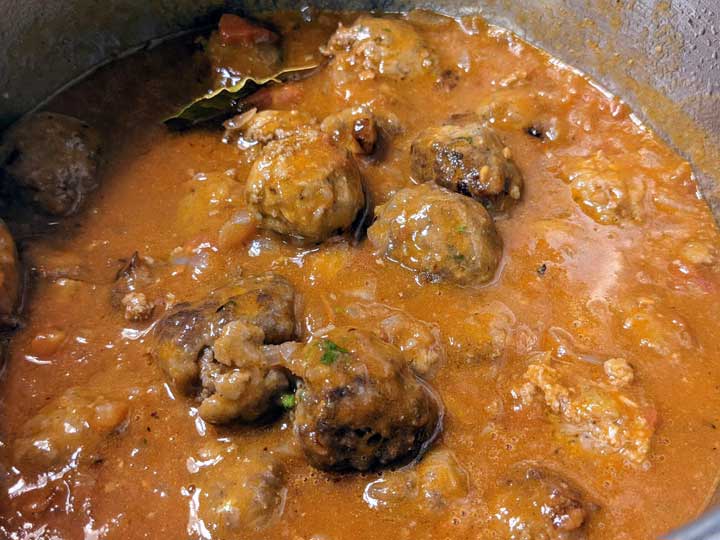 This was by far me and Raquel's favourite dish of the night. The aroma filling the room made it so hard not to have a bite while we worked on the other dishes.
An albondiga is a meatball soup I had first heard about through Hell's Kitchen, where the South American chef made them and the chef trying it was floored with how nice it tasted. The albondigas were made from 70% beef and 30% pork, while the red wine sauce was aromatic and rich with flavours.
2) Chicken Skewers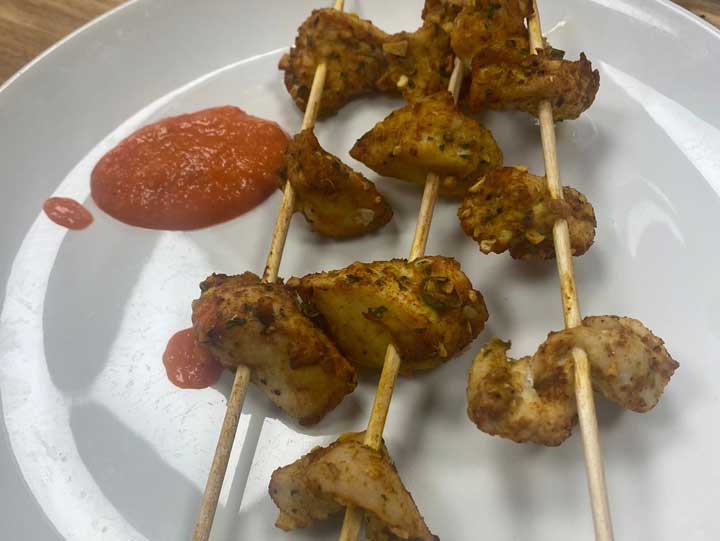 How can you not love chicken skewers? I ate these up way too quickly. Normally you would marinade the chicken in the sauce over night, so we made the chicken skewers at the start of the class and left them to marinade while working on the other dishes.
As Chef Victor explained, this is the perfect dish to make up to bring to someone's BBQ and really impress everyone. With summer around the corner, I loved this idea and will certainly be making them again!
3) Espinacas Con Garbanzos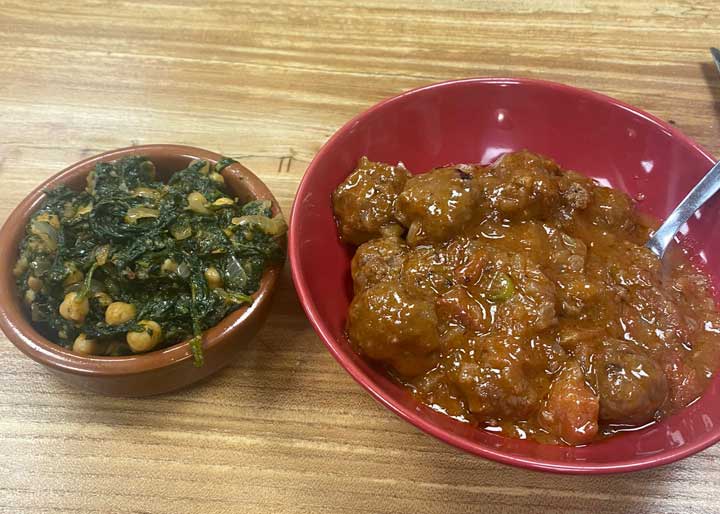 This dish really surprised me, I loved it! The chickpea and spinach dish tasted really creamy, I wish I could bulk make this up for work but it would be gone in seconds.
The Chef pointed out that this dish would often be served as a tapa, so it would be alongside a few other dishes, while you should traditionally make it with sherry vinegar.
4) Bunuelos de Bacalao
The bunuelos de bacalao is a cod fritter, which we prepared before they were fried in the kitchen. These were then served as we sat down to eat. This was a great seafood dish which was crunchy on the outside and soft and flavoursome in the middle.
We didn't make the red pepper sauce, however you could watch along as the chef made them up, however he wanted to ensure everyone had time to eat their food.
5) Ajoblanco
I had not heard of Ajoblanco before. It's a cold soup which is popular in Granada and Malaga, made from blanched almonds.
I would say the taste was quite similar to humous, while we had quite a bit so you could take the dish back home with you.
Remember to bring Tupperware, as you may struggle to eat all the treats being served and you don't want any going to waste.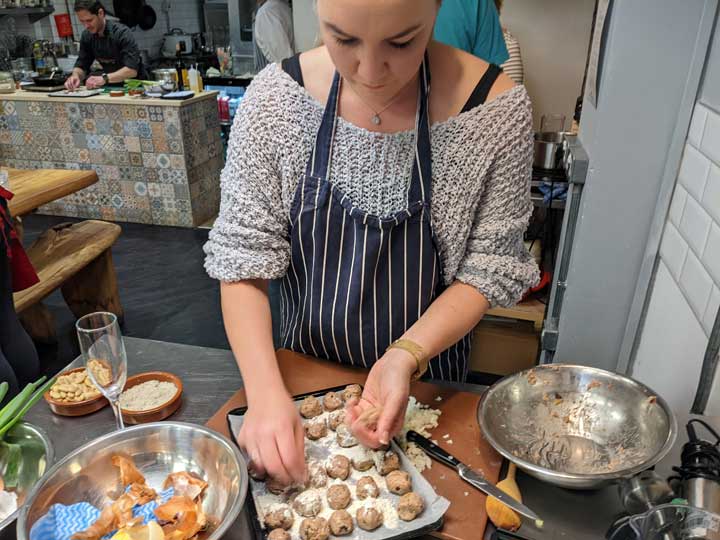 Why Is It Called Wine & Dine?
We were provided unlimited alcohol throughout the class, with the team being highly attentive to whether drinks were getting low and topping them up regularly.
You're offered the choice of prosecco, wine or beer, however everyone pretty much starts off drinking prosecco (how can you say no to prosecco).
Of course, with all the wine consumption, you might be worried about your memory staying intact when it comes to recording the recipes, but there is no need to worry, as they'll collect your email address and send them around afterwards.
How Long Does The Class Last?
The class started at 5:30pm and went on until 9:30pm. You actually finish cooking around 9pm, while you can then sit down with the group and eat together for the final 30 minutes, which was really nice.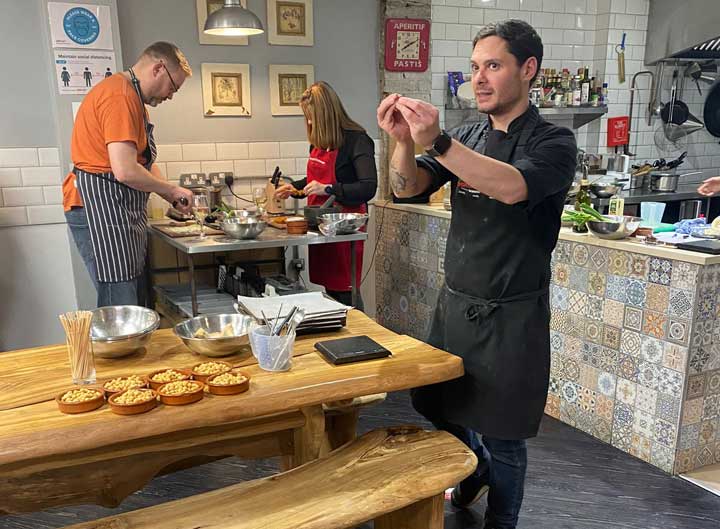 Do I Need To Bring Anything?
Brighton Cookery School provide all the food, equipment and aprons. I would recommend bringing some Tupperware to bring some food home in case you can't finish it all that evening.
What If I Don't Drink Alcohol?
They can serve soft drinks if you don't drink alcohol, while they also have a separate tapas class which isn't the 'wine and dine' option, but we're always going to prefer the prosecco filled version!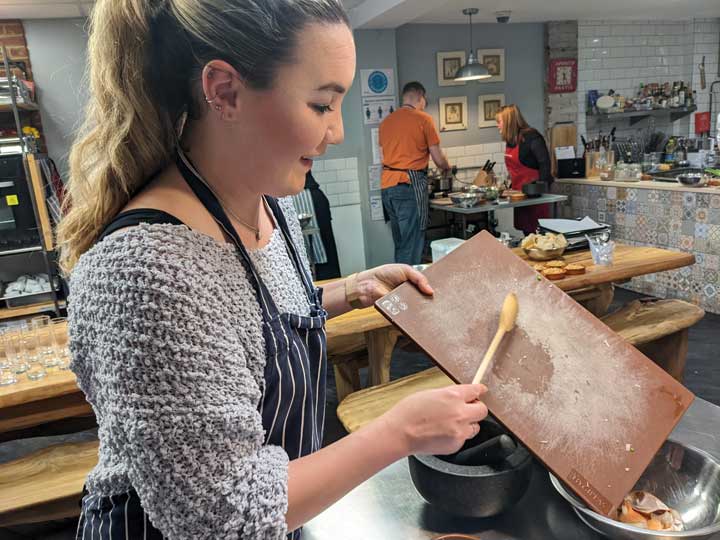 Who Attended The Class?
It was a great mix of people, blending different ages and from various locations, with two from Luxembourg and another couple having come down for the weekend from Cambridge.
Everyone was incredibly friendly, open and chatty, so if you wanted to come along on your own, you'll make friends in no time at all.
Where Do I Book A Class From?
You can book the tapas class from their website, while they also have plenty of other culinary options, including Vietnamese, Italian, Mexican and sushi.