Summer appears to have finally graced the UK with its presence, which means that it's time to pack up the old bathing suit and a toothbrush, then head off to the beach for a relaxing holiday, but forget any of the old usual beaches. It's time to lose the crowds, and to head off to unknown shores on a new, less busy beach. However, finding the perfect beach to kick back and relax can be quite stressful, so I've compiled a list of the 5 best beaches around the Mediterranean to make the decision easy. So while the hordes are heading off to Spain to catch the rays on packed beaches, here are 5 different beaches from around the Med that aren't on quite as beaten a track.
Croatia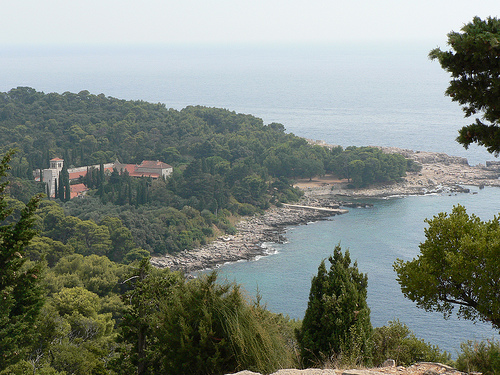 One of the best islands for beaches off the Croatian coast is Hvar, which not only has fantastic beaches but has played a central role in Croatian history, with a significant amount of Croatian literature being produced on the island, as well as many of the churches on the island containing a plethora of artwork from many famous Venetian artists, mainly due to the long term ownership of the island by the Venetians. Once looking at stunning artwork has gotten passé it's time to hit the beach, which this island has in spades. The most well known, and best, is Pokonji Dol Beach, which is easily accessed from Hvar town, by walking, or a short taxi ride. If that beach doesn't appeal, then there are many beaches on the surrounding islands that are easily accessed by water taxi, which can be a great way to see more of Croatia. However, Pokonji Dol Beach should be more than enough with its sparkling, clear waters, plentiful lounge chairs, rental boats and easy access to a wonderful variety of fresh food for a relaxing beach holiday. Hvar is best for people wanting to experience a bit of culture, and beach without the large crowds.
Tunisia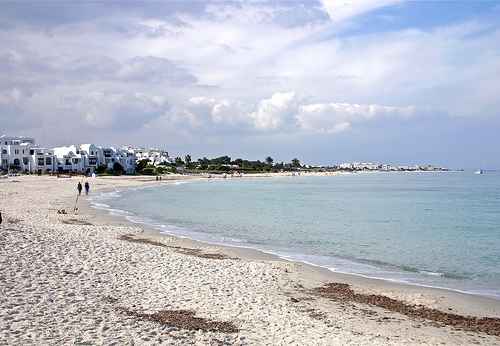 Tunisia has been off many people's travel list because of Arab Spring, but it has bounced back beautifully, and it has long been well known for it's beautiful beaches, and warm climate, so now is the time to go. You could visit Raf Raf Beach, located in Raf Raf town a beautiful, locally famous beach, which means it's yet not run over by herds of tourists, and means it's is very family friendly. It is located in the northernmost governorate in Tunisia, which makes it one of the northernmost places in Africa. This beach is well known amongst Tunisians for it's lovely gold sands, the clear ocean water, and the mountains majestically protecting the whole scene.  This is a great beach to relax, because there aren't many distractions other than the sun, beach, and conversations with friendly locals, if that sounds deadly boring then the adventurous traveller can take a chance on a horse or camel ride, and no beach would be complete without windsurfing, sailing and snorkeling. That being said a visit to Raf Raf is not complete without a trip to Ghar el Melh, which is famous for it's stunning old Tunisian coastal architecture. This is perfect for people wanting to spend some time with the family, get off the beaten track, and are hoping to experience some of the local culture.
Greece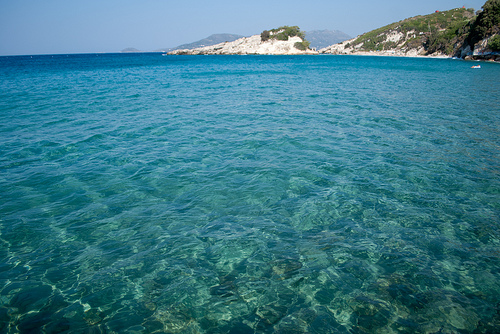 Bali, on Crete, not to be confused with the South Pacific island, is the perfect beach for sun and surf, without worrying about all night parties, that some of the other islands in Greece are known for. This is a lovely beach, to swim in the gorgeous, clear waters, and as an added bonus there are plenty of facilities adjacent to the beach, and a number of places to eat and lovely hotels to stay.  This is a great holiday spot for people who want to relax, see some of the countryside, and generally unwind.  It's not hugely popular with families, because there aren't a large number of family friendly activities, so this is just the vacation spot for a bit of adult conversation and fun.  The one downside to this lovely beach is the local population is generally fairly religious, meaning that most places will be closed on Sunday.  Despite this minor setback it's lovely, and if sitting around all day doesn't sound tempting to book a boat tour of the coast or find a nice diving spot through one of the diving centres.  Bali offers a little bit for everyone, at a very relaxed pace.  This beach is best for those who do not want to have the family tag along, and prefer to relax on the beach without having to worry about screaming children ruining the calm.
France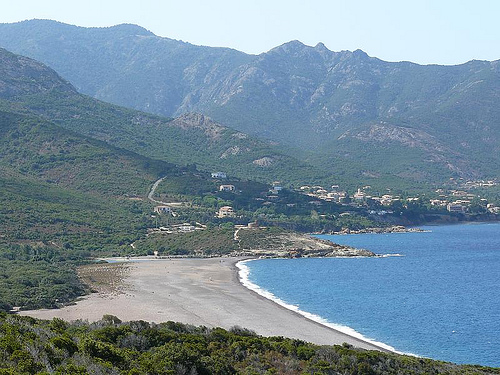 Cote d'Azur is where the rich and famous go to see, and be seen. If that sounds ideal then Nice, with it's public beaches broken up by private beaches is perfect.  The private beaches are typically associated with hotels, and the hotels usually have beach lounges that are available for hire. However, if paying a premium to simply lay on the beach and experience the sun, then Ponchettes Beach a good choice. It  is one of the most popular beaches in Southern France and is ideal for people who can't stand being sandy, as Ponchettes Beach is well known for it's smooth, round pebbles, which, while hard on the feet, are quite comfortable to sit on, and  an added bonus this beach offers public toilets, a vital necessity for lounging around on the beach all day. However, restaurants are not particularly prevalent around this beach which means the best option is to bring along a picnic, or if a bit of a walk is in order wander into Old Nice to find a bite to eat, and maybe do some sight-seeing.  This option is best for people who don't wish to travel far, who can't stand sand, and anyone hoping to practice their French.
Italy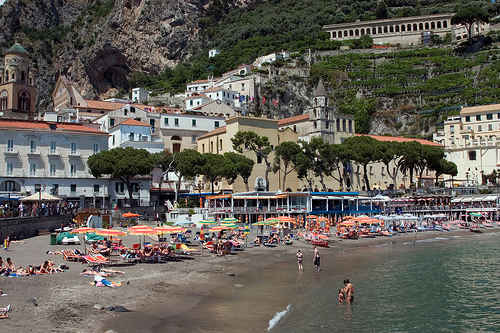 Last, but not least, on the list is the beautiful beach of Longomare on the Italian island of Sicily. This is the main beach in Cefalú, and there are many places to let sun beds and beach umbrellas, and of course it is perfectly acceptable to lie for free public beaches.  This is mainly a tourist beach, so there won't be too many dirty looks from locals for polluting their beach with your presence, but there are some locals, so it may be possible to meet someone and have them show you the town. Since this is one of the most popular beaches in Cefalú, there are typically plenty of lifeguards on the beach. Another benefit is it is a very easy beach to reach with plenty of public stairs to use, or access through the lidos that line the shore as well. Keep in mind that parking can be quite difficult, so it is best to walk if possible. Another reason to choose this beach is its proximity to the Old Town, which means a wide variety of food options; always important after a long day of doing nothing. This beach is best for those seeking to relax with the family, and enjoy some sunny Italian weather.