With every year comes new challenges to tackle, new barriers to cross and new tactics to try, but none of that stops the ever growing number of travel bloggers joining this happy community as we evade the traditional path up the career ladder and seek life altering opportunities with unforgettable memories. But how do you become a travel blogger in 2022? Where do you start and what should you be considering? Well read on to find out more.
Who Am I?
I feel this is important to quickly cover, to explain why you should be reading this article and taking my advice. Firstly, I've been in the blogging game for about 7.5 years now! However, Spaghetti Traveller isn't the only blog I run. I also run the award winning CBD blog www.cbdsloth.com, which won Media of the Year 2019 at the Cannabiz Summit Awards.
Beyond the blogging life, I've worked in marketing for 9 years, predominantly in SEO, but also working in PPC, Social Media, Affiliates and Content Strategy. I am a judge for the UK Agency Awards and speak at a number of conferences. I also run the Marketing Roundtable event Take It Offline, which is attended by the biggest marketers in the world.
PWA's
Don't worry if you've never heard of this term, I spoke about it years ago, but it is still very slowly being adopted. Progressive Web Apps are apps like you find on your phone, but they are actually regular web pages or websites. It basically means your blog will also work as an app. This means you don't need to build something separate or pay a developer £40,000 to have an app on everyone's phone.
There are numerous benefits to having your site as a PWA, such as being able to load the content while offline (useless for people travelling or commuting), faster page loads, push notifications and working functionality like an app, as well as being readily accessible from their phone.
It is believed that 50% of apps will be PWA's by 2020, which is a huge turnaround and shows the corporate interest in this movement and as I always say, bloggers should treat themselves as brands, therefore they should be following on.
You will be happy to know that there is a PWA WordPress plugin that does a lot of the hardwork for you, passing with a score of 100 on most PWA tests, however some adjustments will still be required.
Evolution Of Content
Turn back 7 years ago and I would write a 500 word article on a destination and it would rank in the top 3 on Google. 3 years ago, if I did this, it wouldn't stand a chance, I needed an in-depth piece of around 1,000 words, which went into huge detail about every aspect. However now you have an even greater challenge.
Nowadays, you must think about not just the main title term, but everything related. What questions might they have after you have answered the term they put into Google. You're not just answering the question they initially had, you're now predicting their follow-up thoughts and answering everything, offering a total guide in one place.
As you can imagine, this means the length of content has gone through the roof, but length of content doesn't mean higher rankings, it is all about whether you have covered each aspect.
Before writing any article, take a look at the top ten, look at everything they have covered in each and make sure to include each and every point. You need to be substantially better than anything else there.
Updating Old Blog Posts
I know not everyone that reads this article will be a potential blogger trying to learn the ropes, some will be current bloggers that are looking for tips on how to improve their blog. Well if your site has been out for a while, instead of writing new articles, you might want to visit old blog posts and give them an update, add some more words and change the date to more recently.
This tactic has been proven numerous times by various brands as a hugely successful tactic, as Google likes fresh content. You could look up the terms or pages that used to bring in plenty of Google Organic traffic and aren't now, as a priority hit list.
Tik Tok
So many bloggers put time into Instagram and Facebook that they seem to be oversighting a whole new younger audience which are focused on Tik Tok. The platform is amazing for very quickly making hilarious viral video based content. It is perceived as the new Vine, however you can make videos longer than 7 seconds.
I have created multiple videos on the platform that have gained 100,000 views, something I could only dream of with my YouTube or Instagram videos. If this sounds like a potential way to reach a whole new audience, why ignore it?
PR Based Link Building
I've said this ever since I entered the blogging industry, but it isn't hard to get into papers or magazines, however bloggers seem to focus their link building efforts around guest posts on other blogs, which simply don't offer the link juice you're after.
But I strongly feel you should practice what you preach, so to offer a glimpse, in 2019 I have been featured in inews, Unilad, Daily Star, Yahoo Style, Hello Magazine, Daily Mail, The Sun, MSN, Metro, Good House Keeping, Female First and plenty more.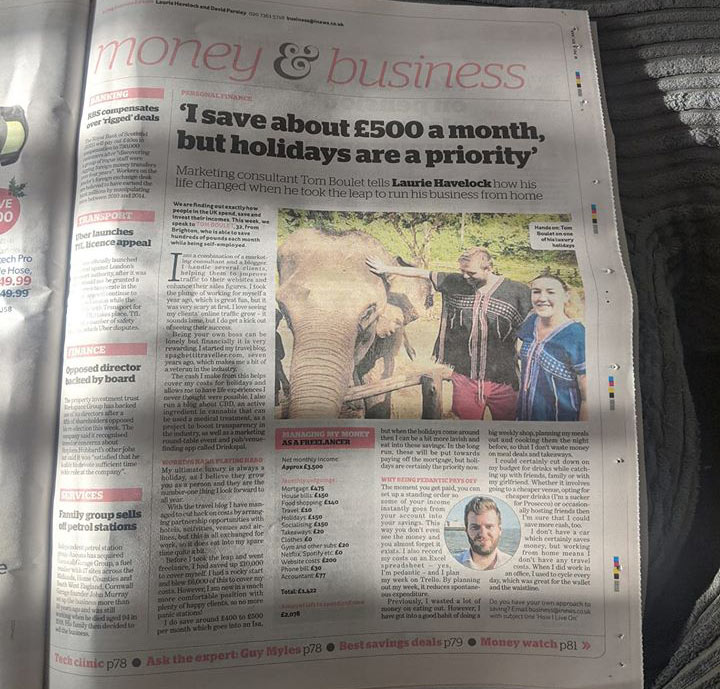 So how do I get featured on over 200 newspapers and magazines per year? Easy. Case studies! I put myself forward for everything. Obviously, I'm slightly cheating here, as I work in PR so I speak to journalists all day, however anyone can build up these contacts and talk to them, they are constantly looking for people to be featured in articles and if you're relevant or willing to do something for them, they will offer a link in exchange. Plus, they might be hesitant to link to a brand, but they are more than happy to link to a blog.
Networking Is Critical
Whether it is attending the slightly exhausting WTM in London, or going on the week long Traverse event (cut short to a week if you just want to arrive for the conference), attending one of my Take It Offline events (we're in London, Bucharest, Brighton and plenty more cities this year) or going to a local blogger meetup, these are critical. They put you in front of marketers, venues, tourist boards and other bloggers who are in the same boat.
Back in the day, I never used to attend these events and the moment I did, I found the travel blogging world completely changed for me. It's such a strong community, I love the fact that I could attend an event and feel confident I will know someone there now. Plus, travel bloggers are a friendly bunch! They've all had a happy life filled with mind blowing activities, how can they not be happy? Set yourself an aim to attend at least one event each month and you will find your blog blossoms. It's also a huge motivator, as you will have times when you can't be bothered, but the events seem to kick you back into gear again.