The start of our short trip to Berlin, a beautiful place I haven't visited since I was 16. I keep hearing everyone talk about how amazing Berlin is, with plenty of beer and bratwurst, therefore it felt too tempting to book when we started looking at short city breaks to take over a long weekend.
Travelling From Brighton To Gatwick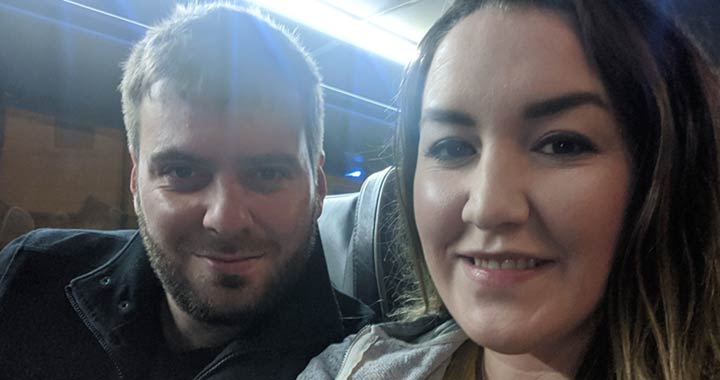 Traditionally I've always taken the train to Gatwick, however this time we booked the National Express coach, which actually leaves from my right near our flat, meaning no dragging the suitcase 20 minutes to the station! The prices are also a hell of a lot cheaper, my kind of prices.
I was very happy to find power sockets, something I didn't realise you got on these coaches, meaning I got a second chance to charge my phone, while spending way too much time on Candy Crush!
I've got a trip to Bath coming up, so I might have to quickly book another trip on National Express.
Airport Tips
Sitting in Gatwick can be draining, considering we always follow the guidelines of arriving several hours beforehand, then finding ourselves perusing WHSmiths for the best part of an hour. I've therefore included some tips if you find yourself stuck in the airport:
Whether you've got a laptop or a mobile phone, spend some time opening websites or downloading anything you might require, as you will be spending several hours on a flight without the ability to access the internet. I love opening up lots of articles on my laptop and then reading them all on the flight.
Bring a refillable cup and if you go to Pret in the airport, they will normally offer you a heavily reduced price cup of coffee.
Book an airport lounge. This might sound overpriced, but often when I end up spending money on food and drink in the airport, it ends up the same price! You also get a higher quality WiFi, private comfortable seating and multiple magazines and newspapers to read. Stanstead and Luton have absolutely amazing lounges, but the same can't be said for Heathrow unfortunately.
Pack an empty water bottle in your bag, you can then fill it up at the fountains they have outside the bathrooms.
Also, one extra tip which is really interesting from a psychology aspect is around which queue to pick when going through security. We naturally go towards the direction of our dominant hand. As you can imagine, this means most people go to the right hand side, therefore the left hand side queues are often much shorter. Don't believe me? Check next time you visit the airport!
Day 1 In Berlin
It always feels bizarre that you can get up at the crack of dawn but you still don't reach your destination until the afternoon. The bags were dropped off at the Hilton Hotel, before we headed back out to explore the city. We quickly found the Hop On Hop Off bus tours, of which there were so many different brands but all offering identical routes around the town.
Remember, you can 100% negotiate on the price, while you can also get a two day pass, which will often prove worthwhile considering how hard it is to tick it all off in a single day.
We didn't have time to book this all on the first day, so we bought our tickets the following day and explored by foot, walking all the way to the Reichstag, which was the other side of Berlin!
We even had time for a quick trip over to the spy museum, where I took on the role I was born for, James Bond!
Following copious amounts of Bavarian beer and currywurst, we finished our day and headed to bed. Berlin seems to be winning me over, I do love it!