Places To Visit
There are so many places you could possibly visit, you will inevitably find yourself having to pick and choose which ones you want the most, however I have included the most popular below, before I continue with our 2 week itinerary:
Masai Maara
Elephant sanctuary
Giraffe centre
Lake Nakuru
Lake Naivasha
Hells Gate National Park
Lake Victoria
Mombasa
Malindi / Watamu
Visas
If you are from the UK, or a country with a similar entry allowance, you just need to get the online Kenya visa or when you arrive and it is very easy. Go here to collect your Visa for Kenya.
The entire process is handled online, so there is no need to head to the embassy at all. You will just need to know when you are arriving and leaving, which airport you are flying to (probably Nairobi), why you are travelling there (leisure or business) and your main contact information.
We went on Tripadvisor and a lot of the recommendations were to get the visa when you arrived, being cheaper and quicker, they were wrong. The queue for an e-visa was around 20 minutes and to buy a visa in the airport, the queue was 40 minutes.
Remember, always bring a pen. When you need to fill out all the forms and entry declaration, they don't have any pens in the airport and you will have to rely on a kind stranger if you don't have one, like we did.
If you buy a visa on arrival, it is worth having pounds or dollars on you. We bought the visas in Kenyan Shillings and the exchange rate they gave was terrible.
2 Week Itinerary
I have written this itinerary based on a 2 week trip in Kenya, without travelling abroad, but it should be stated that many people also visit Tanzania. If you wish to do this, you can easily adjust the itinerary based on when you are down in the South of Kenya to spend a few days over there. I've set the main options as safaris at the start, leading up to some relaxation on the beach to end with, as the safaris do take it out of you.
Day 1: You will undoubtedly start your journey in Nairobi, however I would recommend moving on relatively quickly. There are two clear areas you have to see before heading on, which is the elephant sanctuary and the giraffe centre.
The elephant sanctuary is only really offered for a 1 hour period, at 11am, so make sure to head along in good time and quickly try to find a spot near the front before the crowds fill the area.
Following on from this, you have a very quick taxi drive (5 mins) to the giraffe centre. As you pay for entry, you will also be given a bowl of food to give to the giraffes. You will have plenty of chances to feed them, but you will be battling with quite a few tourists as they eat out of everyone's hands.
You can spend as long as you like here, however we spent around 40 minutes before we finally had enough and headed back to our hotel for dinner.
Day 2: You should now book yourself a trip up North West, towards Lake Hell's Gate National Park. You will see plenty of animals, such as giraffes and warthogs. You can hire out bikes on the biking tours which will give you a full on experience of the safari. This is truly a great photo day, so make sure everything is charged up. There are hotels within a close distance of the Hell's Gate National Park, which might be a vastly better option than going all the way back to Nairobi, considering the next day's activity will be close by.
Day 3: Getting up early in the morning, you now have the short journey to Lake Naivasha, where you will see a huge amount of hippos and exotic birds. The views are incredible, while you can see the animals naturally excited in the water.
You should then head up to spend the night in a hotel in Nakuru.
Day 4: Depending on how close you have got your hotel, you should be up at the crack of dawn and have arranged a trip with your guide to take you to Lake Nakuru. The main attraction to the area is the pink flamingos, which aren't as commonly seen in other spots around the country, hence why this makes it a popular option, especially when you see how many collect together! You should see plenty of animals gathering under the yellow acacia trees to block out the sunlight.
In the evening, you should opt to head back to Nairobi and book yourself into a hotel, but if you would prefer an extra night here then there are plenty of lodges and campsites available
Day 5:
Being booked onto a safari tour company such as Sojourn Safaris, they will pick you up first thing in the morning at around 8am to take you on towards the Maasai Mara. You can also read in more detail about our 4 day tour of the Maasai Mara.
The journey is quite long (about 6-7 hours), but will include a stop-off for lunch along the way, all included within the package.
Once you have arrived at your lodge, you will have the chance to drop your stuff off, before heading for an evening game drive, where you will still see a surprisingly large amount of animals. After this, you will head back to the lodge again for dinner. The packages include your meals for each day at the venues.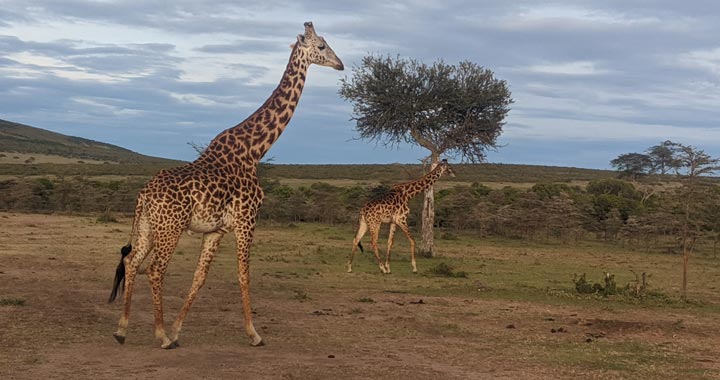 Day 6: Up at 5-5:30am for your early breakfast, you will arrange a time with your driver for when he will be outside ready to collect you (often around 6:20am but I'd push for 6am.
From then on, you will be on an all day safari. As you can imagine, driving miles into the Maasai Mara and seeing wildlife up close, you won't be able to drive to a restaurant, so your guide will have arranged for packed lunches to be made by your lodge, which will be given to him first thing in the morning.
You don't get back until around 7pm, at which point you're incredibly excited for dinner after an unbelievable day animal watching. By the end of this day, we had seen virtually every animal possible except for the rhino.
Day 7: Today you will head in a bit deeper into the safari area, meaning you will have a fast paced drive so you can get to the waterfront to see the hippos and crocodiles.
If you have an animal missing from your tick list then this will be the day the guide goes in search. For us, it was the rhino to complete the big five and he managed to find it after a few hours of searching.
You will then be taken back for lunch, but you will be given the option of an afternoon drive as an extra option on your package. We personally felt, after seeing each animal, that we were complete here, but if you haven't spotted something and feeling determined to tick it all off then you can easily add this in.
Day 8: Before driving on to your new destination, you will have a morning based activity based on what you have booked. It could be a morning game drive, but most people opt to visit a local tribe, where you will get to see the Maasai people dancing (plus potentially joining in) as well as meeting school children from the local area. You could even opt for a hot air balloon ride, however the prices are extraordinarily high!
Considering my next location on my itinerary is to head to the East coast of Kenya, I'm recommending you arrange for the guide to drive you back to Nairobi, which they will do as part of the package and they can drop you off directly at the airport.
From here, you will need to take a flight to Mombasa. It simply isn't worth considering any other form of transport, as the flight takes a bit more than an hour but the drive would be at least 8 hours.
Day 9: Getting up early, packing your beach stuff and getting in a taxi, you need to head down to Diani Beach. This is one of the most beautiful locations in Kenya, like something out of the Caribbeans. This is a gorgeous beach location, however the activities aren't so hefty, hence why it is just worth a single day trip down there. While here, you could arrange snorkelling or scuba diving, a boat ride, a spa trip, skydiving or just a few drinks at the beach bar. There is even a golf course here if you fancied a go.
Day 10: Today you should spend the day in Mombasa. Have a stroll down Old Town, head on a trail to Haller Park, see some more animals at the Nguuni Nature sanctuary adventures and see some incredibly scary crocodiles at the Mamba village farm.
There is even go-karting if you fancied something a little different. There are plenty of restaurants to try out and explore the traditional Swahili dishes, as well as a few drinks in the evening.
Day 11: First thing in the morning you need to pack up your bags, say goodbye to Mombasa and head on to Kilifi. Located a short distance to the North, this will continue your journey along the coast. Have a quick exploration of Mnarani as well as Kuruwitu conservancy, plus the Gede ruins. You might also want to add some scuba diving or snorkelling if you have time. The Mida Creek is definitely worth a visit if you have the time, albeit I'm packing a lot into this day.
Day 12: Today you head on up towards Malindi, but I'm going to say something that goes against all these travel guides. Why? Because I think unless you're going for surfing (if you are then head on to Malindi), I felt Watamu was better.
There are plenty of accommodation options available to you, much cheaper than Malindi and the facilities are far greater. My number one option would be the Turtle Bay Beach Resort.
Once you have arrived, you have fully deserved a pool day, as I haven't included a single one so far. But the real brilliance is if you want to try any activities, there are so many through the resort, you are spoilt for choice. Providing you have opted for all inclusive, you may find yourself eating your body weight and with a drink in hand at all times.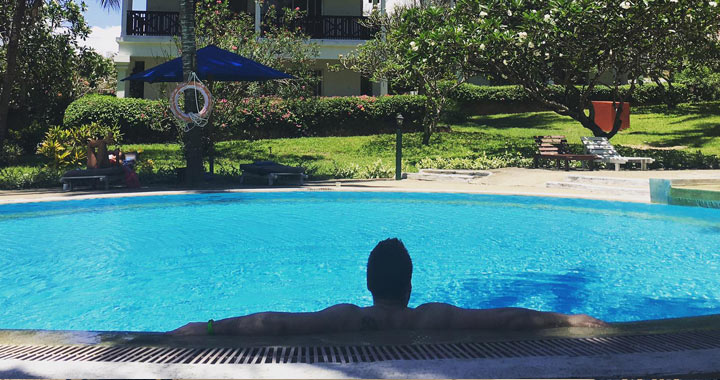 Day 13: Ready to conquer your fears? After eating breakfast, you should get in a tuk tuk to the Bio-Ken snake farm. Here you will see every snake imaginable, including the massive killer Black Mamba. There were plenty of spitting vipers that tried to aim their poisonous spit at the glass as I walked past, enough to make you tense up but a brilliant experience and a first for me to see them so up close.
But the afternoon has something special. There are numerous spottings of sea turtles in Watamu, arguably more than anywhere else along the coast, therefore I'd recommend going scuba diving or snorkelling and seeing these beautiful creatures up close.
Day 14: Sadly, this is the day you leave, however we realised we didn't need to leave our lovely beach resort till the day, even though we were flying back from Nairobi to London. We simply booked our flights to Nairobi in the morning and booked our flights from Nairobi for the late afternoon (to cover for delays). Obviously, as with any changing flight, do this at your own risk, but we wanted to spend the final night with a pina colada on the beach. There were also later flights in case of an emergency.
Transfers
Another area we recommend booking and planning in advance if you don't want to wait around or spend a fortune in the airport. You can flag down a taxi outside the airport, but some of the locals don't necessarily recommend this.
As with anywhere, if you use the taxi services from within the airport, the prices are extortionate. The staff are incredibly friendly, so it is hard to speak too poorly of the service, but the price was double what it should be (it was midnight, we were tired, we settled).
Taxi
We planned on visiting the elephant sanctuary, followed by the giraffe centre an hour later. While we were expecting to get taxis from each location, the norm is actually to agree the driver to stick with you throughout your daily trips and charge you an overall price. This works better for both parties and takes away any stress. We paid 3,500 Kenyan shillings and he was with us driving around for 3 hours, including multiple stop offs at stores and a mall to pick up some food and drink.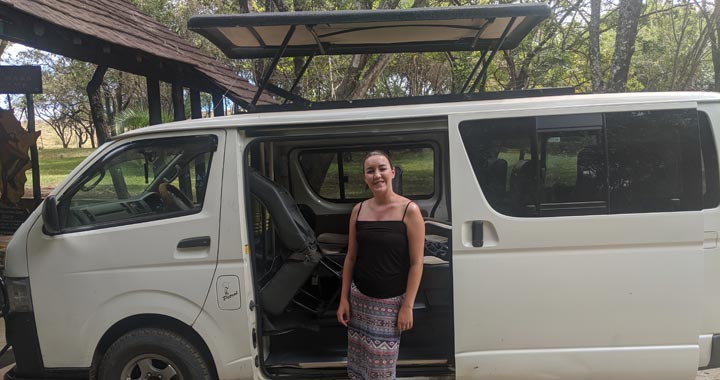 There are a number of taxi apps you can download which might make your life a little more comfortable, including Uber! You can choose from:
Delight Cabs
Little Cab
Uber
Taxify
Pewin cabs
Jatco Travels
Indriver
Jim Cabs
Kenya On A Budget
I have had people ask me whether you can do Kenya on a budget as a cheap holiday or if it is limited to people celebrating their honeymoon and all I will say is we didn't see it as any more expensive as going to Thailand. People head for a 2 week holiday to Thailand from the moment they reach college, so if they can afford one, they can afford the other. The real reason people don't is because if you want the real luxury then this can cost a lot. If you wanted to stay at Giraffe Manor then you will be spending a fortune, but you can feed the giraffe's next door at the Giraffe centre and you can stay just down the road, keeping your costs down.
One thing we did to keep our costs down was to buy a whole load of snacks from the UK before flying over, so if we ever got peckish, we snacked on cheap food rather than eating out constantly.
Currency
The currency in Kenya is the Kenyan Shillings. At the time of writing, the exchange rate was around 127 KS to £1. While we read in numerous places that you don't need dollars, this frustratingly wasn't true, as a lot of park entry fees or activities required dollars only. As you can imagine, they want to use a reliable currency which won't heavily fluctuate, therefore this does make sense, but we didn't pack any and it did cause a few issues along the way.
Reality Of The Big Five
Don't put huge amounts of pressure on seeing the 'big five', I assumed when I first heard this title that it would be the five animals most people want to spot while on a safari, but the actual term dates back to hunting and they were the main five people would go after. One of them is the leopard, however they really only come out at night and your chances of spotting one are virtually impossible, therefore you shouldn't feel downbeat if you don't manage to. Somehow luck was on our side and we saw them twice, so who knows.
When picking the safari you want to visit, you should be aware that you are more likely to see certain animals at different locations, therefore you might want to list the main animals you'd like to see and then see which safari matches your interest. But of course, the Masai Mara is a must and seems to offer your best chance of seeing the big five.
So there you have it, my complete 2 week itinerary for Kenya, as well as every other factor I could think of that you need to know beforehand. If there is ever anything else I can help with, please do let me know.