A couple of weeks ago I booked myself in to the Seafield House Hotel in Hove for a couple of nights in June 2015. I had sent an email to the hotel previously to let them know I would be staying and that I would also be creating a write-up on my blog, so I got a response saying welcome and what time to check-in, but this was the limited response I got. There are a number of hotels and hostels to stay in while in Brighton, therefore I've taken it upon myself to visit as many as possible over the next couple of years in order to fully detail out the city I live in.
The Bedroom
The room was a decent size and felt quite homely. In fact, it did resemble an auntie's or a grandma's house, which I quite like. The TV was also state of the art and had freeview installed, particularly appreciated as I stayed in for the evening as I had to work.
While it was perfect for me on my own, it might be a bit more difficult if you come to stay as a couple, due to the bathroom situation, but you can read about that below.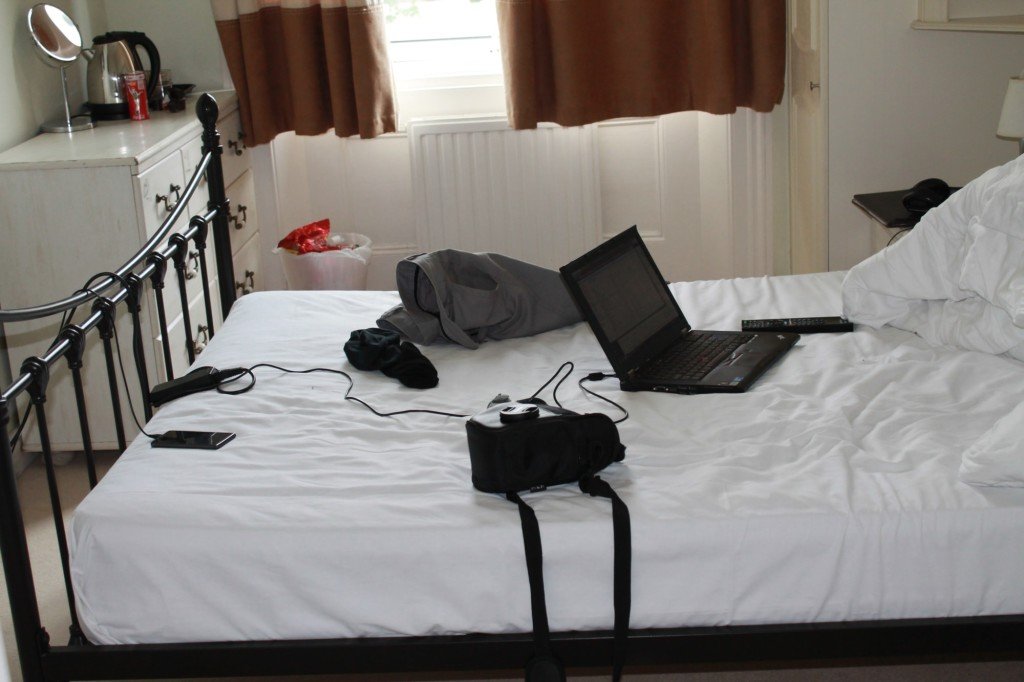 The Bathroom
On the website, when the hotel was booked, it stated I would get a bathroom. Maybe this was my ignorance, but I always expect a bath tub when it states a bathroom. I was actually looking forward to relaxing in a posh bath tub and listening to some music, so you can imagine my disappointment that there was only a shower.
But this wasn't the biggest disappointment. This also happened to be the smallest bathroom I have ever witnessed in my life! Standing in the shower, I couldn't shut the shower door as I actually couldn't fit in. I'm a relatively slim guy, therefore I've no idea how someone overweight would deal with this scenario, but I had to keep part of my arm and shoulder outside of the shower at all times, ridiculous!
As it was so cramped, the toilet was pretty much on the shower, while the door was a centimetre in front, mening you couldn't shut the door otherwise your face would be squashed against the bathroom door. So here are the main reasons why this is the worst design ever:
If I was staying with someone, they would have to watch me sitting on the toilet
the curtains were directly opposite, so occasionally I would forget to shut them until I sat down, at which point I faced the neighbours and did my business.
As it was a bit difficult to shut the door, it is a bit odd to go straight back into the room and relax when the toilet is merely inches from you
But just to top it off, the bathroom was so small that the sink actually had to be placed in the room.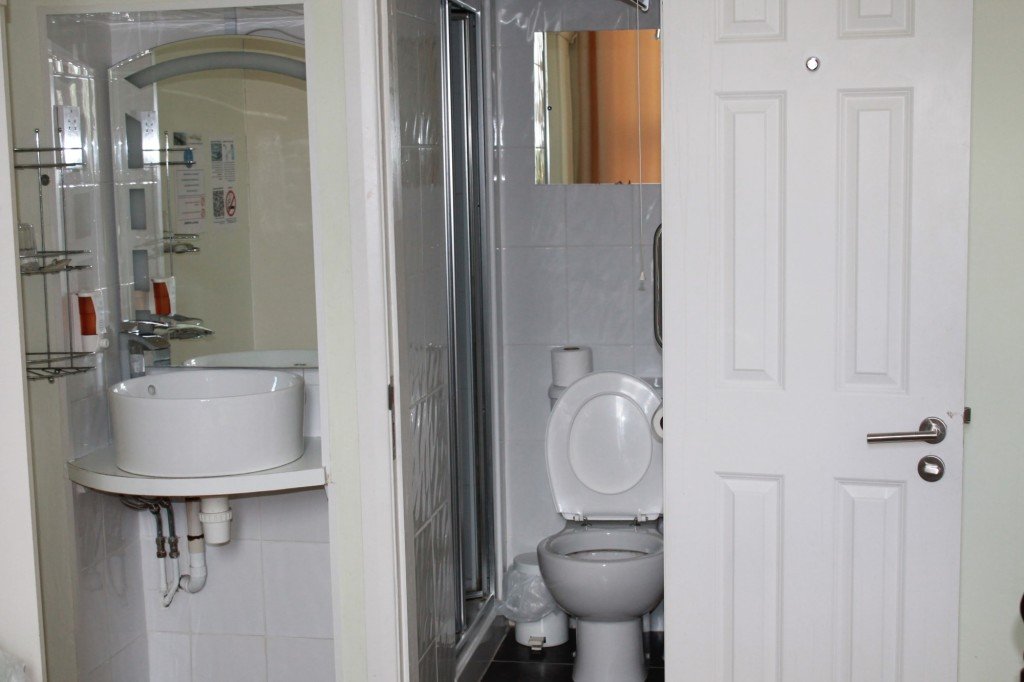 Facilities
Another area where they fell short of expectations. Firstly, I had a huge amount of work to do this weekend, so I was looking forward to sitting up to a desk and typing away with some chilled music playing. Unfortunately, there wasn't a desk. In fact, there wasn't even a chair! There was however a giant chest of drawers that could hold an entire families life supply of clothing, not exactly necessary considering normal requirements.
On top of this, they didn't have a fridge, something I saw as a basic necessity for a room. I went down to the shop and bought a load of food to eat over the weekend, just to find there was no fridge and the room was boiling hot, meaning it all went off very quickly.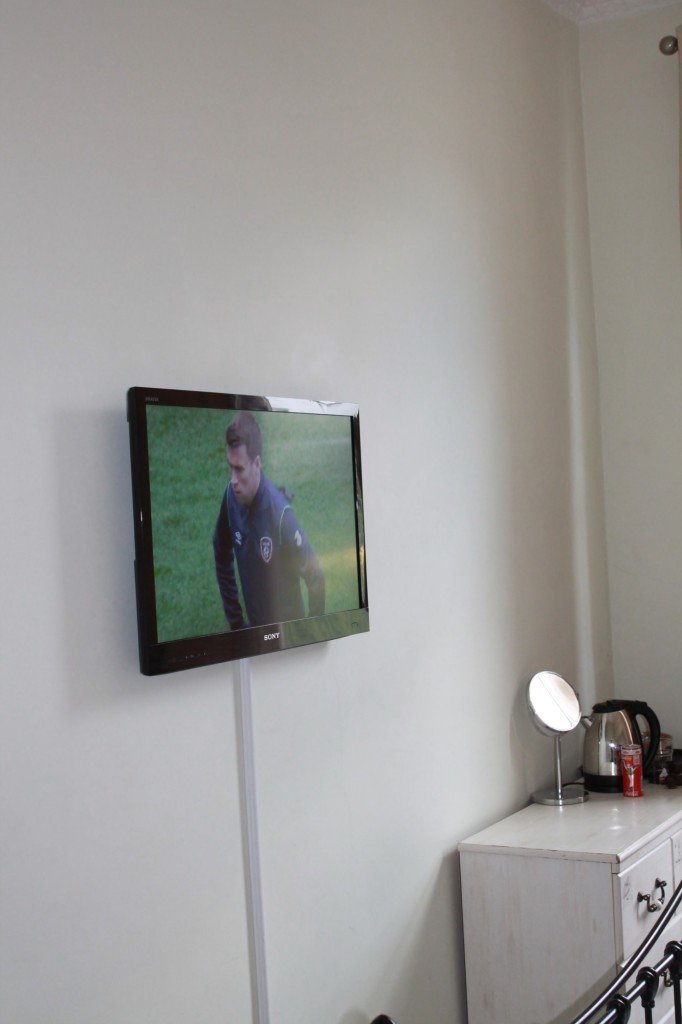 Coffee
They did provide plenty of self-service tea and coffee, much more than other hotels, as well as two complimentary drinks of coca cola and two bottles of water. I actually thought it was a nice gesture to provide free drinks, however these weren't topped up on the second day, which I found odd.
They were more than happy to top up your coffee/tea/UHT milk supplies if you ran short, which was nice and very much appreciated as I was chugging back the coffee.
Breakfast
Well this was a Jekyll and Hyde performance, but honestly I would give a thumbs up. I woke up on the Sunday and headed down for breakfast around 9am. I was offered four choices (including a Quorn vegetarian option, I'm not a vegetarian but a lot of friends are and I'm impressed they had Quorn meat). I chose the complete English Breakfast, which had all the trimmings.
It tasted as good as it looked, while there was also a mini self service buffet section, which had creamy yoghurts, two different juices and both fresh fruit and tinned fruit.
I loved my breakfast and the nice welcoming by the lovely lady who served me.
The next morning I had to get up for work, so I arrived at the earliest time they serve, which is 8am. Considering I would have to leave for work at 8:20, I was hoping they would serve me quickly and I could get on my way.
I honestly think it might have been an off day, as it seemed like everyone was panicking, like maybe the chef had called in sick, or maybe he doesn't work on weekdays, however the service was awful. I was the first person down, while it remained empty the entire time I was down there, however I still wasn't served until 8:15, 5 minutes before I had to leave. Even if they were in a rush, which they shouldn't be with nobody else to serve, the crucial thing they forgot was to greet me or at least let me know they will be around to me soon or offer an estimated time, as I almost walked off, considering I CANNOT be late for work.
Finally they served me and got my food out to me. The food wasn't quite as good as the day before, while they didn't say a word to me. Just as I finished, one of the staff members ran over to me and said "oh, here is your hashbrown, I forgot". I appreciate her still bringing it out to me as I didn't want to pester them to ask where it was, so I quickly ate it, but it just seemed to be all piling on. As I left the room I shouted thanks and goodbye, but just got a "yer" response from the guy who is normally at reception.
Cleanliness
This is a hit and miss topic, as it very much depends on people's description of cleanliness. In my eyes, it was adequately clean, however I know a few other people that would point out issues which I noticed. For example, there was a dirty towel under the bed, something you would expect them to notice when cleaning the room. Yet at the same time, I don't care about those types of issues as I honestly don't feel it could affect someone's experience.
Reception
When I arrived I was greeted by a man who explained the details, such as check-out time. He asked me if I knew the area and I stated yes, so he didn't explain the area, meaning I'm not sure of his knowledge of the area. I always feel it is critical for people working at the reception to provide a paper map and explain local recommendations and offer assistance, however by stating I knew the area it is hard to tell whether he skipped this for my benefit or whether he actually just didn't provide any further details. For this reason, I will state just that the guy seemed very nice, but also very much in a rush at times.