We were diving through lists of things to do in Corfu, largely focusing on Cathedral's, Old Town and old fortresses, all of which sounded amazing, but something glaringly obvious seemed to be missing from every list!
We're both huge fans of water parks, they bring out your inner child, as you tackle slides of various heights, depending on your bravery levels.
As soon as we saw images of Aqualand, this became an absolute must during our visit to Corfu. I've tried my best to include everything you'll need to know if you're considering booking this for yourself.
How Many Rides Did They Have?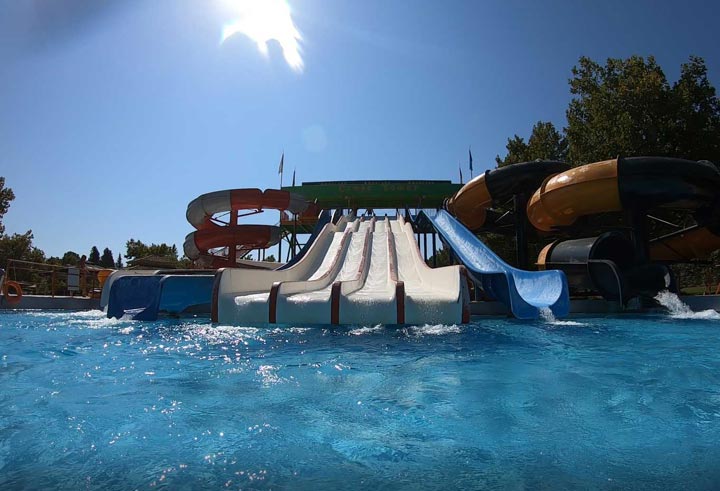 There were a lot more than I originally thought, as we kept finding more as we walked around. All in all, I believe they have 51 slides.
How Long Were The Queues?
My answer comes with a caveat. There were virtually no queues when we went, however when we went was a Tuesday morning outside of the Summer Holidays, meaning you would expect there to be virtually no queues. I can imagine a peak day in summer when the kids are out would be a lot more busy.
Are The Rides Scary?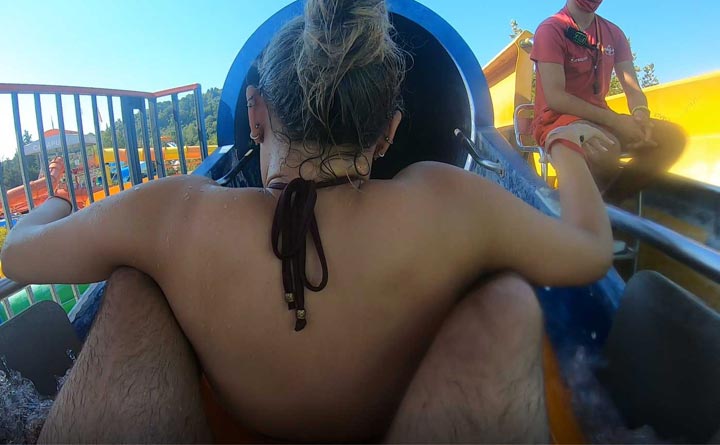 It depends which ones you pick, once you've had a go they all become less scary very quickly, in a good way, as I was having the time of my life.
There were a couple I avoided as they were a bit too intense for me. From memory, these were under an 'extreme' sign and were the 'Freefall' rides, where you free fall for a split second, as the name hints at.
Do They Have A Lazy River?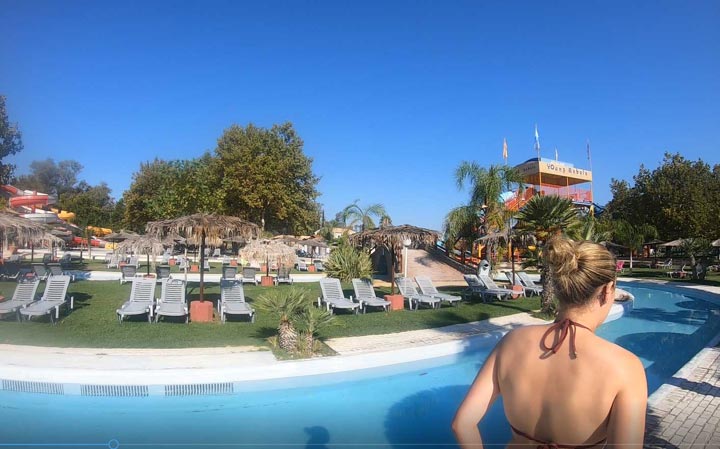 Yes they do, this stretches a fair distance of the centre of the park. I'm not a big fan of the lazy rivers, as I get impatient and want to jump back on a ride, but if this is your thing then you'll love this one.
Do They Have Suitable Rides For Children?
Yes they do, they had a baby pool, plus a pirate area I tried climbing into before realising I was too big.
Do They Have Rides You Can Go On As A Couple?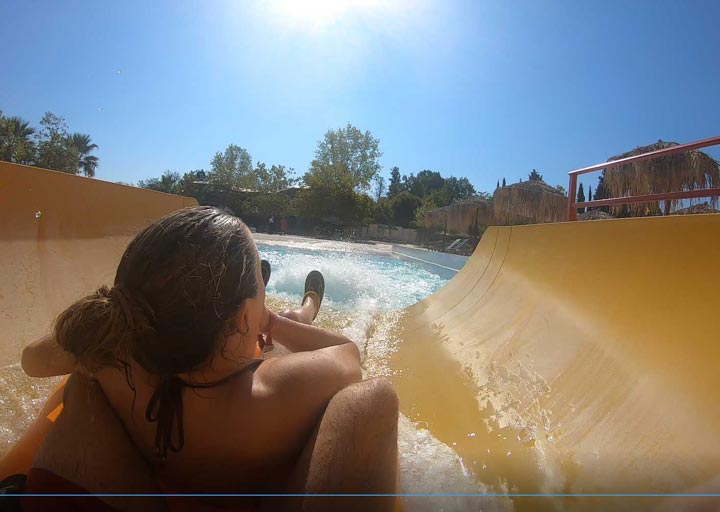 Yes they do, while I'm happy to go on any ride, Raquel was particularly keen on the two-person rides, so we loved the 'family rafting' ride, while there were many others dotted around the park.
We also loved going on slides (without the dinghy's) alongside each other, racing to the bottom, but Raquel won each time. One hint is to lie down rather than sit up, crossing your arms and legs.
Do They Have Towels?
You can buy towels from their shop, but they don't have towels available to rent, so you should bring your own ones with you.
In fact, we didn't bring our towels (we forgot), but we naturally dried in the intense heat and were completely dry by the time the taxi arrived, so we didn't even bother.
When Did We Go?
We went in September 2021 on our Jet2holidays trip to Corfu, therefore all of this information is up to date as of this point. I will however try my best to update this article over time so as to ensure I deliver the most relevant information.
How Far Is Aqualand Corfu From The Beach?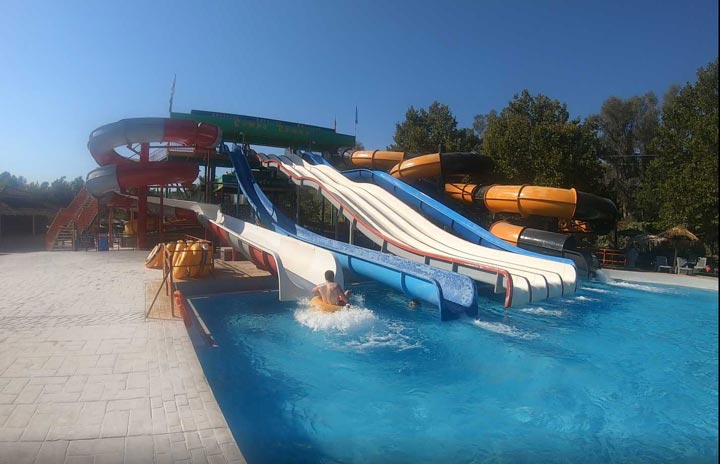 Aqualand is placed dead centre of the land, meaning it would arguably take an identical length of time if you wanted to go to the beach in the East or West.
If we chose the closest beach on the East, it's a 1.5 hour walk, or 18 minute drive. If we look to the West (Ionio Pelagos), it would be a 1 hour 20 minute walk, or an 11 minute drive, simply due to the slightly more direct road ways.
How Far Is Aqualand Corfu From Airport?
The distance is 8.2km and would take 1 hour and 44 minutes to walk, not that I expect anyone to walk this distance.
By car, it should take around 19 minutes to get there from the airport.
How Far Was Aqualand From Your Hotel?
We stayed at the Aeolos Beach Resort which was South of Aqualand. For us to get to the water park, it would have taken two buses.
We had only arrived the day before and we were feeling a little lavish, so we took a taxi there and back. It cost 45 euro's each way, plus 5 euro's each way as a tip, so 100 euro's in transport costs was quite a hefty price, therefore you might want to look into the bus routes.
Is Aqualand Corfu Open In October?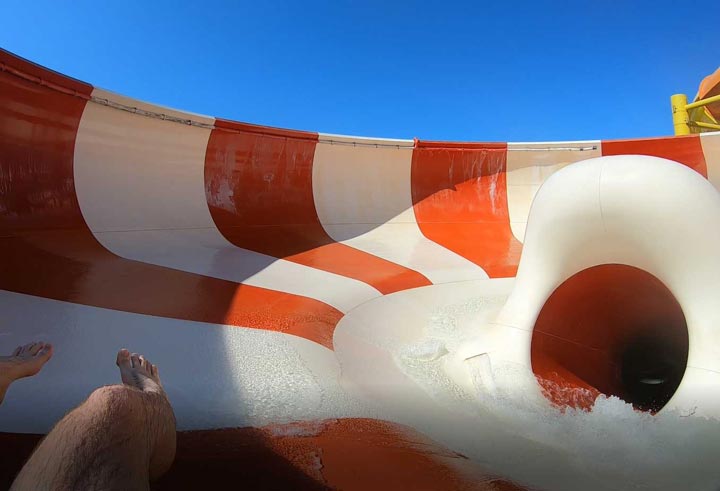 No, unfortunately it shuts on the 8th October each year, so we just about visited before it shut, while it opens back up again on the 14th May.
Before visiting, I would double check if you're close to these dates, as they may slightly move these dates based on circumstances, especially around Covid.
Where Do I Get Aqualand Corfu Tickets?
You can purchase them online, which Raquel did a week in advance, however you can turn up on the day and buy them.
Raquel bought them in advance as she noticed they were slightly cheaper if bought online. Below are the prices (in Euro's):
Full Day Access
Adult €30 – €27 online
+65 year olds €21 – €19 online
Children (up to 12 years old) €21 – €19 online
Infants (4 and under) free
2 Day Pass – Must be booked online
Adults €45
+65 years old €35
Children €35
Infants free
Weekly Pass – Must be booked online
Adults €90
+65 years old €70
Children €70
Infants free
What Should We Bring?
Sun tan lotion
Towel
Swimming clothes / change of clothes
Money (it cost 3 euro's for the locker, plus you might want to eat here as they don't allow you to bring in food)
Waterproof items if you want to carry your phone on you
Optional – aqua shoes
Would You Go Again?
100%, I am a huge water park fan and I can honestly say this was my favourite day of our entire trip. This is easily one of the biggest water parks in Europe and certainly worth a visit if you want your inner child to have an unbelievable time.