When I think of Italy, I tend to think of lasagna and pizza, Del Piero, the remains of Pompeii, the Colosseum, suits in Milan and a boot shape on the map. One thing that doesn't immediately come to mind are the animals and wildlife in Italy, therefore I thought it would make for an interesting read for anyone big on seeing animals in their natural habitat.
Some animals you could find may come as a surprise to some, such as the great brown bear. The brown bear is a strong and potentially dangerous animal if you were to encounter it with a hot cross bun in hand; fortunately they tend not to be found in urban areas. Unfortunately there are only believed to be about 100 brown bears left in Italy, as they came incredibly close to becoming extinct during the 20th Century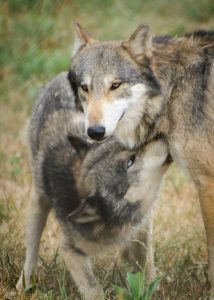 Another surprising animal you could find are wolves which regularly hunt deer (not people).
In regards to endangered species, you can see the wild goats called mufloni in Gigli, Tuscany. Some animals can only be found in Italy, such as the Apennine shrew, Sicilian Wall Lizard, Italian Aesculapian Snake and the Pond Turtle Emys Trinacris.
If you really want to spot some beautiful creatures, I would recommend visiting National Park of Gran Sasso-Laga in Abruzzo. If you do decide to visit, keep an eye out for the Wild boars, wild cats and Apennine wolfs. Another national park renowned for its wildlife and animal residents is the Monti Sibilini National Park, 100km west of Rome. Fairly similar to the other national park, the types of animals you could find would be wildcats, deer and wolves, not to mention a large range of reptiles and snakes. If you are heading to a national park, keep your eye in the sky for the eagles that will circle their territory. Other birds to look out for are hawks, vultures, buzzards, kites and falcons, to name a few.
The National Parks cover approximately 5% of Italy. Below is a list of a few National Parks you could visit while on holiday in Italy:
Abruzzo Lazio E Molise
Appennino Lucano – Basilicata
Alta Murgia – Puglia
Arcipelago Di La Maddalena – Sardegna
Arcipelago Toscano – Toscana
Appennino Tosco-Emiliano – Toscana
Circeo – Lazio
Cinque Terre – Liguria
Foreste Casentinesi – Toscana
Gargano – Puglia
Gran Paradiso – Piemonte
Majella – Abruzzo
Pollino – Calabria
Sila – Calabria
Vesuvius – Campania
Sadly most of the animal life is limited to national parks due to human interaction and hunting, however numbers are very slowly rising, while some animals are entering the country from neighbouring Slovenia. Italy has one of the lowest amounts of animal life (excluding humans) in Europe, however in the Alps you can normally spot a Marmot, Chamois or an Ibex
The beaches that meet the Mediterranean sea is a hot spot for tourists as they look to soak up some sun, however I would recommend getting some scuba equipment and heading out to the diving spots. If you're lucky, you could see  swordfish, dolphins or even white sharks.
Overall, I would either recommend Tuscany/Lazio if you want to walk/drive alongside some animals you won't find back home.
I wrote this post after the hugely positive feedback on my list of animals in Spain, a post which highlighted many creatures that people didn't expect to find on their summer holidays. I've since followed it up with a list of animals in Portugal and would like to keep this going as a series, so do let me know if there is a destination that would like to find out more about.
These are all the animals I know of in Italy, however let me know if I have left any out in the comments below!