Like a scene out of the Great Gatsby, I felt like I had entered a whole new world, except I hadn't rode up on a magic carpet. Well, I was escorted by the private villa's tuktuk, which definitely set the tone for the day ahead. This was my stay at the Ammatara Pura Pool Villa's, the most exquisite and high-class resort in Koh Samui.
With only 18 villas within the area, each villa is supposed to resemble a Thai palace, with its stylish design and luxurious offerings. You can tell you've arrived somewhere a little different when the taxi driver stops to stare and begins taking photos of the building on his phone! The entrance was seriously quite astonishing, but it was merely the clue to the beauty within.

The Pool
As we walked up the steps to our private villa, we instantly laid our eyes on the 1.4 metre pool, which is available for each villa. While there is a general pool for everyone, it hardly seems worthwhile when you have your own area to splash around in!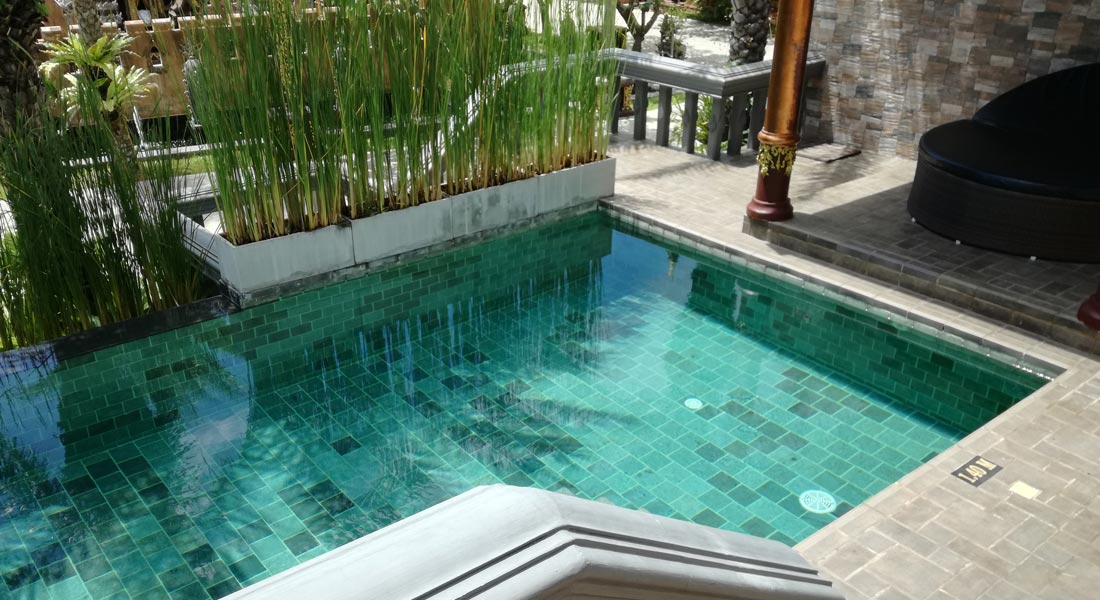 I must have spent about 8 hours a day in this pool. On the far side of the pool were two higher sections, shaped like chairs, with a table section between them, meaning we could eat our room service while still relaxing in the pool, something I never thought I'd tick off.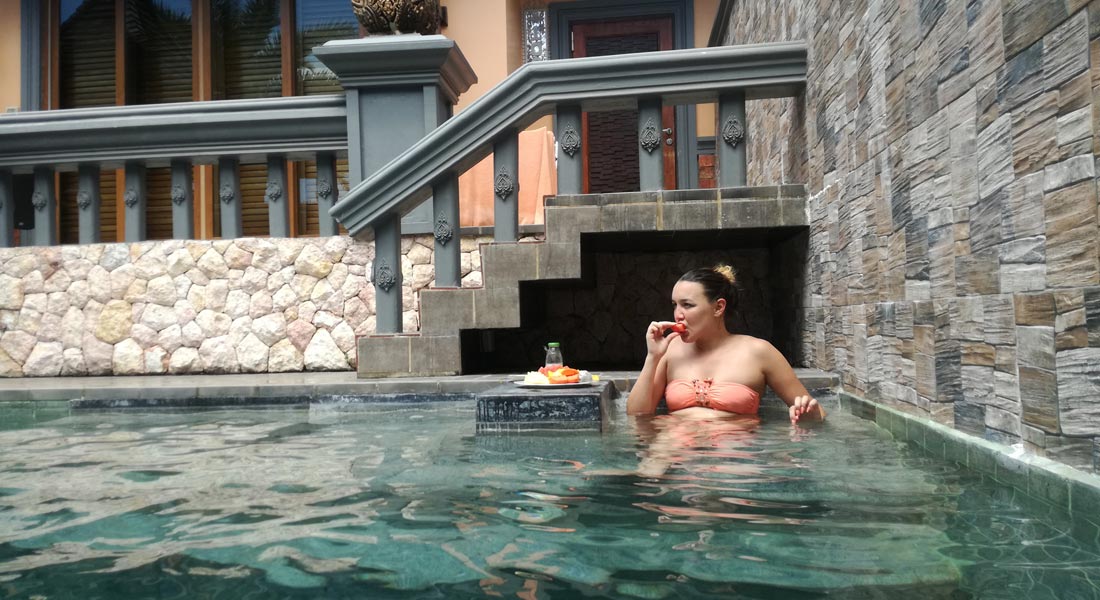 Right alongside the pool is a sofa area which could enter a beauty pageant it was so gorgeous! The arch over the sofa was decorated from top to bottom, while it also offered a nice area to escape the sun.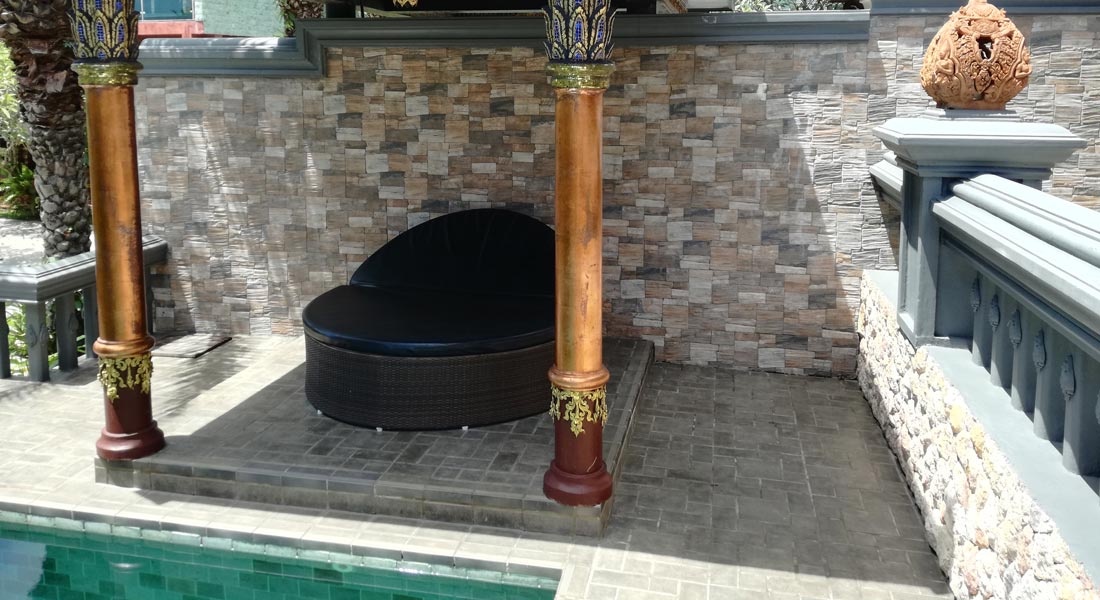 The Room
Heading inside, there is a table with fresh fruit laid out for you. This might seem like a minor point, but it is these little details I felt made the place so magical.
The bed was beyond oversized, I've set myself a personal aim of getting one this big in the future. Ah who am I kidding, I'm already looking them up! The pillows were insanely soft and I actually had the best night's sleep of my entire trip in Thailand.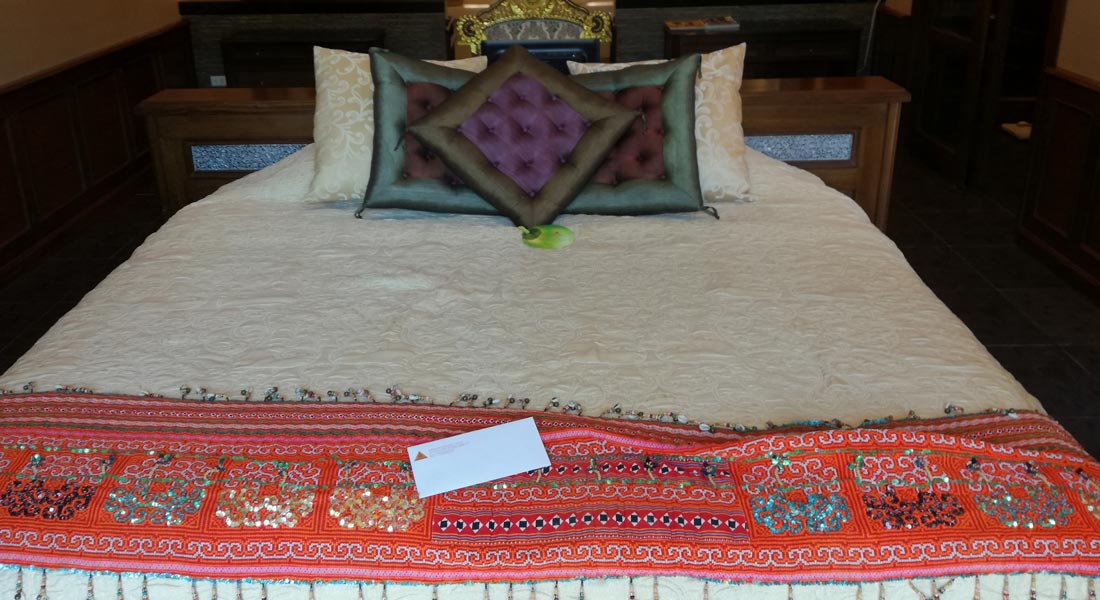 It also felt amazing to open up the doorway and have direct views of the pool and the beautiful scenery directly from my bed.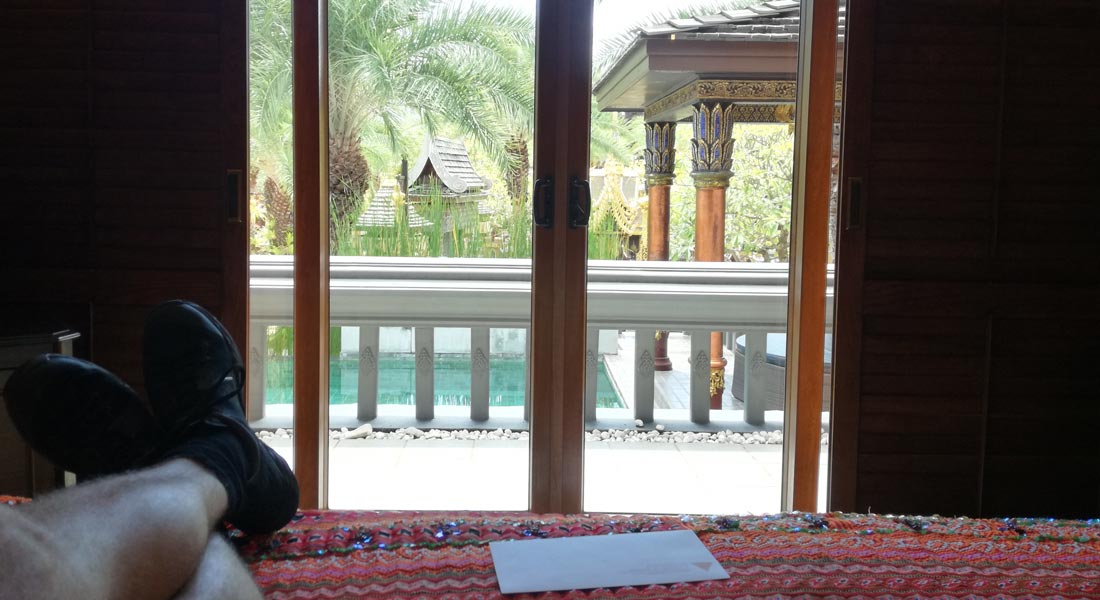 There was a sofa area to the side of the bed, where you can relax and read in the evening, while there was a TV and HiFi provided for each room.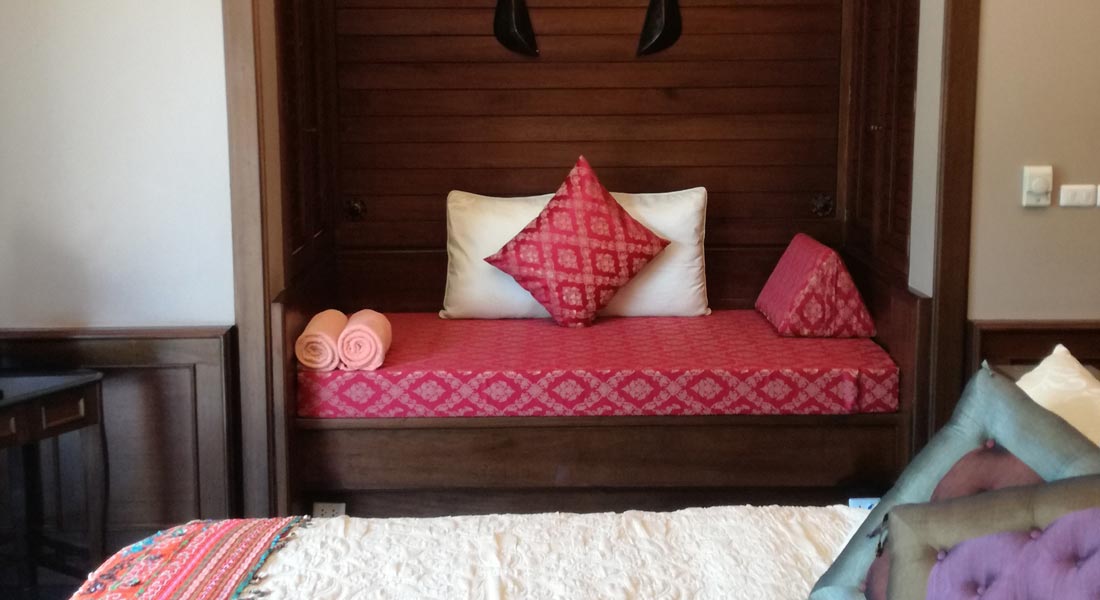 Perhaps more surprising was the computer placed in each room, as well as the insanely cool old school telephone, something I also want for my own house.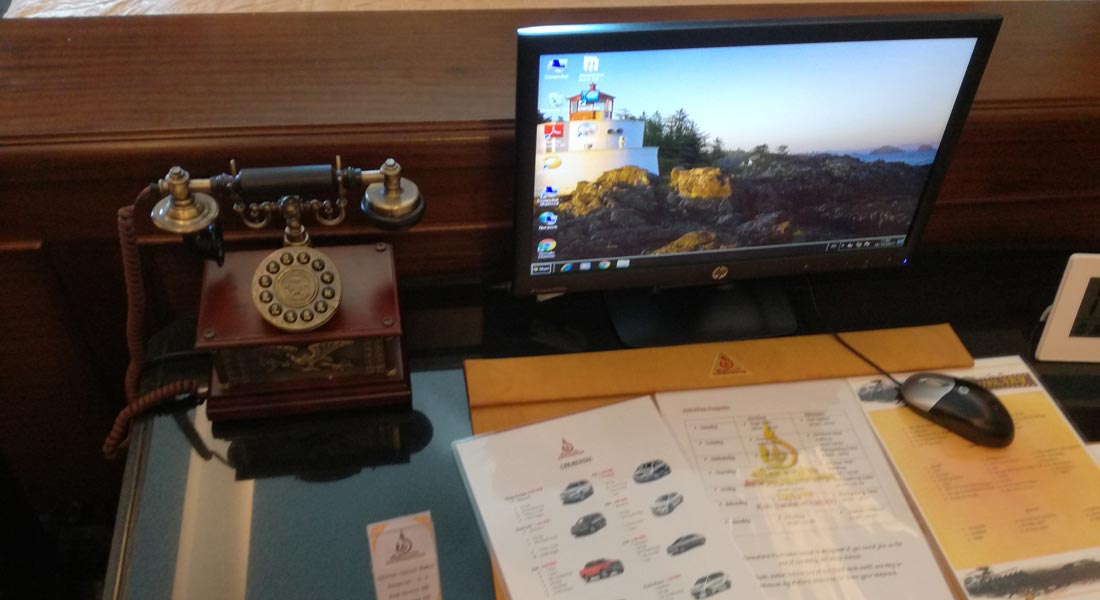 Next is the Walk In Wardrobe, which was the same size as my little sister's entire bedroom growing up. It was complete with a scales, dressing gowns and multiple forms of slippers and flip flops. This made for a great area to hide away your bags so they don't keep getting in the way.
As we enter the back part of the room, on either side we have a sink. Another minor point, but something we absolutely loved, as it stops you getting in the way of each other or fighting for sink space when cleaning the teeth. All the little things were thought of, with items provided such as tooth brushes, tooth paste, combs, hair dryer, shaving kit etc.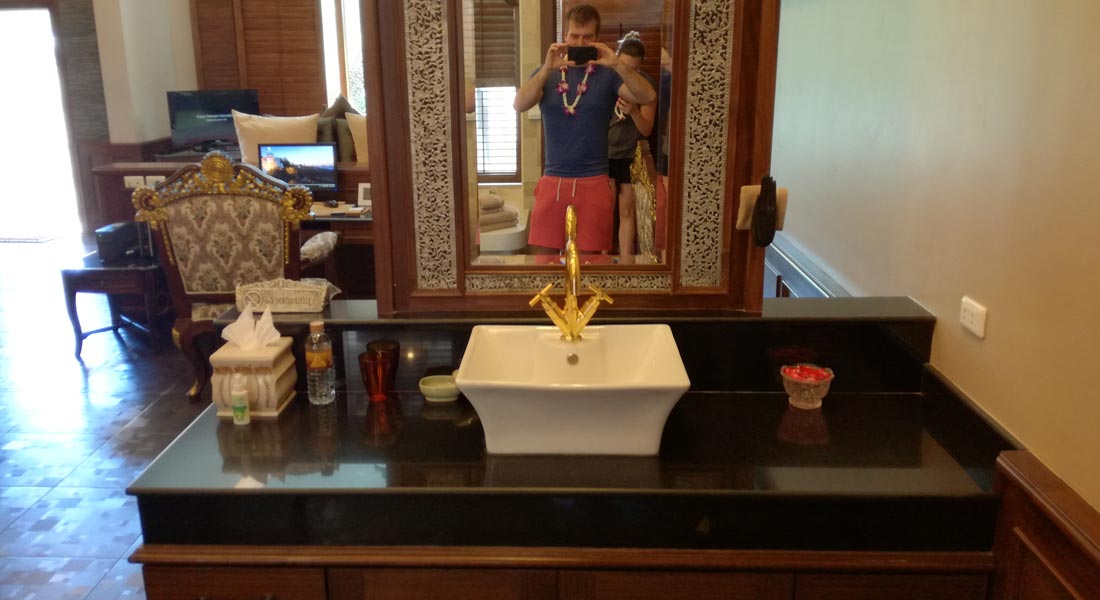 There was a small room with a toilet near the back, however with nothing but a toilet in here, it really was quite spacious. I also like the fact that they have four toilet rolls in there, as nothing is worse than being caught short! Once again, that attention to detail is what makes this place stay in the memory, even if it is for those silly little reasons.
At the back of the room was, get ready for it, our very own jacuzzi! It definitely took a while to fill up, about 30 minutes or so, however that exemplifies the size of this gigantic tub.
At the side of the jacuzzi were a pool of rose petals, which you could place inside the tub, creating a more romantic atmosphere.
The Kitchen
Right near the back of the room, there is an entrance to a private kitchen, complete with cutlery, pots and pans and all that malarkey.
Something I missed from back home was my Tassimo coffee machine, therefore I was over the moon the moment I saw an espresso machine. The one downside is it isn't a coffee machine, you do have to pop down the road to buy some milk, but I can't complain when you get four pods for free in the room.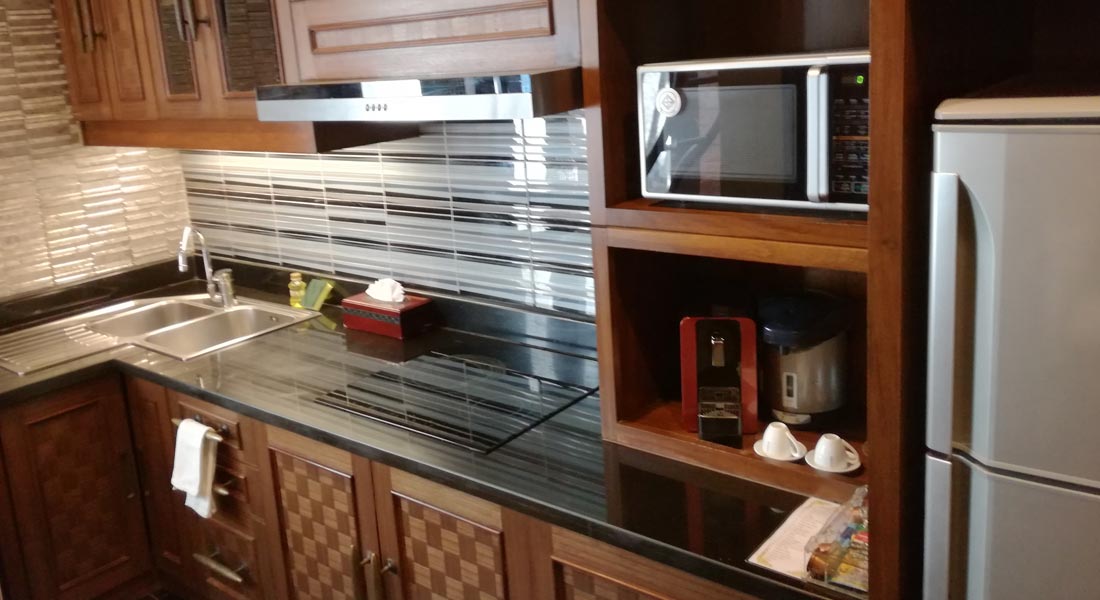 We didn't end up cooking much, therefore this is hard to write about, however that is more due to the great food on offer at the restaurant, which leads me nicely on to my next point.
There was also a washing machine, with washing powder provided, meaning if you plan on staying for over a week, you can clean those dirty socks in a jiffy.
The Shower
Each room also has its very own Outside Shower, however it is based out the back of the villa, so nobody else can see. I don't know how many times I will say it, but the little extra's are what makes this place so great and the shampoo almost looked like a potion, coming in a flashy purple colour.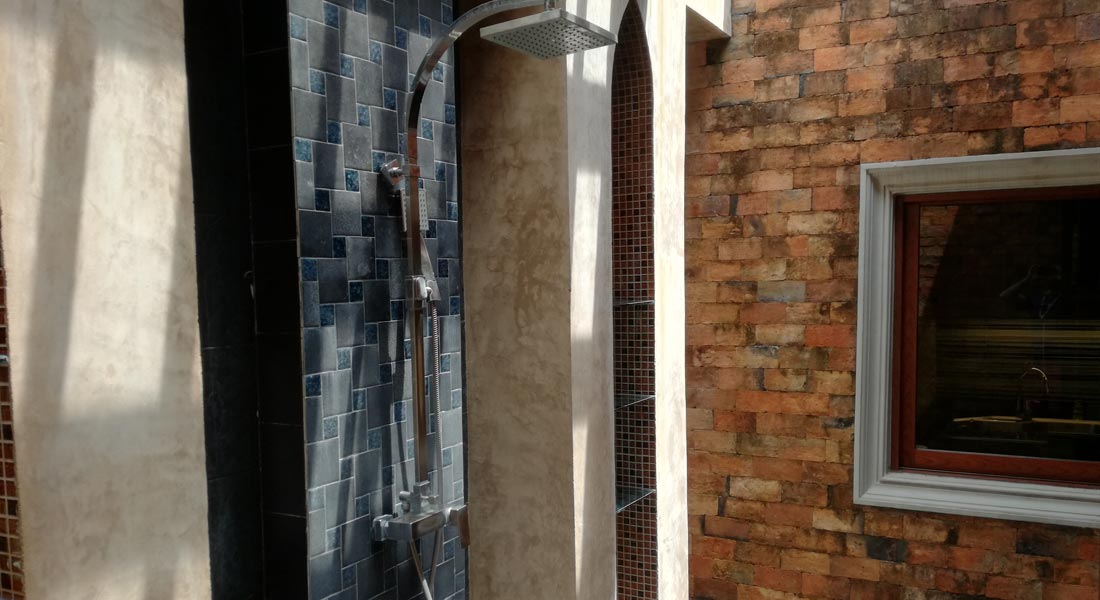 The Restaurant
Dressed up and with a glass of wine in us, we headed over to the on-site restaurant, located right alongside the beach, a 1 minute walk from our room. Without ever leaving the resort, we had entered the epitome of romance, with a candlelit dinner, with the sea brushing in making that melodic tone as the waves break on the sand, with flowers surrounding us and the sound of birds in the trees.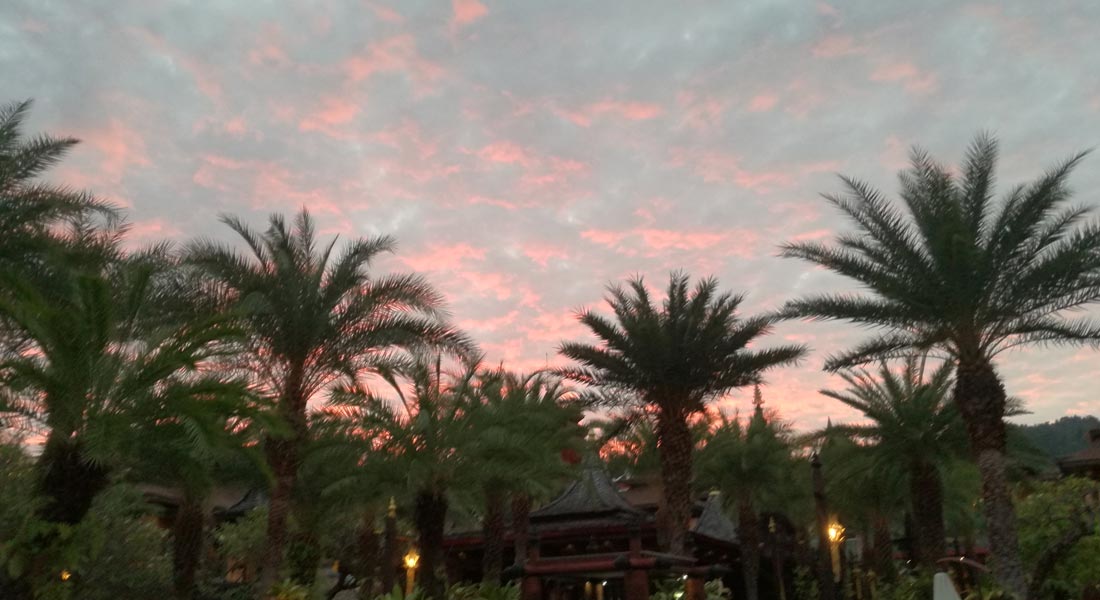 The waiter got top marks for efficiency, friendliness and just for being a top fella. He was quick to take our order, he brought over mosquito spray when he noticed me slapping my leg and was very friendly and helpful with recommendations on dishes.
On the first night I went for a traditional Thai curry, I can't remember the name for the life of me but it tasted pretty decent.
On the second night, I decided to go a bit fancy and ordered the tenderloin steak. I have eaten beef in Texas and Argentina, in some of the most famous steak restaurants in the world, however I'd have to say this was the second best steak of my life! That is without exaggeration in the slightest, hat's off to the chef.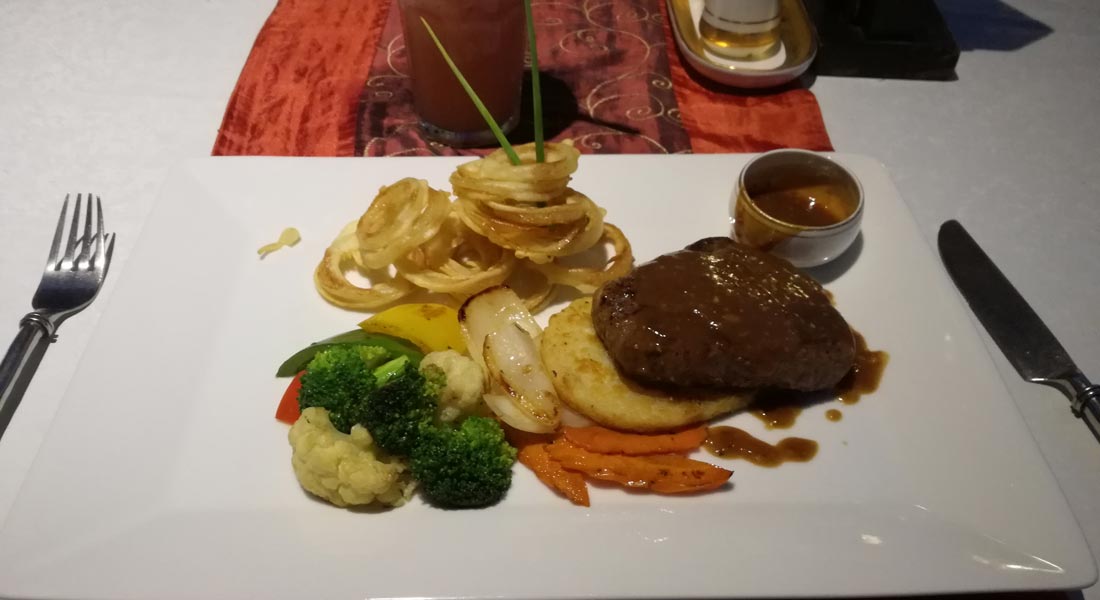 Both myself and Raquel noticed the list of smoothies on the back page and we are so glad we did! I went for a strawberry and watermelon smoothie, while Raquel went for an apple one and both of us are convinced they are two of the best we have ever had.
Room Service
While swimming in the pool and relaxing in the sun, even the 1 minute walk to the restaurant can seem a step too far, therefore the temptation for room service kicked in. The old school telephone has several numbers you can dial, such as reception, room service and house keeping. Needless to say, we jumped straight onto the room service and ordered several dishes.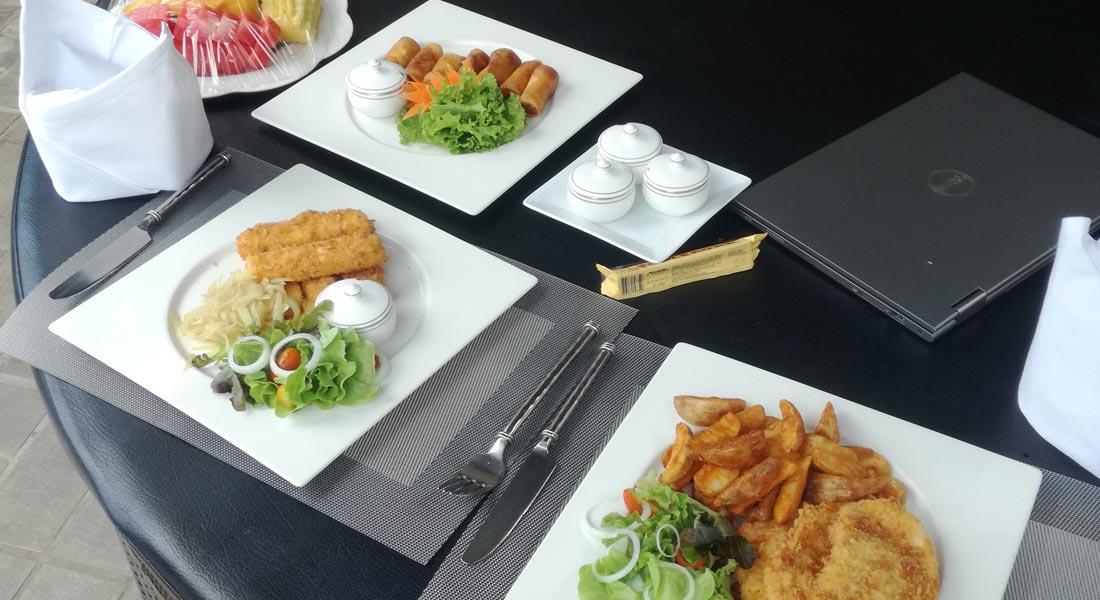 We opted for a bit of a buffet selection, so we ordered mozzarella fingers (10/10), chicken and potato wedges (7/10), spring rolls (8.5/10) and the fruit platter (8/10). This was definitely too much for two people, with a generous amount provided for each dish, but the cheesy fingers were to die for.
All of the food was brought over within 15 minutes and we got to eat it in the pool on our seats, helping us to never leave relaxed mode.
Activities
There are two activities per day which are completely free for people staying at Ammatara Pura, such as badminton, Thai cooking classes and jewellery making. Based on the timing of our visit, we chose to do the fortune teller and the yoga class. This was a mixed result, so let's start with the negative.
The fortune teller was hands down the worst thing we have ever witnessed, getting 100% of his predictions wrong, to the point that the staff translating started to get embarrassed. He would state comments such as we seek forgiveness from the lord, at which point we'd explain we are atheist, that Raquel has just got over a sickness when she has been healthy all year and that I suffer from severe back pains, when I have no complaints so far. Needless to say, I wouldn't recommend giving this a try. However it is difficult not to see the funny side and it definitely made for one of the best stories of our holiday, funny how these things work out.
The second activity we tried was a hell of a lot better. We went for the yoga class on Friday morning at 8am. Arriving at reception, we were escorted by the villa tuktuk 2 minutes outside of the resort to a very closeby area slightly up the mountain.
There we were greeted by our instructor, who had two mattes laid out, with water and a towel. The view alongside us was of the beach, which made it hard not to keep staring out the window at this magnificent view.
The session lasted a full hour and certainly tested my flexibility, however the instructor was great at speeding up or slowing down wherever we felt necessary. We also had the great view of some lizards watching us workout, which made it feel truly separate from a yoga session in your local gym. It might be an early wake-up, but when else in your life will you get the chance to say you did yoga up a mountain in Thailand overlooking the sea.
Breakfast
From the moment you enter the breakfast area, you are welcomed by staff and escorted to your seat. They will very quickly offer you a menu, take your order and serve you with juice and a hot drink of choice. They do make a great Latte, and I don't say that lightly.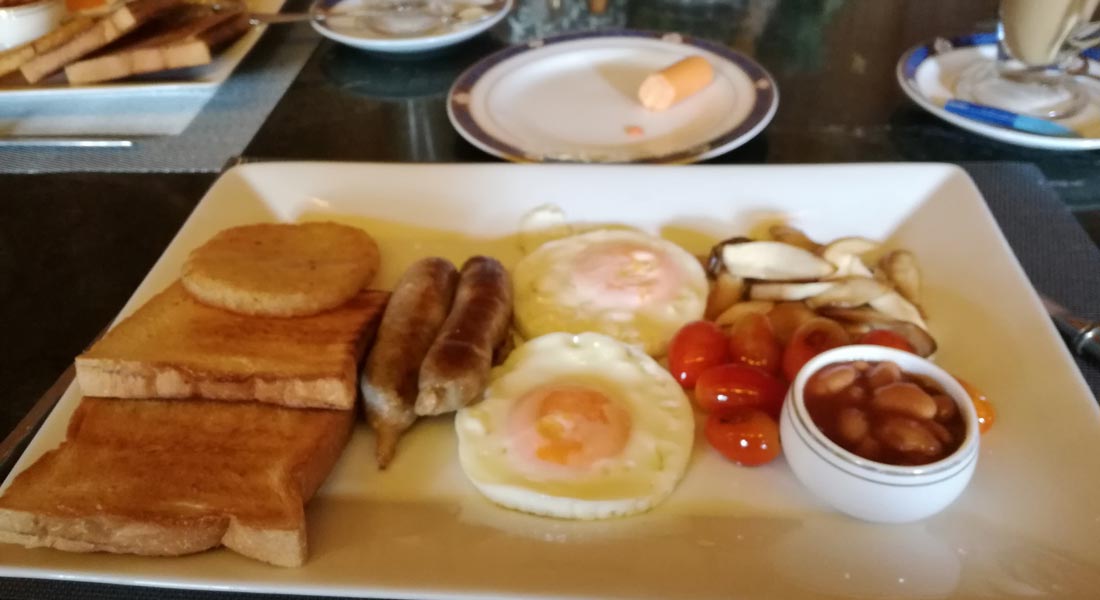 On the first day I opted for the full English breakfast, which was ok, but doesn't taste similar to what you'd have back home. However, on the second day I went for the salmon teriyaki and it was out of this world. The salmon was cooked to perfection, the sauce was scrumptious and the serving size was just right.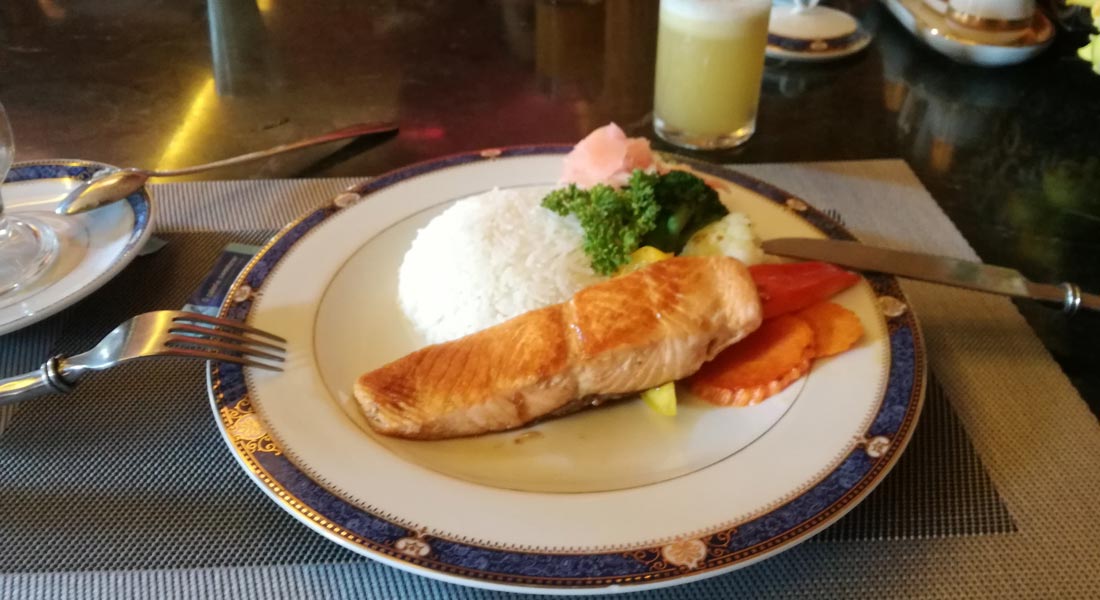 There is also a buffet with plenty of options, such as bakery goods, cereals, yogurts, noodle and rice dishes and so much more. They were also on hand to very quickly offer you a top up on your juice or coffee when it runs out.
The Beach
I probably have written too much about the private pool and not enough about the beach area, especially as you have come all this way to be near a beach and the hotel has its own private section, however it does become very hard to leave the pool once you get here.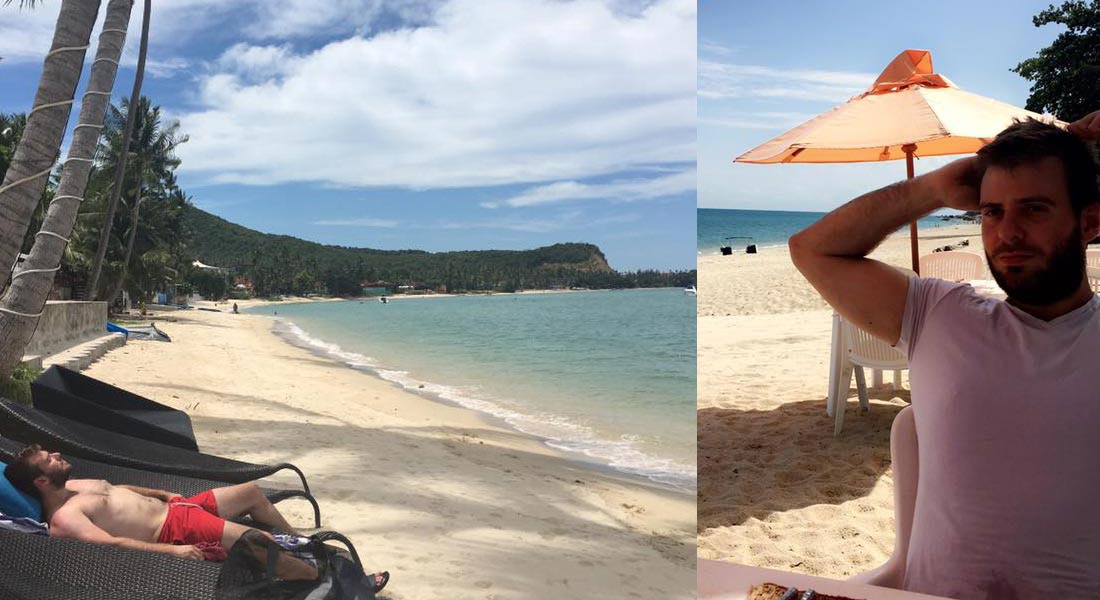 The water seems to always be incredibly warm, while they also have a hose to spray the sand off your feet, meaning you won't be dragging it all into your villa.
As soon as we entered the beach, you can see the water sport seller located, therefore we strolled over to see what we could sign up to. From jet ski's to wakeboarding, it's all available but at a premium price. On the other hand, a 10 minute ride on the banana sofa seemed a fair bargain at 500 baht each (about £12), therefore we opted for this. I cannot explain how much fun it is, but you definitely have to give it a go! This is an adrenaline junkies dream, as you hold on for dear life, however be prepared to get a fair bit of sea water in your eyes.
The Fitness Room
Something we didn't find until the final day was a gym and fitness room, located near the reception. Not everyone's choice of activity while on holiday, I was quick to jump for a mini workout, even if the heat did beat me after 25 minutes. It's all machine based equipment, however I love the equipment here.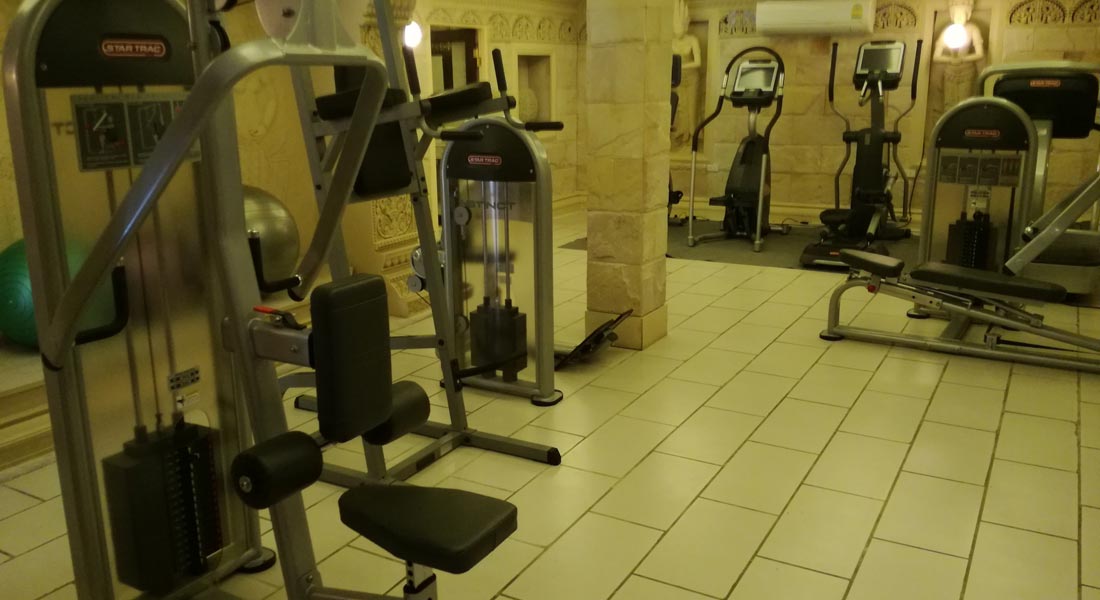 For anyone who goes to a gym on a regular basis, you will know the machines normally have pins you have to pull out and put into the right weight, while sometimes they go missing. Well at this gym you just flick a switch on the right weight and it is selected, a much more easier option for changing weight.
Would I Recommend Staying?
Well, without any doubt I would 100% recommend staying here if you plan on visiting Thailand. I have been all over the world, yet I have NEVER stayed somewhere this amazing in my life and I can only hope I get the chance to return one day.
The price might be steep, but the experience will stay with you forever and is unmatchable. This is by far the greatest accommodation in Koh Samui.