Combining suggestions and advice from 22 illustrious global travel bloggers, here is a hefty list of the most exciting and highly recommended places to visit in 2022. Forget listening to travel agents and holiday companies, these are tried and tested by real travellers, so you can be assured of the authenticity and honest experience.
Aix-en-Provence, France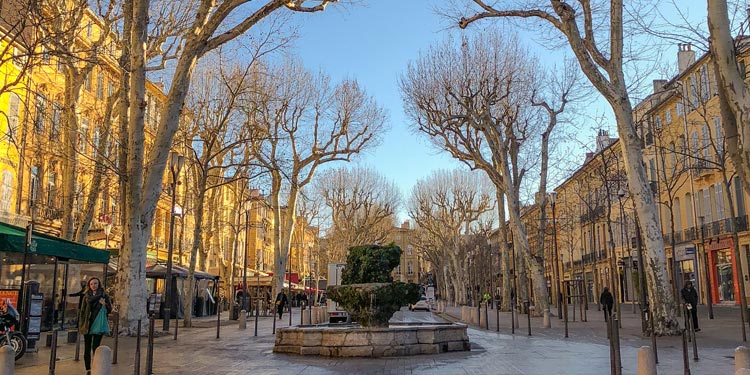 As both the cultural and geographical heart of Provence, Aix-en-Provence epitomizes everything this southern region of France is famous for. Old world charm meets new world trends in the old city, which houses an eclectic mix of grand art galleries and funky little boutiques and cafes.
The grandiose nature of the town's main boulevard, Cours Mirabeau, gives way to a maze of wonderfully intricate lanes where you'd happily get lost for hours.
Visit in the spring to sample the city at its best. When the bright blue skies contrast with the sunshine yellow façades, and the town isn't yet overrun with tourists. Or come in the summer months when you can enjoy the festivities on offer at the annual Festival d'Aix-en-Provence.
Aix-en-Provence also makes the perfect place to base yourself for a holiday exploring the wider Provence region. Take day trips to the Luberon valley with its quintessentially charming villages, the Mediterranean beaches near Marseille, and lavender fields of the Valensole Plateau.
Nadine Maffre of Le Long weekend.
Amsterdam, Netherlands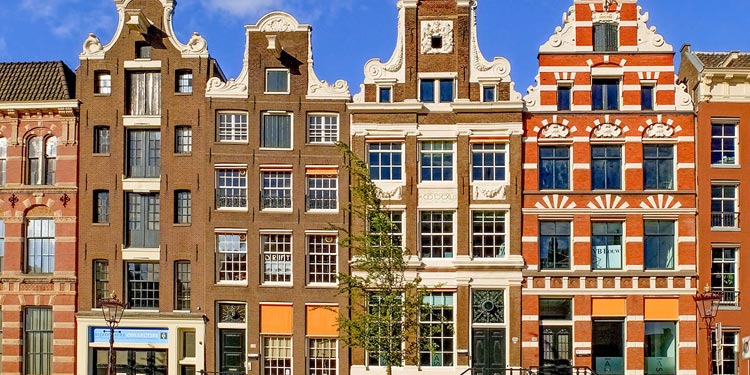 Charming canals, narrow and crooked houses: Amsterdam is an enchanting city that should be on your list of best places to visit in 2022 (and 2023, 2024,…).
From cool cafes to excellent museums, there's a broad array of things to do in the city, just watch out for the bikes. Seriously, crossing the street in Amsterdam is a whole new level. You basically have to look right, left, up, past, and future. Cross the street and still get hit by a bike!
Jokes apart, some of Amsterdam's highlights are the Anne Frank House, Begijnhof, Van Gogh Museum, Rijksmuseum, and the Northern Amsterdam Area. The latter is a hipster area where people hang out in a cafe inside a container ship by the water's edge. You can easily reach this place by taking the free ferry behind the Central Station.
By the way, this central station will connect you directly or indirectly to the main Dutch cities and villages in the country.
The places I mentioned above are the very popular spots in the city, but do you want to know some of the interesting-but-not-so-famous places?
Try the Onze Lieve Heer op 't Zolder (Museum), Oude Kerk (Old Church), and the Vondelbunker (a cultural center). In addition, do your wallet a favor and stroll along the Canal Ring Area, a UNESCO World Heritage site. It's free and it's a treat to your eyes as you see the beauty of the city!
Regardless of your travel style, you will find plenty of amazing things to do in Amsterdam! Have you booked your tickets yet?
Bruna Venturinelli of Maps 'N Bags.
Budapest, Hungary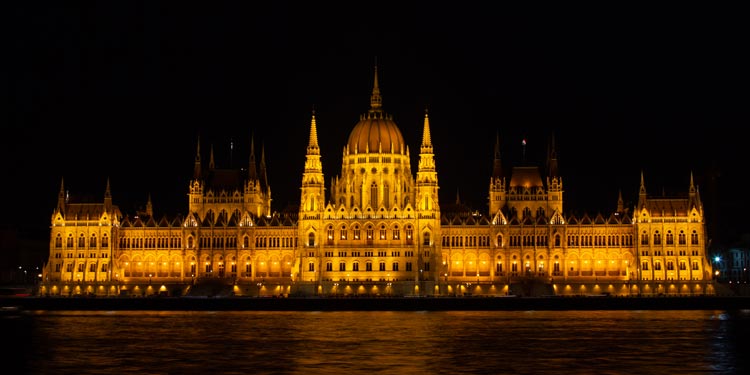 Budapest is one of the most popular cities in Eastern Europe to visit. It is a haven for backpackers and luxury travelers alike, and is one of the most beautiful cities on the continent
Quite simply, it's a beautiful city to explore.
There are many things to do in Budapest. From the many unique Budapest Thermal Baths to the off the beaten path exploration of underground caves. One of the most unusual things to do in Budapest is to dive the unique Molnar Janos Cave – the ultimate experience in Budapest for diving.
Frugal travellers – grab a Budapest Card during your stay in the city. While Budapest remains relatively inexpensive, you can still save a lot of money with this card. Use the Budapest Card to explore the city's most popular tourist spots.
Budapest is easy to reach from continental Europe. It is less than two hours by train from Vienna and Bratislava, and the Budapest Airport links to many other International Destinations.
Halef & Michael of The RTW Guys.
Cuba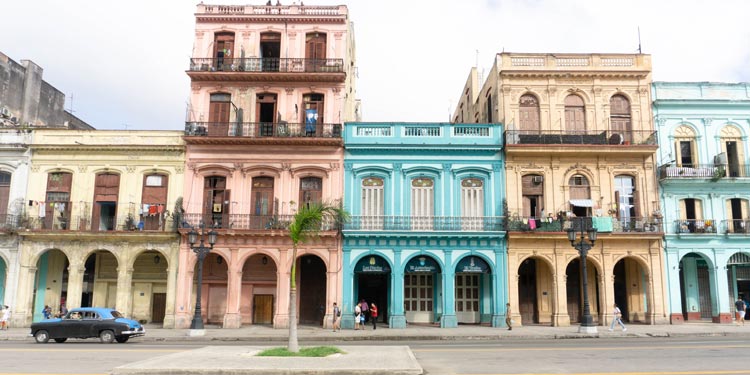 Cuba is not your typical tourist destination and is somewhat more difficult to access than say Mexico, Greece or South Africa. The mystery surrounding Cuba makes the island an intriguing destination. Why should Cuba be at the top of your 2022 bucket list?
Because it's still an authentic place with a local atmosphere – no hordes of tourists, no chain restaurants, and no bouncers trying to get you into their restaurants and bars. Make sure to spend at least three days in Havana to discover the beautiful pastel colored houses, El Capitolio, Plaza de la Revolución, the vintage cars, and Hemingway's favorite bars. Want to see more of Cuba?
Travel on to the tobacco plantations and mountains in Viñales, the colonial town of Trinidad, and the beautiful beaches of Varadero. It's inevitable that the atmosphere in Cuba will change as more people discover how easy it is to travel to Cuba. That's why you need to visit Cuba sooner rather than later – you need to see this Caribbean pearl before it changes.
Melinda Sutus of Meet Mel At The Gate.
Dolomitos, Italy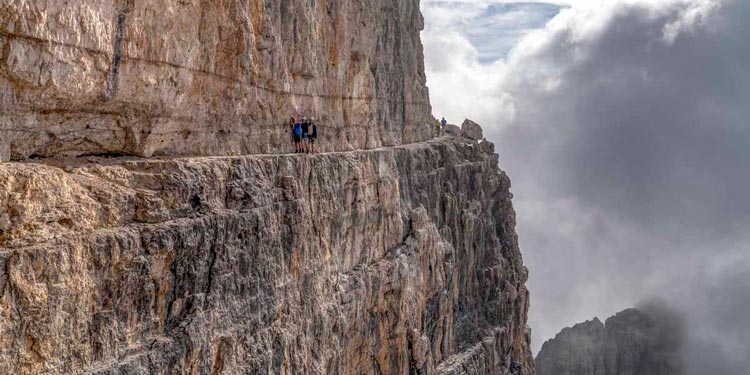 When talking about the Dolomites, most people refer to the stretch of the Alps between South Tyrol and the Austrian border, close to places like Sexten and Cortina d'Ampezzo. However, not many know that there's another Dolomitic group further west – the Brenta Dolomites, not far from Lake Garda and the famous ski slopes of Madonna di Campiglio.
Hiking the Brenta Dolomites is one of my favourite things to do in Italy – the Brenta area is still wild and unexplored compared to the better-known Dolomites close to Austria, and there are great opportunities for hut-to-hut hikes lasting several days.
Those who are brave enough can also attempt a via ferrata, protected climbing routes, following the footsteps of WW1 soldiers who spent years in these mountains and used these climbing routes to move weapons and supplies.
The picture was taken from the Bocchette Centrali, a via ferrata that is often mentioned as one of the best in Italy. It looks difficult, but it can be hiked by anyone, provided you have a guide with you. You just need not to be afraid of heights!
Margherita Ragg of The Crowded Planet.
Hamburg, Germany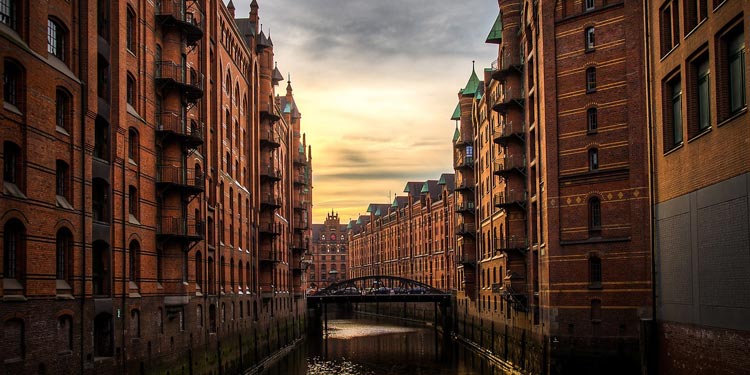 Hamburg, Germany should definitely be on your "Best Place to Visit in 2022" list! Located in northern Germany, Hamburg is a beautiful harbour city that offers a multitude of charm, things to do, and great food and drink all year long.
What to do Hamburg? Why not…canoe through the city's many canals, wander the streets of the Harvesteude neighbourhood and take in the beautiful architecture, picnic on the Alster (the huge lake in the middle of the city) in the summer or ice skate on it in the winter, explore the narrow paths and thatch-roof houses of Blankanese, take a river cruise on the Elbe, people-watch at an outdoor cafe in the hip Sternuschanze neighborhood, go dancing in a club on the Reeperbahn, visit Ohlsdorf (one of the largest cemetery parks in the world), tour the U-434, a Russian espionage submarine turned year-round museum, or check out one of Hamburg's art museums.
Want to explore Hamburg though food? Be sure to try Fischbrötchen (fresh rolls with fish and other condiments inside), a Franzbrötchen (a buttery pastry with cinnamon and other fillings), a bowl of Rote Gütze (a red berry dessert topped with fresh cream, vanilla sauce or ice cream), and of course beer!
Cate Brubaker of International Desserts Blog.
Hanoi, Vietnam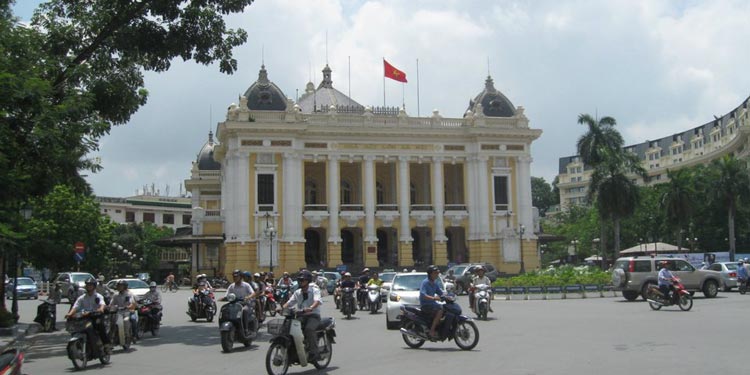 If you're thinking of going somewhere in South East Asia in 2022 and haven't yet considered Hanoi, allow me to change your mind. You see, big-ticket cities in the region such as Bangkok and Singapore are now run-of-the-mill and currently offer a layered form of tourism where you see only curated places and experiences.
Hanoi, on the other hand, is an altogether different enigma. The capital city of Vietnam has a famed Old Quarter where the intention is to get actually lost! How else will you find the treasures of the country along its different streets? Or attend a puppet show that will take you back in time when the country had greenery all around. Base yourself at Hoan Kiem lake and watch the entire city converge around you. Visit French neighbourhoods and Vietnamese parks on a single day. Pay your respects to Uncle Ho at his mausoleum and eat the cheapest beer and street food in the world.
It's little wonder late chef Anthony Bourdain loved the country so much that he even got Barack Obama during his Presidency to dine at a nondescript street stall in Hanoi. If the city is good for them, it's definitely good for you too. Plus you won't be jostling with too many other tourists in Hanoi.
Don't forget, the rice fields of Sapa, limestone rocks of Ninh Binh and the world-famous Halong Bay are all easily arranged from Hanoi. Once you've had your fill of Hanoi, the excitement only just begins. Why wouldn't you go to such an interesting place?
Priyanko Sarkar of Constant Traveller.
Hong Kong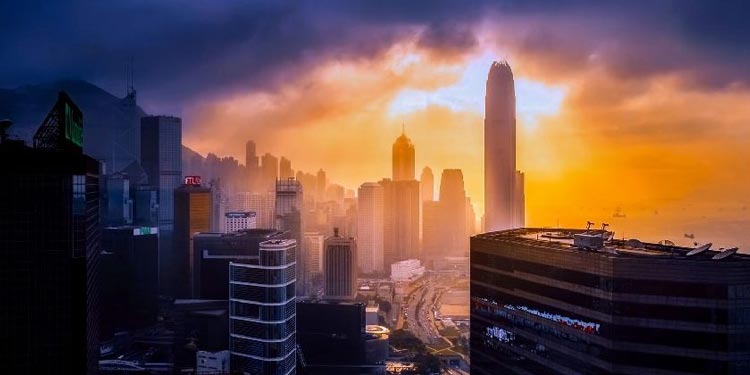 When thinking of where to go in 2022, I can't help coming back to recommending a perennial favourite: Hong Kong. And while it won't be love at first sight for every traveller, I can guarantee that after spending a little time in HK in 2022, it might quickly become one of your go-to destinations whenever your travel plans scoot you over to Asia.
While most uninitiated travellers' knowledge of Hong Kong extends mostly to cheesy old kung-fu movies or, lately, Hollywood blockbusters, there's far more in this former British colonial outpost than its busy neon-splashed streets and soaring skyline put on.
For foodies, there's hardly a better place in the world to pin down your fork (or chopsticks?) than this quasi-city-state. Whether you're gobbling down traditional street-side Cantonese delights in a bustling night market in Kowloon or sampling some of the city's more eclectic fine dining in Central, the food selection in Hong Kong is bound to smear a smile on your face & rile up your taste buds.
And although the city is justifiably famous for being one of the most densely populated on earth, Hong Kong still surprises its guests with, what feels like, undiscovered lands lying practically minutes from its seemingly endless urban jungle in places like the New Territories on the peninsula or along the Dragon Back's Trail on the southeastern side of Hong Kong Island. Even in hiking up HK's famous Victoria Peak, knocking on the door above Central & Wan Chai, you can find room for some quiet contemplation (well, at least until you reach the top!).
Add to that a splash of hotels that scream luxury as well as air & land connections to other awesome destinations in China and beyond, and you'll quickly see why your 2022 travel plans absolutely need to pencil in the ever-brilliant city of Hong Kong.
Ryan O'Rourke of Treksplorer.
Ipoh, Malaysia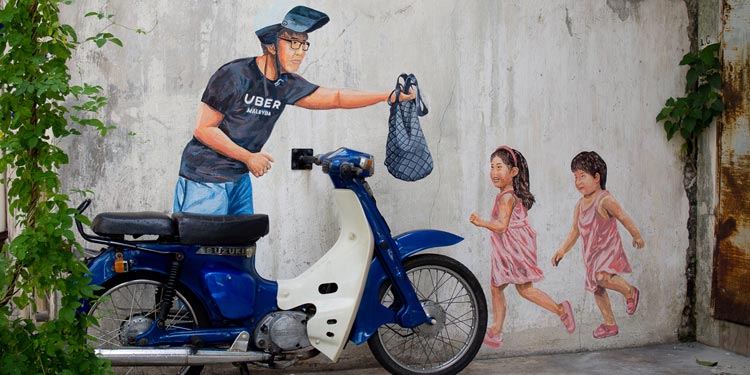 The capital of Peninsular Malaysia's Perak region, Ipoh is a small city of 600,000 people located 200km north of Kuala Lumpur. Ipoh started gaining attention as a tourist destination back in 2016, when Lonely Planet named it one of the top 10 places to visit in Asia. Despite this, Ipoh still sees few international tourists. The excellent food, coffee, street art and colonial architecture—and the fact that it's far less crowded than other places in Malaysia—make it one of my top destination choices for 2022.
In many ways, Ipoh rivals Penang's George Town—and in my opinion, comes out on top (I recently spent about a week in both cities). Paramount is Ipoh's food scene, which many people proclaim to be the best in Malaysia. Local specialties include Macau-style egg tarts, hakka mee, and chicken cooked with bean spouts. Ipoh is also famous for its 'white coffee'—a highly addictive iced beverage made with condensed milk and coffee beans roasted in margarine.
Ipoh's other main claim to fame is its street art. Like in George Town, murals decorate many heritage buildings in downtown Ipoh. There are several large-scale and noteworthy pieces by Lithuanian Ernest Zacharevic (the same artist responsible for Penang's most famous pieces). The colourful, contemporary street art found in Mural Alley are equally fantastic.
Ipoh is split into two by the Kinta River: The newer part of town is filled with grungy, art deco-style architecture and abandoned buildings. The older part of Ipoh is more quintessentially Malaysian: Lots of beautiful old Chinese shop houses (complete with tiles and window grates to rival George Town). Some have been converted into house museums. Ipoh's laneways, most notably Concubine Lane, are filled with art, industrial-style cafes and boutique hotels.
Aside from walking the streets, visiting the Sunday morning flea market and chatting with locals (I know it's a cliché, but people in Ipoh truly are very friendly), other things worth seeing around Ipoh include Kellie's Castle and the mosque at Kuala Kangsar. It's also straightforward to visit Cameron Highlands from Ipoh as a day trip. The easiest way to get to Ipoh from Kuala Lumpur is by electric train (the journey takes around 3 hours). Its location roughly midway between KL and Penang makes Ipoh an ideal spot to break up a journey between the two.
Emily Lush of Wander Lush.
Jaipur, India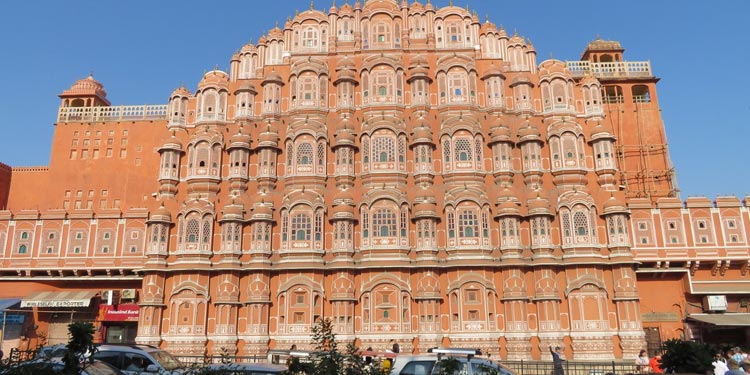 Last year we had the opportunity to travel to Jaipur, we had never really considered India for a family vacation and I have to admit I was a little hesitant. I have heard terrible things about Indian particularly around people begging and the dreaded Delhi belly. I wasn't really sure I wanted to expose the kids just yet to India and all it's challenges.
However, I am happy to report that we did go and we loved every minute of it. We spent 8 days in Jaipur where all the filming for the campaign was taking place. There are so many palaces and significant historic buildings in Jaipur in particular around the Old City a.k.a the Pink City. Jaipur is a city of 3 million, it does have issues with traffic and over population but this is what you expect to see in India.  We travelled with a film crew so were a little protected from the constant advances from people wanting photos. We got a little bit of it but if it become to much our film crew would have a quite word with them. We didn't have any aggressiveness and I found be on a whole very friendly and kind.
The main tourist attraction is the Amer Fort, a fort/palace made from red sandstone and white marble, it was constructed in the 1500's by Raj Man Singh I.  The Amer Fort is now a UNESCO World Heritage Site and holds significant history of the Rajasthan area.  There are many other attracts worth visiting in Jaipur such as Hawa Mahal, Jantar Mantar, City Palace, Jal Mahal, Albert Hall Museum, Birla Temple and these are only a few.
Best of all is eating in India, we ate mostly in restaurants and we couldn't risk getting sick and filming being held up but every meal we did have was amazing. The kids ate butter chicken in every restaurant with at least one side of naan bread. I was worried how they would go eating and I had absolutely nothing to worry about, it was by far their favourite thing about India. If Jaipur, India isn't on your bucket list, I think you should consider placing it on and soon.
Sally Lucas of Our 3 Kids V The World.
Jiuzhaigou, China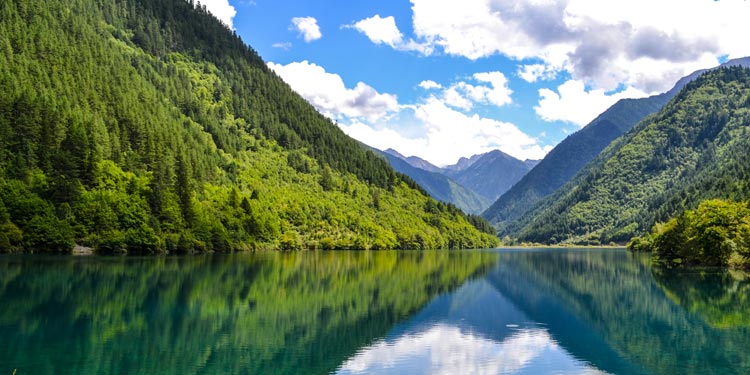 High up in the mountains of China, between the Qinghai-Tibetan Plateau and the Sichuan Basin, lies the beautiful national park of Jiuzhaigou. A UNESCO World Heritage Site since 1992, Jiuzhaigou is famous for its clear alpine lakes and spectacular waterfalls. Jiuzhaigou literally means "valley of nine villages" and takes its name from the nine Tibetan villages scattered around the national park.
Jiuzhaigou has some of the most gorgeous lakes in the world – The Panda Lake, The Five Flowers Lake, The Rhinoceros Lake, and many more. Their water is so clear that you can almost see the bottom. Color of these lakes ranges between different shades of blue and turquoise. Visitors are often left speechless by the sheer beauty of these ethereal pools. Legend has it that a princess accidentally dropped her mirror from the sky. As the pieces fell on the ground they created the sparkling lakes of Jiuzhaigou. Jiuzhaigou also has some very beautiful waterfalls; Nuorilang, Panda, and Pearl being the notable ones.
Fall is considered to be the best time to visit. The reds, oranges, and yellows of the trees perfectly complement the pristine, blue waters of the lakes. Summer and spring are also good because of the abundance of greens and blues. Winter is cold and many of the lakes and waterfalls are frozen. However, the scenery is still spectacular and the place looks like a winter wonderland. Basically, any time in Jiuzhaigou is a good time.
Full-fare tickets to the national park are priced at 80 CNY in the low season and 220 CNY in the peak season. You can get to Jiuzhaigou from Chengdu by air, long-distance bus, or chartered car. The closest airport is Jiuhuang and you can get an airport shuttle from there to Jiuzhai Valley. Alternately, a bus or a car journey can take around 8 hours and you can be dropped directly in the valley. The national park was struck by a devastating earthquake in August 2017 and was shut down for more than 6 months. It has reopened its doors in March 2018 and now is a great time to check out a fresh, new Jiuzhaigou.
Soumya Gayatri of Stories By Soumya.
Kiev, Ukraine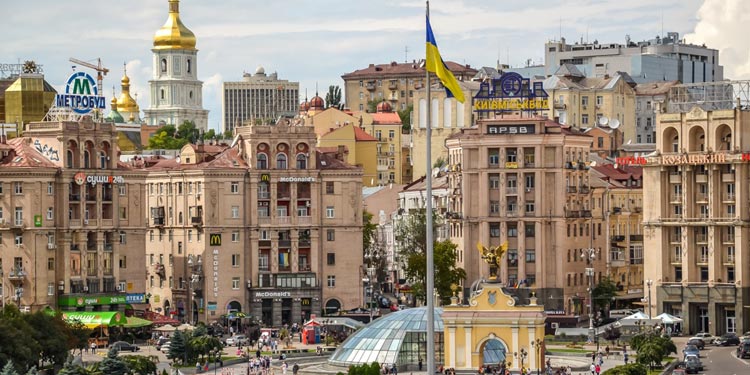 Kiev, Ukraine is probably one of the most underrated capital cities in Europe. It's such a diverse city with so much to offer that I'm sure everyone finds something for him or herself. I visit Kiev frequently, it's one of my favorite cities in Europe and even if I've already been there numerous times each visit is special, I never get bored there.
No matter if you're into grand architecture, great shopping opportunities, crazy nightlife, hipster spots or just want to get a glimpse into the local life in the post-Soviet country – Kiev is a city for you. But the best thing about visiting Kiev is how affordable it is.
You won't find a better place where you get such a good service for so little money! Accommodation, food, activities – everything is a bargain here in comparison to other European capitals. You definitely should consider Kiev in your travel plans for 2022, you won't regret it!
Kamila Napora of My Wanderlust.
Kolkata, India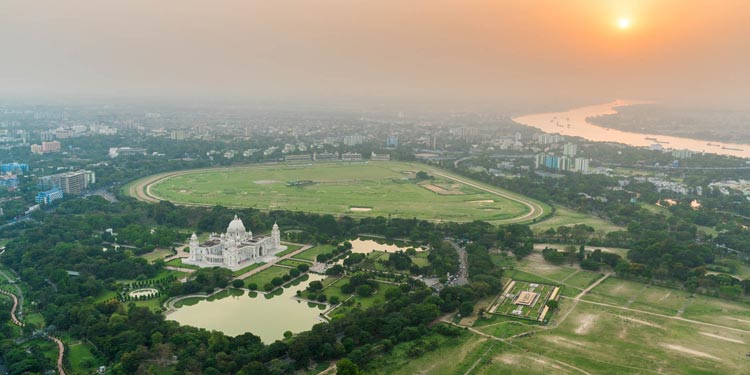 Not many people consider Kolkata when planning their Indian holiday. Not only is it far to the east of the country, away from the main tourist sights of the Golden Triangle, it also lacks the major appeal of some of the other metro cities in India… or so many travelers believe.
Nothing can be further from the truth. Kolkata is one of India's most intriguing big cities, has plenty to offer for sightseers, and, most importantly, is one of the friendliest megacities in the country.
Kolkata is home to the Victoria Monument, which could easily be considered one of India's grandest monuments (if it weren't dedicated to an imperial overlord). The white marble structure amazes from every angle, and it alone makes Kolkata worth a visit.
But there is so much more to Kolkata! The city has some of the country's most delectable—and cheap—street food, ranging from vegetarian thalis to Bengali fish dishes to beef (yes, you can find beef in Kolkata). Bengalis are some of the friendliest people in India; they do things big or not at all, and this mentality is applied hospitality. Kolkata is also considered India's cultural capital, with book and record stands galore. Add in the interesting mixture of Hindus, Muslims, and Christians living peacefully in close proximity, and you'll start to see why Kolkata can't be left off any 2022 India itinerary.
Alex Reynolds of Lost With Purpose.
Kyoto, Japan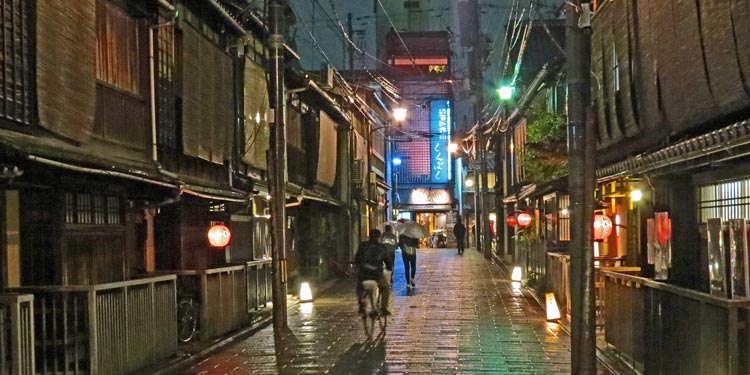 All cities in Japan are impressive, usually in the sense that they are crowded and major boulevards are lined with screaming billboards.  Kyoto is different.  It is Japan's cultural hotspot with more than 1000 temples and many different charming neighbourhoods.
Gion, Japan's oldest Geisha district, is a maze of authentic old Japanese buildings.  The wooden facades hide expensive teahouses and restaurants.  It's a lovely district for an evening stroll and you may even spot one of the geisha's that are still living and working here.
Arashiyama, at the outskirts of Kyoto, attracts hordes of tourists every day.  The flow of tourists in the main street just outside the train station may be intimidating at first but once you make your way away from the main street and start wandering through the charming back streets you will discover the true beauty of the district. Make sure to stop by preserved Sada Toriimoto street, the Jojakukoi temple and the Adashino Nenbutsuji Temple where adjacent you will find a bamboo forest that is just as beautiful as the one close to the centre where all the tourists are.
Sylvia Van Overvelt of Wapiti Travel.
Ljubljana, Slovenia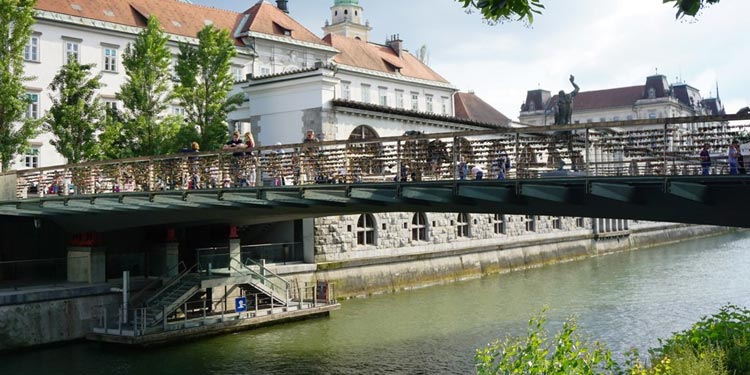 Slovenia's largest city and cultural capital is located midway between Venice and Vienna. Situated at the crossroads of the Germanic, Mediterranean, and Slavic worlds, it's a fusion of different cultures with a unique character all its own. Ljubljana is a big city with a romantic, small town feel and is one of Europe's most delightful, yet underrated cities.
Ljubljana is dominated by a mighty medieval fortress, The Dragon of all Dragons, that stands on a hill above the city. Take the funicular to the top of Castle Hill for a visit to the city's main attraction. After checking out the Slovenian History exhibition and the Puppet Museum (Slovenia has a rich tradition of puppeteering), take a moment to look out over the city and admire the ruby-red rooftops and a fantastic view of the river below.
This small but dazzling city is also known for having beautiful bridges, the most famous being the Triple Bridge. Take the city's official walking tour for only 10 Euro to learn more about the complex network of bridges built by the city's favorite architect, JožePlečnik. Sometimes referred to as, "The Man Who Built the City," Plečnik is to Ljubljana what Bernini is to Rome or what Gaudí is to Barcelona.
Chrisoula Manika of Travel Passionate.
London, England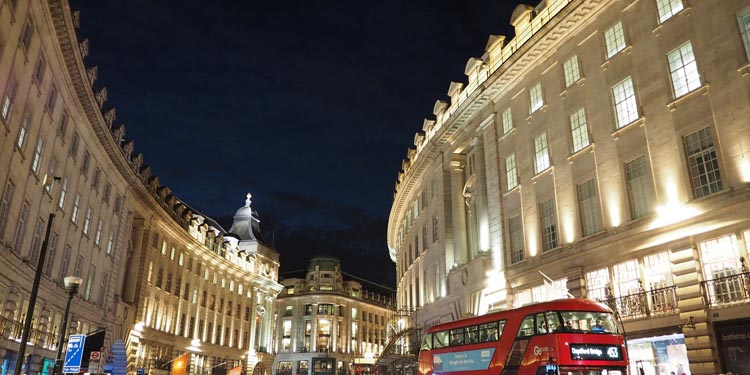 If you got caught in the royal wedding fervor of 2018, you will enjoy a trip to the United Kingdom – specifically London. Whether you're more interested in the royal family or royal buildings, there are plenty of fascinating historical landmarks in London.
If you visit during the summer, you can inspect the interior of Buckingham Palace; if not, you can always spy the red-clad London guards (with towering, fuzzy black hats) marching back and forth out front. You can also get up close to the glittering crown jewels at the Tower of London or you can head to the Queen's House, a former royal residence – for free. Plus, you can treat yourself to afternoon tea any day of the week. (Note: Crumpets aren't always on the menu, but scones are. And they're tastier than the ones in the USA.)
Although home to many British traditions, London is a hotbed for new trends, and there is always entertainment – like the musicals on London's West End, new art exhibits or pop up parties. Locals here love pop ups. Whatever your travel style, you will find intriguing and exciting attractions in the UK capital city.
Alison Roberts-Tse of Up & At Em Travel.
Medellin, Colombia
If there's a place you need to visit, it's Medellin, in Colombia.
Yes, it was once all about drugs, but not anymore.
It's now a gorgeous, lively and colourful city. It's a happy place, with its people making the most of it all day long.
There's Museo Antioquia and Plaza Botero for some art – if you don't know the Colombian Fernando Botero, then it's time you do. He's a painter and a sculptor, very characteristic and unique!
Eat some of the best food in the world – Medellin's food scene is incredible. From the very cheap fruit to amazing international food, you'll find it all!
Public transport is outstanding and affordable, which is rare in South America. There are even cable cars!
Take a day trip to the coffee farms and learn all about the process of making one of the best coffees in the world, join a Pablo Escobar tour, visit Guatape and Penol, or stay in Medellin and have fun at the street markets, the food trucks, and the many parks.
And enjoy the best weather ever – mild and lovely all year round. It is, after all, 'the city of eternal spring'.
Enjoy it while it's still affordable!
Thais Saito of World Trip Diaries.
Mirissa, Sri Lanka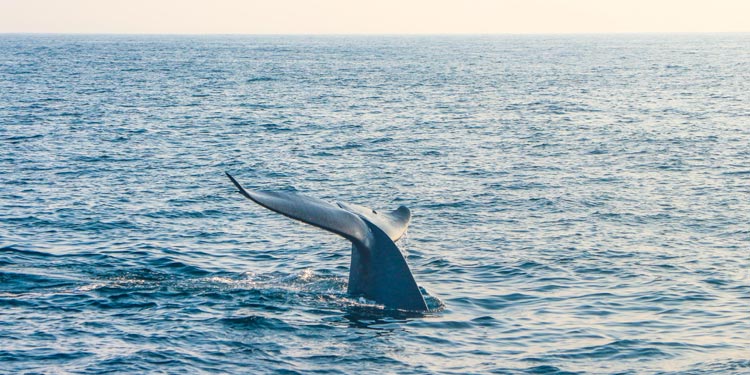 Offering the chance to see a great variety of marine life, Mirissa is one of the best places to visit in 2022. Found on the west coast of Sri Lanka, the small town of Mirissa is home to the best whale watching tours in the country.
Mirissa is one of the best places in the whole world to see blue whales – which are true giants of the sea. On top of that, there's also the possibility of seeing plenty more, from dolphins to orcas to whale sharks to turtles!
For wildlife fans, Mirissa really is a bucket list destination. The incredible whale watching tours alone are enough reason to visit. If that's not enough though, there's more to the town than that!
As Mirissa is situated on the coast, it's a great place just to enjoy your days relaxing on the town's far stretching beach. It's also a great place for some surfing, particularly for beginners and intermediates. Surfers tend to favour the waves near to palm tree grove – a beautiful, secluded spot that is the perfect place for sunset!
Mirissa is quickly becoming one of the top destinations in Sri Lanka, thanks to the chilled out vibe and incredible whale watching opportunities. It's for that reason that Mirissa is one of the best places to visit in 2022, because if you don't visit now, then everyone else will beat you to it!
Sam & Natalia of Something Of Freedom.
Pathos, Cyprus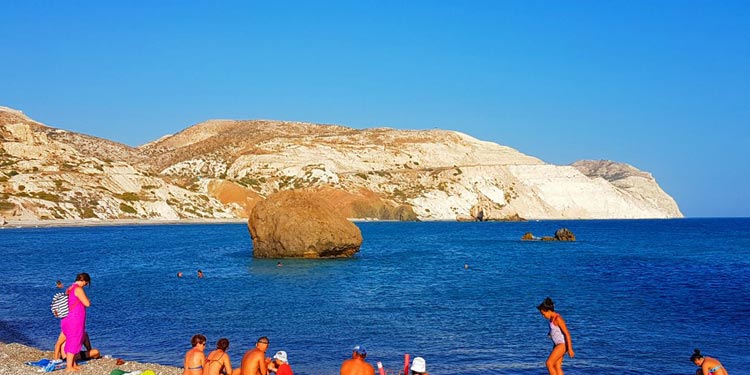 Can you imagine a city with great beaches, good weather, culture, history, and wonderful food? Then you are probably imagining Paphos! Located over on the western coast of Cyprus, Paphos is a popular destination for holidaymakers looking to either spend a week by the sea, or as a stopping point on a longer road trip around Cyprus.
Few cities in the world can offer the sheer variety of things to see and do that Paphos can. From the Tomb of the Kings archaeological site, through to long stretches of sandy beach, there's something to do for everyone. Here's five of the best things to see and do in Paphos:
The Tomb of the Kings – Amazing archaeological site with tombs carved out of the rock.
Kato Paphos Archaeological Park – Stunning Roman mosaics in a UNESCO WOrld Heritage Site.
Visit Coral Bay – A stunning beach and one of 27 beaches near Paphos.
Take a quad bike tour along the coast – Drive down rough tracks and reach remote parts of the coastline on a fun to use quad bike.
City food tour – Get a taste of the city, literally, by taking a food tour to sample the local delicacies and learn some of its history.
Interested in finding out more? Check out Dave's guide on things to do in Paphos, Cyprus.
Dave Briggs of Dave's Travel Pages.
Penang, Malaysia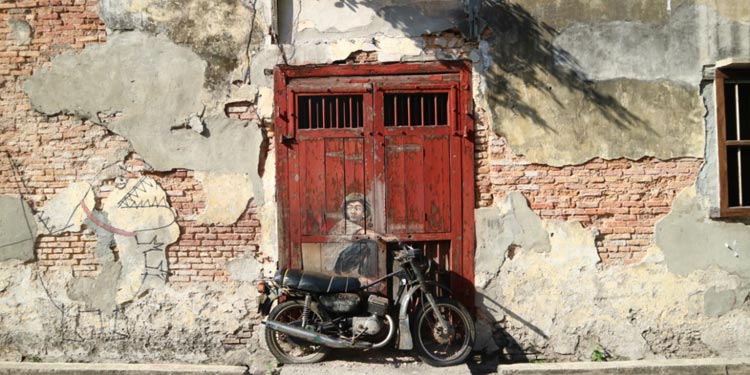 The island of Penang, in Malaysia, is an incredible travel destination that has been growing in popularity in recent years. It's a food-lover's paradise, with a unique mix of Malay, Chinese and Indian cuisines. The historic old town of George Town, with its Chinese shophouses and colonial period architecture, is a UNESCO world heritage site. Plus, over the last few years it's become a famous street art destination, with artists from around the world painting incredible murals on the already-charming walls of the old city.
While this beautiful city is already popular, it's becoming increasingly well known — so if this sounds like your kind of scene, I would suggest heading to Penang in 2022. You could make it part of a bigger trip to Malaysia, taking in Kuala Lumpur, the beach island of Langkawi, and perhaps Ipoh or Melaka too if you enjoy a relaxed and historic vibe. (Penang, Ipoh and Melaka are my three favourite places in Malaysia and they all have quite similar atmospheres in terms of food, art and culture that are distinct from other areas of Malaysia I visited). I personally stayed in Penang for several weeks because I loved it so much, but you can see the main sites in around three days.
Maire Bonheim of Temples and Treehouses.
Prague, Czech Republic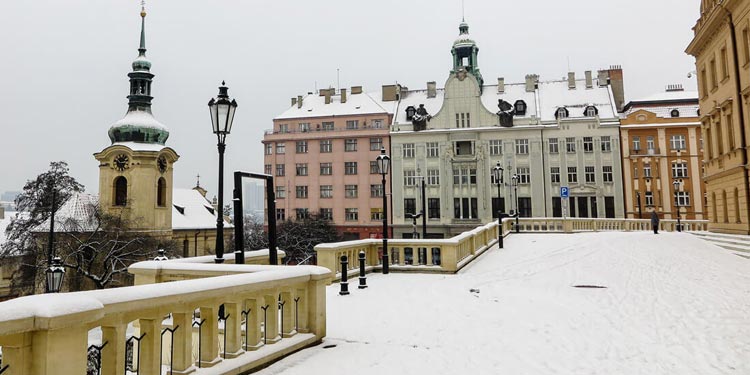 If you haven't been to Prague yet, 2022 is the year to go. Since the tourism board has been actively showcasing the public all the various regions of the Czech Republic, more and more people will spread around the country, leaving Prague less congested.
Even in the full swing of summer heat, when the Old Town crowds are becoming unbearable, if you keep your eyes open, Prague still provides the magic it always has. But, if you are flexible with your time, choose spring, autumn or winter.
Especially in winter, Prague can become exceptionally magical, that is when the snows covers all the red roofs with a beautiful white blanket and puts a sugar coating on parked cars and strolling people. Visiting in December will add the Christmas atmosphere too, if that's your thing. But January and February are the months when you're going to be one of a very few visitors and will have Prague just to yourselves.
Veronika Primm of Travel Geekery.
Sevilla, Spain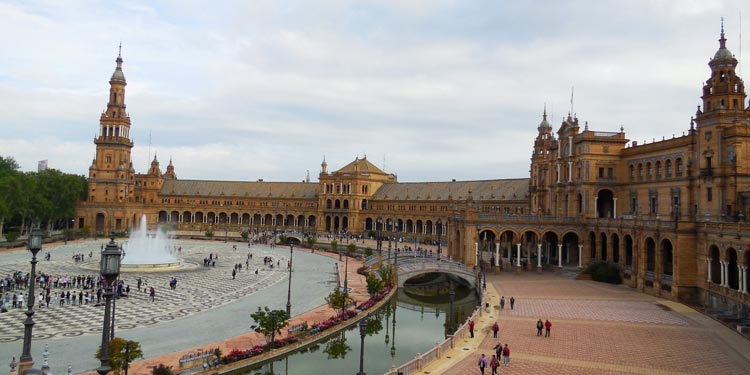 If you are scouting travel destinations for 2022, place Seville on your radar. The Andalusian capital and jewel of southern Spain has much to offer every type of traveler, including lots of stunning architecture, tasty tapas, and fabulous flamenco.
Among the art and architecture gems you will find in Seville is a trio of structures that forms a UNESCO World Heritage site: the Royal Alcazar of Seville, the Cathedral of Seville, and the Archivo de Indias. But wait, there's more! Seville's Plaza de España is one of the most magnificent squares in all of Europe, with its tile cameos representing each of Spain's provinces.
While you are in Seville, a tapas crawl is a must, to sample the tasty bites on offer at many different tapas bars and restaurants in the city. And you must take in a flamenco performance, with its energetic dance moves and soul-stirring music.
Seville deserves at least two to three days. Visit in the spring, the prettiest and most pleasant time in Andalusia.
Dhara Nargundkar of It's Not About The Miles.