Here comes that responsible article, preaching taking care before travelling, but honestly it is always better to be safe than sorry. The image below is of me just after I was stung by a stingray in San Diego. I had travel insurance, however I fortunately didn't need it, as the cure was 'simply' to put my foot in boiling hot water. Of course, I wasn't too happy at the time, but without a scary bill arriving on my doorstep I was overwhelmed with joy.
Europe
For anyone travelling from the UK, if you are travelling through Europe, make sure you get your EHIC card, which stands for European Health Insurance Card. It's completely free and will massively reduce your costs for healthcare while abroad. You will hopefully never have to use it, but you'd be daft not to bring it with you. The costs can be extravagant, we simply forget this as we don't pay for healthcare in the UK, however prices are extortionate abroad, especially if it's an emergency.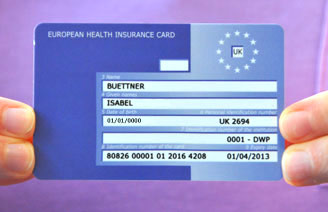 Vaccinations
Working out what injections to take is important, as not just could your life be in danger, your holiday would be cut short if you turn up to a country which demands a certificate proving you have taken the injection. Remember, while you can get many injections via NHS, if you leave it too late, you will have to pay for private care. So, needless to say, its imperative you arrange this with your GP as soon as possible. The best template I've found for checking what you need is on Cruise.co.uk which clearly shows by country and continent.
Mosquitoes
If you are going to a mosquito ridden area, think about what might be useful once you are out there. Finding an anti mosquito spray at home can be a lifesaver, as some areas double the price for tourists, who have no choice but to pay the increased price. Make sure you get one filled with Deet, the more the better. If it doesn't have deet in it, don't bother bringing it. Honestly, I know it isn't going to smell nice, but what is the point of a fragrant one that the mosquitoes just ignore. You also might want to consider packing a mosquito net and bite smoother, which will ease the irritation when you have been bitten.
First Aid Health Pack
It might sound nerdy, but I bring one with me whenever I leave the UK. It will have your basics like plasters in there, but it will also have sufficient utensils and items to clean out a cut and prevent it from getting infected.  A First Aid kit will normally cost about £5-15, so isn't a significant cost, while you can use them for multiple holidays, as hopefully you won't use it at all on your tirp.
Times
When you are going to an area you have never been before, try to find out details about times. Firstly, you don't want to arrive in the evening to find out all restaurants and shops are shut till the next day, leaving you starving hungry and chewing your toothpaste down with vigour! Secondly, you don't want to be walking down a road which is notorious for night crime. I have walked down a street in LA ignorantly not knowing it has the highest rate of pickpocketing for the entirety of the USA. Big surprise, my passport was pick-pocketed from me and I didn't even have a clue!
Be safe on your travels and always make sure you tell someone where you're going the day before (think of 127 hours).