On the 8th September 2014, I attended the Itsu VIP launch in Brighton, invited as a local blogger. The champagne opening was brilliant fun and a great way to meet other people in local businesses, journalists, bloggers and generally interesting people, not to mention the mayor of Brighton.
They lay down the red carpet for our arrival and greeted us with champagne at the door, well I'm never one to say no to a free drink so I ignored the fact that I was going to the gym in about two hours and tucked straight in.
I have written a full further down the page, highlighting my best moments, the people I met and the mystery that was Metcalfe.
Below I have written up their full menu, along with my opinions on a number of the meals. I have also included some nutritional details, as an individual who has to precisely count my macro nutrients as part of training, I understand the annoyance when details aren't available online. Having said that, there are further nutritional details for each meal on the Itsu website.
Menu
Low Carb
There are four options in the 'low carb' section, all offered with a green herb dressing, which tastes absolutely lush:
Salmon & Tuna Tartare – £3.99 (160 calories, 1.2g sat fat)
This comes with a very light salad. The fish tastes great, the salad is a bit bland but the green herb dressing definitely helps with adding a bit of flavour to the mix.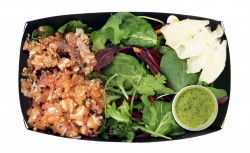 Tuna Salad – £3.99 (196 calories, 1.5g sat fat)
This option comes with an egg, which I felt was a nice touch and made it a bit different from the other salads, while the beans taste great as well. The tuna is just how you would imagine it would taste, high quality and dolphin friendly.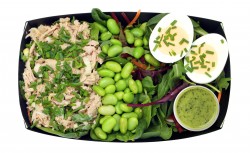 Chicken & Avocado – £4.99 (340 calories, 1.2g sat fat)
I really liked this one, then again how can anyone not enjoy an avocado dish? This is actually a relatively new dish for their menu, as they weren't in the London based restaurants when I last visited.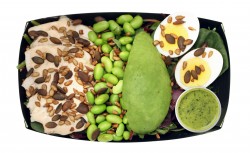 Poached Salmon (cooked rare) – £5.49 (344 calories, 4.8g sat fat)
The poached salmon is cooked just right, while an added bonus is you get two eggs in this dish (every little counts for me). The added essential fatty acids and high protein content make this a great option.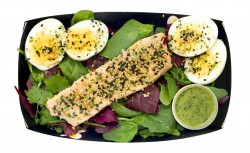 On A Bed
There are five dishes in this section, all served with sticky rice, which is made fresh on the day right there in the restaurant.
Garden Shed – £2.99 (306 calories, 0.8g sat fat)
This is a vegetarian option, not to mention one of the cheapest on the menu. The taste is quite gingery, so keep that in mind when purchasing. The sauce is a great tasting teriyaki.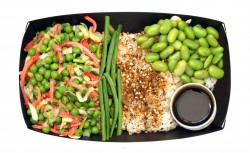 Tangy Tuna – £3.79 (367 calories, 0.9g sat fat)
Served with a teriyaki sauce, the tuna is cooked with ginger, alongside muki beans and some leaks.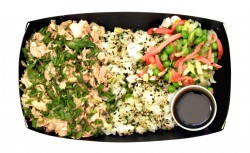 Chicken Teriyaki – £3.99 (423 calories, 1.6g sat fat)
This dish tasted brilliant to me and was surprisingly filling, while the rich teriyaki sauce perfectly complemented the chicken, fresh ginger and sesame seeds.
Salmon Teriyaki – £3.99 (375 calories, 1.3g sat fat)
You get a decent amount of salmon, considering the price, which is miso marinated. You also get muki beans scattered over the top.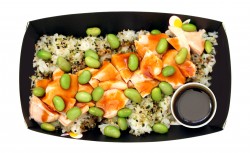 Duck a L'orange – £4.89 (417 claories, 2.8g sat fat)
This was a favourite of mine, with the duck cooked absolutely perfectly, melting in your mouth. I felt there were possibly a few too many pomegranate seeds, however the cashews and the duck combined with the hoisin sauce, sticky rice and muki beans was the epitome of perfection. You also had the option to squeeze an orange over the top (I liked this option as I prefer without the orange).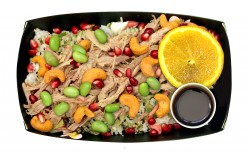 Salad Wrap
The team of chefs that worked on the healthy dishes for Itsu had a moment of genius when they realised some people love their foods in wraps, however others try to avoid carbs as much as possible. They then plotted a way to make an option for both, by making the wrap more of a flat bread, which can be wrapped if you choose to, or you can eat the contents over the wrap. If you do decide to eat the wrap, add 160 calories to the shown calorie count.
Hip & Houmous – £3.99 (310 calories, 2.8g sat fat)
This is a great vegetarian option, in fact it is by far my favourite vegetarian option on the menu. The addition of pumpkin seeds help to bring the protein level up to 15.9 grams, while the houmous is mixed in a light chilli, to offer a real taste without too much strength.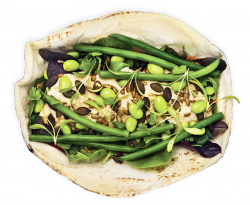 Tuna, Greens & Ginger – £4.79 (219 calories, 1.8g sat fat)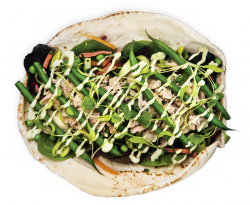 Miso Salmon – £4.99 (261 calories, 3g sat fat)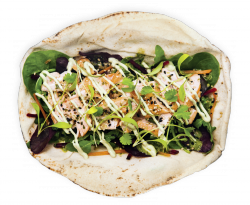 Coconut Chicken & Cashews – £4.99 (220 calories, 4.3g sat fat)
This was another favourite of mine. I loved the blend of cashews with the coconut cream and chargrilled chicken breast. The only issue is it tasted so good I still felt a little hungry at the end, however I tend to eat a lot, so this should definitely be enough for any normal human.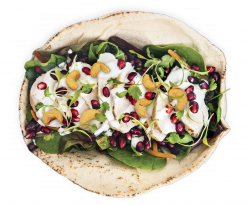 Hot
Duck In Saladwrap – £4.99 (287 claories, 2.8g sat fat)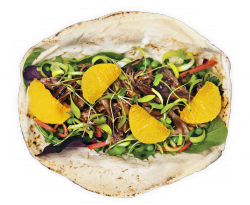 Special Combo
There were three options in the special combo section, all including a main protein, a herb based dressing, sticky rice and a 'special salad':
Hip, Humble & Healthy – £4.79 (398 calories, 2.2g sat fat)
Special Salmon – £6.39 (402 calories, 2g sat fat)
Chargrilled Chicken – £6.49 (357 calories, 0.5g sat fat)
Hot Vegetarian Soups Or Noodles
Crystal noodles, shaved green leek, edamame and 2 vegetable gyoza dumplings – £2.99
Silken tofu, wakame & shaved green leek – £1.99
Crystal noodles, edamame, runny poached egg, 2 vegetable gyoza dumplings and shaved leek.
Hot Chicken Noodle Soup
Noodles, chicken, creme fraiche, edamame, green leek in a curried soup – £3.89
Noodles, chicken, edamame, green leek in a chicken soup – £3.99
Noodles, chicken, coconut milk, edamame, leek in a Thai chicken soup – £4.29
Hot Rice Potsu
Thai Chicken – Med £4.69, Large £6.69
Chicken Teriyaki – Med £4.69, Large £6.69
Thai Duck – Med £4.99, Large £6.99
Sushi options
 Veggie club sushi rolls (vegetarian option) – £3.29
Duck hoison sushi rolls – £3.99
Salmon sushi – £3.59
Salmon & salmon – £3.79
It box – £4.99
Slim salmon – £5.29
Salmon sashimi – £4.49
Super salmon 3 ways – £7.99
Crab california sushi rolls – £3.59
Tuna & salmon junior – £4.29
Omega 3 salmon supreme – £6.19
Health and happiness – £7.99
Salmon and avocado sushi rolls – £3.99
Salmon with lots of ginger – £3.69
Tuna and salmon – £6.99
Mixed sashimi – £9.99
Spicy tuna sushi rolls – £4.39
Tuna with lots of ginger – £4.99
Best of Itsu – £7.99
My Review
I attended the opening alongside my friend and colleague Louis Limon. I quickly regretted not wearing a suit when I turned up to find everyone smart dressed, as I was prepared for a gym session at 9pm. Oh well, I live by my mistakes!
We walked in and quickly grabbed a glass of champage, while raising the pinky and putting our most sophisticated faces on. Everyone we spoke to seemed to have a very interesting story or reason for being there, but I do regret not mingling more.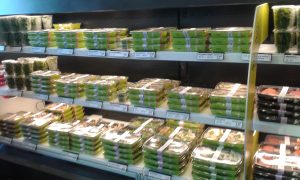 Along the walls were all the meals as they would be sold once the store opened, however we were allowed to tuck into whatever we wanted. It was a very surreal feeling, like being let lose in a candy store. I had just had a giant meal about an hour before, but that still didn't stop me from trying about four meals…for reviewing purposes, of course!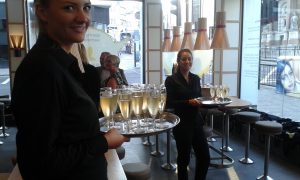 I was impressed by many of their healthy options, as I'm constantly fed up with the lack of options available for someone dead interested in health and fitness. Many of the options reached 30 grams of protein, while the saturated fat levels were very low, with healthy fats included in salmon and avocado. The sauces were probably the one guilty pleasure in each meal, but you just don't care once you taste how good they are. The sticky rice was just right as well, as it stuck perfectly on the spork and soaked up the green herb dressing.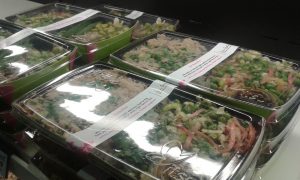 Sadly, we didn't manage to spot Julian Metcalfe in their, so we must have kept missing him.
I chatted to a good few people, including Heather Barrie from Harrie's Coffee, a Sussex based coffee distributor, who was brilliant to chat to. We also had a good sit down with a few others, including many from local businesses and journalists from the Argus.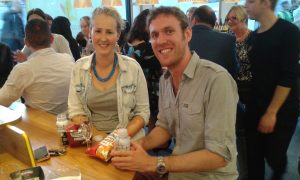 Location
The Itsu in Brighton is located At the top of North Street, right alongside the clock tower, at the entrance to West Street. It took over the building that used to be owned by the clothing shop Bench.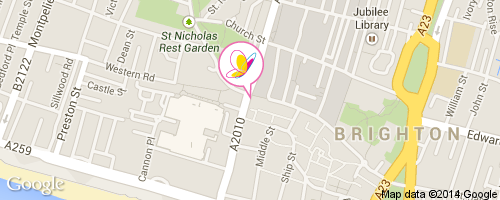 The Address is:
68-70 North Street,
East Sussex,
BRIGHTON,
BN1 2RE
Opening Times
Monday – 10:00 – 22:00
Tuesday – 10:00 – 22:00
Wednesday – 10:00 – 22:00
Thursday – 10:00 – 22:00
Friday – 10:00 – 22:00
Saturday – 10:00 – 22:00
Sunday – 11:00 – 21:00
Phone: 0127 3830900