Having lived in Brighton for most of our lives and both loving a good drink, it was only a matter of time before myself and Raquel would attempt to take on every bottomless brunch in Brighton!
We have listed all of the best options available to you that we will happily put our names behind. All have been tested in person (of course), so read on for our list of the best boozy brunches in Brighton.
Bella Italia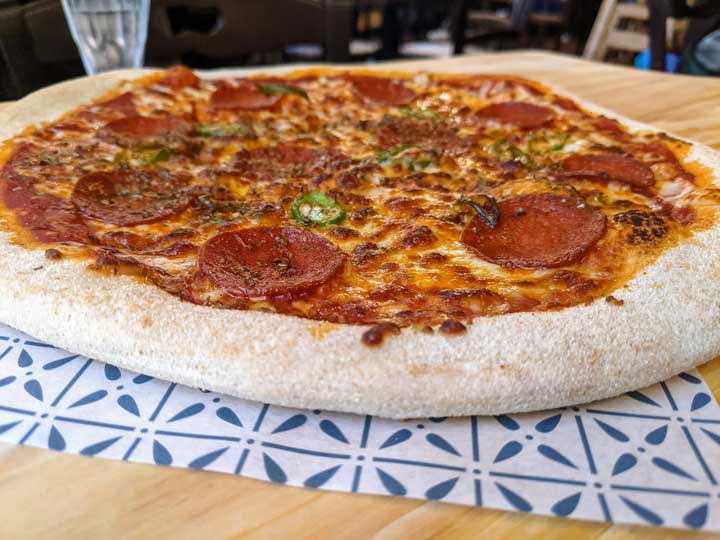 While most boozy brunches are focused on breakfast options, Bella Italia have stuck with what they know best, serving up unlimited pizza!
If you just fancy yourself some food, you can opt for unlimited pizza at £10, with an extra £15 for the unlimited prosecco. They had five pizza options available, highlighted below:
Margherita: Tomato, mozzarella and basil
Cotto: Smoked ham, garlic mushrooms and mozzarella on a tomato base
Pepperoni Piccante: Italian pepperoni, fresh green chilli and mozzarella on a tomato base
Pollo Vesuvio: Spicy pulled chicken, roast peppers, onion, fresh green chilli and mozzarella on a fiery tomato sauce base
Campagna: Goat's cheese, peppers, onion, mozzarella and pine nuts, finished with rocket and a balsamic glaze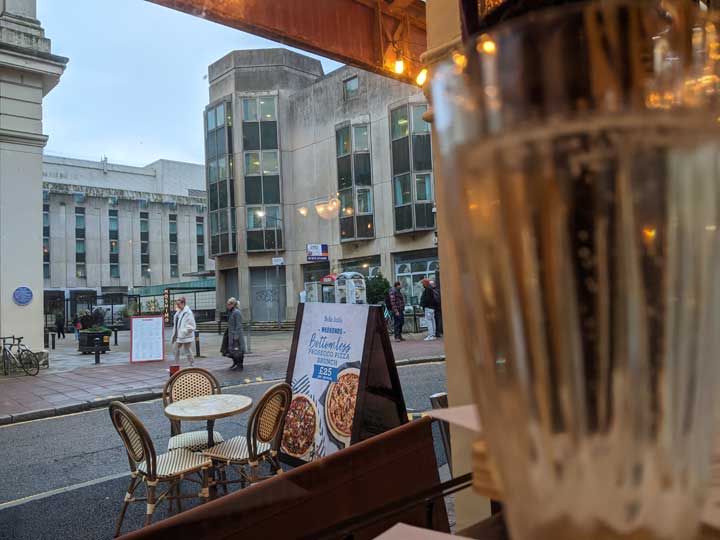 Our favourite was certainly the pepperoni picante, but we do love a good pepperoni pizza! If you like, you can also add some sides for a little extra, including fries, sweet potato fries or a mixed salad. They even offer this deal to kids at a discounted price (that's for the unlimited pizza, not the prosecco).
The staff are incredibly friendly and will help guide you through the pizza options and encourage you to eat as much as you like. They're also keeping a close eye on your glass, so you're not left waiting for a top-up.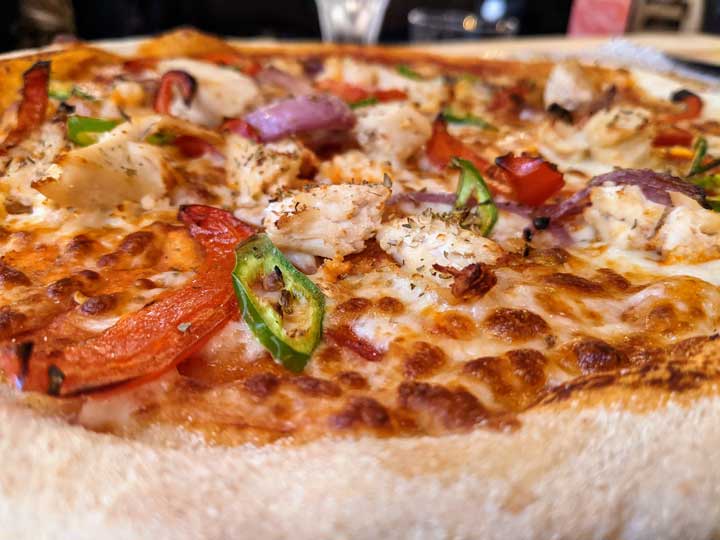 Date: Every Thursday, Friday, Saturday & Sunday, between 12-5pm
Length: 90 minutes
Price: £25 per person
Drinks: Unlimited prosecco
Food: Pizza
The Breakfast Club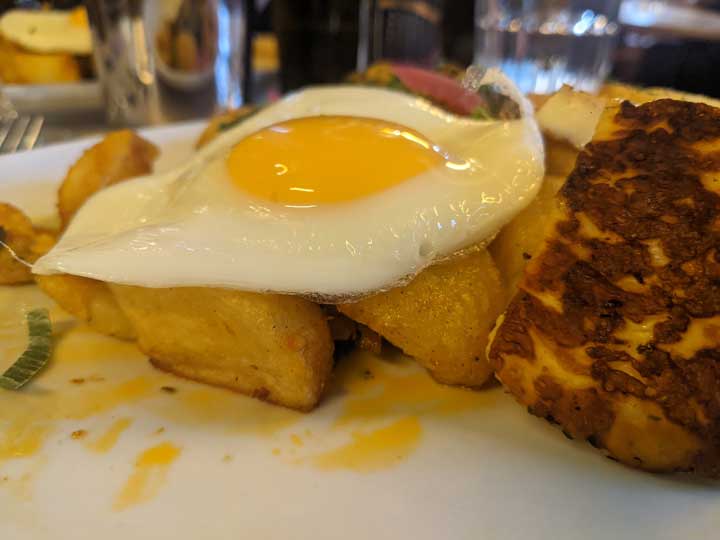 Also nicely named as 'Toasted' (I see what you did there), the Breakfast Club offers an amazing bottomless brunch option in the heart of Brighton. The service was incredibly quick, despite there being a good few tables occupied, with everyone looking extremely happy as you look around.
While you enter through the main floor, the upstairs is purely dedicated to people who are booking a bottomless brunch event, therefore the staff understand you're all after the same thing and are ready with drinks in hand.
The middle floor is for people making normal restaurant bookings, while the downstairs is where the toilets are, which consists of quite a large number of private unisex cubicles, meaning me and Raquel never once had to queue for the toilets.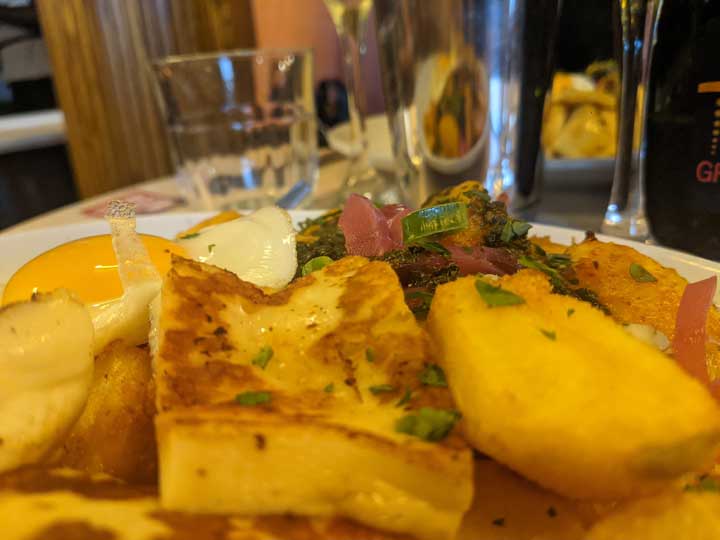 We both have a very similar taste in food, so we both opted for the disco hash, which consists of fried egg, mojo picon, hot harissa cheese sauce, pink pickled onions, jalapenos, pickled red cabbage, chimichurri, spring onion and coriander, on crispy homestyle potatoes.
I was initially tempted by this option thanks to Chimichurri, which I loved eating while in Argentina, but we were both amazed at how nice this dish was. Obviously, we know most might opt for a 'full monty' English breakfast, but we wanted to try something different and we're so glad we did.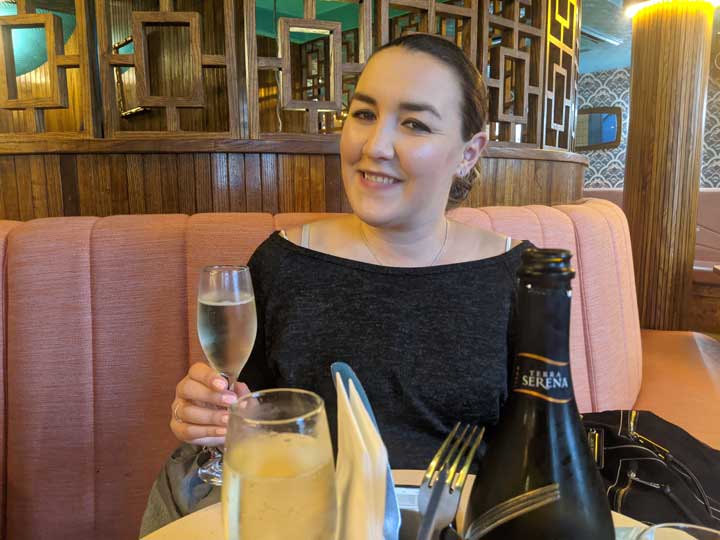 A QR code is placed on the table, which you can use to find the menu on your phone, where there are plenty of options, catering to various diets and tastes.
The décor is funky, staff are incredibly quick and friendly, the environment is lively and happy while the food tastes amazing, what more could you ask for?
Date: Every Saturday, between 3-5pm
Length: 2 hours
Price: £30 per person
Drinks: Unlimited prosecco, bucks fizz, beer
Food: Breakfast
Las Iguanas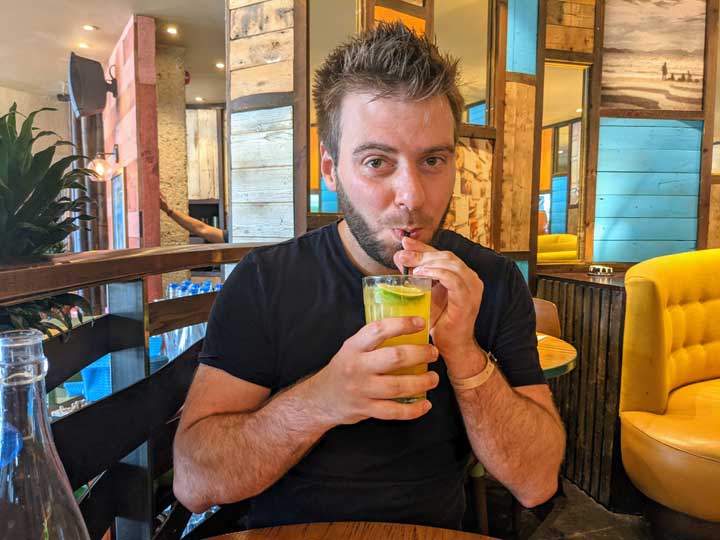 Located on Jubilee street in the heart of Brighton, Las Iguanas has long been known as an interesting option if you're looking for cocktails.
The décor in Las Iguanas is also incredibly vibrant and lively, with multiple bright colours used throughout the room.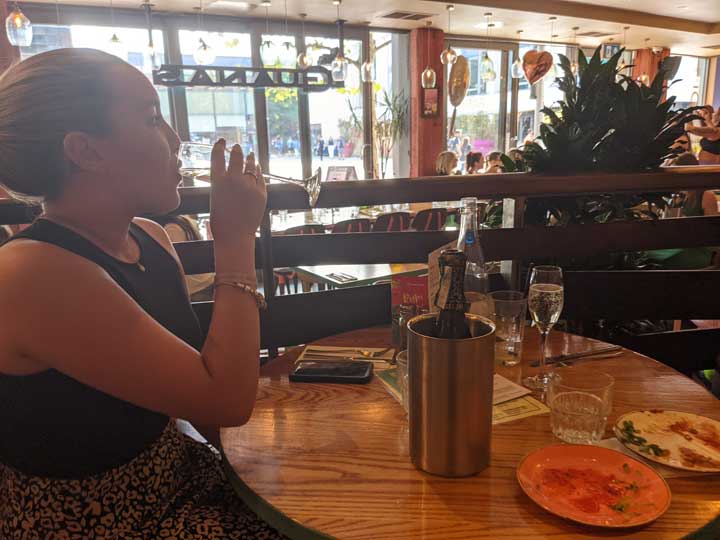 While the £29.95 per person booking gets you prosecco or draught beers, you may want to chip in an extra £5 per person in order to get a selection of 6 cocktails.
These included Mango Collins, Huana Party, Caipiroska, Cuba Libre, Passion Sour Bomb or Strawberry Caipiroska.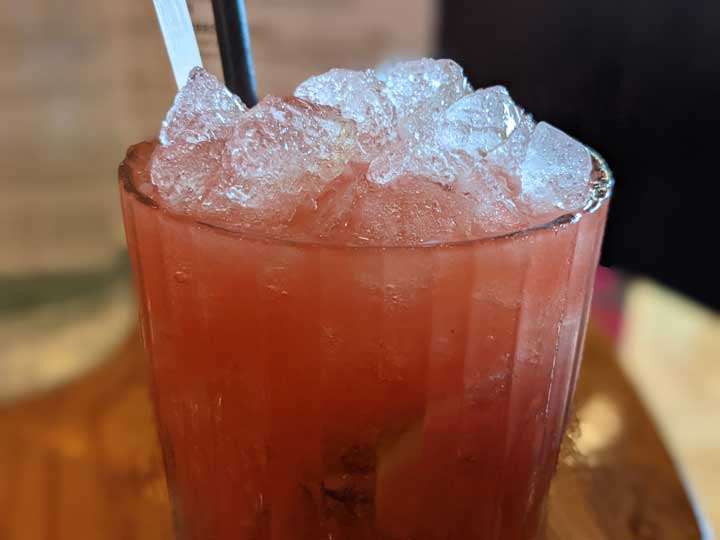 Of those options, my favourites were the Huana Party and the Strawberry Caipiroska. I'd not heard of the Huana party before, but it included Beefeater gin, Huana, funkin passion fruit, bottlegreen elderflower and apple.
You can book a table on their website or on Fizzbox, or you can simply walk-in, depending on availability, but I'd generally recommend booking in advance to avoid disappointment.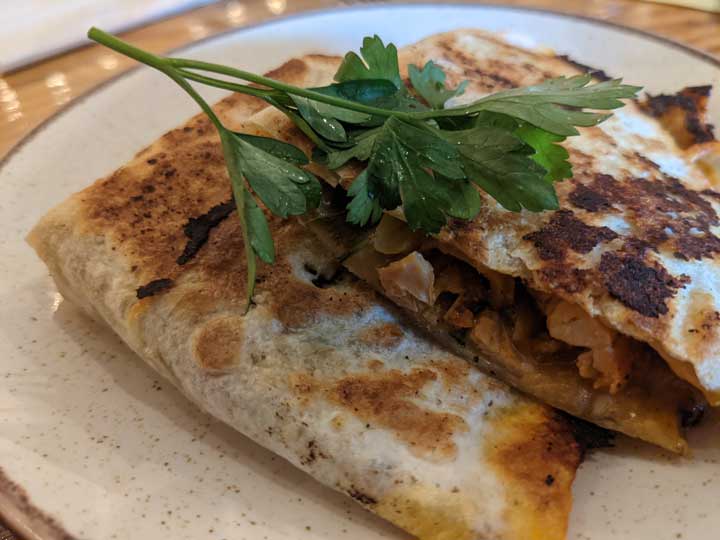 The food actually included a starter as well as a main, which I liked, as it offers you a cheeky chance to try two dishes from the menu.
The guy serving us was beyond friendly, he tried to help at every possible moment.
Date: Sunday-Friday 11:00-17:00 and Saturdays 11:00-15:00
Length: 1.5 hours
Price: £29.95 per person (add £5 for cocktails)
Drinks: Unlimited prosecco or draught beer
Food: Latin food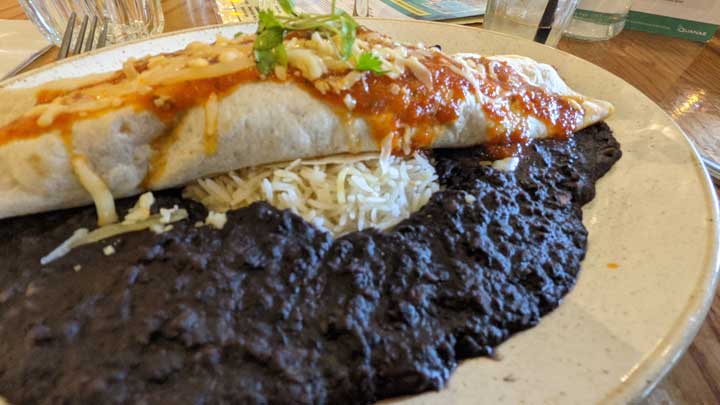 I hope you found this list useful! I will potentially add to this list over time as I test out new and exciting bottomless brunch options in Brighton.