Whether you're celebrating a birthday, arranging a team building experience for your team or simply looking for a weekend activity, Brighton offers a wealth of options, both active and relaxing.
I have tried to list the best activities available, but please do let me know if you can think of any that should make the list.
1) I360 Experience
Towering above the burned down pier is the i360, the tower that offers you great views of the town, from Preston park to the Pier and into Kemptown. The entire trip lasts 30 minutes, however remember to go toilet beforehand, as they don't have one in place. Not the greatest, considering they have a bar on there.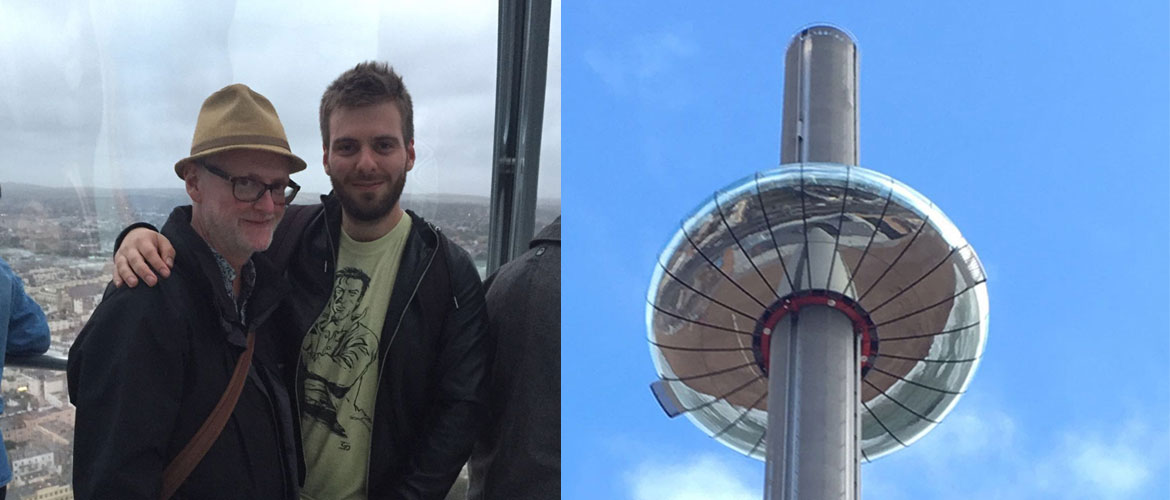 2) Brighton Zip
A new attraction to the city, Brighton now has its very own zip wire. I have a massive fear of heights, but if your legs don't turn to jelly when you're up high then this could be the daredevil activity for you. It will take you along 300 metres and is based near the pier, while it opens at 10am and ends at 9pm.

3) Afternoon Tea
There are a good few options available to you, considering the amount of hotels along the seafront, as well as bars now offering this option during the daytime. Who can say no to a macaron? This should cost you around the £10-£15 figure.

4) Bottomless Brunch
I'm almost nervous to recommend this, as it absolutely kills you off! I mean we could barely walk after doing this. There are a few different venues available, with my favourite being the Breakfast Club, however it gets really busy so make sure to book this in advance. It costs £30 and you also have food included. I'm not going to lie, I've no idea if there are other drink options as I was quite happy tucking into the endless prosecco.

5) Mud Buggies
Time to admit something here, this isn't directly located in Brighton, despite being advertised everywhere as a Brighton activity! It is actually located in Crawley, but considering how quick it is to get there either by train or by car, I decided to include it. Largely because it is so much fun! Forget go-karting, I love mud buggies!

6) Bubble Football
Well the Bubble Football World Cup came around quickly and it helped to spike interest in this spherical sport. There are a couple of different locations for this sport, but you do have to head out of town a little bit, ideal if you have a car. This game is great fun, while the person running your match will help to guide you through different games and activities. Also, for females, it is basically the same but called Bubble Mayhem.

7) Footgolf
Ever heard of this one? I had a match up in Falmer while on a business meeting, one of the oddest things I've done. Imagine kicking a football into a golf hole, but the hole has been made larger to fit the football. I'm not a golf-kinda-guy, but this ticked every box for me. I was captivated, however nearing the end it does get a little dull if you are all failing to keep track of scores.

8) Komedia
Nothing beats live stand-up comedy! I love a live show, while they also have some decent grub and a bar on hand so you can tick a few things off at once. The bar is heavily overpriced, however it will do. Check their 'What's On' list for potential ideas and events.

9) Cocktail Making
Whether it's at Revs or a hotel, there are a number of places that offer this drink fuelled activity. The drinks you have to make aren't exactly my favourites (who really loves a Woo Woo) but ask them when you book whether you can make a specific drink. I would definitely book this activity again if I got to make a Pina Colada.

10) It's A Knockout
Who could say no to an inflatable course?? This is a great challenge to take on with a group of friends, plus nobody is taking it to seriously (so don't think Tough Mudder style). The best part is if you do fall down, it is hard to hurt yourself on a bouncy castle assault course.

11) Wakeboarding
Based over in Hove, there is a giant Wakeboarding course. Tied up and pulled from a machine, you can learn the skills before hitting the open ocean and trying it for real. Even if you have never tried before, they will be on-hand to offer you some guidance. Plus this is a great laugh during the summer, but you might need to check the weather beforehand.

12) Chocolate Making
If you're a chochy lover then this is the class for you. It's both a chance to learn something educational while sneaking some tasty bits along the way. Plus (obviously) you get to take the chocolate home afterwards, if you don't eat it all right there. On this topic, if you love chocolate then it is worth checking out Choccy Woccy Doo Dah.

13) Bourbon Tasting
Forget cocktail making, it's all about bourbon tasting now. From Makers Mark to Jim Beam, you will learn the subtle differences…Ah who am I kidding, you will get absolutely wasted. What more could you want from a birthday party. Which leads me nicely on to my next option.

14) Gin Tasting
Gin has been completely re-invented recently. Gin makers must be pinching themselves, as it switched from a 60 year old's drink to a 21 year old's. Gin and Tonic seems to be the words on everyone's lips the moment they get to the bar. This isn't one for me, but who am I to judge. I can say the pub called the Office in the North Lanes is a gin bar with pretty much every brand under the sun.

15) Man Vs Food
Based in Yates (I know, classy), the man vs food challenge is an insane test of character, motivation and stomach size. It will leave you defeated and, quite frankly, rather sick feeling. Is it wrong to say I have done it twice? The burger is giant beyond belief, while it is accompanied by chips (you can swap these up for sweet potato chips or curly fries).

16) Karaoke
You really have two choices available to you. You have Lucky Voice or Slam Star. Don't get me wrong, there might be others hidden away, but these are the only two I know of and I like them both so I have to doth my cap. The entry fee isn't too bad, however they catch you on the drink prices. Is it wrong that I'd sneakily recommend bringing in some alcohol. but remember they have cameras so take a cheeky sip from your bag…I feel 18 and broke again writing this!

17) Binocular Football
OK, I've written this one down as it is a genuine option, but I'd strongly recommend against it. You feel sick and dizzy within 30 seconds therefore you largely don't get more than a minute of action before you all give up. It is funny for a bit of a laugh, but not worth going out of your way for. HOWEVER, the real reason I have included it is because it is at the same venues that offer bubble football, therefore you could double up and book both.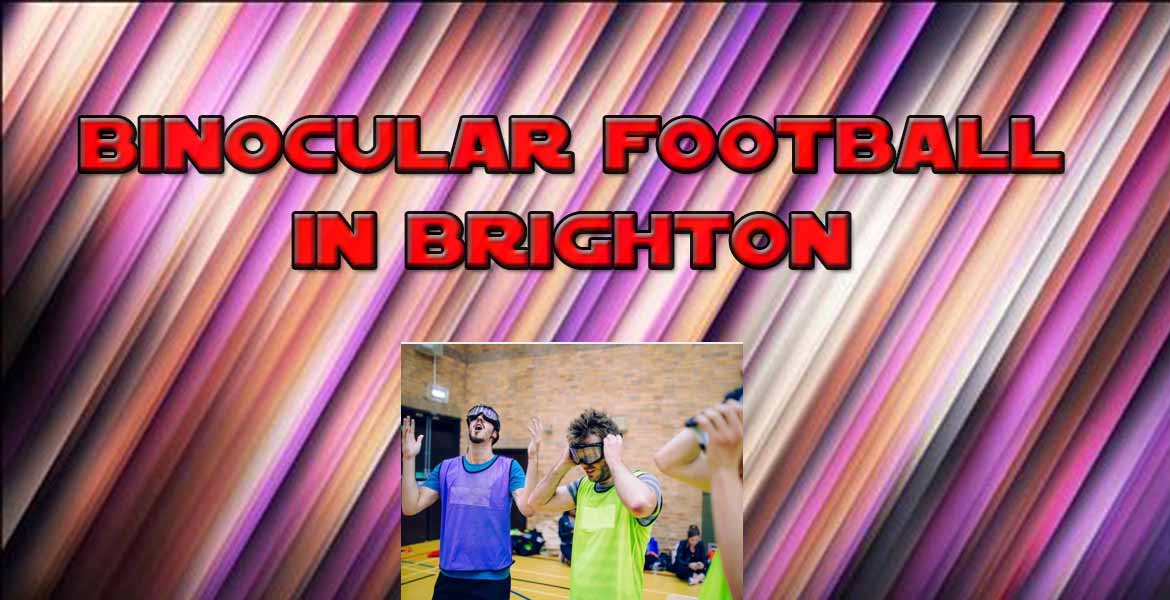 18) Casino
If you're a fan of gambling then taking a cheeky flutter on your birthday might be a decent option. There are several casinos along the seafront, alongside the hotels, which offer it all, from poker games blackjack, to the big screens showing the boxing.

19) Escape Games
I hope you have your thinking caps on, because this isn't an easy one to crack! It doesn't matter whether you're a genius or a bit ditsy, this is just for a laugh and great done with a group of friends.

20) kayaking
I used to go kayaking all the time back in 2010, however it seems like a lifetime ago. Here is my hidden secret, tell them you are a student at Brighton University and part of the Extreme Sports Society and they should offer you a discount. By 'they', you will see them along the seafront. You don't need to book it in advance, as they are normally always available during the daytime.

21) Jedi Training
Did you just hear me right? Oh yes, you did, I just said jedi training! You can learn the skills of the force, well kinda, with this bizarre sword fighting activity. The class lasts 2 hours and the instructor has some serious skills, albeit most attending are just flailing helplessly, but that adds to the laughter.

22) Nude Life Drawing
If you fancy something a bit cheeky, or you have an artistic flair, then this could be a slightly more skilful daytime activity. Plus you will have something to take home at the end of the day (the picture I mean, naughty). The life models come in all different shapes and sizes and it is your job to read, analyse and portray those curves and bumps into a masterpiece, or a funny doodle.

23) Aquarium
I always feel reluctant to include something like an aquarium. I get excited before I go and then always feel a bit depressed as you look at these giant sea creatures trapped in little boxes. I don't want to put a dampener on it, but this is definitely more suited to children, as the conscience ways more heavily as you grow up. However, if you do decide to go, it is right next to the Pier.

24) 2p Machines On The Pier
Forget computer games and virtual reality, something is truly magical about those 2p machines. Maybe its just an early gambling addiction, but it is way too much fun! Plus, even if you chance up a pound, those 2p's still last quite a while, providing you actually win a few goes.

25) Spa Day
Cucumber on the eyes, mud pack on the face, it's time for a spa day! Well that might have been the most feminine comment I've ever made, but it is hard to say no to a bit of detox and relaxation. We all get tempted to get wasted on our birthdays, but sometimes it just feels nicer to escape the real world and recover a bit, even if it is still followed by heavy drinking. The Grand is a nice spot, as is Little Jasmin, which is the top rated on Tripadvisor at time of writing. I'm probably not the best person to ask about spa's though!

26) Clay Pigeon Shooting
This is one I haven't actually ticked off, but I know it is offered in Brighton so it is on my personal Brighton Bucket List. You don't have to be a silver shooter or an expert gun slinger to have a go, however your timing might have to be pretty top notch to hit those moving targets.

27) Devil's Dyke
Whether you go for a walk or bike along the amazing views, Devil's Dyke is an amazing place to go, plus it is just a short bus journey away. It is something you can do with the entire family or with a dog alongside, while it is also a good detox activity for the day after. Plus, there is a pub by the bus stop, I'm just saying.

28) Ghost Walk
For those that believe in ghosts, you might want to hear the twisted tales of how people were brutally murdered by serial killers of times gone by, who came back to haunt the town and to pass on a message to their loved ones. Even if you don't believe in ghosts, it offers you an opportunity to tour Brighton in a different way.

29)Sewage Tour
You heard me right. I went on a sewage tour of Brighton, which is setup and sold by Southern Water. You know, those guys we spend a fortune on every month. It's one of those things which might sound bizarre, but it allows you to tick something off nobody else will have done. Just so you know, you don't get poo on your hands, you are given gloves and it is completely safe.

30) Dance Class
Whether it's the Single Ladies or Grease, there are so many options available. You can even try Bollywood if you fancy it. From gyms to hotel venues, there are almost too many locations offering this, while it also allows the group to learn some hysterical moves before the night out, which they can re-enact on the dance floor.

31) The Rockery
The Rockery is located right alongside Preston Park, across Preston road, but it is seen as an absolute hidden gem in Brighton! 
It was landscaped back in 1935, with a waterfall dripping down towards a pond filled with fish and frogs. You can also walk along the rocks to walk over the pond, before going up the pathways so you can get views of the entire city.
There are numerous different flowers growing, while there is also a flat area where you can sit down and enjoy a picnic, but please clean up after yourself.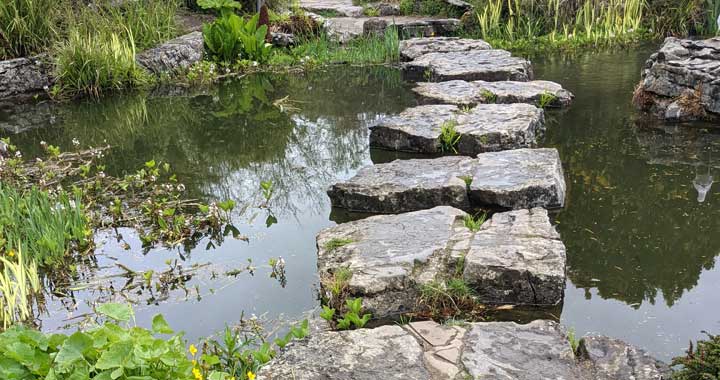 32) Minigolf
There are a few different spots to play minigolf in Brighton. Right alongside the Pier you have the Pirate Crazy Golf, which generally gets the most visits simply because it is close to some key tourist attractions.
If you carry on along the seafront towards the Marina, you will find the Jungle Rumble Adventure Golf Course, which I've played on a number of times with my family. The course is a bit bigger and they also have a café where you can get food and drink from (whether that's a beer or a sit down sandwich for lunch).
If you carry on until you reach the Marina then you will find Globalls, which has a Jurassic and Tropicana theme, offering an inside glow in the dark golf course.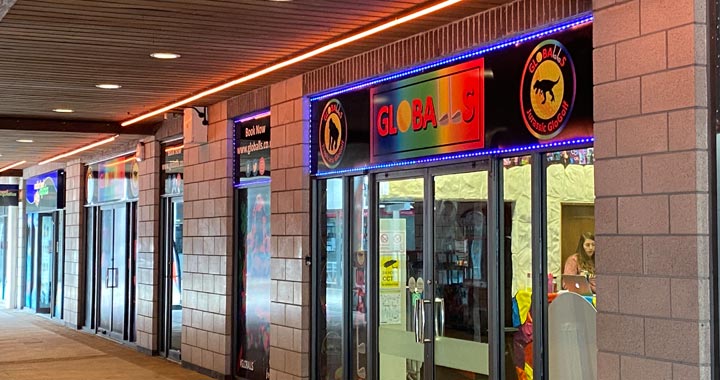 33) Yoga In The Sky
One of the most relaxing activities you can give a try, the Yoga in the Sky takes place in the Brighton i360.
It takes pretty early in the morning, as you practice your downward facing dog 450 foot in the air. The stunning panoramic views are a great bonus, whether you've been up in the i360 or not.
The group are also incredibly friendly, with a great teacher who will walk you along through the moves, great for all skill levels (we were absolute beginners).