Located right next to the burned down West Pier, West Beach Hotel right next to the seafront, with a 3 minute walk to Churchill square shopping mall, 15 minute walk to Brighton station and 1 minute from the beach. The hotel has 48 rooms, making it a decent enough size for a big group, however if you are booking for a large group, make sure you book it in advance as the rooms will go very quick.
If you are interested in staying for a considerable amount of time, they do offer longstay deals, so it is definitely worth discussing with them if you think you will be there for a good while.
Check in time is 2pm and Check out time is 11am. If English isn't your first language, the staff are multi
There are plenty of restaurants and clubs nearby, while you can try some of the best water based activities, such as kayaking, jet skiing and wakeboarding.
What Comes With The Room
You will get the usual; Free wifi, a decent size TV, ensuite bathroom and a tray of tea and coffee facilities. They also have a room specially for disabled people, but you need to call up beforehand as I believe they only have one of these. You can also request a room with sea view, I'm not too sure if this comes at an extra cost to be honest.
Rates
The rate per room at West Beach Hotel is very much dependant on the day of the week you book it on. For example, if you were to book a single room, it would cost you £45 on a Sunday-Thursday, £75 on a Friday and £105 on a Saturday. This is also if you book it in May, but apparently there prices can change depending on the month, so it is a bit difficult to write up all the prices.
The rooms are for 1-4 beds, while you can also order superior rooms or self catering ones. The self catering rooms have a kitchen in, with a fridge, microwave and some cutlery and plates.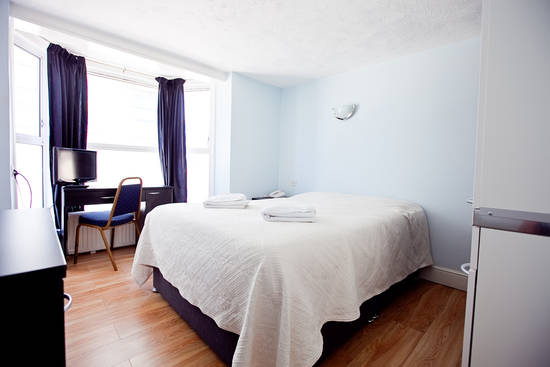 Address
135 Kings Road
Brighton, East Sussex
BN1 2HX

Contact
Tel. (UK) 01273 323161
Booking