Brighton has been my home for the past 10 years (apart from when I have been travelling) and I feel honoured to live in this vibrant city. I will try to offer my personal recommendations for anyone thinking of visiting Brighton this year.
What to do
If you visit during the summer, I would definitely recommend walking through the North Laines and the local markets to explore the weird and wonderful. One shop on the Laines that I quite enjoy is a retro sweet shop, selling sweets from your childhood – anyone remember nerds, they sell them!
The North Laines are also an amazing place to find somewhere to eat, albeit quite busy during the weekend, however I would definitely recommend grabbing a cherry bakewell hot chocolate at Ldya.
Brighton Pier is internationally known, with its theme park style rides and great arcade games. For me, the greatest childhood fun is spent on the penny machines filling Brighton Pier. You can also look out at the other burned down pier, still to be renovated (if ever).
The Brighton Pavilion is quite a site, often recognised as a similar image to the Taj Mahal. The Pavilion Gardens are a nice area to relax, chat and eat lunch if it's nice weather, while you will sometimes find street performers and musicians close by. You can also take a tour through the building, but I think this comes at a small price, worth it if you enjoy your history and architecture.
There are a number of water sports you can get involved in, such as kayaking and surfing, which are £10 an hour (they normally charge you £10 regardless of time spent), which includes the wet-suit hiring. The best place to do these activities are at the surf hire store right next to the club Coalition, along the seafront.
It is always good to check ahead if anything is occurring in Brighton before you visit or when you're trying to arrange dates, as a number of events occur.
If you'd be interested in watching some stand up comedy, Komedia in the North Laines run comedy shows every evening. The overpriced drinks are made up by the incredibly funny performers and friendly atmosphere, I would definitely give this a shot when in town.
For the charity shop bargain hunters out there, you will be astonished by the biggest collection known to man, located on London Road. You can find this area quite easily from the station, taking the road down Trafalger Street and then turning left. Along this road must be around 20 charity shops, with some amazingly high quality products, always great when coming up to Christmas!
If you're looking for a coffee, Moksha, close to London road, is a great place to relax. They also have a number of great tasting home made smoothies, as well as a killer Chai Latte.
Shopping
As previously mentioned, for the bargain hunters, go straight to London Road to find a vast array of charity shops, while the North Laines hold the bizarre and individual stores. The main shopping area in Brighton is Churchill Square, which can be found by walking straight down towards the beach from the Station (Queens Road), as soon as you arrive at the clock-tower  turn right, and you will see a number of well known stores such as H&M. The Lanes (not to be confused with the North Laines) is a little more upper class, with plenty of jewellery stores and expensive clothing. It's worth walking through the tight pathways to experience it all, but I wouldn't want to spend too much here.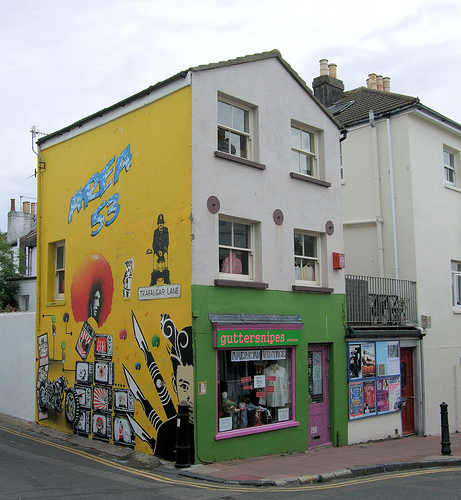 When to visit Brighton
Brighton is known to be great all year round, but to be honest, it is all about the warmer months. Brighton is hands down the greatest place I have ever been in the summer, a lively and friendly atmosphere you would expect to see at a festival, as people let their hair down. Unfortunately this switches around November as the winter chill kicks in. I would recommend visiting between March and October. Having said that, it is starting to get a better feel around Christmas, with the ice skating rink setup outside the Pavilion, the perfect view and also with a bar in place for the non skaters. Beyond this, they have decorations throughout the streets, some with great innuendo's.
If you are looking for some good nights out, October is the best time to visit, as all the clubs become incredibly cheap in reaction to the new students arriving at University.
If you are hoping to catch a bit of sun on the beach in Brighton, try to avoid the weekends, as everyone comes down from London, filling the beach till you can't see a single bit of the beach free.
A large amount of the clubs can be found along the Beach, such as Coalition, The Arch, Hideout and Shoosh. Coalition is probably the best club in Brighton, however the queue can be incredibly long from around 10:30, so it is worth getting there before the queue builds. While you can have a great weekend visiting Coalition, the best night to visit is Monday, as they celebrate 'trash Mondays', there most popular night.
Shoosh is a very grimy club; the only reason people used to visit was due to their exceptionally low prices, however when they switched from Honeyclub to Shoosh they did have a revamp and became a lot more popular. They also stay open very late, which appeals to the masses. I still look back fondly at the times when we went Honeyclub on a Saturday and got £1 Vodka Redbull's.
One very good club is Lo La Lo, with its best night being Monday. The atmosphere tends to be very friendly, while they seem to have a permanent Hawaii theme going on.
West Street is known as the 'chavvy street', filled on the weekend with drunken Londoners and hen parties. I would normally recommend avoiding this area, however I would like to point out that Walkabout is the one exception. West Street can also be good to get some cheap shots to start the night with, at either Boutique Club or Wetherspoons. West Street is obviously renowned for its most famous club, Pryzm, which is much the same as all the Pryzm's nationwide. There is also an Irish bar Molly Malones which is good for a live band every now and then.
Talking of live bands, both Mesmerist and Black Lion can be good venues for live bands on a regular basis. Casablance, a former favourite of mine, also has a live band each week.
For pre-drinks there are a number of good locations such as Pavtav (North Street), Pitcher & Piano (near the club Lo La Lo) Madame Geisha's (also near the club Lo La Lo) and the Font (in the South Lanes).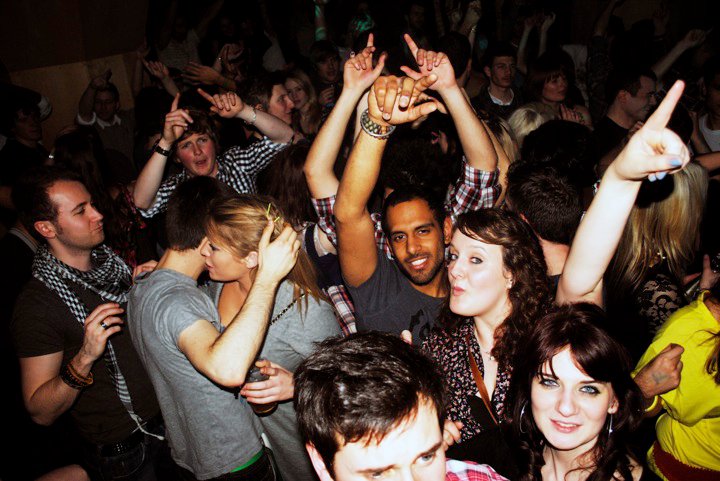 If you like Dubstep/DnB then you should definitely consider booking tickets at Concorde 2. I am sad to say I have still never been to this venue, despite being a huge dubstep and DnB fan, as my friends do not share my taste in music, therefore I'm normally doing an awkward shuffle to an indie song somewhere in Brighty. Patterns also plays Dubstep/DnB on Wednesday nights, however they often play indie music the rest of the week. Audio can be very hit and miss, with cheap entry, but often an empty club on the weekends. This really is a club that you have to know what night to go on.
For the 40 year old's and upwards, looking for a club which isn't filled with drunken students, there is a club to the left of the pier called Funky Fish. The drinks are quite expensive comparatively  but a night in Funky Fish is normally memorable, whether for good or just down right weird. Another for the older audience is The Green Door, located round the back of the station.
Describing all the pubs in Brighton would leave me dizzy and a very long guide to Brighton. One point they love to make when you visit is that there are more pubs than days in a year, now that just sounds like a challenge to visit a new one once a day! One pub I would recommend is King & Queens, located on Lewes Street, which can be easily recognised by its stand out features and distance from any other pub or nightlife.
A few other good pubs I can think of are The Worlds end, the East Street Tap, St Alberts, Waggon & Horses, The Hope, the Eagle and Basket Case.