Stuck waiting for a train? I know that feeling. Growing up in London, you seem to spend more time in tube stations than anywhere else! Well if you are stuck around London King's Cross St Pancras then you might not be so short on luck, with their plenty of attractions and monuments, not to mention great restaurants to check out. Read on for my list of things to do in Kings Cross.
1) Check Out The Trippy Tunnel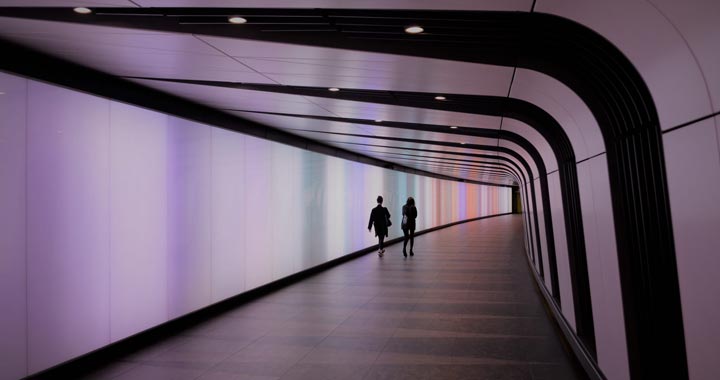 Like something out of an LSD dream in the 60's, the 90 metre subway tunnel between King's Cross and St Pancras is an illuminating masterpiece. Designed by Allies and Morrison, this one won't make it onto most travel guides, but is a nice extra idea if you only have a bit of time to burn while waiting.
2) Platform 9 & 3/4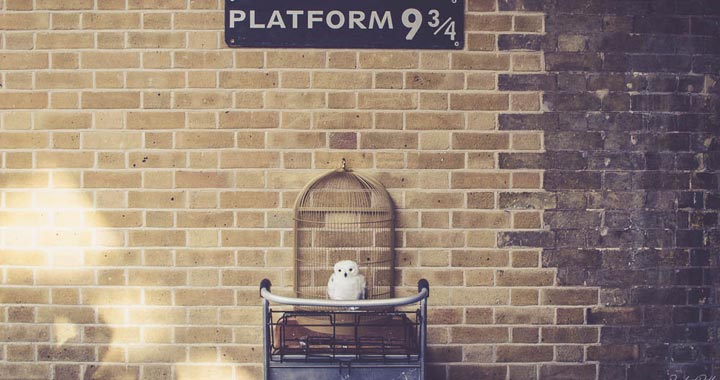 Depending on what time you arrive, you will either see tourists politely standing next to the famous scene from Harry Potter or you will witness drunken hen and stag parties charging full pace at a wall. Either is equally amusing. There is a trolley half way through the wall with an owl (not a real one), so people will know what you are standing next to in the photo.
3) Granary Square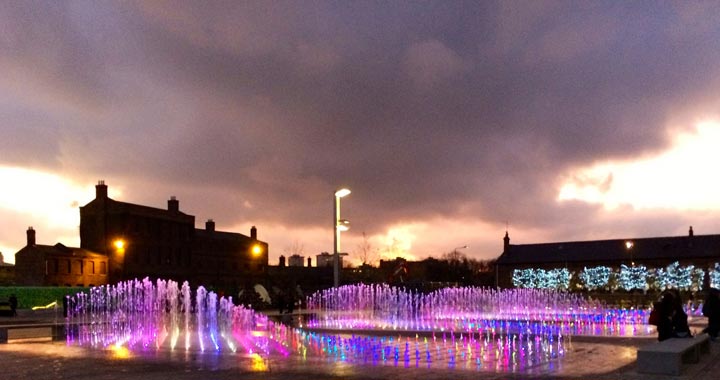 A wildly popular location and the heart of King's Cross, this one is better to visit at night as the fountains all light up. It's also located along the banks of Regent's canal, so you also get a great view of the water. Keep an eye out for the floating cinema!
4) Drink Some Champagne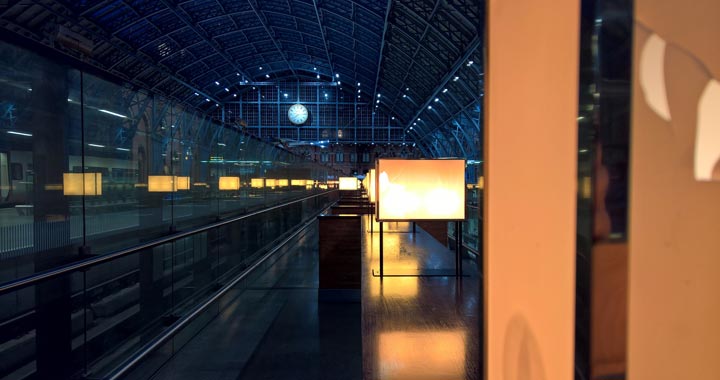 You won't have to ask me twice to sip on some champagne. I annoyingly have an expensive taste in alcohol and I love a glass of champagne. The bubbles go straight to my head. But anyway, the reason I recommend this is because the station hosts Europe's longest champagne bar (any excuse will do). It's called Searcys St Pancras and is normally filled with people about to take the Eurostar to Paris. But have a look out for the British sparkling wines which are growing in popularity.
5) British Library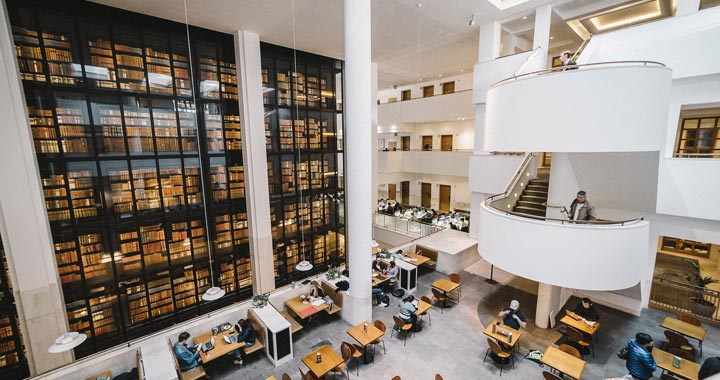 Ask most Londoners where the British Library is and they won't be able to answer. Yet this is a must-see for most tourists, with over 150 million items on offer! Some of the biggest attractions within the library include the magna carta, lyrics by the Beatles and Jane Austin's notebook, not bad!
6) Hint Hunt Escape Rooms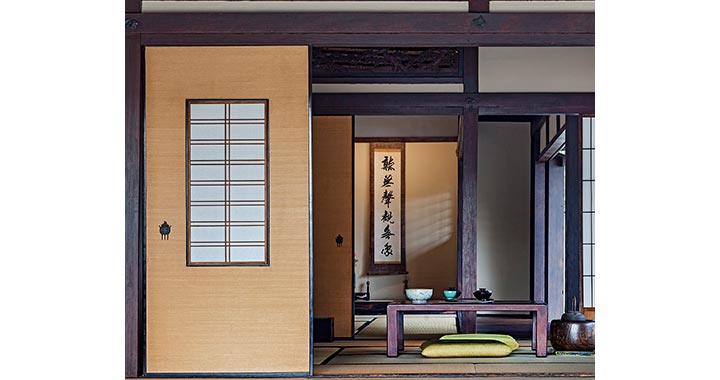 I've tried three escape rooms to date and have so far failed to get out of any. Not one to give up, I'm determined to get out of the next one! If you have an hour free, then Hint Hunt might be the best option. You have the choice of two rooms, JM's Office and Zen Room. The location is actually just outside of London Euston station, but that is just a very short walk away.
7) Camley Street National Park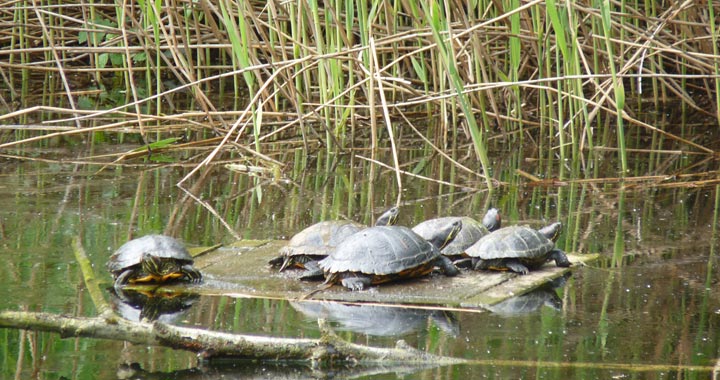 Seemingly a relatively unknown spot to non-locals, the Camley Street national park is just a short walk from the station, however it's certainly not new. It was introduced in 1984, as a redeveloped coal yard, offering a bit of green in this concrete playground. Perhaps the best surprise however is spotting all the wildlife, including terrapins in the canal system.
8) Swing In A Bird Cage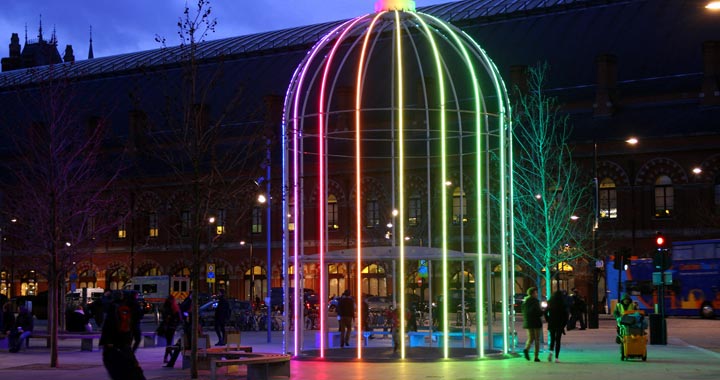 The IFO, or Identified Flying Object, is a bizarre art exhibition available just a short walk from the station and opposite the German Gymnasium. Created by French artist Jaques Rival, the installation stands at 9 metres tall and is elevated at night. It adds a bit of colour to the night sky, while who can say no to having a swing in a bird cage? Just in case you are wondering, the swing is suitable for all ages (except babies of course).
9) Word On The Water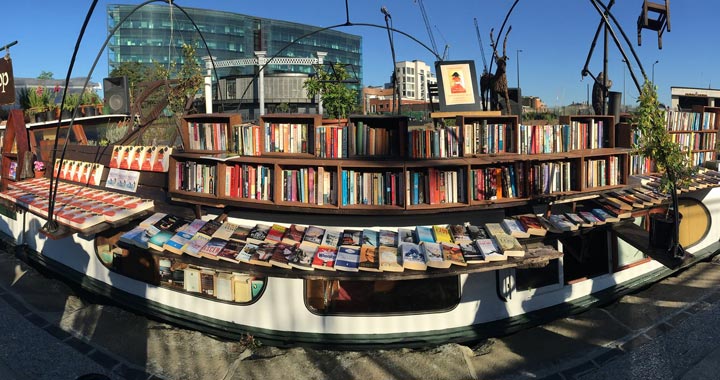 Moored next to the aforementioned Granary Square, pop into Words on the Water to bury yourself in 4,000 books among this picturesque barge. This is also a good place to stop if you are about to go on a long train journey as an alternative to WHSmiths.
10) Drink at the Big Chill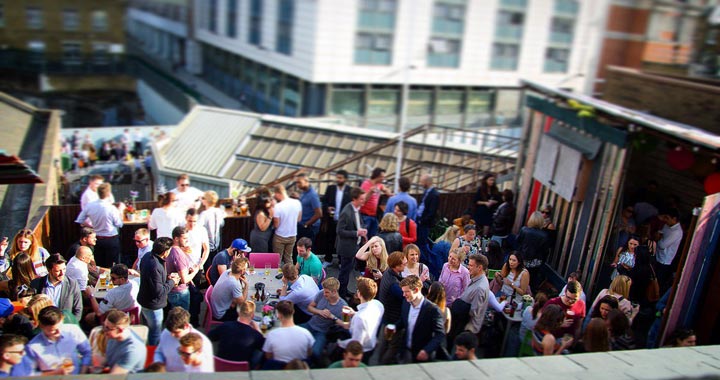 I do love a roof terrace, but no place is greater for them than London, where there seems to thousands available and the views are hard to beat. Here in King's Cross you have the Big Chill House. They also serve a number of craft beers which taste great, not to mention a decent nachos.