The beautiful Isle of Wight is littered with the most amazing beaches – some with acres of sand, others with dramatic cliffs and others still with vibrant piers and bustling seafronts. On a trip to this precious gem of an isle, you have more than 60 miles of varied coastline to choose from, as well as 14 beaches which are award winning. Whether you're looking for a bay prime for surf (the west Wight beaches are best for this) or the ultimate sandy shore for a proper bucket and spade day and picnic with the family, the Isle of Wight can deliver. Here's just a selection of some of the best!
Alum Bay – best for stunning cliffs and views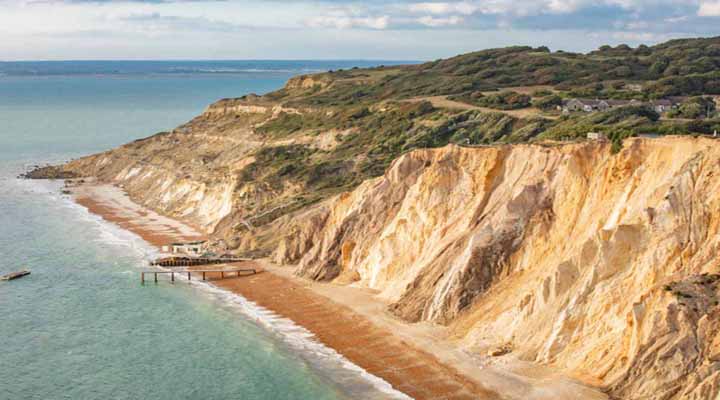 The views from above this bay are simply some of the most breathtaking sights you can hope to see. From high up on the chalk cliffs, drink in the iconic spikes of The Needles which puncture the horizon, and enjoy a coffee. When you're ready to explore the beach itself, take the gentle sweep of the chairlift down or descend by foot. The beach itself is mainly shingle and surrounded by the towering striped majestic cliffs, streaked with the colours of the sun. The waters are beautifully blue and ideal for paddling and swimming.
Colwell Bay – best for the classic seaside experience
If it is the quintessential seaside experience you are after, visit one of the Isle of Wight's smaller beaches situated on the west of the island, like Colwell Bay. This predominantly sand and shingle beach is typically more tranquil than others and provides a wonderful place for families to enjoy some swimming and snorkelling as well as providing stunning views across the Solent to Hurst Castle. To complete this picture-postcard beach scene, hire a deckchair for a snooze or a colourful beach hut to get some shade in. Then grab some fish and chips for lunch or visit one of the nearby cafes.
Compton Bay – best for surfing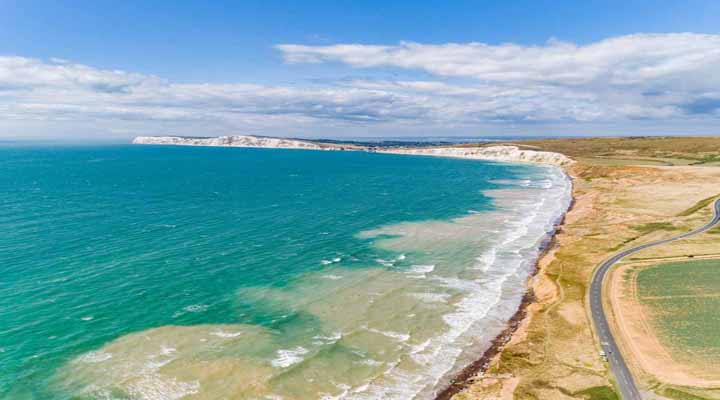 Not only is this National Trust-managed beach on the south-west of the island a real draw for local surfers due to its resemblance to a Californian shore with briny rollers and a whipping south-westerly; it's also a real find for budding palaeontologists: at low tide, dinosaur footprints are visible on the rocks along the foreshore and you stand a good chance of finding the bones or teeth of these terrible lizards dating back millions of years.
Spend time wandering across the sandy expanse of beach or simply sit and gaze at the spectacular white chalk cliffs with views to the Needles, Dorset and beyond.
Freshwater Bay – best for adventure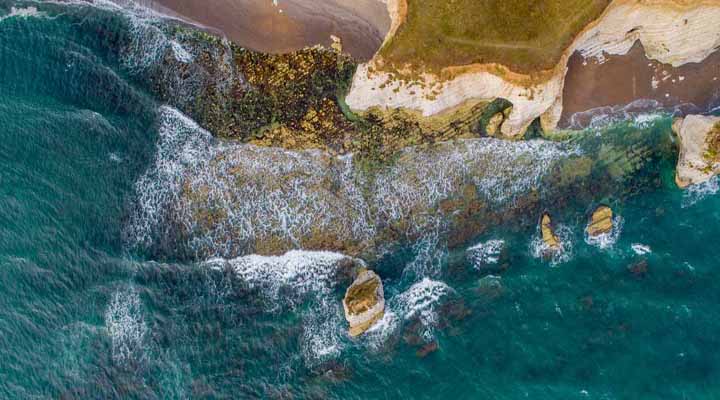 This lovely pebble beach, again on the west coast of the Isle of Wight, offers spectacular views of huge chalk cliffs and Stag and Mermaid Rocks which jut majestically out of the blue waters. At low tide, a hidden rock ledge is revealed which provides hours of fun for those who love to explore rock pools. If you are feeling adventurous, caves – once the domain of smugglers – are also revealed at low tide and can be explored on kayak or paddleboard, but be aware that you are best to hire a guide to avoid getting cut off by the tide. Other popular water sports here also include surfing and boating.
The beach also provides really easy access to the coastal path in both directions, giving you the opportunity to explore on two legs or two wheels.
Ryde – best for family entertainment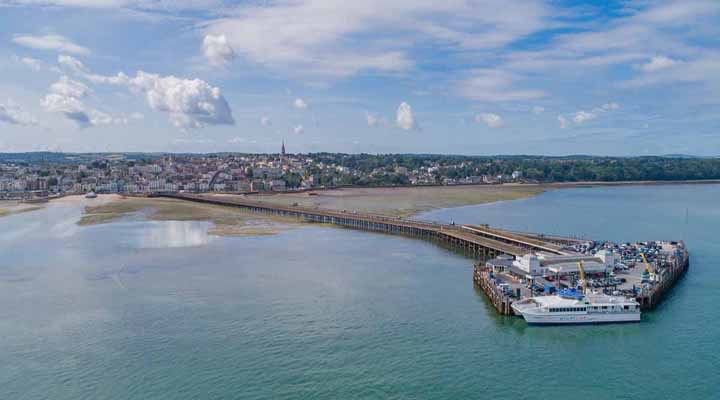 This sandy beach, situated on the north-east coast of the island, with its 6 miles of golden sands is one of the best places to play, build sandcastles and soak up the sun in idyllic surroundings – there's also deckchair and sun lounger hire available so you can recline in comfort. To the west of the pier, you can find a smaller, quieter beach, whilst on the east side, when you tire of the sand, you can find endless beach entertainment, including a boating lake and pedalos or themed play areas for the mini humans.
Take a stroll along the promenade and discover cafes or watch the hovercrafts and ferries. There is even a wooded area if you want to escape the sun's rays and enjoy a picnic in the shade.
Shanklin – best all rounder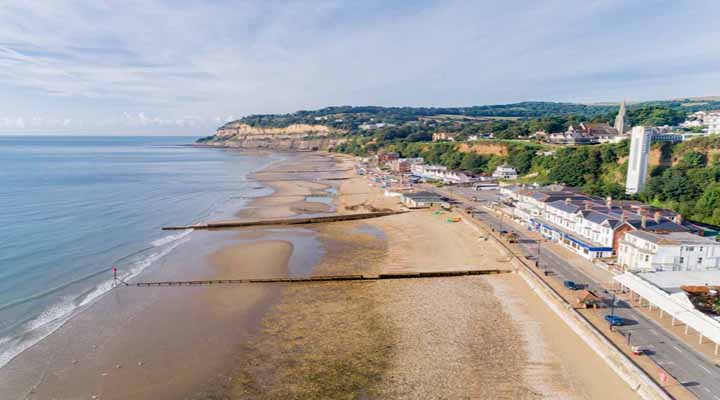 Shanklin has to be one of the best-loved beaches on the whole island, with golden sands complete with an esplanade. The expanse of sand means it rarely gets overcrowded and you can also hire pedalos and organise some races for those of you with a competitive spirit. Otherwise you can simply watch the world go by – ice cream in hand, of course – from one of the benches dotted along the esplanade.
Should the weather take a turn, escape for a bit of old-fashioned fun in the penny arcades or enjoy sustenance in one of the local bars or cafes.
Steephill Cove – best for quiet contemplation
If it's a smaller, more secluded and tranquil location that you are after, then a visit to the Isle of Wight's hidden gem of a sand and shingle beach, Steephill Cove, is not to be missed. The beach, enveloped safely between old smugglers' coves and rocky cliffs, can only be accessed on foot so the lack of traffic noise coupled with brightly coloured deckchairs, lobster pots and fisherman hauling their fresh catches of crabs creates an air of days-gone-by nostalgia.
This unspoilt fishing cove can be found just south of the seaside town of Ventnor and provides a safe and sheltered spot for sunbathing, paddling and general relaxation. The two eateries at this cove have beautiful sea views and are readily supplied with the freshest of catches, so take the day to simply be.
So, there you have it, some of the best beaches on the Isle of Wight in seashell – the varied coastline provides everything from dramatic cliffs to hidden secret coves with the best surf spots and traditional seaside experiences in between. If this has inspired you, then check out some of the best Isle of Wight accommodation to be found and spend some well-deserved time with sand between your toes and salt spray in your hair.