Camel riding in Sharm El Sheikh, or anywhere in Africa, is something you have to tick off the bucket list. Beginning this excursion, we were transferred to a bus, which took us out of Sharm El Sheikh, on a 20 minute journey. The trip wasn't too bad, as we were entertained by a flamboyant travel guide, sharing his knowledge about the bedouins and their way of life.
We arrived to the site of what must have been about 150 camels.Their faces could amuse me for hours, I wish I got a close up picture of one! Soon as you get off the bus you are surrounded by very young children who beg for money, of which you guiltily hand over anything in your pockets which resembles a coin. I should mention, if you have a scarf and they offer to tie it around your face, you genuinely don't need it. The camels when standing are very very far from the ground (something I didn't know until it elevated me into new heights I had never seen) therefore no sand will fly back into your face, nor is there much sand in the wind (unless there is a sand storm, in which case it might be better sitting on the bus for a bit).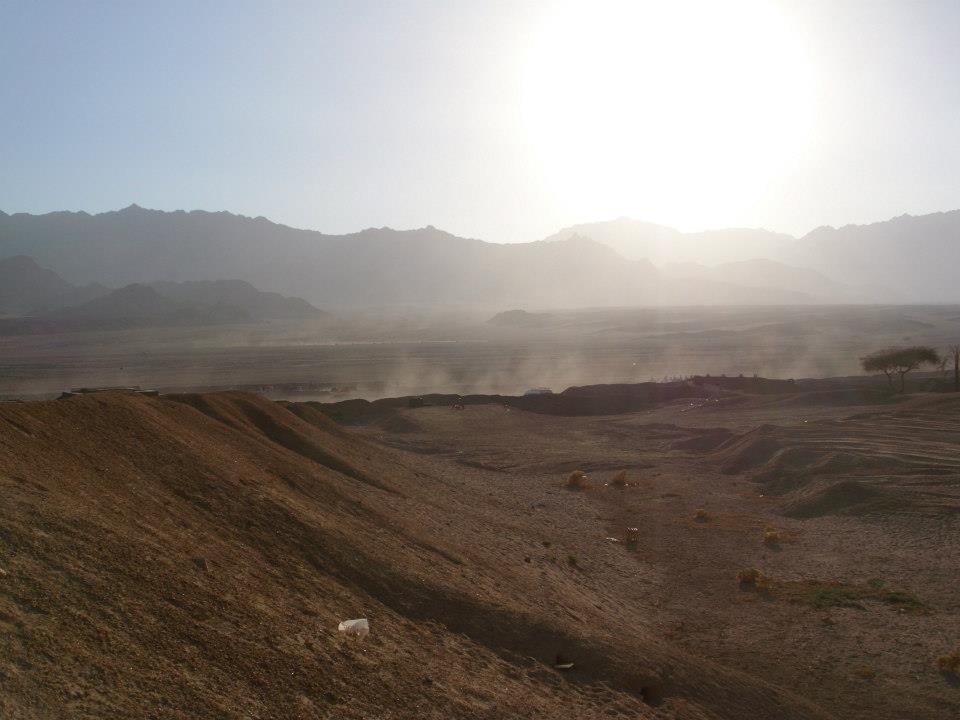 The camel riding is incredibly fun, however what they don't point out when they sell this excursion is that the camel riding only actually lasts 5 minutes! You have a short ride with them and then you return to the starting position. I like to think I'm now a veteran of the camel riding world (I survived), however 5 minutes on my CV might not qualify me. There are plenty of other excursions in Sharm El Sheikh which I can recommend trying out on your visit to Egypt.
Be careful, the moment you get off the camel the staff will instantly demand a tip off you, almost to the point of aggression. Even once you give them a tip, they begin demanding more. Once you've got past this awkwardness, it is easy days. My tip is to pretend you can't hear them, I have an amazing ability at staring blankly at them and then bursting into giggles; They never know how to respond…winner!
Surprisingly though, the fun didn't stop once we got off the camels. We were taken to a comfy area where they offered us habak tea and begun telling us about how the bedouins lived in these areas. They then got all the girls in the group to help make the flatbread, something surprisingly tasty for bread (a bit like a pancake). Us guys stood around laughing and taking photo's, like the truly supportive people we are!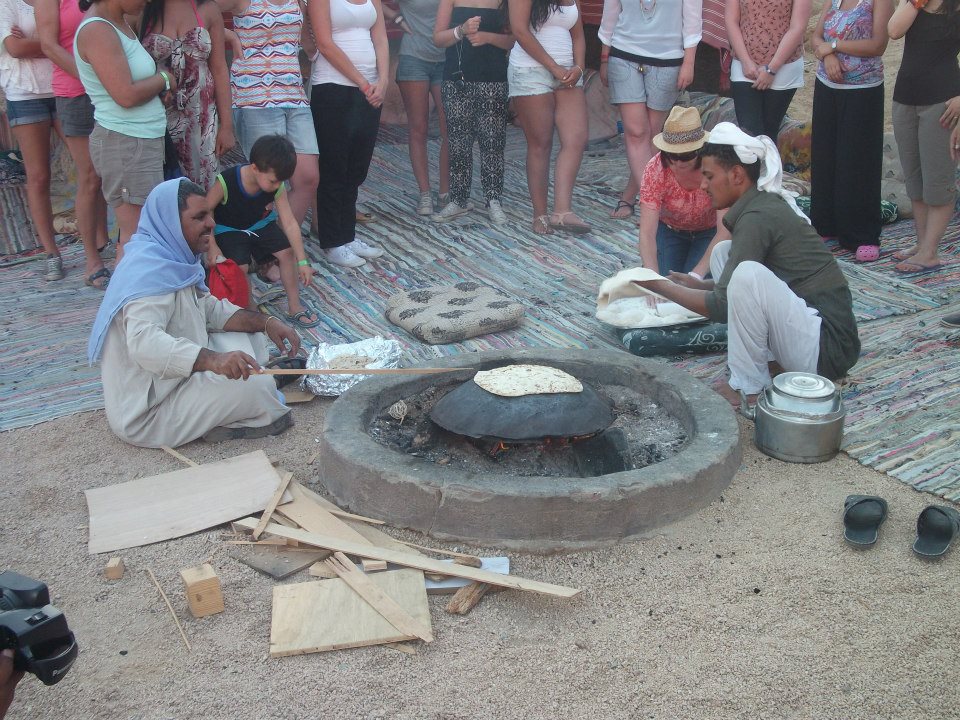 We then began eating, which was also surprisingly good (I shouldn't sound so surprised all the time). The food was much the same as what we got in the hotel, however it tasted a lot fresher and was very much appreciated after 4 hours without even a thought of spaghetti hoops (ok, a quick day dream and drool). The guide continued to converse about the vast differences between our cultures, and the valuation of "a camel in exchange for your girl" which seemed to be an obsession to everyone in Sharm.
After the meal, more tea was offered around, and they brought over a number of apple flavoured shisha's which were very warmly received. The people on this excursion were incredibly friendly and we had a good chance to chat amongst ourselves while smoking the shisha.
Finally, they began to play music, while they encouraged all the girls to stand up and dance. Fortunately, they weren't overly pushy when asking the girls, while they danced around the fire to what I'm certain was actually a rendition of a Shakira track.
After a long and incredibly enjoyable evening, we got up to go to the bus, so that they could take us to the area where the telescopes are set up. By this point it was almost pitch black, however we managed to catch sight of a desert fox, which was about the same size as a chiwawa.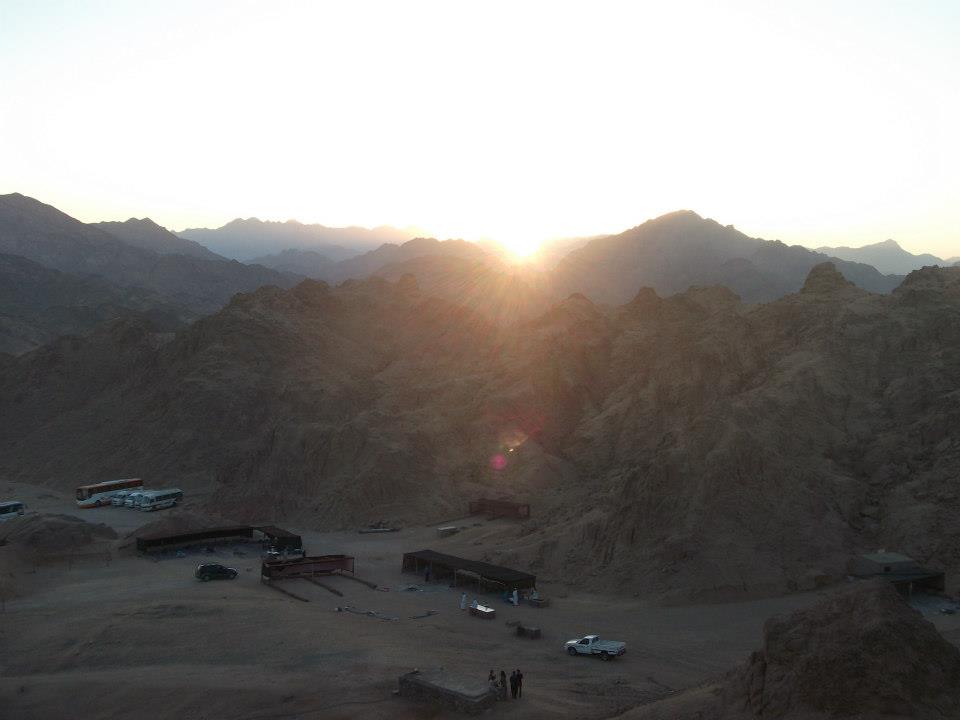 The stargazing was absolutely phenomenal, with two telescopes set up, one pointing at the second brightest star in the sky, and the other pointing at Saturn. You could really see the details of the planet and its ring, almost to the point that we were certain it was a sticker at the end of the machine.
This sadly brought us to the end of the excursion, however we truly felt, for £40, we got our moneys worth, even if the camel riding was much shorter than we expected.
This is a great afternoon/evening activity which will cover you for a good few hours, while we did quad biking in Sharm El Sheikh in the morning, which was just a couple of hours meaning it worked perfectly with our timing.
I strongly believe Sharm El Sheikh (despite a few issues with the locals on a few occasions) is one of the best places in the world for activities and excursions, allowing you to tick so much off your bucket list. You should certainly avoid the swimming with dolphins in Sharm El Sheikh, something I did at the time as a 'once in a lifetime experience' but now feel incredibly guilty for. They are captured and treated really badly, dieing way before the age they should.