Top of everyone's list, this is one that had to be ticked off. The summer before I had been holding a beached pilot whale for 8 hours, however I still felt that I needed to experience swimming with dolphins in a less depressing state.
The little child in me was so excited, just to see them, however I would much rather see them in a more natural habitat, as all these excursions involved animals in a small area of space to maneuver.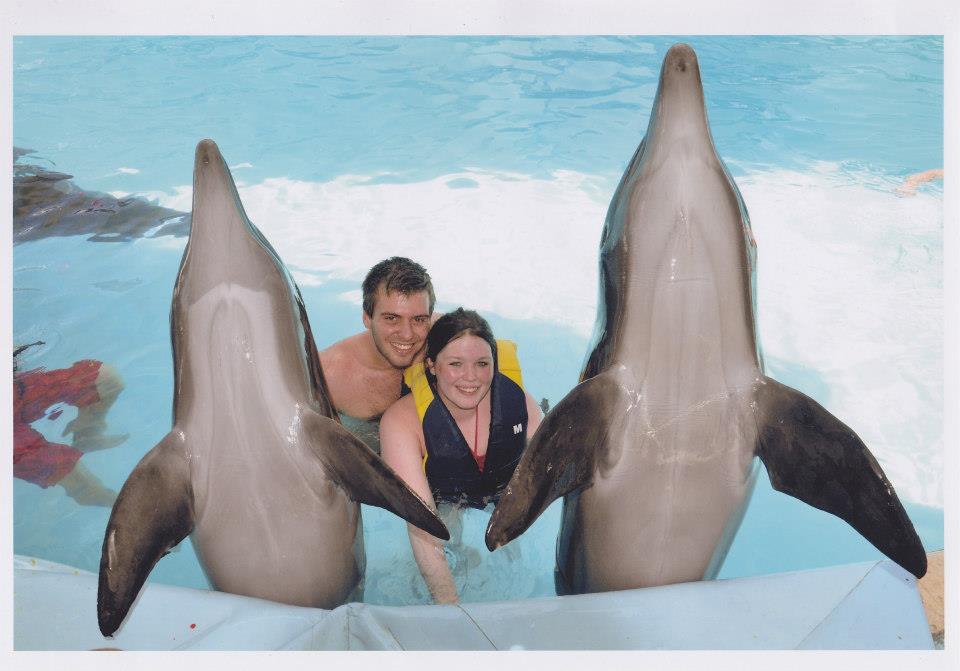 The cost was high, at about £70 (700 Egyptian pounds) for 15 minutes, however for a once in a lifetime experience, you really have to put it in perspective. When visiting Miami we were quoted £250 to swim with dolphins, so despite the high cost of £70 in Sharm El Sheikh, it was still comparatively cheaper. You can pay a bit more to be in for 30 minutes, which offers you the opportunity to play piggy in the middle, with the dolphin in the middle trying to take the ball off you. I loved watching the hesitation of everyone as they saw this giant of the sea bursting towards them!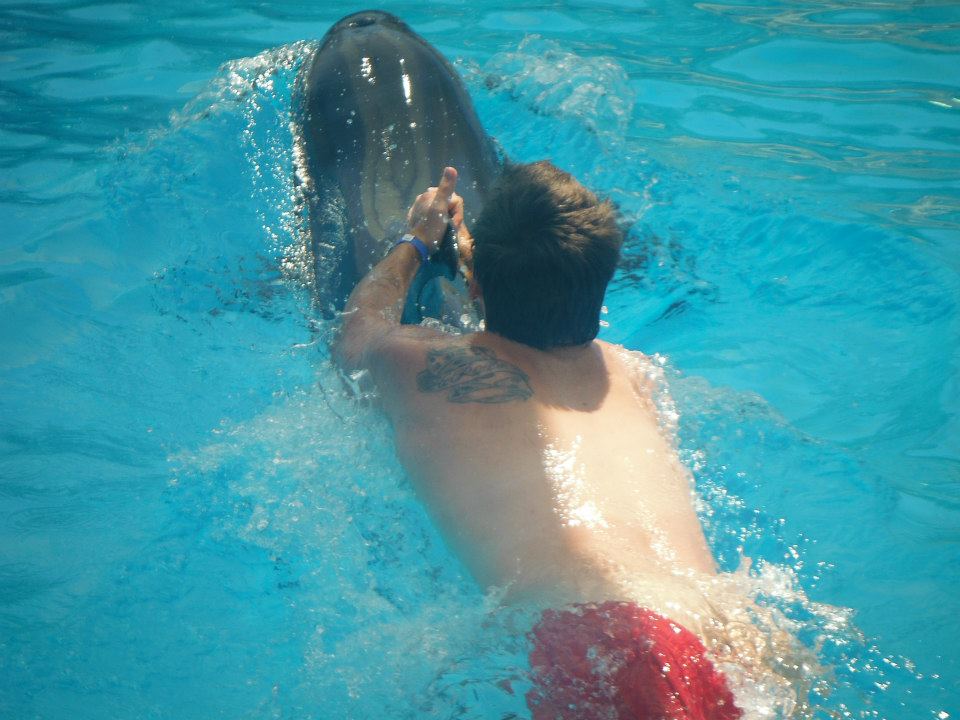 If you book this with the hotel, they will pick you up in a minivan around 10am from the hotel and escort you to the pool. The guide comes with you to the pool and will help with any questions you may have. Normally these guides are very friendly and helpful, so make the most of it and if your money isn't too low, offer a pound as a tip (or 10/20 Egyptian pounds). I booked this directly via the team from Iberotel Club Fanara, where they offer a number of excursions in Sharm El Sheikh.
Climbing into the pool, there were 4 dolphins, and our group was split so that there were three people per dolphin. For each activity you did with the dolphins, we all took turns, such as having a kiss on the cheek from the dolphins, going for a dance with them and being dragged across the pool while holding the fin.
They truly are amazing creatures, and were surprisingly big, standing at around 9 foot. Just tickling their bellies brought made me giggle like a hyper five year old on Christmas day.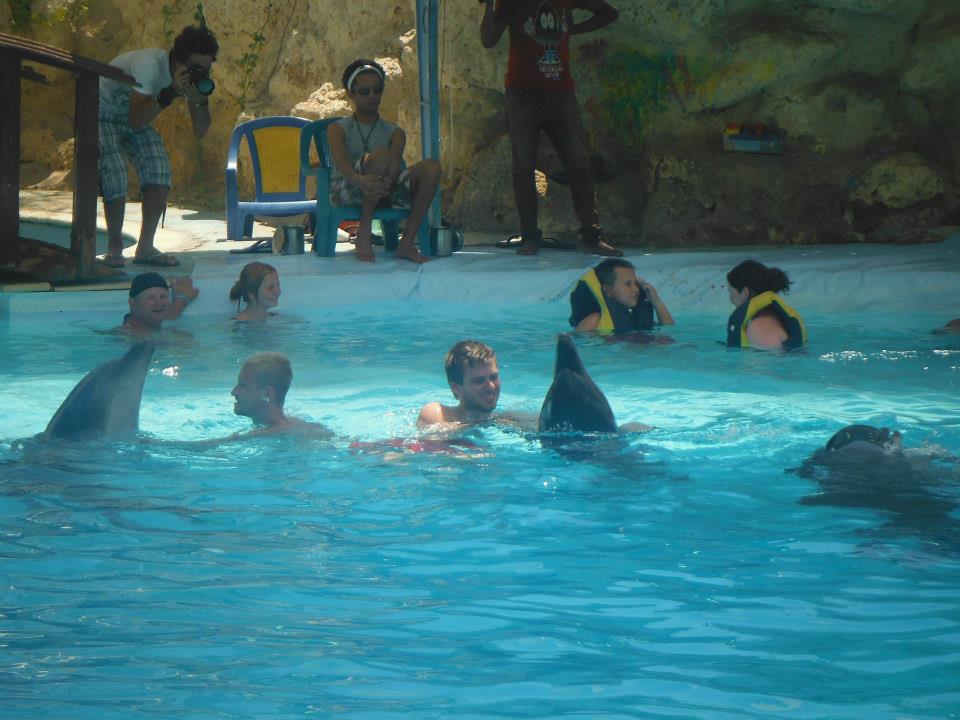 One word of warning, when they carry you across the pool, they do it at some pace, so make sure your costume is on tight. My shorts flew off instantly, as I had to stand bollock naked in a pool filled with people. Luckily, all eyes were focused on the dolphins and I think I got away with it, or at least that is what I convinced myself!
The photos taken with you and the dolphin cost £7 per photo (70 Egyptian pounds), which is incredibly expensive, so we only took away one. However one cheeky trick you can do is to get the person who took you on the trip to take lots of photos. You can then give him a tip of 20 Egyptian pounds (about £2) which is a hell of a lot cheaper!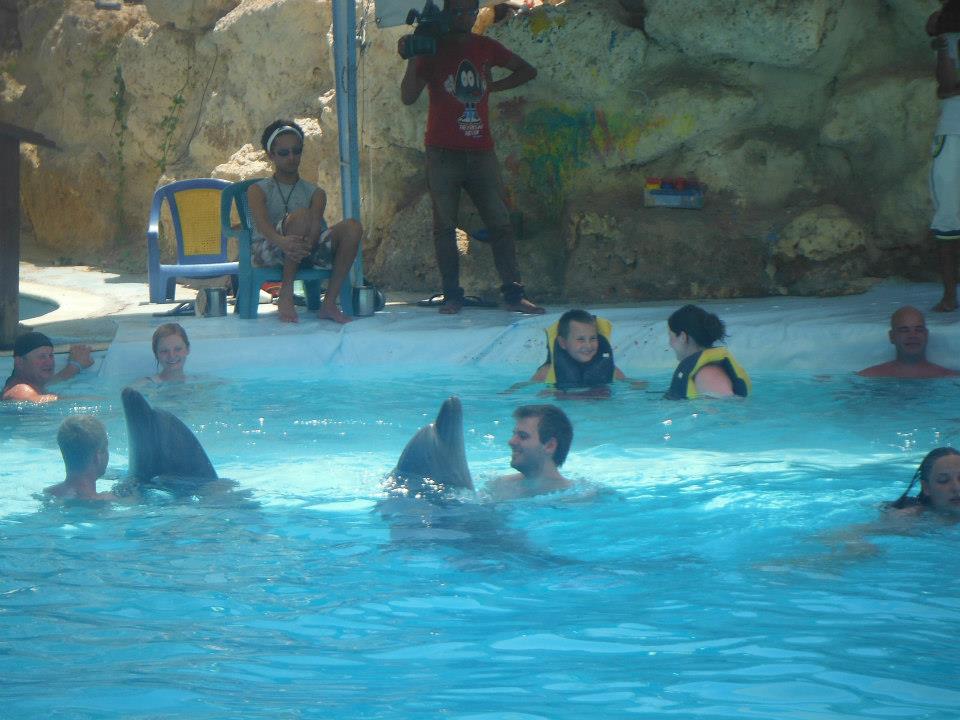 I was sad to read on Tripadvisor that people don't recommend taking part in this as it is cruel to the dolphins and they aren't treated amazingly, so I apologise to anyone who feels it was wrong. I know I should have held temptation, however I knew this opportunity doesn't come around very often. Before swimming with dolphins, try to find out from others how well they are treated as you don't want to support a cruel practice. I hope you are stronger mentally than me, because it was frickin awesome!!
Having said that, years later I'm happy to say I did it in a more natural way, swimming with wild dolphins in Bolivia. The experience was a bit more scary, considering I was surrounded by alligators who were ready to eat me, but talk about a life experience!
If you want to book the excursion while you're here on holiday and you'd rather not go through the hotel then you have a few options, such as the below:
If I'm being honest with you, I have no idea of the name it was booked under, considering the hotel excursions team arranged it, therefore I cannot give a solid review on the three highlighted above, however following some research they seem to be the most well known in the area.
Let me know, would you rather swim with dolphins or go shark cage diving?