I am a massive fan of bucket lists, as you can tell by my list of 100 things to do before you die however I thought it would be nice to make some destination specific bucket lists. Spain offers such a combination of activities to complete, from surf friendly beaches with some of the biggest clubs in Europe, contrasting with the art and culture of Barcelona and the beauty of Alhambra. I hope you enjoy this list!
 1) Eat Tapas
Go from bar to bar trying tapas as you go, while you might as well get a pint with every small meal. Eventually you will work out your favourite bars and your favourite dishes, mine were any with cheese in. Some of the most well known dishes include, tortillas, patatas bravas and a large amount of chorizo based meals.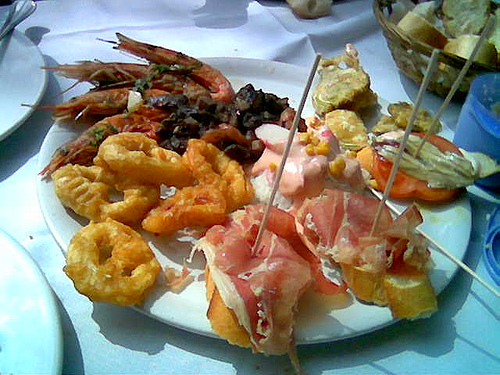 2) Alhambra in Granada
This giant fortress will take an entire day to walk around, but make sure you do it as you will find it as a highlight on any European guide on things to do. The first Nasrid king, El Ahmar, chose this building as it overlooked the entire city of Granada, offering you a great view for some quick snaps. The price for entry is around 13 euro's, while it is about 9 euro's for children (I'm pretty certain they offer student discount if that helps). Alhambra is only ever fully open between March and October, so make sure you time your visit perfectly, as you would be disappointed through the winter.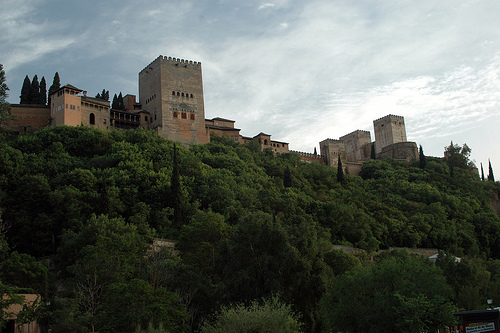 3) Ski the Sierra Nevada Mountains
If you are staying in Malaga then you actually have a relatively short journey before you can get your ski's on. The Sierra Nevada ski resorts are famous worldwide due to the fact that you can ski in the mountains and then head down to the beach to get a tan all within the same day. Don't be fooled into thinking that this makes any difference on the ski resort as it is definitely one of the best you will find in Europe, despite the contrast of weather in such a close distance.
4) See Gaudi's architecture in Barcelona
The highlight of Gaudi's work can be found in Parc Guell, which holds a number of his structures. Gaudi is known and respected around the world and was regularly influenced by forms of nature, which is definitely evident in the curves through all of his architecture. Casa Batllo is also worth a visit, a beautiful building designed by Gaudi, really illustrating how different he was to his contemporaries.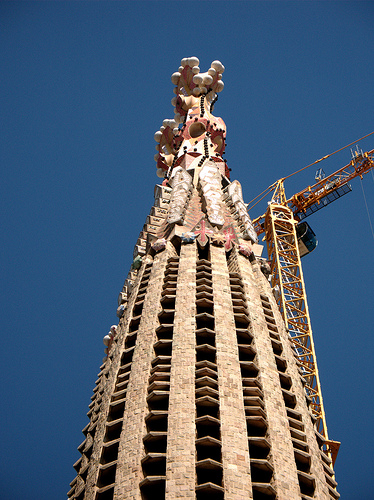 5) Dance to the flamenco
The passion of Flamenco is palpable as it creates a relaxed yet lustful atmosphere. Flamenco is a bit unusual to me as it is all very prepared, as each dance move is practiced and perfected over a large amount of time, following a strict framework of rhythmic patterns. I tend to be more impressed by dances that are natural, such as salsa or street dancing, however I still feel you should give Flamenco a go if you're in Spain for an extensive period of time.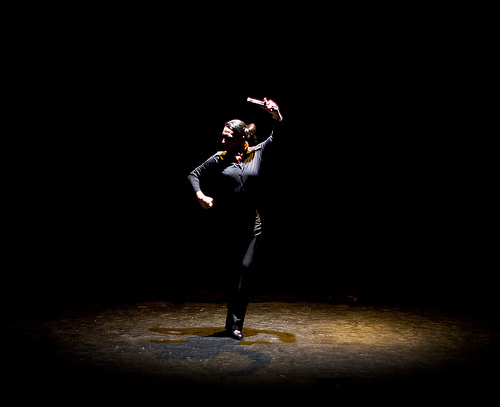 6) Go to Camp Nou
You do not have to be a football fan to appreciate the size and structure of Camp Now, Barcelona's football stadium. However, if you are a football fan, try and pick up some tickets and bare witness to possibly the greatest footballer of all time, Messi. If you do, try and learn some of the chants before you head to the game, or go to a bar beforehand and befriend someone heading to the match.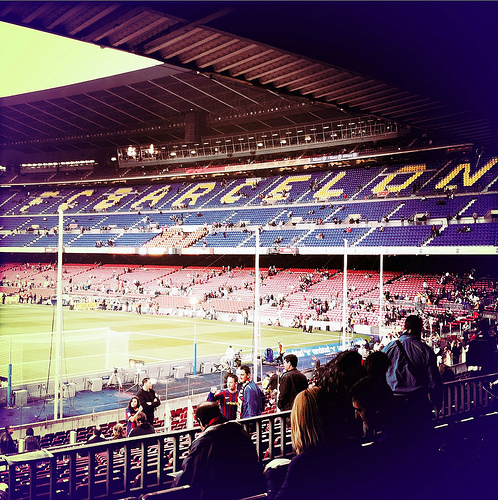 7) Walk along Las Ramblas
This street is set out only for pedestrians, something I wish we had more of in the UK, as the street is lined with markets. Soon as you get tired, you can stop off in a cafe on the Las Ramblas, where some coffee and tapas can go a long way.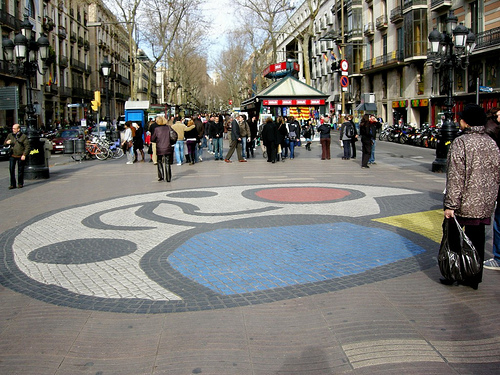 8) Party hard in Ibiza
There is no bigger party than the ones in Ibiza, from April till October. The welcome parties and ending parties are normally legendary as they welcome in the re-opening of the clubs for the summer. Be prepared to spend a lot more than you would like to however, as entry to clubs is normally about £80!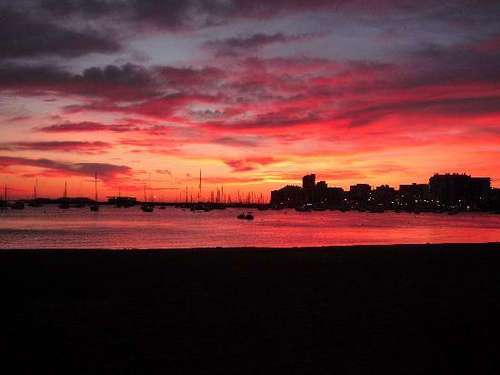 9) Aqueduct, Segovia
This roman aqueduct has been in place for 2,000 years stretching 800m long. A visit to the aqueduct makes for some great photos, yet it will only take a few hours, therefore you will still have plenty of time to head back and raid the tapas bars.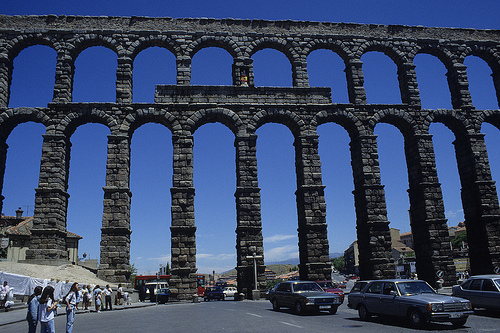 10) La Tomatina, Bunol (Valencia)
I expect this to be on everyone's list, as possibly the greatest festival in the world! The party starts with a massive feast on Paella. The following morning thousands of people take to the streets with tomato's in hand, ready to throw to their hearts content. This is potentially one of the biggest food fights in the world, although make sure you squeeze the tomato before throwing so that it bursts upon impact, preventing them from feeling any pain at all (even if it's minimal from a tomato). As soon as the bottle rocket sounds, it's clean up time and everyone heads on to a bar or to wash themselves.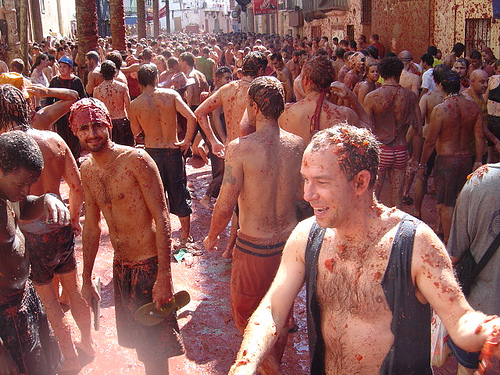 11) Rastro, Madrid
Madrid's flea market attracts a huge audience and looks the same as you imagine it would 50 years before. Find yourself a bargain and if you end up getting bored, the streets are coated in bars which you can sneak off to. I would keep an eye on your possessions however as this flea market does tend to attract some unwanted attention from pickpockets.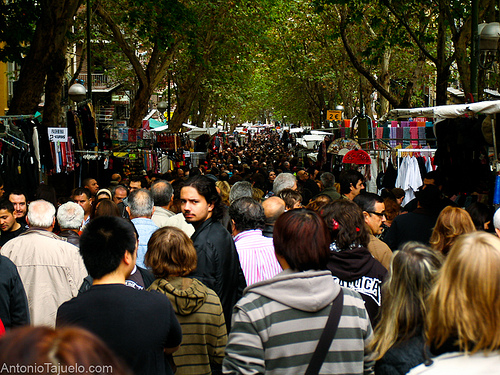 12) Guggenheim Museum, Bilbao
This is by far the greatest museum I have ever been to, and I'm a Londoner surrounded by astoundingly good and free museums. Frank Gehry's masterpiece highlights some of the most bizarre art you will find, mainly from the 20th century. The shape of the building itself is something of a wonder, with more curves than David Beckham's free kicks.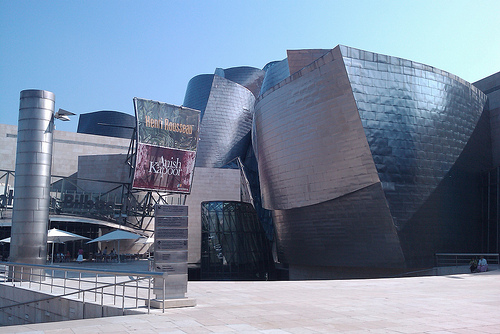 13) Benicassim festival
Spain's biggest music festival is growing in reputation every year as people leave the muddy festivals in the UK for a party on the beach in Barcelona. Benicassim, or Festival Internacional de Benicàssim, as it is known in Spanish, lasts for four days in a beach rocking, music pumping, drinking mayhem. In 2013, the festival will be kicking off on the 18th July with the Killers and the Arctic Monkeys headlining the first night.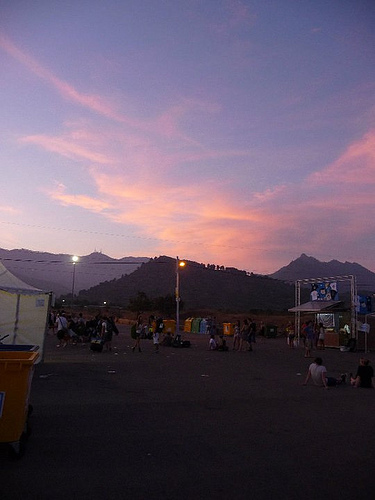 14) Running with the bulls, Pamplona
I was 50/50 whether to put this in as I find it a bit cruel on the animals, but then I thought about how the bulls get instant revenge when they catch up with everyone and suddenly it didn't seem that cruel! The running of the bulls is only for volunteers who have big enough balls, as there are many casualties every year, yet this blood thirsty sport continues to thrive. I'm not going to lie, I was very close to signing up to this, however it was between learning to surf and being crushed by a bull…I think I made the right decision.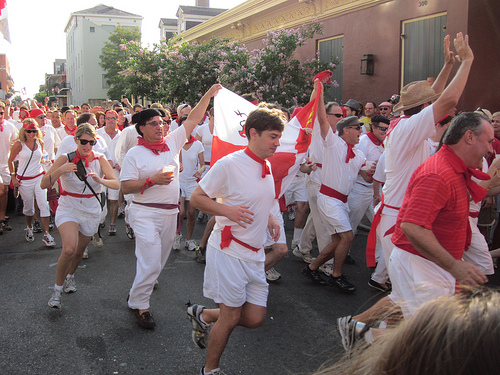 15) Views of Ronda
A magnificent bridge spans the gorge between the new town and the old town, which you can find through taking a picturesque drive through the Andalucía mountains. If you plan on visiting, make sure your camera is fully charged as the images are unbelievable.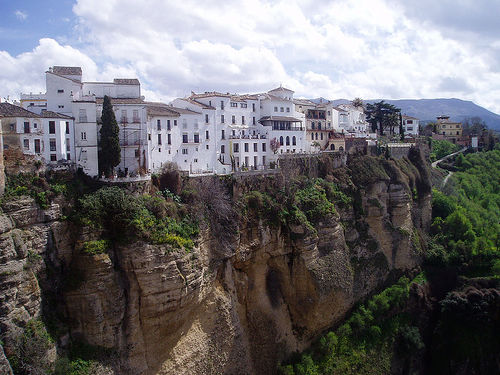 16) Limite Zero Zip Wire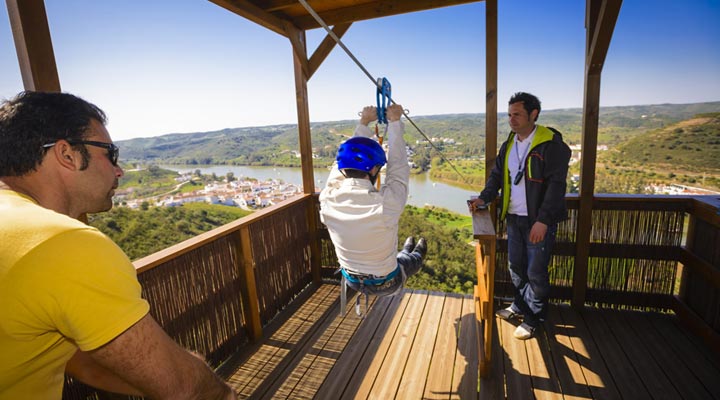 Each country might quote an amazing zip wire experience, but where else in the world will you find a zip line that crosses international borders. Passing over the river Guadiana, the views are incredible along the 720 metre stretch. With speeds of up to 80 kmh you may struggle to take it all in, but stick a gopro on the head and you will be able to look back and admire its beauty. If going with children, be aware the minimum age is 14.
17) Picos de Europa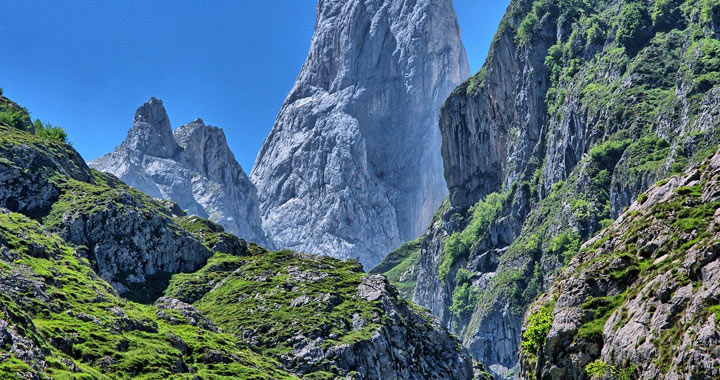 Located between Castilla y Leon, Cantabria and Asturias, the Picos de Europa has become one of the most popular hiking routes in Europe. The views are second to none, with the gorgeous glacial lakes, surrounded by forests, with plenty of valleys and gorges.
18) Relax On A Malaga Beach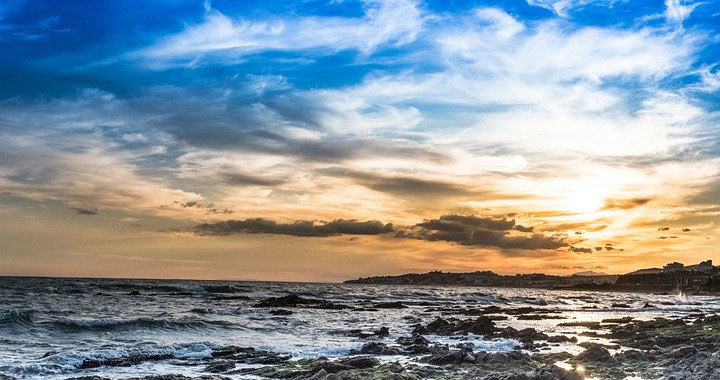 You can't visit Spain and not relax on a beach, it's one of the biggest tourist attractions they have and the reason they are the number one spot for Brits abroad (not necessarily a good thing, we have a bit of an embarrassing reputation at times). Whether it's Torremolinos beach or La Malagueta beach, there are plenty to choose from, each with their own key selling points.
19) Eat Paella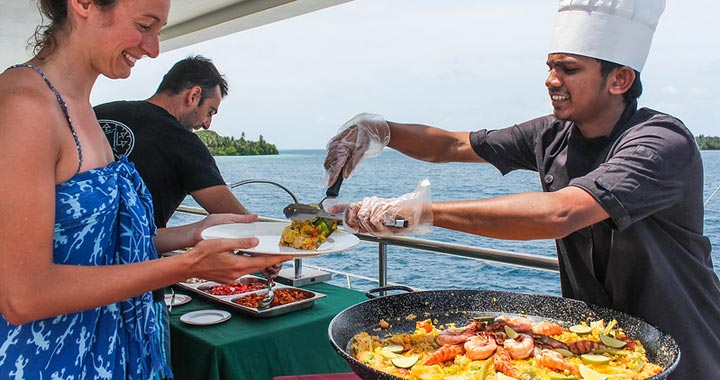 Paella is one of the most famous Spanish dishes, originating from Valencia, with various options available. Made from rice, vegetables, meat and seafood, I recently gained a new found respect for this dish as I love chorizo!
Rather than the seafood option, I actually much prefer Valencian paella, containing rabbit, chicken and some chorizo. Apparently it can also contain duck or snails, but I never saw that served anywhere.
20) Paragliding in La Herradura
How bad is your fear of heights? Mine is painfully bad, hence why this one will remain unticked for me, but there is something incredible about this activity when performed over such beautiful views.
This little Spanish village can alternatively be viewed from the ground as you hike up the hills or relax on the beach, but a birds eye view does offer something quite unique to your summer holiday.
21) Visit The World's Oldest Restaurant
Whether it's truly the oldest standing restaurant in the world is debatable, but Sobrino de Botin is the oldest recorded restaurant in the world, having been opened in 1725.
The restaurant can be found in Madrid, while it still regularly attracts customers, including some big celebrities over the years. It was even highlighted in an Ernest Hemingway book, while it can sometimes get booked up, so it could be worth calling up and reserving a table.
22) Park Guell
A 17 hectare park in the beautiful city of Barcelona, this is now a UNESCO World Heritage Site, while the stunning colourful walls make for some great photo opportunities.
The sculptures and tile work is undeniably a Gaudi masterpiece, as is much of the city, while it's also a great place to stop for some lunch.
So there you have it, my ultimate guide on things to do in Spain. I'll try to update this or add more as I go on, as Spain is such a vast country with so many attractions and activities to try!