One of the best aspects about travelling is trying a huge array of different dishes, confusing and exciting your tastebuds.
I recently read a guide by CIA Landlord Insurance on the best cities for foodies in 2021, which made me and Raquel contemplate the best dishes we've tried around the world, so we wanted to highlight some of our favourites.
Goulash Soup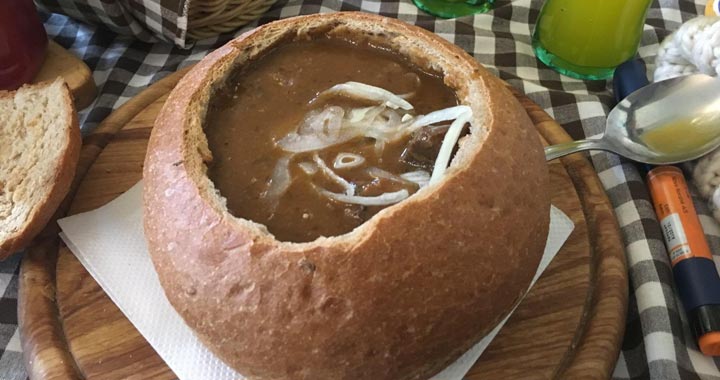 While this dish originates from Hungary, me and Raquel first got to share this traditional stew while in Prague.
Consisting of beef, onions, pepper and tomatoes, amongst a long list of ingredients, this is a warm treat that worked wonders coming in from the freezing cold in Prague, where it snowed almost each day we were there.
I've had a crack at making it myself since, however I just can't quite compare to the experts at this dish, so I'll stick to restaurants for the foreseeable future.
Sri Lankan Chicken Curry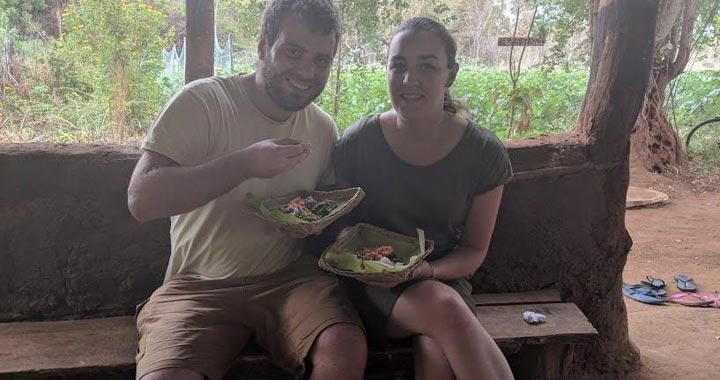 I have grown up addicted to Indian and Bangladeshi food. The curries are incredible and always leave me wanting more. So when we took a trip to India's Island neighbour Sri Lanka, I was delighted to find out curries were centre stage on every menu.
We were actually offered curry for breakfast in almost every hotel we stayed, something I was more than happy to have. We also were trained how to make an authentic Sri Lankan chicken curry from a lady in a small village while on a tour of Ella.
Curry leaves were definitely one of the most notable flavours you got, so I bought plenty before heading home and we have since started using them on a regular basis in our cooking.
Burrito and Hazelnut Rum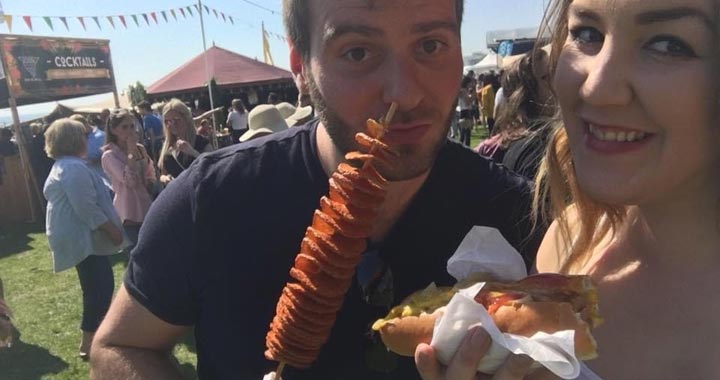 I should mention, these two aren't combined! One of our favourite events in the calendar each year is the Hove Foodies Festival, taking place in late September, with over a hundred different food stands setup and with smells pulling you in as you give up on your diet and embrace your hunger.
We've tried so many dishes, from cheese toasties to curries and a rather tall potato dish, as can be seen from the picture. But the two that we order each year is the burrito made by a small business that tours food festivals across the country, plus a hazelnut rum, which is creamy beyond belief.
If you live in the UK then I can't recommend this event more highly, with live music and plenty of alcohol, you'll undoubtedly have a great time over the three day event.
We've since started making burritos on a regular basis, including our own homemade salsa and guacamole (I'll have to start posting all of our recipes).
Currywurst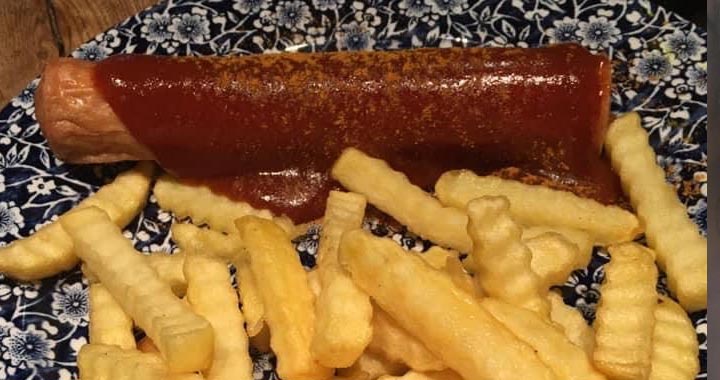 How can you go to Germany and not enjoy a sausage…I'm going to have to be careful with my wording, as a few puns are going to sneak in here.
While this dish is certainly a gut busting calorie-high dish, you'll undoubtedly be on holiday when enjoying this dish, so leave the diet for the day and enjoy this dish served up with chips.
Using a spiced ketchup, it offers a beautiful combination of tomato and curry powder, while a little mayo mixed in also adds an extra layer of taste. Best all served with a stein of beer.
Kee Mao Fried Rice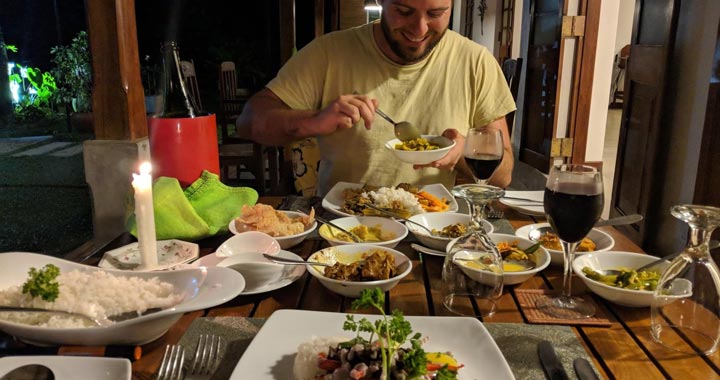 There are so many incredible Thai dishes I could include. Even the basic Pad Thai I was addicted to while travelling across Thailand, eating it almost every day.
But the dish that Raquel absolutely fell in love with was Kee Mao Fried Rice, which was a stir fried rice dish, cooked with chilli (lots of it), garlic, basil and onion.
We're actually very lucky that so many Thai restaurants are open in the UK, meaning we can enjoy some of these unbelievable dishes close to home, but nothing beats the authentic options available from street vendors.
Ugali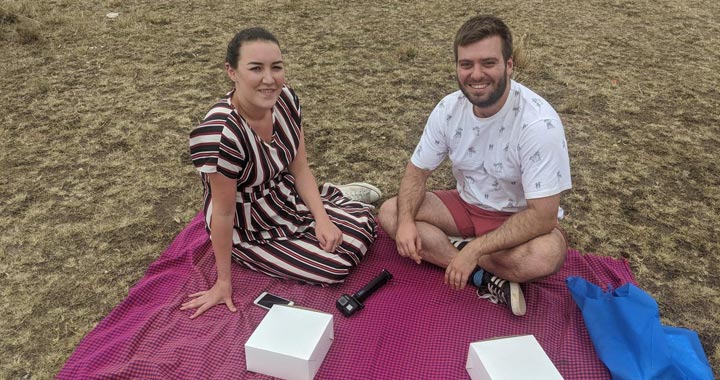 While on a tour of the Maasai Mara, we managed to try this traditional Kenyan dish in a few different spots. Ok, I should mention that Ugali was only one aspect of what was served, but it was something we hadn't had before and took up most of the plate.
Ugali is a type of maize, similar to polenta, which tasted a little like mashed potato to us. With a curry alongside it, it soaked up the sauce nicely, while it helped to keep us full till dinner, which was important on a 6 hour tour!
As the dish is mixed with hot water, I can imagine it would taste a little nicer if mixed with milk and butter, but maybe that's because I'm imagining it as mashed potato too much.
Friet and Mayo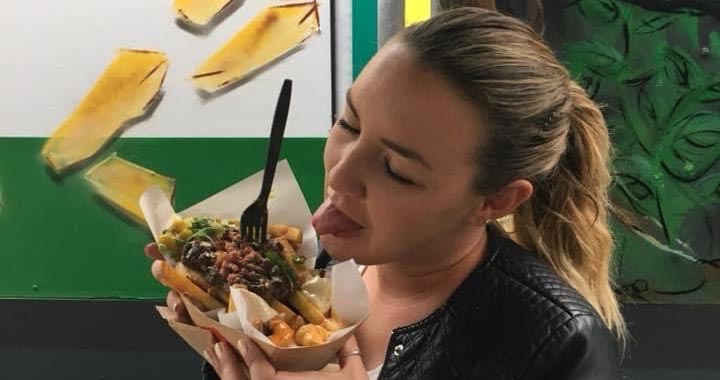 The Brits culinary dishes are stereotyped by our love for fish and chips, but travelling across Europe I'm starting to realise we're all addicted to the fried potatoes.
Both Belgium and the Netherlands have their own variations on how to make chips the best, as does Canada with Poutine.
While in Rotterdam, we got to enjoy the 'Dutch Chips', which were chips most commonly served in a cone and loaded with mayo or curry ketchup, amongst other ingredients available.
At first, I hesitated about the prospect of swapping ketchup for mayo, but it was incredibly flavourful and worked wonderfully.