I haven't been to Barcelona in just over 10 years, however my memories of this amazing place still remain strong. There are a vast amount of things to do in Barcelona, as there are in Spain in general. Below I have conducted a list of my top tips for Barca, however there are far beyond this list, so you could easily find yourself completely busy on a 2 week holiday and still have plenty to do at the end, so pick wisely.
1. Explore Gaudi's architecture
Gaudi's architecture is one of the key attractions to Barcelona, with some truly bizarre and beautiful buildings, such as the Sagrada Familia, La Pedrera or Park Guell. Do look beyond these three however, as there are some really amazing buildings which aren't always mentioned in the guidebooks, such as Casa Vicens.
I should mention that Gaudi wasn't the only architect who produced visually pleasing sites, as many European experts flocked to Barcelona to show off their expertise.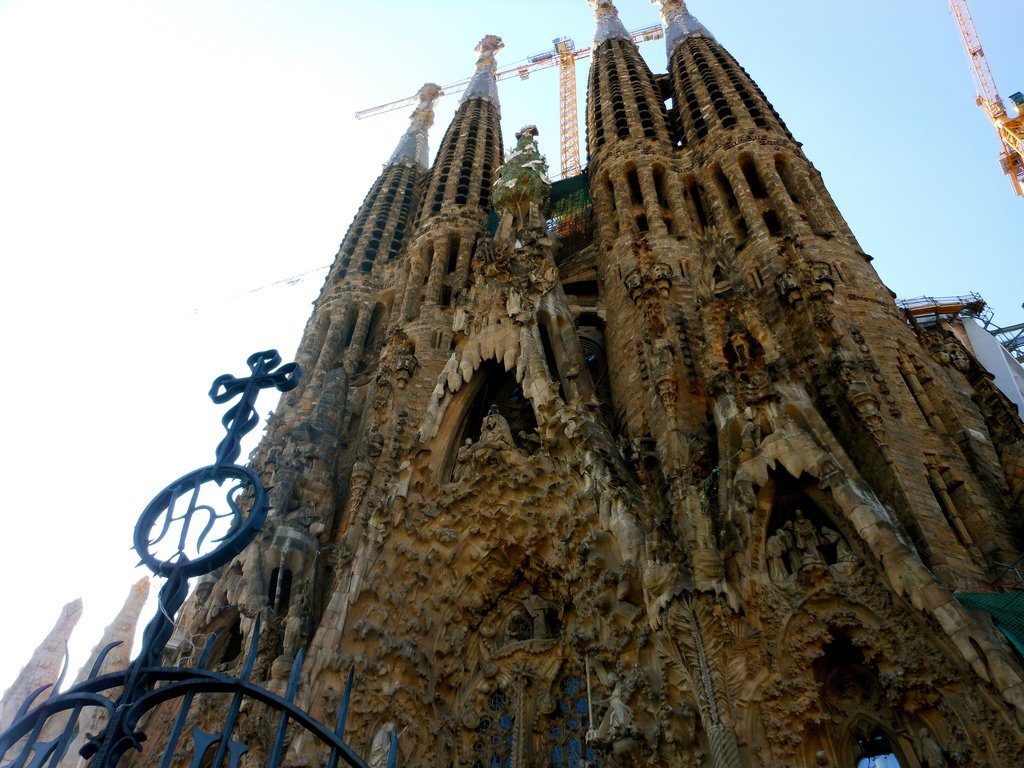 Image by Sarah_Ackerman. Flickr Creative Commons
2. Tuck into some tapas
A glass of wine and a combination of the different tapas options is a great option for dinner, while it also works perfectly for a lighter lunch. Many restaurants in Barcelona serve the different tapas options on toothpicks and then charge you at the end based on how many toothpicks there are. This option isn't always relevant however as some options can cost different amounts to produce so restaurants may vary.
Some classics you could try are Albondigas, Calamaras, chopitos, patatas bravas, tortilla, gambas al ajillo, croquetas de jamon and pulpo gallego.
3. Go to the beach
I guess it couldn't be a holiday to a Mediterranean beach town without visiting the beach at least once. Unfortunately a lot of other people might have the same idea, especially during the summer holidays. The beach that seems to get the most busy is Barceloneta, which seems to attract a younger audience with a number of bars surrounding the beach and an increasing drinking culture.
Your best beach options in Barcelona apart from Barceloneta are Sant Sebastia, Playa del Bogatell, Nova Mar Bella, La Mar Bella, Llevant and La Nova Icaria.

Image by chaseoblack. Flickr creative commons
4. Visit the Camp Nou
A popular option with football fans, this stadium also impresses the non-football fans based on its giant size and beauty. Holding the title (or at least for now) as the third biggest stadium in the world, the Camp Nou has a capacity of 98,787, almost 9,000 more than Wembley, with planned expansions currently in place.
You will also get to walk through the halls where superstars have walked through every day, such as Etoo, Deco, Ronaldinho, Rivaldo, Ronaldo (the Brazilian one obviously), Romario, Messi, Xavi, Iniesta, Guardiola, Koeman, Txiki, Michael Laudrup, Maradona, Shuster, Johan Cruyff and a whole host of others before my time.
Even better than visiting the stadium, if you manage to book in advance, seeing a Barcelona game live at Camp Nou would be simply astounding, to cheer on with almost 100,000 others in unison (well, except the away fans of course).
5. Visit the La Boqueria food market
One of Europe's largest and most famous food markets, La Boqueria is definite 'to do' when visiting Barcelona, where you can try a number of local delicacies or bring back some ingredients to cook yourself. Just exploring the market can normally keep you occupied for a good few hours (best in the morning), meaning you can follow this up with a mini siesta and then head back out in the afternoon to explore some more architecture.
6. Climb up the Montjuic mountain
Quite different to most of the others on this list, climbing the Montjuic mountain offers a good chance to escape the loudness of the city, while gaining some great views over Barcelona. While climbing the mountain, you will also notice a number of buildings from the 1992 Olympic games. Look out for the Palau Sant Jordi, designed by Santiago Calatrava.
7. Festes de la Mercè
This is one for the festival lovers, the Festes de la Merce takes place in September, which is in celebration of Barcelona's patron saint. This is a slightly more odd festival than you might be used to, as giant wooden figures are carried and operated by people as they walk them through the streets. While these bizarre scenes take place, a number of musical performances, fireworks and sporting events are taking place. You will, of course, drink your body weight in alcohol as well.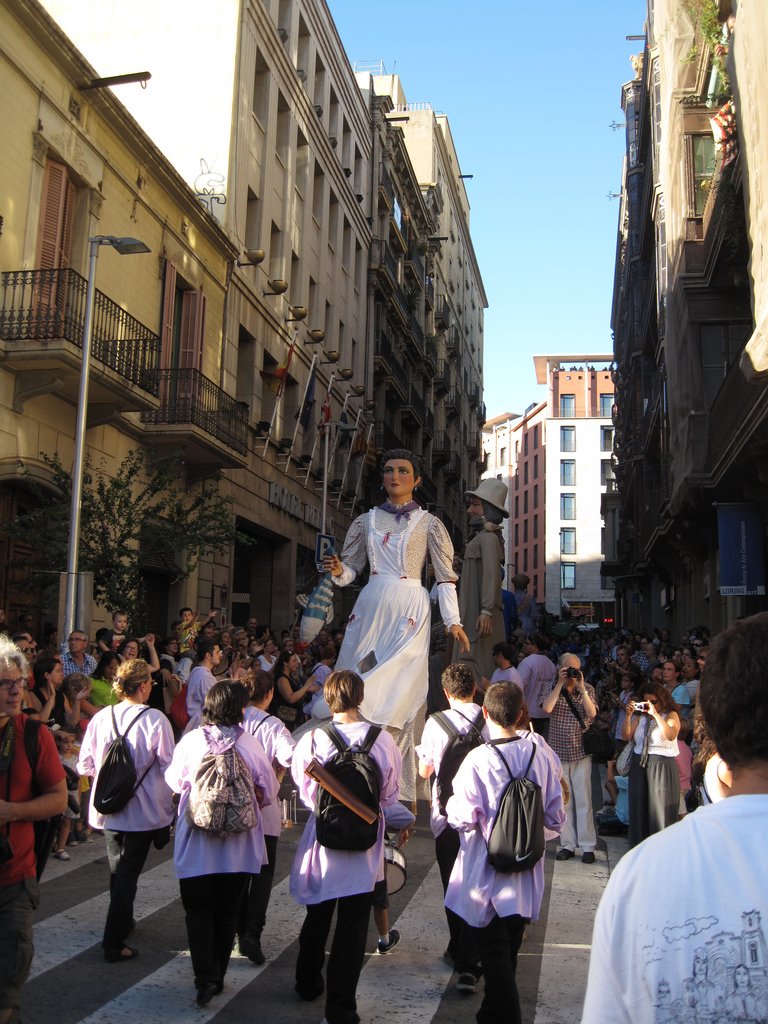 8. Walk down La Rambla
Easily one of the most famous and well known parts of Barcelona, the Rambla is a broad promenade stretching 1.2 kilometres. The thing that I love most about the Ramblas is the space to walk in, with no cars and so much pavement space. The contrast between daytime and nighttime is quite clear as certain areas are seen as 'seedy' as the Southern end becomes a bit of a red light district.
This is a great place to stay and there are a number of hotels and hostels offering some great options between elegant and romantic to cheap and cheerful. You can also check out the wax museum and the Christopher Columbus monument while strolling along Las Ramblas.
9. Picasso museum
I guess this option was always inevitable and hard to avoid even if you aren't big on art as this is the home to so many famous pieces by Picasso. The Malaga born artist is recognised as one of the most influential artists of the 20th century and was also identified as the inventor of constructed sculpture. You can also explore the city and see the area where his family lived in Picasso's early years, on C/Merce (although the building has been destroyed).
10. Check out a roof terrace
This one you have to dress up for as they don't really like to let people up to the top floor unless you are staying in the hotel, however if you are smartly dressed, not in a big group and don't appear to be drunk then they should be lenient. If they don't let you up, then there are plenty of other places that will, so have a look around and I'm sure you will find one. Also, if you sneak your swimming costume up with you, a large number of these places have swimming pools on the rooftop, which will make for a great Facebook profile photo!