I first wrote this article almost 9 years ago, but having returned from Barcelona last weekend, it felt like the right time to top it up with plenty of brilliant activities we gave a try.
From historical landmarks and common tourist attractions to something unique or activities for all the family, I have tried to include it all. If you feel something is missing from the list, please do let me know.
1)     Gaudi Experience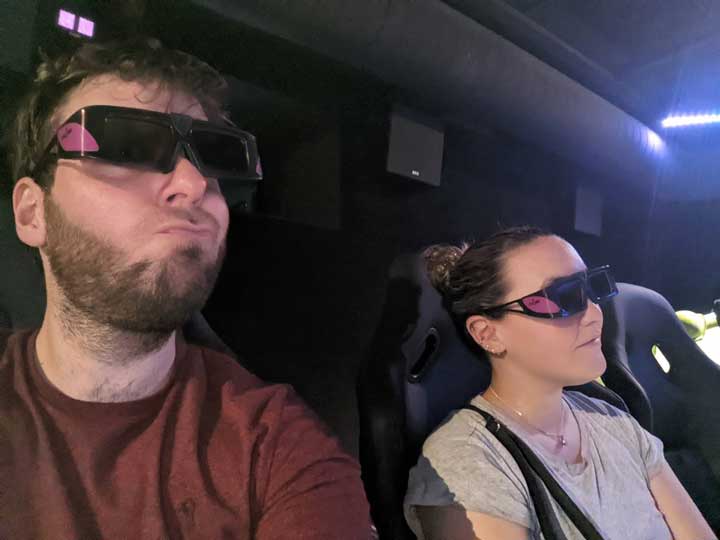 What Is It? The Gaudi experience is a 4D cinema depicting a short show (approximately 10 minutes) on Gaudi's work. It starts with a 2D show with things jumping out and the chairs moving around, before you put on the 3D glasses for the second half and you fly through the streets of Barcelona as the chairs rock all over the place and items fly out at you.
Why You Should Go? We didn't see this one come up in many guides to Barcelona, however it was easily one of our favourite parts of our entire holiday. The 4D Cinema isn't just for families, we had the time of our lives watching it and highly recommend giving it a go.
Top Tip: Try to arrive at a time when the cinema won't be full up, we got there for around 4:30pm which was a more quiet period, meaning the cinema was only half full.
2) Steel Donkey Bike Tour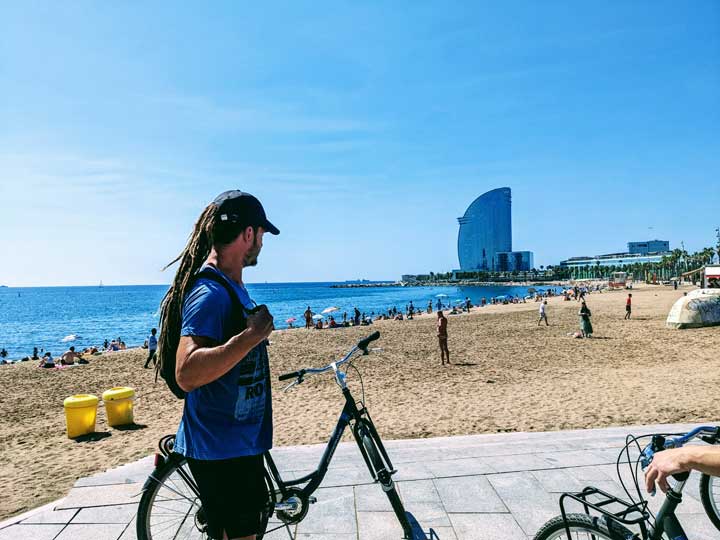 What Is It? The Steel Donkey bike tour is exactly what it sounds like, a tour on bicycles as you go around some of the main attractions in Barcelona. They try to go for some of the less obvious attractions, so they won't take you to Sagrada La Familia or the Cathedral, instead taking you to other key attractions and talking you through the history of the city.
Our guide was very informative and we also popped over to the market, where we tried some tasty treats.
Why You Should Go? This is a great alternative way to learn more about Barcelona, while it's also really fun to get on a bike and explore the city. The groups aren't too big (ours was 6 people) so you can easily ask questions along the way.
Top Tip: Make sure to ask the guide at the start to adjust your seat to the right height so you can comfortably ride. It can be a little tricky to work out the seat adjustment yourself, so it's better off quickly asking before setting off.
3) Casa Batllo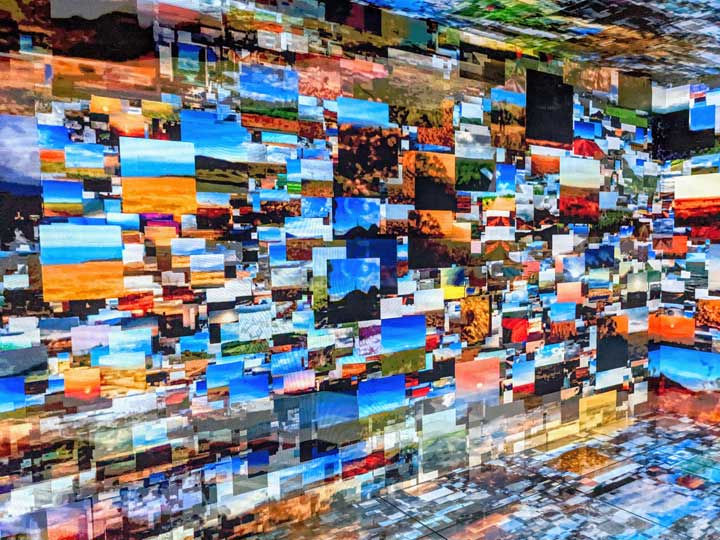 What Is It? The Casa Batllo is a building designed by Gaudi located nottoo far from the Placa de Catalunya. You will be provided with a tablet and will be able to see how the room was designed with augmented reality, while listening to the audio guide.
Why You Should Go? For me, the key to this attraction coming third on the list was due to the show at the end. You will make your way through to a room before the door is closed behind you. You will then witness an unbelievable show taking place all around you, on the walls, floor and ceiling. Honestly, I wanted to go back around a dozen times to keep watching it, I was mesmerised.
Top Tip: When you go to the final show I highlighted above, make sure to get a front view, so go closest to the screen on the wall which is showing something as you enter the room.
4) Big Fun Museum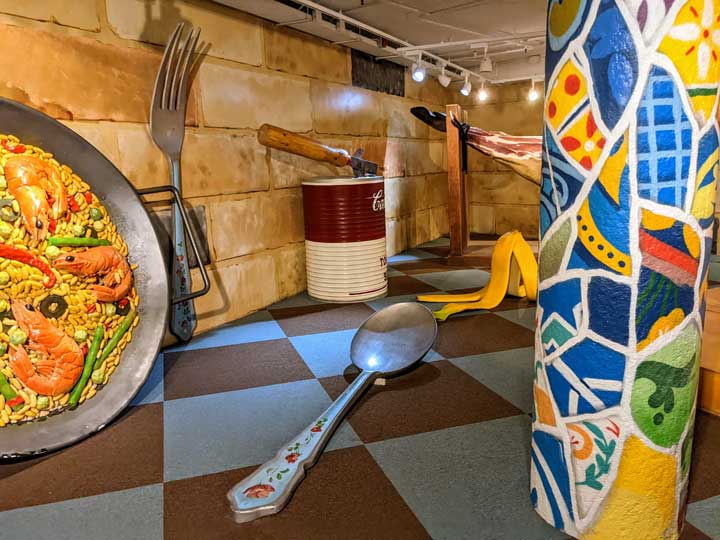 What Is It? The Big Fun Museum is a bizarre museum filled with optical illusions and hilarious pieces of art. From lying in a giant sink to being in a huge chair or climbing through sweets or sat upon a unicorn, this is like a childhood dream come true!
Why You Should Go? If you want that unique photo for Instagram or to show people back home, this is one of the most bizarre places you can visit and you can touch the items in the Big Fun Museum.
Top Tip: Research how to take the best spots for the upside down rooms, we tried the upside down house in Brighton and learned how to get cool shots from visiting.
5) Montjuic Cable Car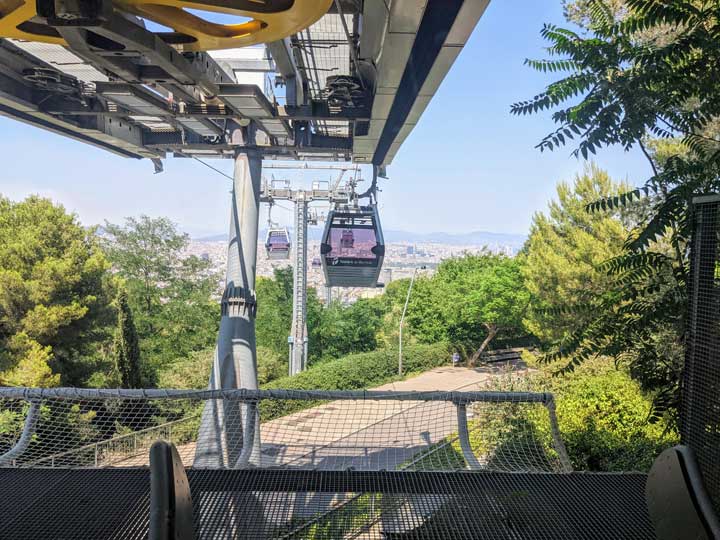 What Is It? The gondola lift takes you up the Monjuic mountain towards the castle and as long as your fear of heights isn't too strong then this is definitely worth a go. I loved the brilliant views you got of Barcelona, while the price was around $12 per person.
Why You Should Go? You should go on the cable car partly for the views, but also to get to the castle, as otherwise the trek up the hill would take a few hours to complete.
Top Tip: Try to pick a day with clear skies, so you can get a great photo or video without clouds destroying the shot.
6) Sagrada La Familia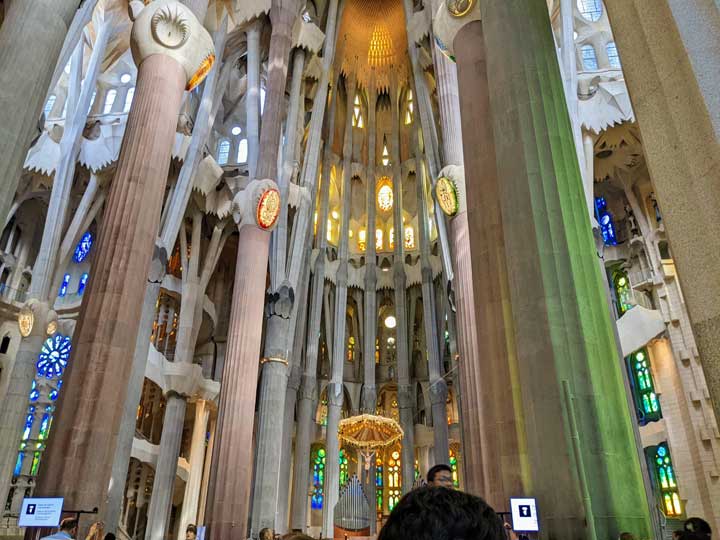 What Is It? Sagrada La Familia is the famously unfinished church of Barcelona, albeit it should be finished for 2026. Gaudi's most famous piece of work, he never lived to see it completed, being hit by a tram. Now a UNESCO World Heritage Site, Sagrada La Familia is brilliantly innovative and creative.
Gaudi's architecture is one of the key attractions to Barcelona, with some truly bizarre and beautiful buildings, such as the Sagrada Familia, La Pedrera or Park Guell. Do look beyond these three however, as there are some really amazing buildings which aren't always mentioned in the guidebooks, such as Casa Vicens.
I should mention that Gaudi wasn't the only architect who produced visually pleasing sites, as many European experts flocked to Barcelona to show off their expertise.
Why You Should Go? This takes top spot on virtually every list for Barcelona and it requires little reasoning why, being the most stunning building in the city. A trip to Barcelona without a visit to Sagrada La Familia would be sacrilege.
Top Tip: Download the audio guide before you come along on the app. We forgot to and then couldn't get any internet connection once there, so we had to go without the audio guide and just wondered around without it. Still an amazing experience though, but the audio guide lasts 45 minutes and I would have loved to listen to it.
7) Hop On Hop Off Bus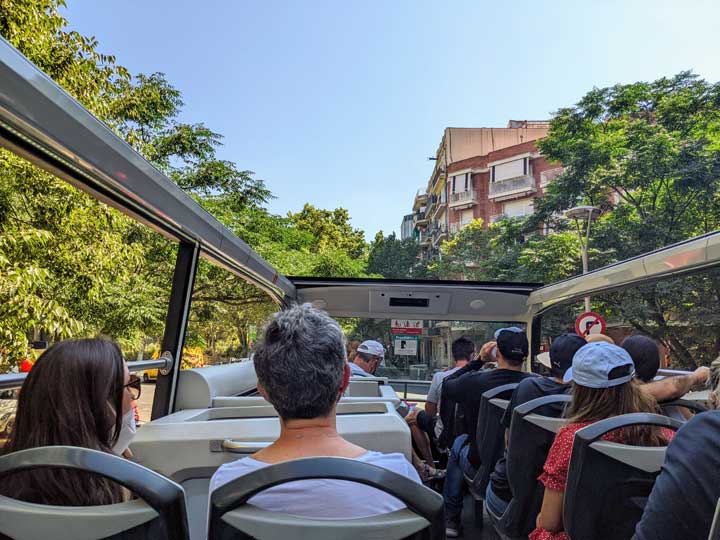 What Is It? These are the buses that you can take all over the city, paying for 1 or 2 days, taking you to all the big tourist attractions while being able to listen to the audio guide. I have become a big fan of getting a hop on hop off bus pass with every European city I visit, as it's a perfect way to learn about the history of the city, while ensuring I visit all the key attractions which will be highlighted on the map provided. You don't need to bring headphones, they provide them for you, while you can get on and off as many times as you like. The buses are surprisingly regular, being every 10 minutes. There is also a private one, which I can't speak about as I didn't try it, but the public one was great.
Why You Should Go? This is the greatest way of getting all over town, including to some spots a bit further out such as Camp Nou and Park Guell.
Top Tip: Pay for the 2 day pass, it works out cheaper per day and there is simply no way you can do it all in one day and it works out cheaper than taking taxis or public transport.
8) Montserrat Wine Tasting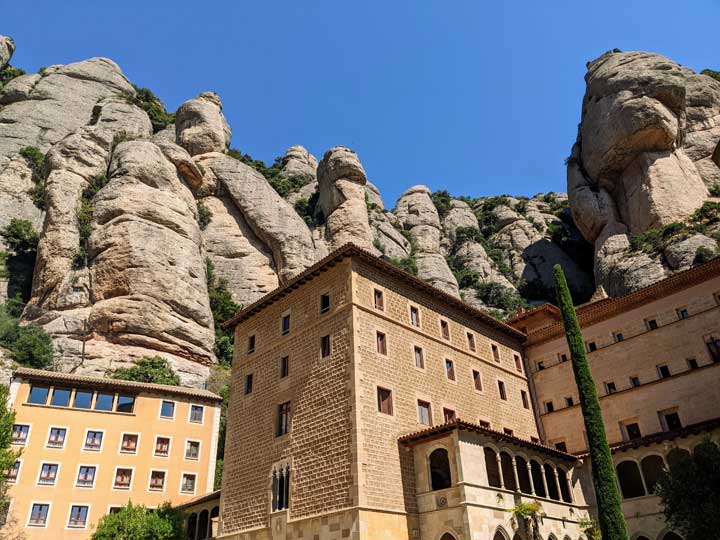 What Is It? This one is a short trip from Barcelona, however you will meet at the bus station with Castlexperience, who will take you on the coach trip to the mountains, before you take the cogwheel train ride up. You will then have a chance to look around the monastery with your guide providing a number of interesting facts, before you head off for a three course meal. You finish off with the wine tasting, before being taken back in a coach to Barcelona Nord bus station. Our trip was from 9:25am to 7pm.
Why You Should Go? This was one of the best days of our trip, you can relax with the guide handling every aspect, while it's surprisingly cheap considering everything that is involved.
Top Tip: If you're scared of heights then pick your placement on the cogwheel train ride right, I wanted the great views off the side of the mountain, whereas Raquel preferred to sit the other side to settle her nerves.
9) Spain Games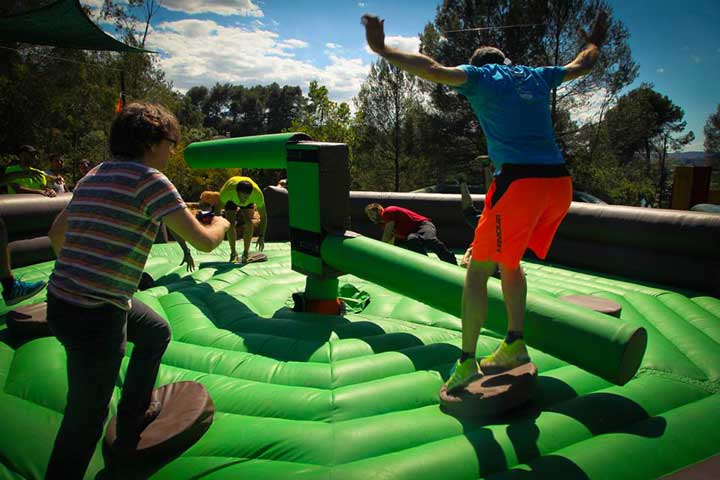 What Is It? The Spain Games is a hilarious outdoor inflatable knockout games, think of a combination of It's A Knockout and Total Wipeout.
Ideal for stag do's, hen do's, group events or birthday parties, the Spain Games is a great group activity for you and your friends.
Located just outside of Barcelona, it's a quick Uber drive away, while you can also arrange for an airconditioned coach to pick you up and drop you back off.
The games last 2.5 hours and include various courses and games, remember to bring your swim suit!
Why You Should Go? Because not everything on your to-do list should be cathedrals and historical landmarks, some of the best things I've done in cities have been the weird and wild. For example, my favourite part from my visit to Corfu was the Aqualand water park. This is the type of activity that you and your mates will talk about for years to come.
Top Tip: You can pre-book a BBQ, which might be worthwhile, so make sure to work out if everyone is up for this and arrange it with them beforehand.
10) The Set Lab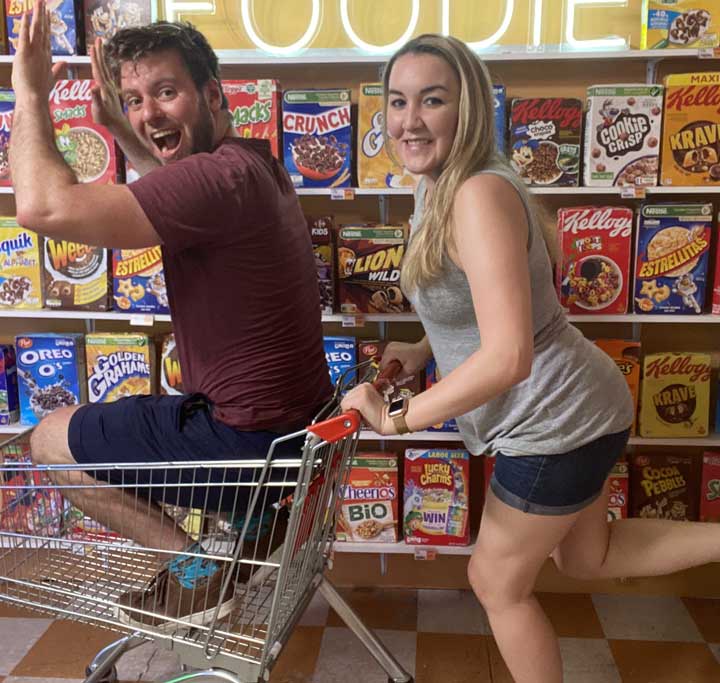 What Is It? The Set Lab is a photo studio with hilarious props all setup for you to use. You pay for private access, meaning nobody else will be down their except for you. There are a number of sets in place, such as the cereal section of a supermarket, a giant ball pit and a broken safe with money pouring out. There are also a number of selfie ring lights near the sets, however a few were broken, which did eat up a little bit of time as we tried getting them set up properly.
Why You Should Go? Just like the Big Fun Museum, this is one of those activities that will provide you with legendary photos that you will always look back on and laugh about.
Top Tip: You can either pay for 15 minutes or one hour, we paid for the full hour but really we only used 45 minutes. The reality is that while 15 minutes isn't very long, you could probably do it all if you're speedy going around. Just make sure to plan beforehand each shot you want so you don't waste time working it all out once you're there.
11) The Beach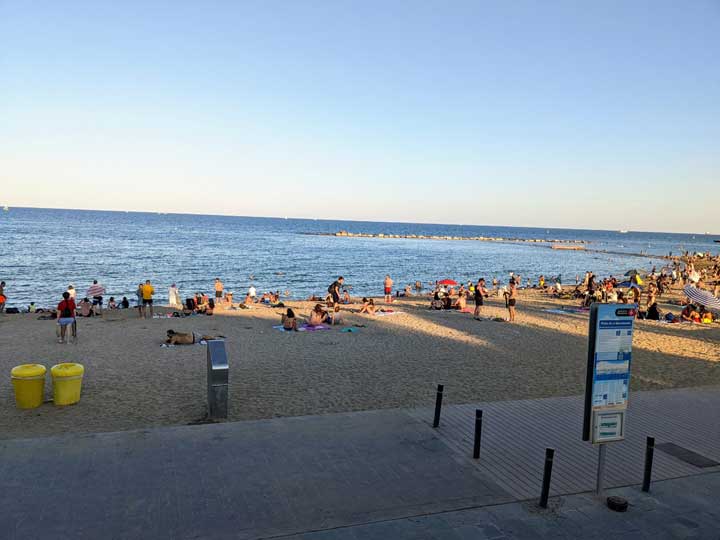 What Is It?
I guess it couldn't be a holiday to a Mediterranean beach town without visiting the beach at least once. Unfortunately a lot of other people might have the same idea, especially during the summer holidays.
The beach that seems to get the most busy is Barceloneta, which seems to attract a younger audience with a number of bars surrounding the beach and an increasingly present drinking culture.
I did like Barceloneta Beach, however we didn't stay for too long, but the water was warm and the sand was white, what more could you ask for? They also had public toilets available, albeit with a lengthy queue.
Your best beach options in Barcelona apart from Barceloneta are Sant Sebastia, Playa del Bogatell, Nova Mar Bella, La Mar Bella, Llevant and La Nova Icaria.
Why You Should Go? You go to the beach? What a silly question. It's a gorgeous beach allowing you to cool down from the heat of the day with a quick paddle or jumping some waves.
Top Tip: I'd recommend going early in the morning when the crowds aren't so intense.
12) Camp Nou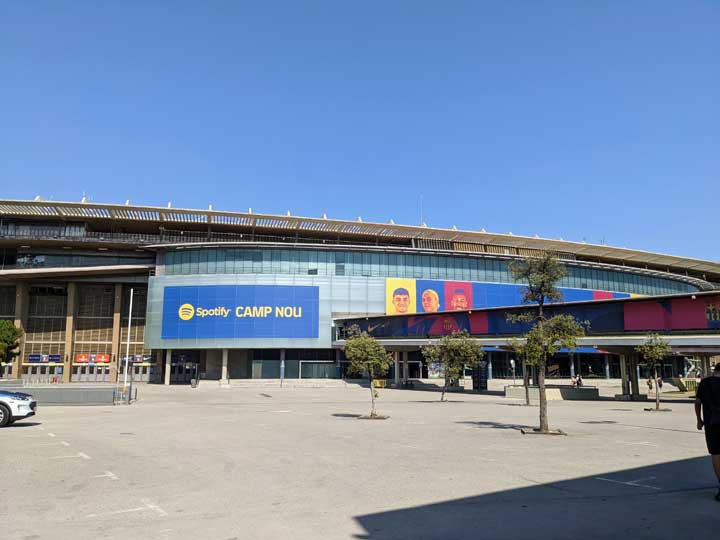 What Is It? A popular option with football fans, this stadium also impresses the non-football fans based on its giant size and beauty. Holding the title (or at least for now) as the fourth biggest stadium in the world, the Camp Nou has a capacity of 98,354, almost 9,000 more than Wembley, while it's the biggest in Europe.
You will also get to walk through the halls where superstars have walked through every day, such as Etoo, Deco, Ronaldinho, Rivaldo, Ronaldo (the Brazilian one obviously), Romario, Messi, Xavi, Iniesta, Guardiola, Koeman, Txiki, Michael Laudrup, Maradona, Shuster, Johan Cruyff and a whole host of others before my time.
Even better than visiting the stadium, if you manage to book in advance, seeing a Barcelona game live at Camp Nou would be simply astounding, to cheer on with almost 100,000 others in unison (well, except the away fans of course).
Why You Should Go? You might not be a football fan, but walk into that stadium and your breath will be taken away, it is simply huge. I have to admit though, I can't imagine you could see much of the game from the back of the stadium!
Top Tip: If you want to get tickets, find out way in advance, as they sell out ridiculously quickly.
13) La Rambla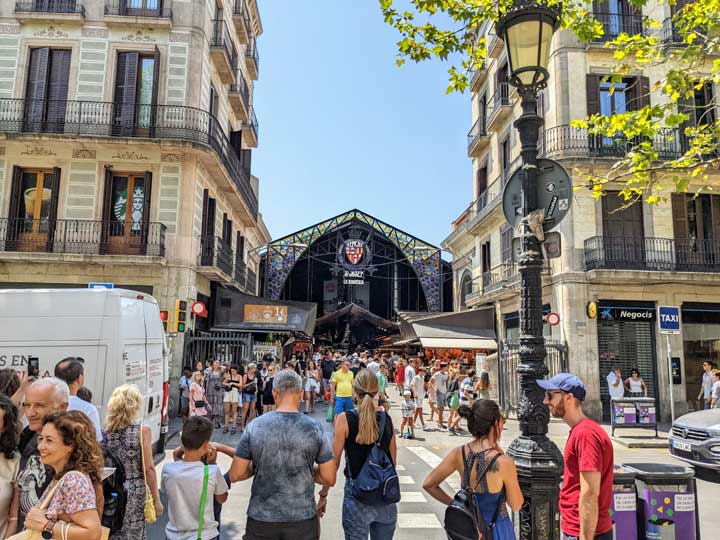 What Is It? Easily one of the most famous and well known parts of Barcelona, the Rambla is a broad promenade stretching 1.2 kilometres. The thing that I love most about the Ramblas is the space to walk in, with no cars and so much pavement space.
The contrast between daytime and night-time is quite clear, with people heading out to the bars in the evening, while you should also watch your pockets for pick-pockets.
This is a great place to stay and there are a number of hotels and hostels offering some great options between elegant and romantic to cheap and cheerful. You can also check out the wax museum and the Christopher Columbus monument while strolling along Las Ramblas. But remember that this area is relatively loud and vibrant, so if you're looking for a relaxing break, you may want to stay somewhere a bit further away from the seafront.
Why You Should Go? To watch the street performers, to explore the market stands and to enjoy the wide pathway in this beautiful city.
Top Tip: Avoid the restaurants and bars on La Rambla, most aren't as good as others in the city and rely on tourists who don't do much searching around. I will be writing an article soon on the best places to eat in Barcelona which I recommend giving a read.
14) Casa Mila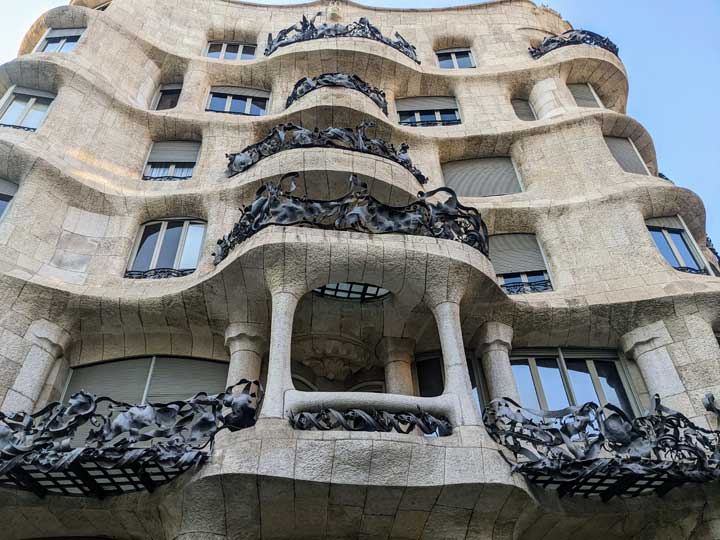 What Is It? I do feel like I wish I had more time for this one, but we had to squeeze it in and rushed around quite a bit. You can listen to the audio guide as you explore the 'Stone Quarry', while the rooftop views are brilliant.
Why You Should Go? If just for the rooftop views, then you will have enjoyed yourself, but don't underestimate how interesting the inside is.
Top Tip: If you order your tickets online then you can actually avoid the long queues to buy the tickets and head straight to the entrance.
15) Harbour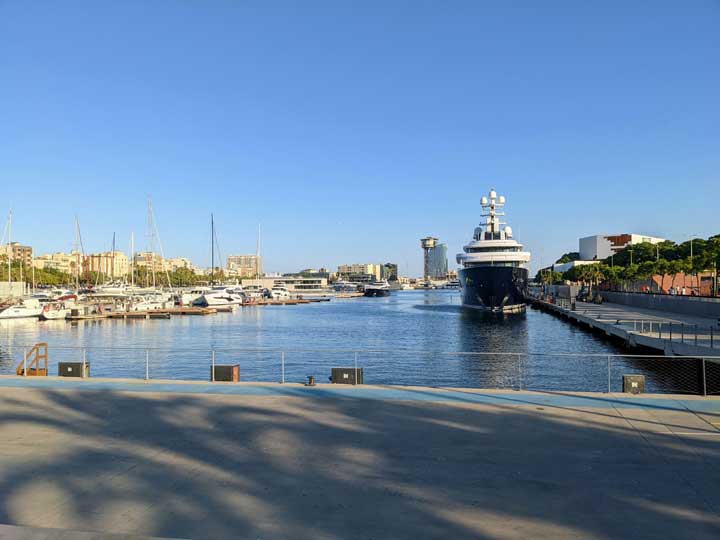 What Is It? The Barcelona Port Vell Harbour is stunning, with giant yachts and sailing boats filling the water and a number of bars along the waterfront. You can also book yourself a boat trip from here, whether that's a glass bottom boat or a party cruise.
Why You Should Go? There is something so relaxing about a harbour, looking out at the boats floating on the water, while you will often see some form of public art on display at the harbour.
Top Tip: It can be tempting to stop at one of the bars for a drink, but they are a big overpriced here, whereas there are some amazing bars a bit further in, such as Paradiso.
16) Hospital Sant Pau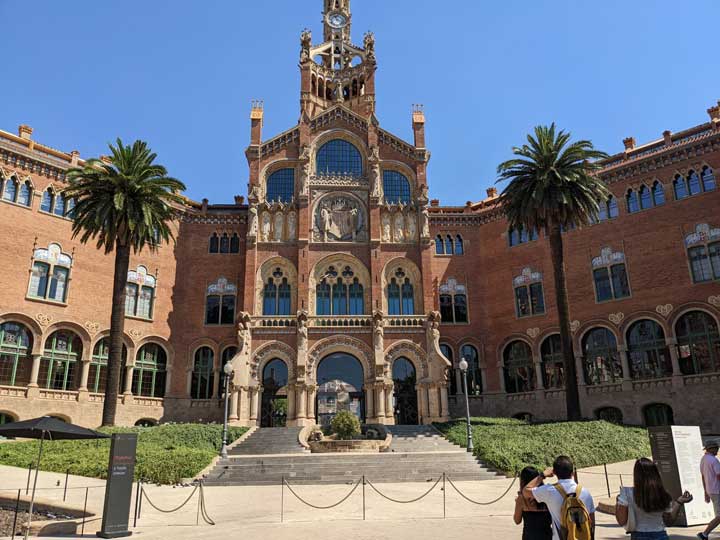 What Is It? Found on one of the stops on the Hop On Hop Off tour, the Hospital de Sant Pau looks impressive from the outside, while once you enter into the courtyard, you will truly realise how big it all is, with various buildings to explore. Designed by Lluis Domenech I Montaner, this is the oldest hospital in Spain and is now a UNESCO World Heritage Site.
Why You Should Go? If you're doing a bit of a Gaudi investigation then this one is worth a trip, as it is sadly the hospital where Gaudi died after being hit by a tram.
Top Tip: Don't underestimate how many buildings there are, we spent a lot of time on the first building exploring, not quite giving ourselves enough time to fully explore the whole area.
17) Palau Guell
What Is It? The Guell Palace is a giant mansion designed by Gaudi (unsurprisingly) for the tycoon Guell, who financed the majority of Gaudi's work. It perfectly resembles his modernism approach, while it was one of his earliest pieces. Built between 1886 and 1890, this is a short trip from the Ramblas.
Why You Should Go? This is another building which offers access to the roof, meaning you can take some great shots of the top of Barcelona.
Top Tip: Try to visit on a sunny day so you can make the most of the rooftop terrace.
18) Park Guell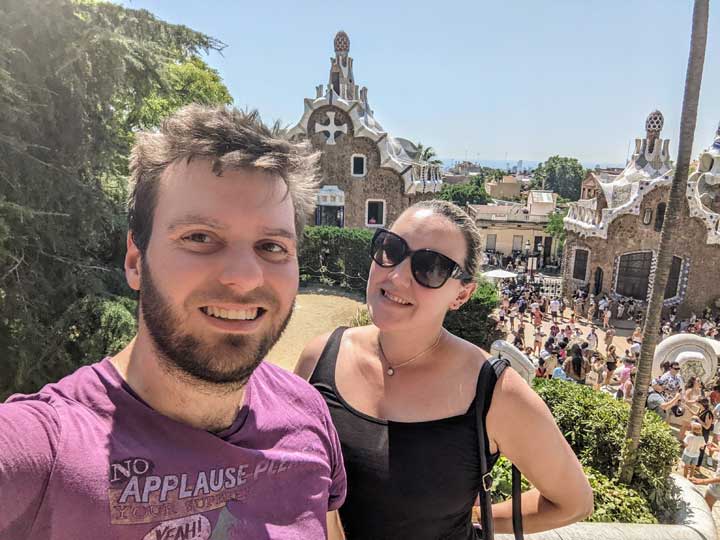 What Is It? The Park Guell is another stop-off on the Hop-on Hop-off bus, hence why getting a 1 or 2 day pass is so worthwhile. The crowds were pretty big when we arrived, which was around midday, so I'd recommend going as early as possible to beat the queues and get a picture which isn't surrounded by others.
Why You Should Go? You will find a number of great pieces of work by Gaudi, with the Flora and Fauna one of the most famous. You will also get views across the city, plus there are a number of quieter areas if you sneak away from the main attractions in the park.
Top Tip: The queue to buy a ticket was ridiculously long, however there was a short queue for people who had ordered there ticket online and just needed to come up to collect them.
19) Palau De La Musica Catalana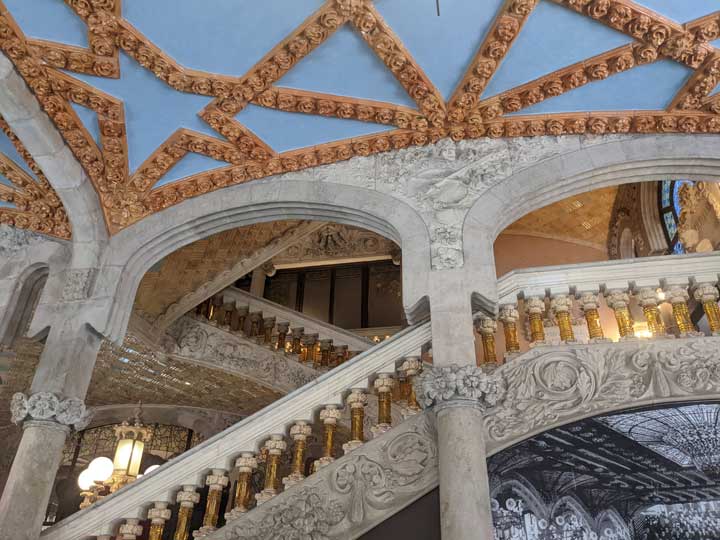 What Is It? We hadn't previously read up on the Palau de la Musica Catalana, but it was part of the bike tour and we found it fascinating. The concert hall would be brilliant if you could get tickets to see a show, with one show on each day in the evening, often kicking off around 7-9pm. This could be jazz, ballet or cello performances.
Why You Should Go? If you want to watch a traditional live musical performance then this is the best spot in Barcelona.
Top Tip: Make sure to order tickets in advance, or if you're simply curious about the building then you can pay to look around.
20) Basilica Of Our Lady Of Mercy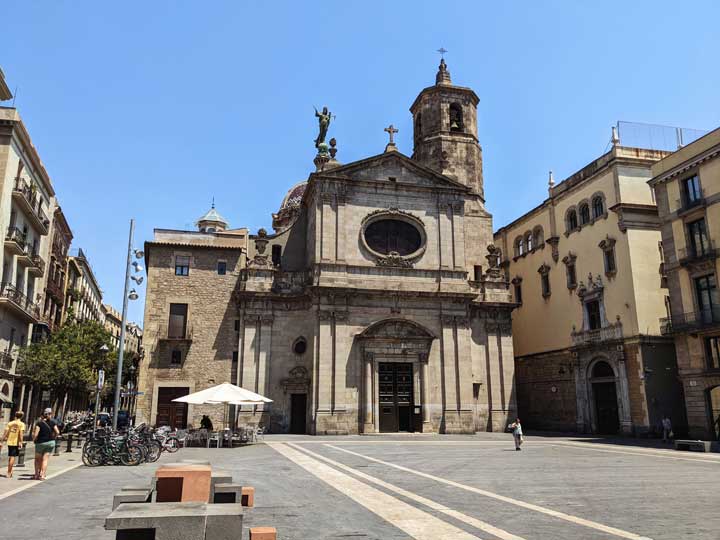 What Is It? We were exploring Barcelona when we found this by mistake, on the hunt for a good café. The Baroque style basilica was built around 1765-1775, with an interesting back story around the Virgin of Mercy who freed the people of Barcelona.
Why You Should Go? I wouldn't say this is a must, hence why it is lower on the list, but if you want to tick off everything Barcelona has to offer, it is a stunning building and incredible architecture.
Top Tip: Don't head over around lunch, we arrived for 12:45 and they turned the lights off while we were in there and ushered us out. Apparently it closes at 1pm and doesn't open again until 6pm, so we got our timing a little off.
21) Eat Some Tapas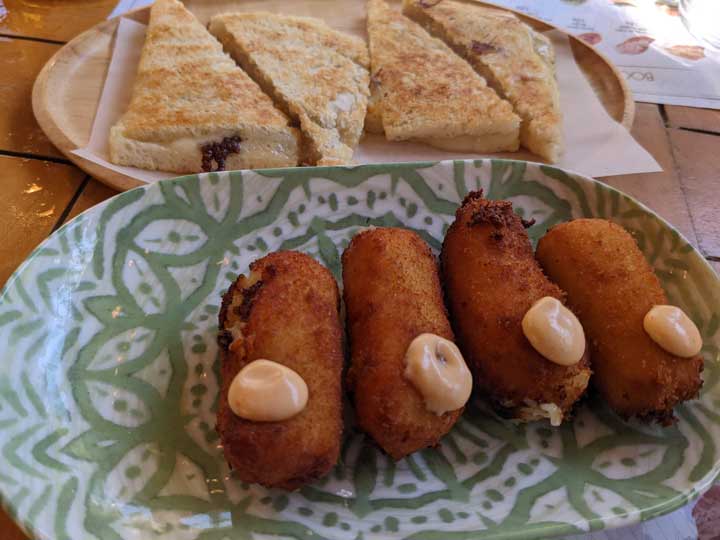 What Is It? A glass of wine and a combination of the different tapas dishes is a great option for dinner, while it also works perfectly for a lighter lunch. Many restaurants in Barcelona serve the different tapas options on toothpicks and then charge you at the end based on how many toothpicks there are. This option isn't always relevant however as some options can cost different amounts to produce so restaurants may vary.
Some classics you could try are Albondigas, Calamaras, chopitos, patatas bravas, tortilla, gambas al ajillo, croquetas de jamon and pulpo gallego.
You should also check our Visit Barcelona for their guidance on the best places for food and wine.
Why You Should? I always believe in eating local delicacies when visiting somewhere and tapas is a must when in Spain, along with paella.
Top Tip: Look on Google Maps for a tapas restaurant with a rating of 4.8 or above (out of 5), don't just settle for anywhere as otherwise you will probably be disappointed.
22) Visit the La Boqueria Food Market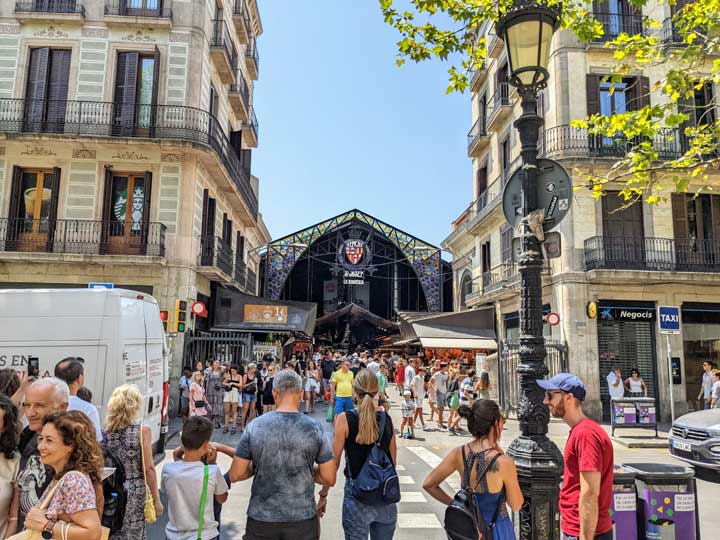 What Is It? One of Europe's largest and most famous food markets, La Boqueria is a definite 'to do' when visiting Barcelona, where you can try a number of local delicacies or bring back some ingredients to cook yourself.
Just exploring the market alone can normally keep you occupied for a good few hours (best in the morning), meaning you can follow this up with a mini siesta and then head back out in the afternoon to explore some more architecture.
Why You Should Go? To experience the hustle and bustle, to try some tasty food and to embrace the Catalan culture.
Top Tip: Try the croquettes, we found so many different types that weren't on offer in restaurants, so it was fascinating to give them all a go.
23) Festes de la Mercè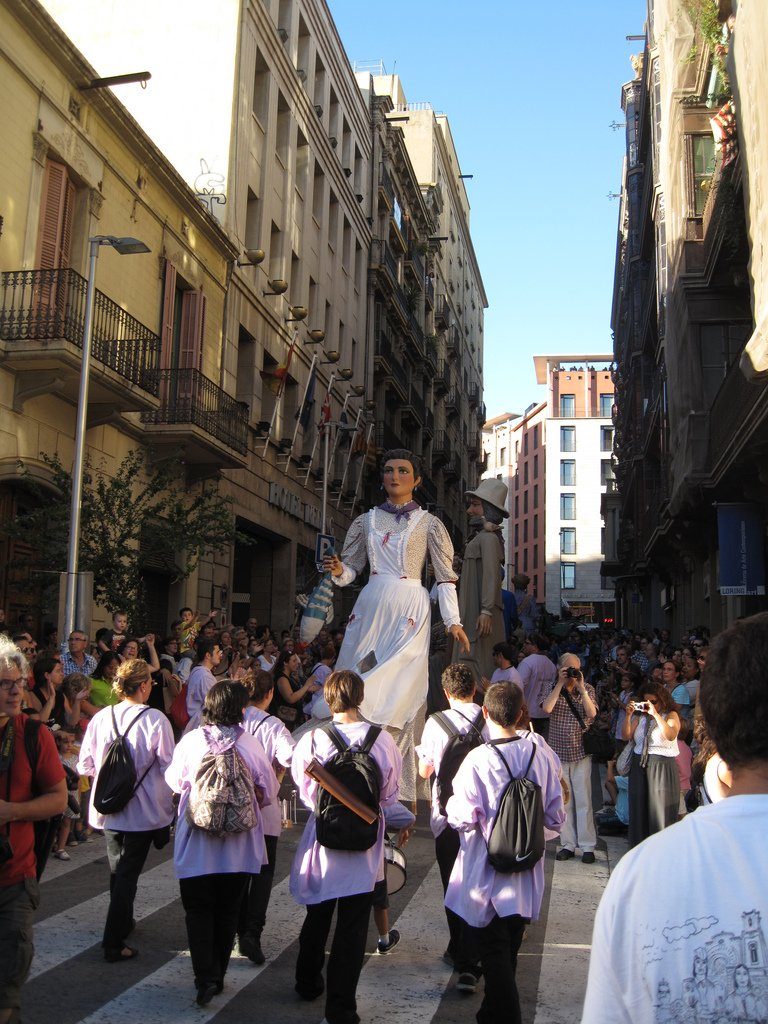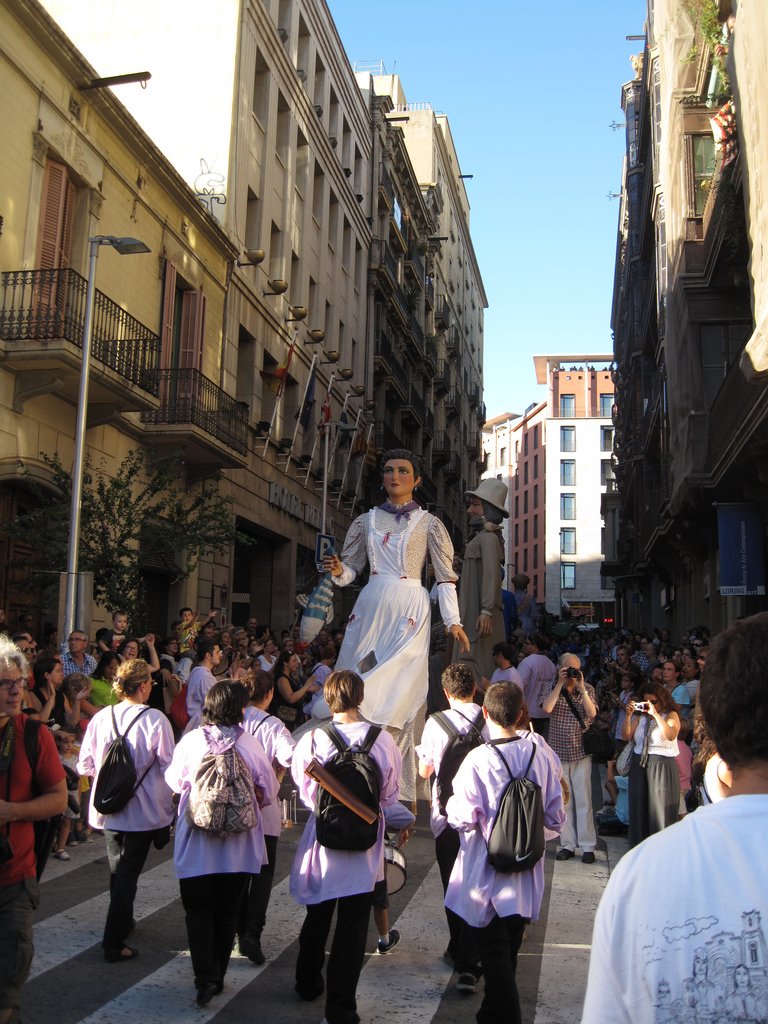 What Is It? This is one for the festival lovers, the Festes de la Merce takes place in September, which is in celebration of Barcelona's patron saint.
This is a slightly more odd festival than you might be used to, as giant wooden figures are carried and operated by people as they walk them through the streets.
While these bizarre scenes take place, a number of musical performances, fireworks and sporting events are taking place. You will, of course, drink your body weight in alcohol as well.
Why You Should Go? A 5 day festival filled with food and joy, why wouldn't you want to celebrate La Merce?
Top Tip: There is a firework display in the evening, so make sure to get a good viewpoint.
24) Climb up the Montjuic mountain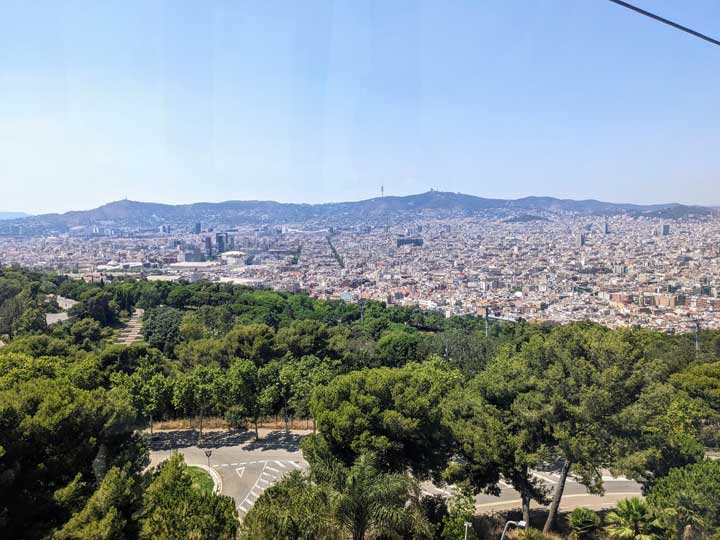 What Is It? Quite different to most of the others on this list, climbing the Montjuic mountain offers a good chance to escape the loudness of the city, while gaining some great views over Barcelona. While climbing the mountain, you will also notice a number of buildings from the 1992 Olympic games. Look out for the Palau Sant Jordi, designed by Santiago Calatrava.
Why You Should Go? Of course, you can take the cable car up, but if you fancy a hike up the hill and to tick off some cardio, then this is a brilliant activity and the views will be worth it.
Top Tip: Bring plenty of water, as it can get pretty warm and it takes a couple of hours till you reach the top.
25) Picasso Museum
What Is It? I guess this option was always inevitable and hard to avoid even if you aren't big on art as this is the home to so many famous pieces by Picasso. The Malaga born artist is recognised as one of the most influential artists of the 20th century and was also identified as the inventor of constructed sculpture.
You can also explore the city and see the area where his family lived in Picasso's early years, on C/Merce (although the building has been destroyed).
Why You Should Go? With more than 4,000 pieces of art by the illustrious artist, this is one of the greatest locations for art lovers.
Top Tip: Apparently you can get free entry on the first Sunday of the month and every Sunday after 3pm.
26) Check Out A Roof Terrace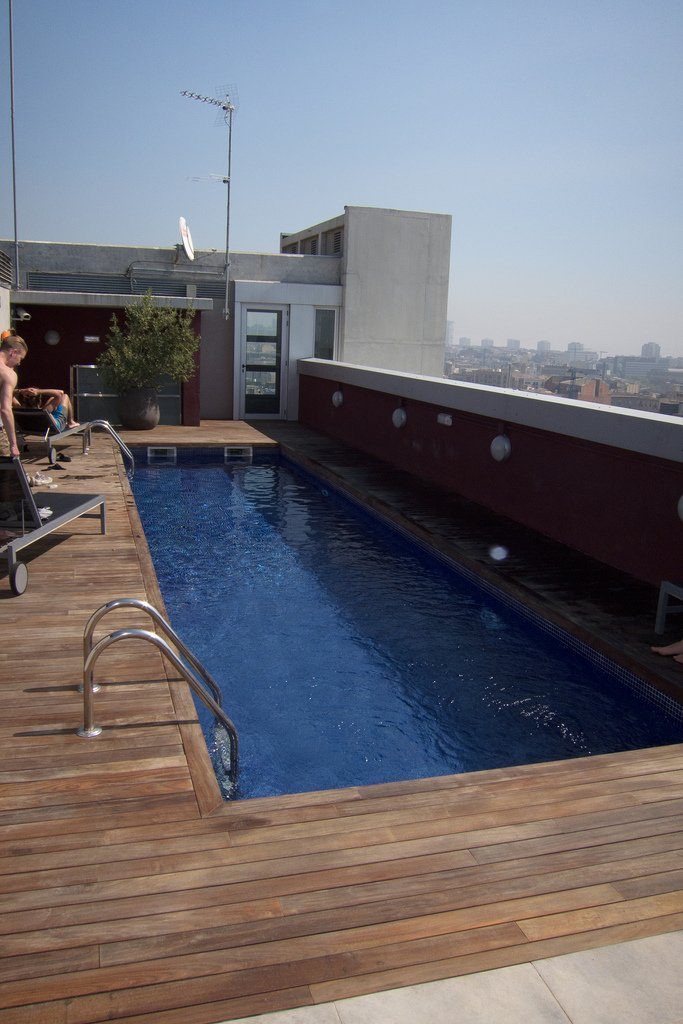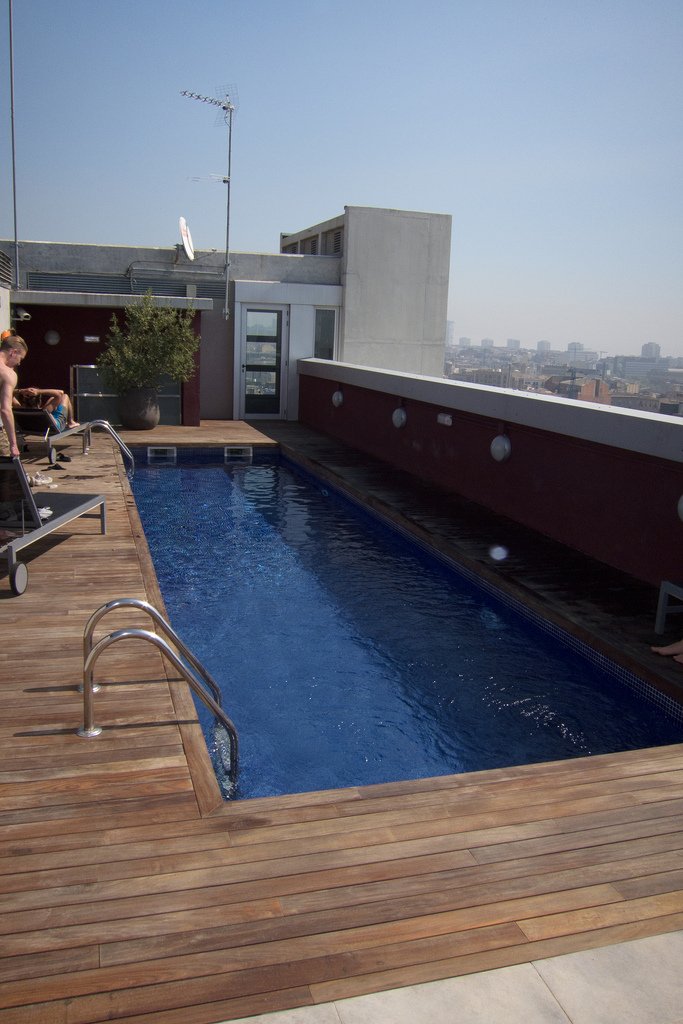 What Is It? This one you have to dress up for as they don't really like to let people up to the top floor unless you are staying in the hotel, however if you are smartly dressed, not in a big group and don't appear to be drunk then they should be lenient.
If they don't let you up, then there are plenty of other places that will, so have a look around and I'm sure you will find one. Also, if you sneak your swimming costume up with you, a large number of these places have swimming pools on the rooftop, which will make for a great Facebook profile photo!
Why You Should Go? Seeing Barcelona from above is incredible, while it's a great way to spend the evening with a cocktail in hand.
Top Tip: Some you may want to try include Mood, Azimuth or the rooftop at Sir Victor.