I've been here twice, as the restaurant is based literally down my road, while the Tikka Masala was TO DIE FOR! Located in Kemptown, right next door to the Co-op store, it is also directly opposite a Thai Restaurant called Sawadee.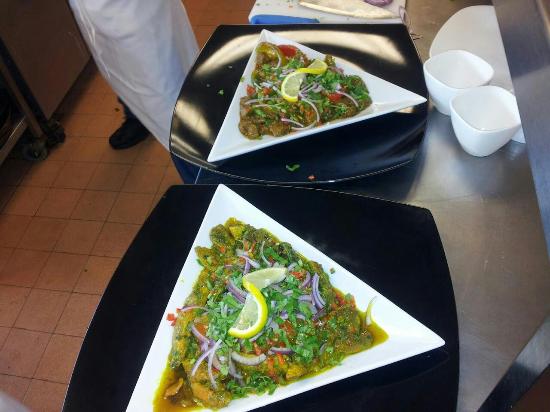 Starters
They have a number of starters, but to be honest I didn't try one so I can't honestly say what they taste like. They have soup, mixed kebab, chicken chaat, chicken pakora, samosa's (either vegetarian or meat), onion bhaji's, chicken tikka starters, lamb tikka starters, shami kebab, seekh kebab, reshmi kebab, tandoori chicken, prawn puri, butterfly king prawn, garlic chicken tikka and salmon paturi.
Tandoori
Tandoori wasn't really my thing, I preferred the rich, juicy curries, however if you do order one, you get it served with a small salad and some mint sauce, cooked in herbs in a fire clay oven.
The dishes that you can choose from are tandoori chicken, chicken tikka, lamb tikka, chicken shashlik, tandoori king prawn, tandoori mixed grill (which comes with naan bread), murgh lasooni, murgh malay keba and salmon mahi. These dishes are between £6-£9.50, however I personally would recommend the 'chef's specials'.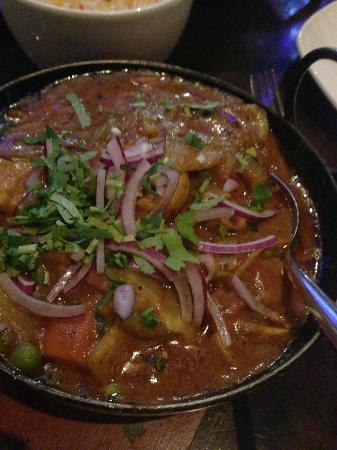 Chef's special
This is where I tried the tastiest dishes, so I'd give one of these a go.
There is chicken hydrabad (coolest name ever, this one has a sweet fruity taste, being made from mango), goan chicken (a bit of a spicy one), murug jull (very tasty), goust aloo bakera (a good one if you like lamb), murug kursan, murug subz bahar or lamb shank.
Beyond this, there are many balti dishes, seafood options, dansak's, pathia dishes, and house specials.
I have very much focused on meat dishes, as a massive meat eater myself, however don't worry if you are vegetarian as they have a whole section specifically based around these dishes. After all, you couldn't have a restaurant in Kemptown that didn't serve vegetarian dishes!
Opening Times
12:00 – 2:00 pm
5:00 pm – 12:00 am
You can also get a delivery straight to your door if you order for after 5:45pm.
Location
40 St James's St
Brighton BN2 1RG
United Kingdom
My Review
So far, this is the best Indian restaurant I have tried in Brighton. My housemate Gareth has been speaking about another brilliant one called Planet India, which I will have to try out soon, but if you have never been to Pavel's, I would definitely recommend giving it a try. Besides, if your group don't like the options on the menu, you can walk just across the road and try the Thai restaurant.
The chef and house specials are brilliant here, while I would recommend talking to the staff for their top recommendations based on your taste buds and your sensitivity to how hot a dish is.