Instead of buying gifts this year for Christmas, me and Raquel decided to go on a mini holiday to London, embracing everything that makes this festive season so special. It was a three day trip, including everything from cheeky Bailey's hot chocolates to a speedy tour across the River Thames.

K West Hotel & Spa
We began our adventure in the K West Spa Hotel, based in Shepherd's Bush, which has a great view of the city. The TV was massive, the size of the room was beyond anything I could expect and the bed was ridiculously large!
The spa resources are meant to be amazing, however we arrived a bit late, therefore we headed straight on for Winter Wonderland.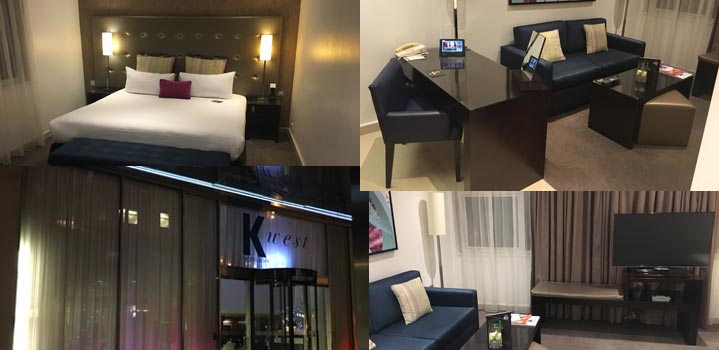 This activity is completely split into two halves. We were hoping to spot some nice sights and learn about the city, but our main hope was for something exciting on the water. Well, we got both!
Until they reach Tower Bridge, there is a speed limit on the Thames, meaning it is very much a tour, with a recorded guide by Alan Ford (Bricktop from Snatch), showing everything you have to see, such as the London Eye, the Shard, The Navy that protects the waters and the HMS Belfast cruiser.

Following the relaxing tour along the Thames, the music suddenly pumps up as you hear a mission being read from HQ, as they explain you are after a villain on the water, quickly followed by the James Bond theme tune as the boat picks up speed.
The driver will make multiple turns while at high speed, which makes the trip incredibly fun (I couldn't wipe the smile of my face here either). However for those who are a bit more nervous, trust me there is no chance of falling in.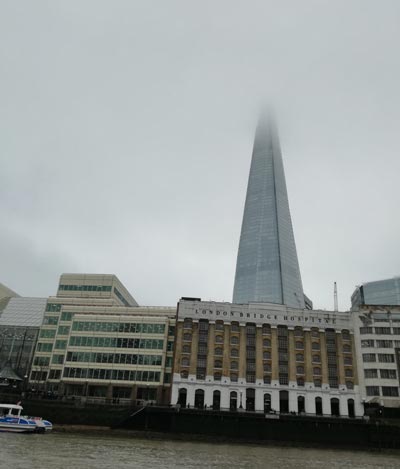 Tour from Westminster Pier
Another good factor about the Thames Jet tour was that the moment it was finished, we were the dead centre of town, meaning it was a great opportunity to explore and see some of the best sights.
From Westminster Abbey to the London Eye, this area has some spectacular views within a very short walk. This wasn't part of our plan, however we couldn't help ourselves, as we spent the next 45 minutes just walking around and gawping at all the giant buildings around us.

Having just returned from Thailand 2 months ago, I was excited to tuck into a red curry or a Pad Thai, however upon my arrival I was quickly informed of the gold 3 course meal option, which left a massive grin on my face.

I'm a sucker for starters, therefore it was difficult to pick one, when the waitress explained that the gold 3 course meal for 2 (or more) means you get all the starters on the list! It meant that beyond my usual choice of a spring roll, I got to try options I would never normally purchase, all tasting scrumptious.

A ball pit in a bar for adults? Oh yer, no big deal, it's just my dream come true! As well as recording numerous boomerang videos of us falling into the pit, you can't help but fall into a younger version of yourself, as you wrestle each other in the balls. The walls are also really well decorated with luminous paint.
It does cost £4 to put your bag in the cloakroom, so heads up, try to leave your bag at home. Being based in Shoreditch, it also means you are in a really trendy area, meaning plenty of bars or clubs for you to go on to afterwards.

Moving our bags over for our second hotel stay, we headed on to Edgeware road, where the hotel was literally one minute away from the station, perfect when carrying heavy bags!
The moment you arrive you get the feeling of luxury Hilton always succeeds in delivering, with incredible customer service, a room to die for and a great swimming pool to jump into.
The breakfast had a great selection, as I'm not always a fan of an English breakfast (I know, it's criminal) therefore it is a nice surprise when you have plenty on offer.

While I have the jumping and gymnastic skills of a beached whale, this wasn't going to stop me getting on a trampoline and embracing my wannabe childhood (where I pretend I owned a trampoline).
There is something exhilarating about the whole experience, even if you do get a bit self-conscious when you see all the parents staring over at you from the café. Maybe one day I will grow up and will be on that side looking over, but for now I want to jump around and have a laugh!
They even have a section for other activities such as dodgeball and a giant slide to go down (those ones where you grip the handle and it lifts you up before you let go and slide downwards).

Our final stay was just a few minutes walk away from the Hilton Metropole, based right alongside Hyde Park. In fact, its location is the reason why it is so hugely popular during December, being one of the closest luxury hotels to Winter Wonderland.
I'd normally start by talking about how great the room is (which it was), how nice the bed was (absolutely massive and soft as hell) or the views on offer (we had a complete view of Hyde Park and Winter Wonderland), however I have to jump straight to the breakfast menu.

Why to the breakfast? Oh no reason, It's just that it was THE GREATEST BREAKFAST MENU I've ever had in a hotel. You order your main dish (I opted for an omelettes) however my love was for the buffet section, normally something hotels lack on.
They had all your usual juices, but they also had smoothies available! They had all your usual fruit, but they also raspberries, blackberries and pineapple. They had yogurt, but they had 10 different types, all tasting better than the last. They had all your usual pastries, but they simply tasted higher quality, like they were freshly baked that morning. Plus, for the inner kid in me, they had Babybell!
I think it is fair to say I fell in love with the breakfast! But on to the other matters at hand, the bed was so big we found ourselves rolling for miles to hug each other in the morning!

Winter Wonderland
With a few hours to burn before heading on to the Medieval Banquet, we decided to wander over to Winter Wonderland, the epitome of Christmas in London.
With rides galore, plenty of stands with food and beer and shows available to be booked, Hyde Park certainly helped to offer us a truly festive feeling.
We only paid for one of the attractions, which was the magical ice kingdom, which had all the ice sculptures created to look like an underwater world filled with mythical creatures. This is a great option for all ages, but I wish I brought a thicker jacket with me!
For those that want to, there is also an ice rink setup in the late afternoon / evening for ice skating, however I couldn't think of anything worse. I tucked into my doughnuts and Baileys hot chocolate and then quickly escaped, successfully feeling ready for Christmas.

A glimpse into life of the times of the middle ages, when a wench would pour you a tankard of ale as you tear into the turkey with your bare hands, sharing stories of battle.
I think the first thing that takes you back when you book the evening is that it is a five course dinner…5 courses!! I'm never one to say no to an absolute feast, therefore I tucked right in. I have to be honest, my favourite dish was actually the soup at the start, something I never thought I'd say. I think it was parsnip soup, therefore I'm going to have to have a crack at making it myself at home sometime.
The entertainment was great, from incredible gymnastic movements of the performers to the bellowing lyrics from the giant leader of the group.