If you've ever wondered through the Brighton Lanes, you may have noticed the dome shapes surrounding the Dolphin Fountain at Brighton Square, well these belong to the restaurant within the square, Coppa Club.
I first came across Coppa Club through a picture my sister posted, at Tower Bridge. The sun was shining and the domes offered stunning views from the Three Quays Walk, so I was delighted when it opened up in Brighton.
How Big Are The Igloos?
The igloos can hold up to eight people, however you can have less people within your group and spread yourself out a bit.
It was a round table, meaning you will all be facing each other, making it easy to hear each other as well.
What Did You Order?
We had a three course meal, while I started off with the mozzarella and oregano arancini in an arrabbiata sauce. There were plenty of seafood or vegetarian options, but ever since trying arancini balls at the Ivy, I've fallen in love with them! These certainly didn't disappoint.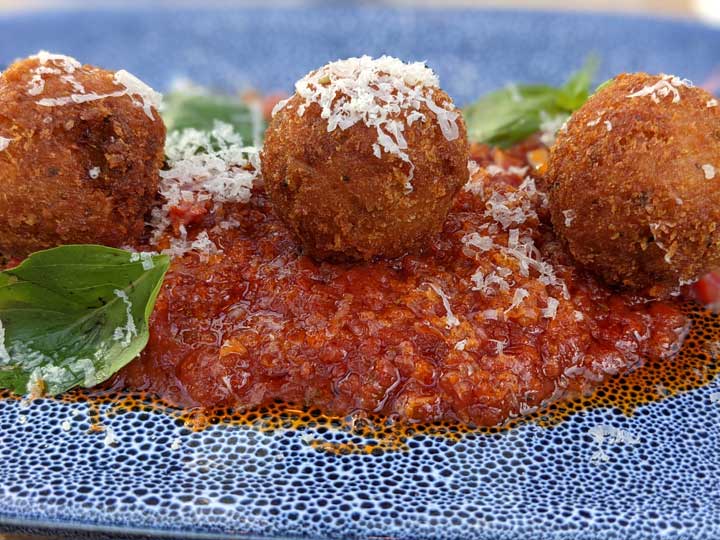 Raquel opted for the parmesan croquettes, while I couldn't help but enviously look over, as the cheese oozed out from the middle. This is also a cheaper option, while you can get three for £4 or 5 for £5.50.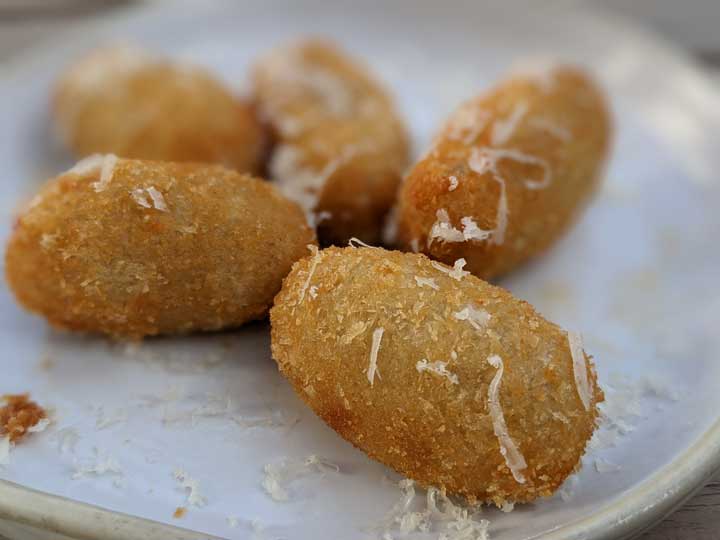 For my main, I opted for the 10oz dry aged sirloin, with some grilled portobello mushrooms on top. You could pick how you'd like your spuds, while I opted for chips cooked in truffle oil, which really transferred through, arguably our favourite food of the entire visit.
You could also pick a sauce to accompany the steak (at an extra cost), while I went for my South American favourite Chimichurri, which I first tried while in Buenos Aires.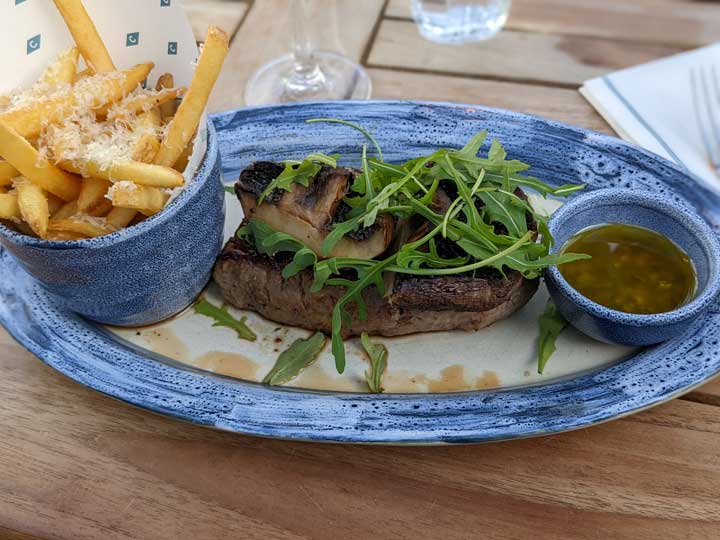 Raquel went for the incredibly filling bucatini carbonara, with guanciale, pecorino romano, black pepper and yolk. However, she does admit she saw some pizzas go by and wish she opted for them.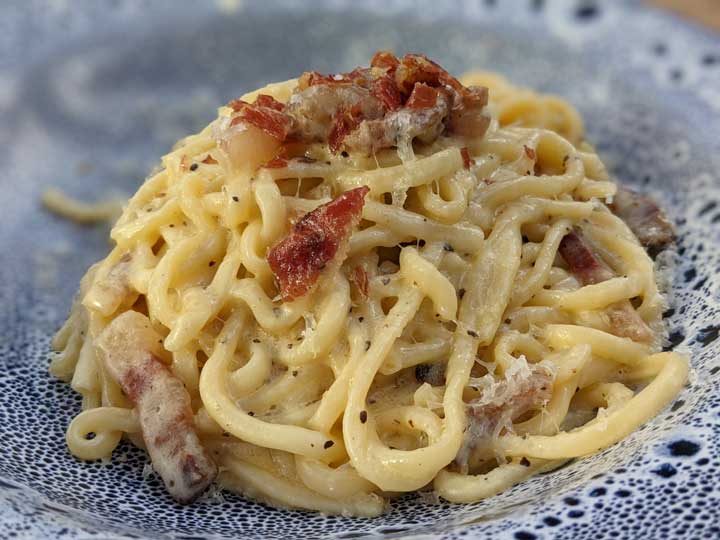 The desserts come on a separate menu, once you've finished your mains and we certainly weren't going to say no!
I opted for the warm pecan pie with the delectable honeycomb ice cream which worked perfectly combined with the hot dessert.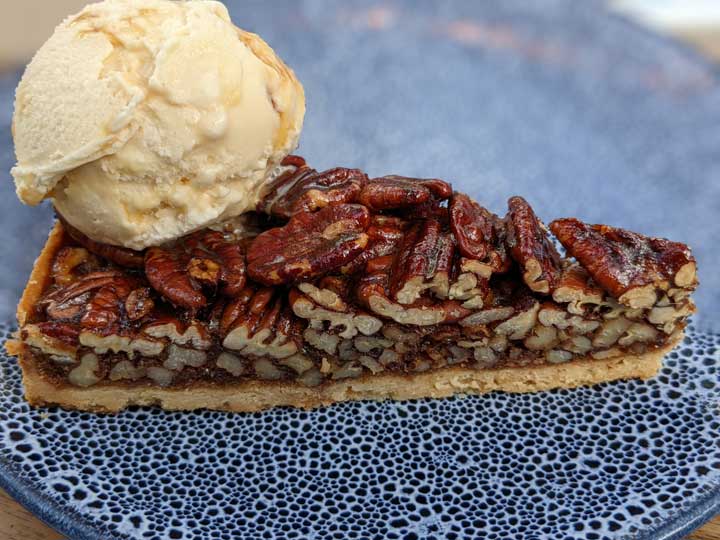 But I have to admit, one bite of Raquel's chocolate cake and I was instantly jealous. There were slight drops of what I believe was orange peel grated on, which worked perfectly. It also had caramelised white chocolate and a coconut yoghurt.
If we could have our choice, we'd go for the chocolate cake, but swap the coconut yoghurt for the honeycomb ice cream mmmmmm.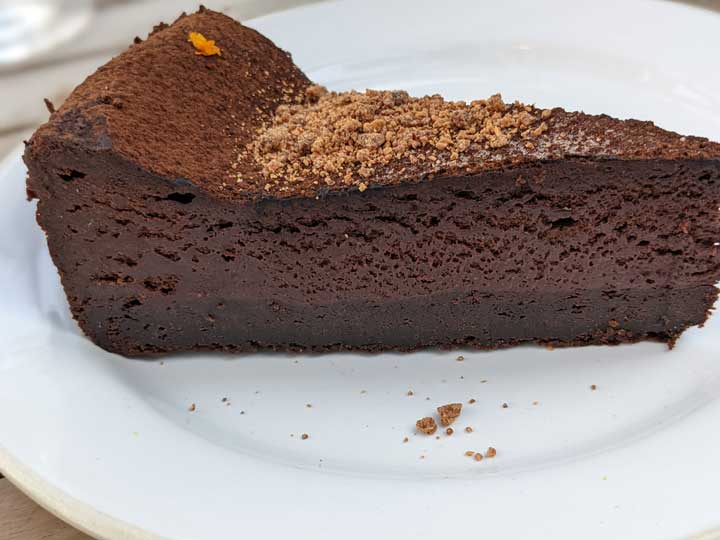 How Long Do You Get The Igloo For?
Our booking lasted for 2 hours, which is plenty of time, even with a big group. If you do want to carry on drinking, they do have a bar area inside the restaurant, so you can carry on inside or there are a number of pubs and bars nearby.
The Décor
The inside of the igloo was beautifully decorated, with paper designs at the top like something you'd find in Habitat, plus flowering (maybe fake, I forgot to check) going along the rims of the igloo.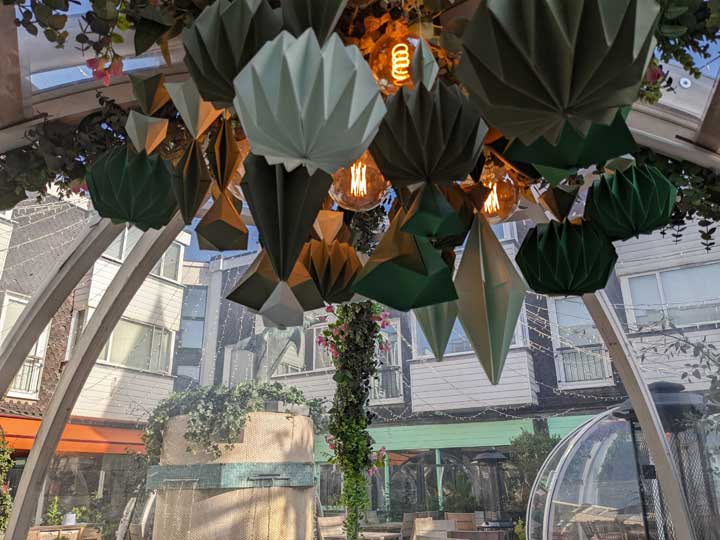 Was It Cold Inside?
This was a key question I wanted to answer, as I had left the house in a thin jacket and it was 5 degrees, so I was shivering on the journey over.
But as we entered the igloo, I was relieved to find they had setup heaters inside. Considering you're quite a distance from the restaurant, I just wondered whether they would have done so, so this was a nice relief.
Just the same, if you get too warm at any point in the summer, you can slide the igloo doors open to help ventilate them out.
Can People Outside The Igloo Hear You?
No, when going past other groups in their igloo, I found that you couldn't really hear anything they were saying, so this does offer a form of privacy that you wouldn't get at a restaurant table.
I liked this, as we wanted to video our experience and always feel a bit awkward when doing so within earshot of others.
I hope you enjoyed my Coppa Club Brighton review, if you've been before, let me know what you thought in the comments below.