I've only gone and done it again, another year, another Holi. I first went two years ago, when it was hosted at the Battersea power station and was hooked from then onwards. This year I went along with my mates Lee, Charlotte and Jason, as well as the numerous friends we made along the way.
It took place in Queen Elizabeth Olympic Park this year, not quite as fun as Battersea, as the original venue was a bit more intimate and close together. I have no doubt they moved to a larger location to meet the increased demand, but it made the venue way too spacious.
It was however an unbelievable day, drinking copious amounts of cider. The music was…well, the less I say the better. They definitely need to find better musicians for next year, the first act just kept shouting "Germany, London", while playing repetitive techno. Don't get me wrong, I'm not a hater or a music prude, my favourite genre is drum n bass & dubstep, however this was just a constant thumping sound, more representative of a turbo-charged microwave.
The lineup included:
Nervo
Booka Shade
Dubvision
K-Paul
Teemid
Dsharp
Izzy Trixx
Bombay Boogie Soundsystem
Sola Plexus
Ever heard of any of them? No, me neither. Everyone in the crowd was equally confused, but alcohol helped us to ease past the drivel that was playing.
So What Is The Holi Festival
The festival of colour is a Hindu festival that takes place in India (mainly in the north), celebrating good over bad, as well as the beginning of spring. In India, there is still a huge amount of issues relating to the caste system, however this festival goes to show we are all equal, regardless of our appearance, which is why paint is thrown at everyone, so we all look a colourful blur.
With this being such a beautiful concept for a festival, as well as being something you can imagine anyone wanting to join in with (especially with a few beers inside them), it was only a matter of time till it was brought to other countries in the world.
It started with Jasper Hellmann, A German who was travelling through Northern India while the festival was taking place. He absolutely loved it, but couldn't believe it was completely unheard of back home. Determined to export the celebration to Europe, Jasper setup the festival in Berlin, before eventually broadening the festival around the world.
He now focuses most of his efforts on what he enjoys the most, running their social media profiles, as well as the web design.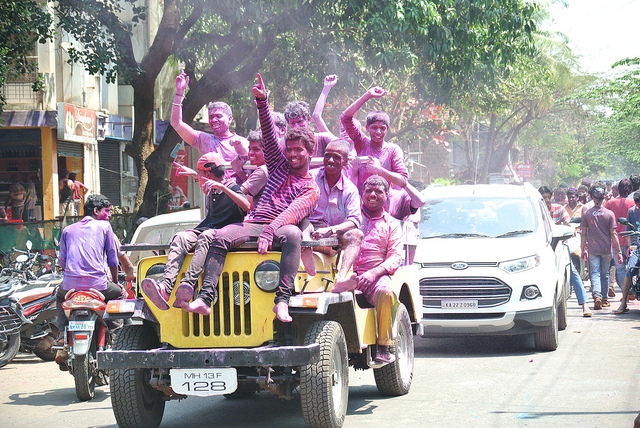 What Do I Need To Know For Next Year
All tickets are available at http://www.holifestival.com/uk, so don't trust any other site that claims to have tickets. A lot of families tried attending with little kids, but you should be aware you will be refused as you must be 18 to enter, regardless of whether you are with a parent or guardian.
They also don't allow you to bring in colour paint, as not all sources use safe and reliable chemicals, so it is important you only use the ones provided inside the venue.
Remember, bring clothes you don't plan on keeping. The paint supposedly comes out of your clothes, but I tend to find the colour slightly stays in around the collar and other stitching areas.
It isn't dangerous at all to swallow the paint if you get a bit in your mouth, in your eyes or up your nose. In fact, this will inevitably happen in large quantities, but this is exactly why the specific paint inside the venue is the only one which can acceptably and safely be sold. Your eyes may burn a bit when they get in there, but you are fine within a minute.
Enjoy and hopefully catch you there next year!