Getting married doesn't have to be limited to your local religious building or town hall, why not look a bit more further afield for your dream wedding venue? Cyprus is such a gorgeous country and offers the perfect weather for a beach wedding destination, with plenty of venues perfectly setup to cater for big audiences.
So if you're interested in considering a wedding venue in Cyprus, read on for my best recommendations.
1) Olympic Lagoon Resort Pathos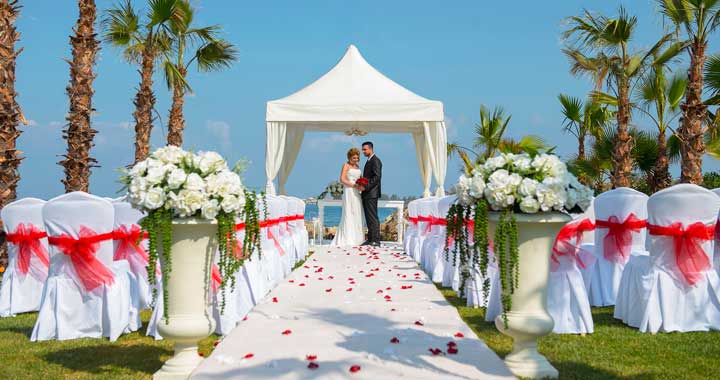 Where ever you opt for, you will undoubtedly want to be close to the beach and the Olympic Lagoon resort is an ideal option, also offering intimate dining by the sea in the evening. Your guests will be able to relax by the pool during the day and soak up the sun, while once the wedding day arrives, you will have a direct access to local florists, photographers and reliable transportation from the airport. They're known for making a great cocktail and can offer the gazebo wedding scene on the beach like something out of a movie.
You can also opt for the venue at the Olympic Lagoon based on both your budget and number of guests, from the luxurious sunset wedding venue, suitable for 90 guests and costing £1,000, to the garden venue, which is suitable for 90 people and costs £600.
2) Coral Beach Hotel & Resort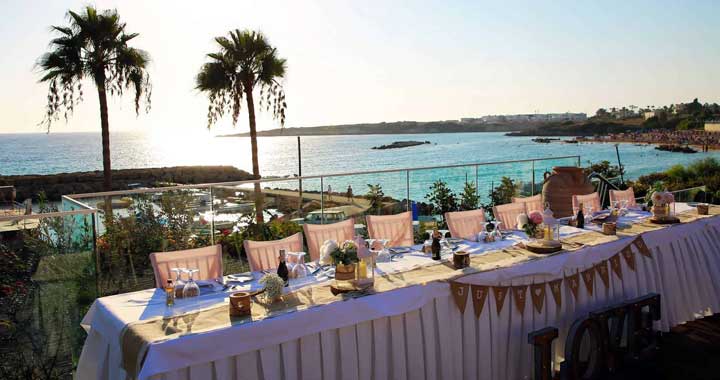 This beautiful location is ideal for a wedding ceremony, with great views of the Pathos sunset, providing you with an amphitheatre, a stunning harbour, private terraces, a deck and private gardens. As you can imagine, this offers some flexibility on the wedding photos.
The Pier is located alongside their private beach, which includes a gazebo with white Chiavari chairs and is also perfect for an evening reception.
The amphitheatre is great for the ceremony and drinks reception, utilising much the same image focused on the white colour code.
Of course, if you'd prefer a more green area then you could go for the Coral Blue Gardens, which is a little more tucked away, however the elevated area means you get some nice photos of Pathos.
3) Minthis Hills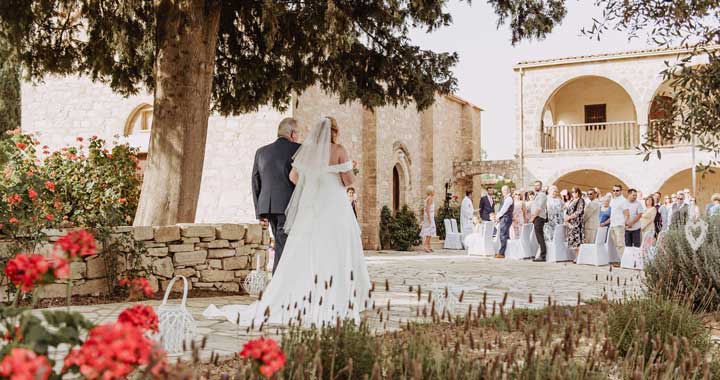 Surrounded by the beautiful vineyards and a golf club, this venue is a little different to the others on the list, but also provides plenty of activities if you're thinking of going as a group for a good week.
They offer a package which includes a wedding planner, flowers, transportation, photographer, wedding cake, hair stylist, reception venue and dinner, decorations, entertainment and a co-ordinator, taking away any of the stress of planning!
You can also enjoy a good few cocktails at the monastery courtyard, or head over to the lawns for a great outfoor party.
4) Vasilias Nikoklis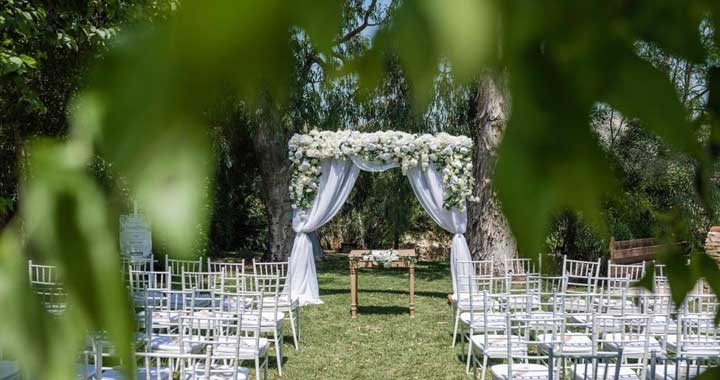 This rustic and unique inn offers the perfect combination of modern charm and traditional scenery, based in the beautiful countryside. This isn't the option for you if you're after a beach wedding venue, this is a great alternative that offers the luxury of space with mountainous backdrops.
The olives grown locally mean you'll have some amazing food to snack on, while they also grow their own vegetables, so you can be assured of an incredibly fresh meal. The rooms are luxurious and the pool is a decent size so you can get all your guests around for a swim before the wedding day.
5) Capo Bay Hotel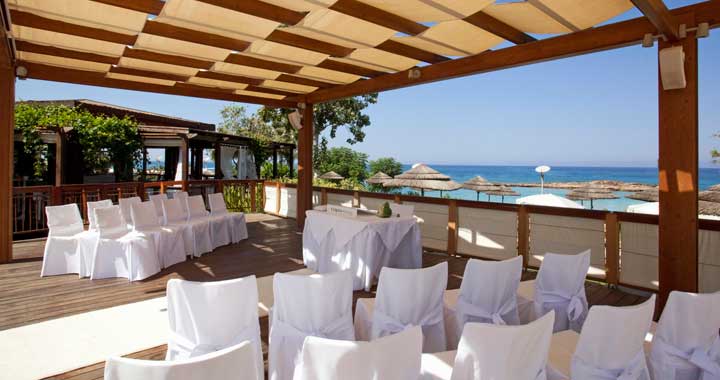 Located in Protaras, Capo Bay can offer complete privacy, only hosting one wedding per day, to ensure your party feels completely exclusive. They have an amazing outdoor ceremony venue, while they also offer a number of packages to take a lot of the stress off of you.
Their wedding deck looks over the seafront, while you can have your first dance right on the sandy beach. For people staying the whole week, they can enjoy all of the various facilities available, including the scuba diving centre.
The happy couple can also enjoy a candlelit dinner, plus a bottle of champagne on the wedding day.
6) Amathus Beach Hotel
You can enjoy a beachfront wedding in Limassol with this exquisite wedding venue and 5 star hotel. You can also choose the perfect setup for you, whether that's by the pool and gardens or alternatively down on the beach, either way their professional event coordinators will be on hand to help you with the planning.
The hotel can also adapt from offering intimate weddings with your close family and friends, to large weddings taking up much of the resort. Looking up at the star kissed sky and walking along the beach bare-foot, it will be hard not to fall in love with this venue and area.
7) Liopetro Venue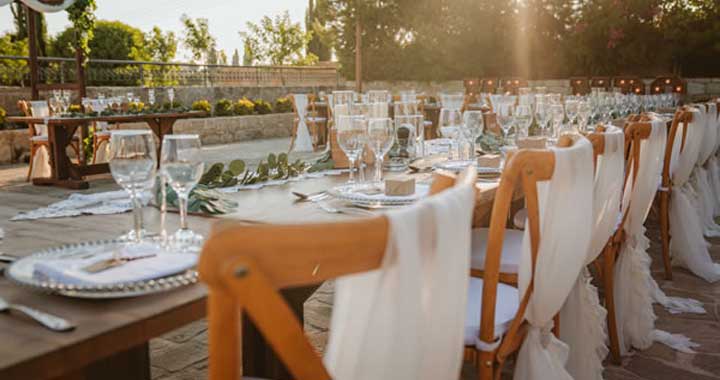 A little further away from some of the others on this list, we're now focusing on Kouklia, which is just a short journey from the much more covered Paphos. The venue is completely made from wood and stone, offering a slightly more traditional atmosphere.
This rustic wedding venue offers bespoke exclusivity, with afternoon cocktails and a ceremony area fit to cater for a big audience. This is actually a family owned venue, however they're highly experienced at catering for weddings, so no fears. The beautiful gardens surrounding the venue also make for a great area to walk before the wedding takes place or for some photos.