After an action packed week, I can't actually believe how many things we managed to tick off while in Prague! From the scary to the bizarre, Prague has something for everyone, whether couples, stag parties or families on a city break. Read on for my list of things to do in Prague.
1) Prague Thrill Park
Forget the London dungeons, forget Tulley's Farm, the Prague Thrill Park is the ultimate experience for horror lovers. There are three options here, but the best by a landslide is the unbelievably good dungeon below. I mean seriously, this was probably my favourite part of the entire holiday! You will be let through the door and the lights are out, as you journey through every thrill and horror you can ever imagine. I saw fully grown men run out screaming! If you find it too scary and want to leave, you have to shout out "I'm a chicken, let me out". They have a chart on the wall of people who couldn't make it through, with almost 200 'chickens'. Beyond the dungeon, there is also a virtual reality escape rooms which can be done multi-player, while you will have to work closely together and give each other clues. The final addition, as you can see from the image, there is a zombie games which utilises the most modern tech in VR, with running equipment.

2) Bobsleighing
Just a short Uber from the centre (it cost about £6), the bobsleigh is an incredibly fun adventure activity you can try. Sure, there doesn't seem to be much in regards to health and safety, nor are you given helmets, but I saw children as young as 10 on there so no excuses! I'm an adrenaline junkie and this definitely ticked the box! Plus you get some nice views of the surrounding area while going around the course.

3) Craft Beer River Boat Prague
Available to book through Active Czech, you can relax on the giant boat where they brew the beers directly. They actually tasted way beyond what we were expecting, however the one issue is they are only sold exclusively here, so you won't be able to get them anywhere else in Prague but on the boat. Your six options are Legie (4.2%), Republika (5.1%), Monarchie (5.5% and also Raquel's favourite as it tasted slightly of dark chocolate), Remorker (5.3%), Sirius (3.3%) and the strongest of them all, Revenge (6.9%).

4) Beer Bath at Beer Spa Bernard
What was that? A bath of beer? Oh you heard us right. Well, it's mainly water, however they add all the ingredients that they use to make beer, which can be used to make the skin soft. You also have a beer tap on hand with some scrumptious local beer. Every visitor also gets an original bottle of Beer Bernard with the historical seal and certificate of completion, which is a really nice touch. The location is also nicely placed in the centre of Prague, plus opposite an Absinthe bar. You can ring a bell whenever you need help or anything you may require, which is quite a good laugh, even if you do feel immediately guilty. They have some great nibbles available, the sausages were mouth-watering. We left with the softest skin and wanted a nap straight after. Oh, once you've had your bath, you have a separate room where you can lie down and relax.

5) Eat A Donought Cone Ice Cream
This is one of those things 'you're meant to do', however neither of us was a massive fan of the ones we bought. I got the strawberry and cream while Raquel got the Vanilla Ice Cream. On the other hand, some of the savoury ones sound quite intriguing, such as the mozzarella and tomato pesto one.

6) Walk Along Charles Bridge
The Charles Bridge has a great view whatever time of day you arrive, however the best views are at night, where you see the entire town lit-up. I'd also recommend getting a look at Charles Bridge from one of the other bridges (they're all a 5 minute walk from each other).

7) Dancing House
Said to resemble two people dancing together with their legs entwined, hence the name of the building, this now serves as a hotel, however it is very quickly all booked up. We looked 2 months before and there wasn't a single room available! However all you want can be viewed from outside. This stop is on the Hop-On-Hop-Off bus route at the south end of the city.

8) Get On A Hop On And Hop Off Bus
One of the best decisions we did the entire time! You can buy for one or two days, however it is pointless getting for one day as you can't possibly tick everything off in that time and it useful simply for getting around the city. It comes with an audio guide to listen to, pointing out the history of the town and the famous buildings you need to look for, however I should warn that the talking is incredibly annoying as they make tame jokes the whole way round.

9) Lennon Wall
The only public wall in Prague where it is completely legal to graffiti, this area perfectly embodies the happiness and free-will of the city. Seriously, they highlighted that they have the lowest crime in Europe and you'd believe them straight away! This makes for great pictures, hence the main banner, while it is something you can tick off in 5 mins.

10) Lock Bridge
Perhaps a more disappointing landmark in the city, but it still has en element of romance to it. I'll be honest, we posed next to it and pretended to put on a lock, as we left it back in the hotel room. There isn't much to see here, however it is right next to the Lennon Wall, so you can tick these off in one go.

11)  Feed The Birds
We saw people feeding all the birds alongside the bridge, so we couldn't help ourselves! We headed to a mini-market and bought two loaves of bread and went down by the river. They do quickly surround you, but it is important not to get scared, they won't bite or attack at all, they are just excited to be fed! Whether its ducks, pigeons or swans, they all love a good nibble!

12) Go To The Castle And Have A Tour
You can get the tour included in the hop on hop off ticket for a extra few pounds (I think we paid 800 Czech for the two day bus passes and tour guide at the castle). The guide was amazing and quite hippy, talking about the castle but also about modern culture and politics, while the passion was obvious the whole time so it got you quite engrossed into the topic and the history of the land.

13) Absinthe Bar
Well, it would be rude not to! Don't worry, you won't be necking 70% shots. All of it is mixed with water and actually tastes quite nice. We even went to a pub and had a choice of absinthe cocktails, where I had the apple strudel, hands down better than 90% of the cocktails I've had before (the only one that beats it is the pina colada).

14) Coyotes Bar
You need to arrive at a set time if you want to catch the dance shows, however you can still visit and get some photos regardless. The drinks are a bit pricey, however if you make sure to order a local rum you can keep your price down a bit.

15) The Horror Bar
Prague seriously does love its horror scene! With famous characters from classic horror movies (plus the not so great movies that sit at the bottom of the IMDB list), the bar feels really unique and the drinks are all cleverly named after horror characters. They are all served in a horror glass and the extra touch is often what stands out, such as the ice being shaped like an eye ball in our cocktails.

16) Find The Umbrella Hanging Man/Woman of Prague
We had heard about the hanging man of Prague, which sounded quite creepy, but a great photo opp. However we never managed to find this illustrious character. We were happily surprised to bump into the umbrella hanging woman of Prague though, which seemed a bit less creepy and more Mary Poppins. Or maybe that's the British in me.

17) The Crawling Babies
We stumbled upon these while walking to the Lennon Wall and it was a complete surprise. A symbol of the city, these creepy looking creatures are something you would find in a Tim Burton film or a nightmare after eating too much cheese (there is no such thing as too much cheese). I'm not sure if you are meant to jump up for a picture however it was too tempting.

18) Visit Old Town Square
This is another one of those things you are meant to do, with all the statues and famous buildings, however it is very much a tourist trap, so make sure not to eat here or buy anything.

19) Medieval Dining Experience
We first tried one of these in London and we loved it, you just lose yourself in the scene and imagine yourself in a Game of Thrones scenario.
This is beyond just an old school meal in fancy dress, they have jugglers, belly dancers, swordsmen and performers all around you, providing entertainment during the evening.
The meal lasts 3 hours, with plenty of drinks in this immersive experience which perfectly resembles the bizarreness of this beautiful city.

20) Victims Of Communism
There aren't many statues or monuments which make you stop and feel taken aback, but this one I found deeply sad. Seeing the memorial to the victims of communism showed people breaking apart as they were further up the stairs, symbolising the effects that communism had on the people of the Czech Republic.
Found at the bottom of the Petrin hill and on Ujez street, this was one of the stop offs on the hop-on hop-off bus route. There isn't too much around, so this is a quick stop off before jumping back on the bus, but it was 100% worth seeing.

21) Street Art
The most famous street art in Brighton is located at the previously mentioned Lennon Wall, however the city is full of spectacular pieces.
Sure, I hate tags and messy graffiti, but when it's impressive artworks, you have to stand and admire it all.
There are now a few street art tours which you can sign up with, meaning they can offer you the story behind some of the more well known pieces.

22) Piss Cerny
Two men, casually looking at each other while having a wee, sure, this is might be an obscure statue, while we also came across it by mistake, but it certainly stays in the memory!
The bronze figures were built in 2004, outside the Franz Kafka museum, by Czech artist David Cerny, an example of the provocative modern art of Prague.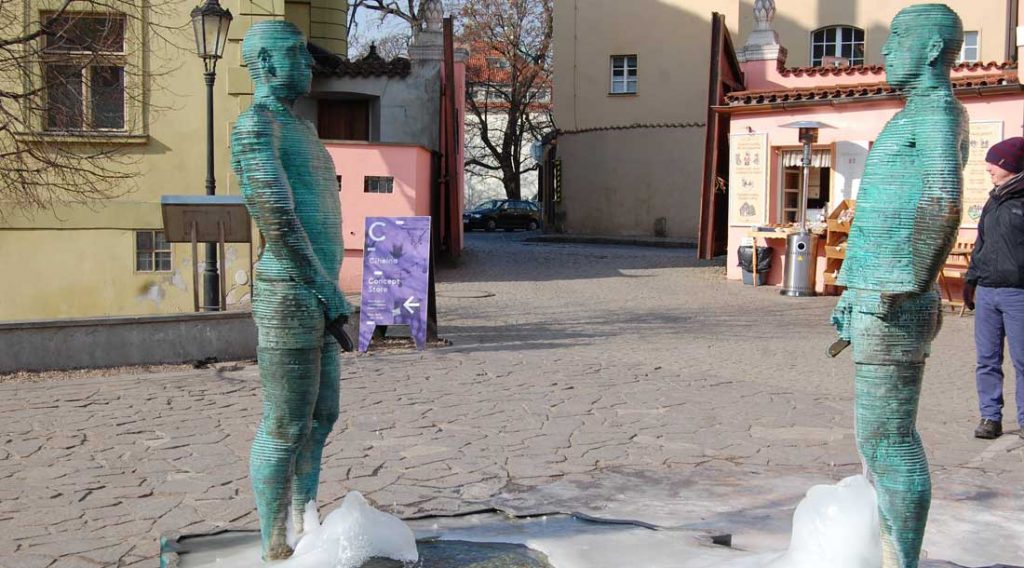 23) Goulash In Bread Bowls
From both my trips to Prague and Budapest, I fell in love with goulash soup, made with beef, potatoes, carrots, garlic, stock and bay leaves (I've had a crack at making it myself while at home).
But served in a bread bowl truly made it feel unique. One heads up though, don't order 'garlic bread', it's not what we think it is, they literally gave a piece of garlic sat on top of some bread, we laughed for hours about this!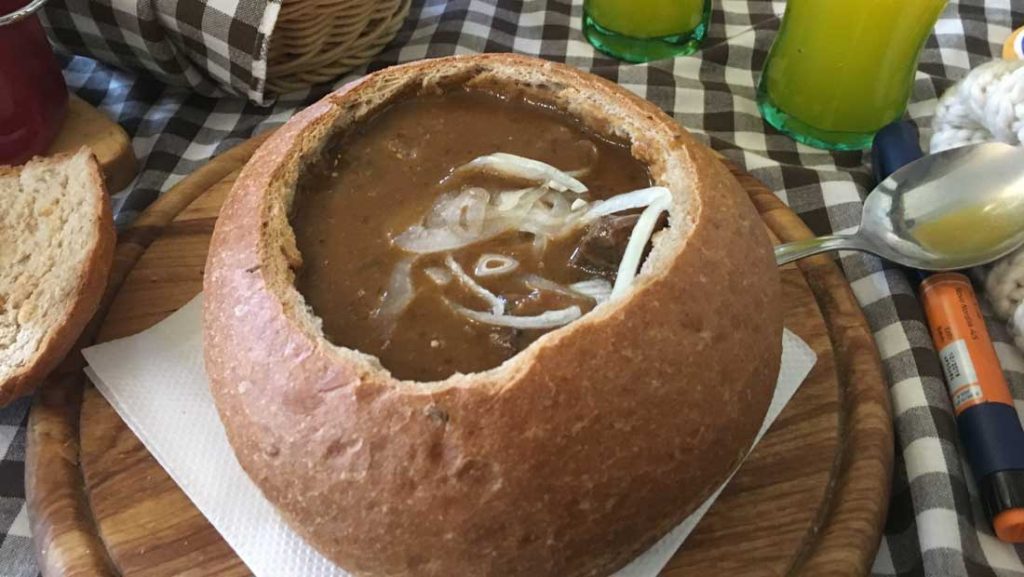 Tip
You should get Ubers if you want to visit any surrounding areas or the bobsleigh course. While the prices of Ubers in the UK aren't far off taxi prices, it was insane how cheap they were in Prague. We spent £5 and went almost 20 minutes, which would cost around £20 back home, or even more in Brighton!
Things Not To Do In Prague
The Clock – everyone talks about this one, but man what a disappointment. I should mention that on the bus tour it highlighted this wins awards for being the worst tourist attraction in Europe.
Torture Museum – This didn't cost too much, only a fiver with a student discount (yep, still busting those deals), however we got through the museum in about 3 minutes flat and weren't sure what the point was. For £5, it is hard to get too annoyed, but it seems ridiculous the London museums are free and you could spend an entire day in there, yet I paid for a few walls and weird pics.
Bunny Lady – Near the lock bridge there is a lady who stands there every day with her bunny rabbits. If you take a photo of the rabbits or get close, she will demand money from you. This kind of thing happens in every city, so it's more a heads up and warning than anything else.
Don't eat at Meat Burgers – They had a menu with set prices, yet when we went to pay they had a bill at 5 times the price. I questioned them on the price and they pointed out the numbers on the menu weren't the price tag (hmmm) and they had small numbers (barely visible) which were the prices. It is obviously a complete scam, but being so central, they have a constant line of confused customers getting charged 'tourist tax'. Avoid like the plague. Ooh, the plague of Prague, I like that.