We always love to work out what is available in an airport before we visit somewhere, however we simply couldn't find any information for Corfu airport.
The airport has a huge reputation as being one of the most amazing to admire as planes land right above people's heads on the runway right by the sea. Below is everything you need to know about the airport, the restaurants available and what you can expect.
Is There A Lounge?
No, we were hoping to book into a lounge for our journey back, as it always feels like a nice treat, while you certainly get your moneys worth if you enjoy the food and make the most of the improved WIFI and facilities, but unfortunately there wasn't one in place in Corfu airport.
What Restaurants Did They Have?
Knowing what you might eat is always a key excitement when entering the airport, so we made sure to take some snaps of every restaurant inside the airport.
I should mention that these are once you go through security, however there were was a basic place to eat by the entrance, offering bakery goods and pizza's.
Burger King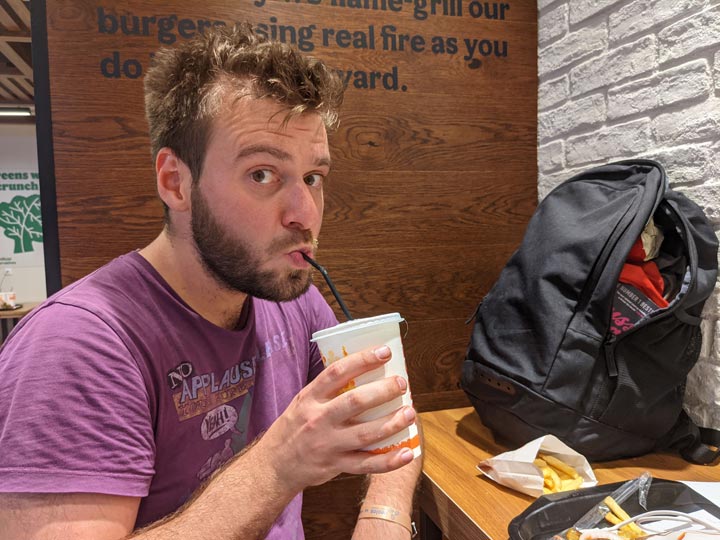 The best aspect about the Burger King is the self service machines, which always make life a little easier if you just want to relaxingly search through the menu and order at your pace.
This was the last day of our holidays, so we threw diet to the wind and decided to get ourselves a Whopper deal, because why not!
Il Maestro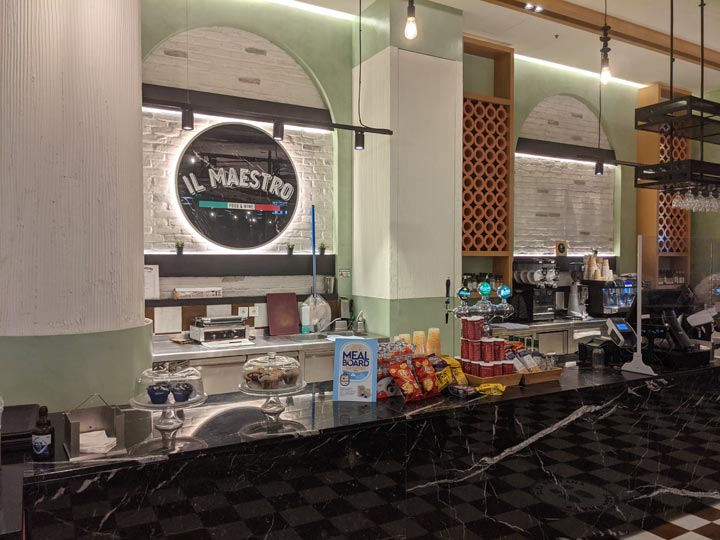 This Siclian restaurant provides various Italian dishes, however most people visited here for a coffee and a cake. They also had a number of sandwich options in sandwich packs, meaning you could take them on the plane if you preferred.
Starbucks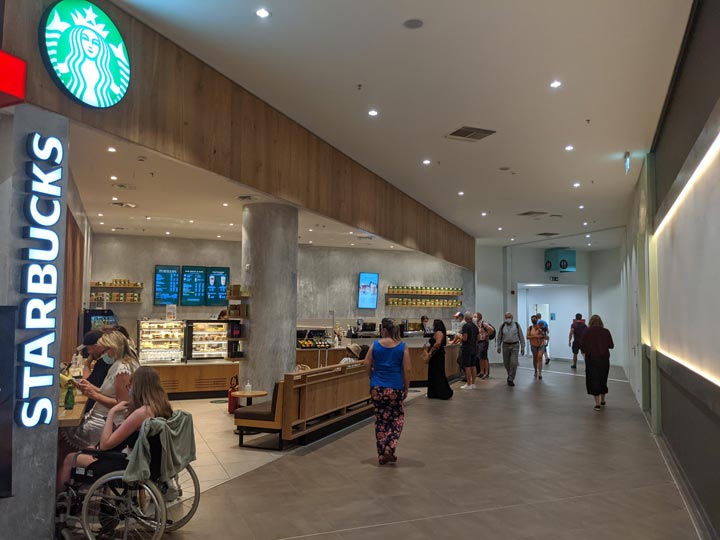 This coffee place probably requires little explanation. You can order all your usual coffee favourites, while there was a small amount of seats along the side, however every seat was taken at the time we visited.
They had a number of sandwich and sweet treats available behind the desk which you can peruse through.
French Bakery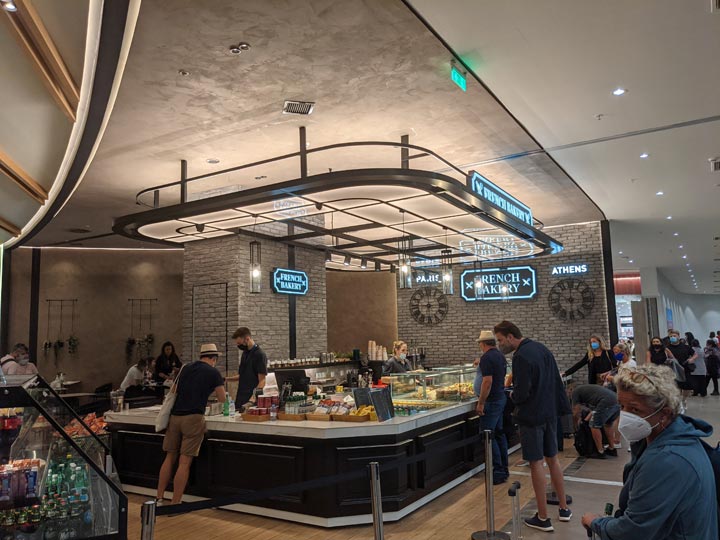 The French Bakery had a few extra seats, but also quite a bit of a queue. You can expect the likes of croissants, pain au chocolate and plenty of tantalising goods in the window, as well as a decent cup of latte.
They also offered a greater variety of soft drinks than most of the other options in the airport.
Grain De Ble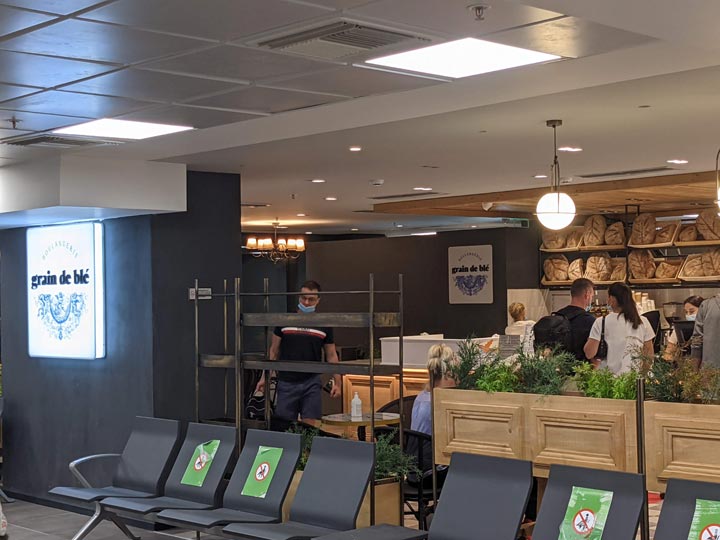 This was a patisserie with similar options to the others on the list, largely made up of naughty bakery goods and great tasting coffee. The cakes looked beyond gorgeous, our mouths were watering as we went past.
Bentley's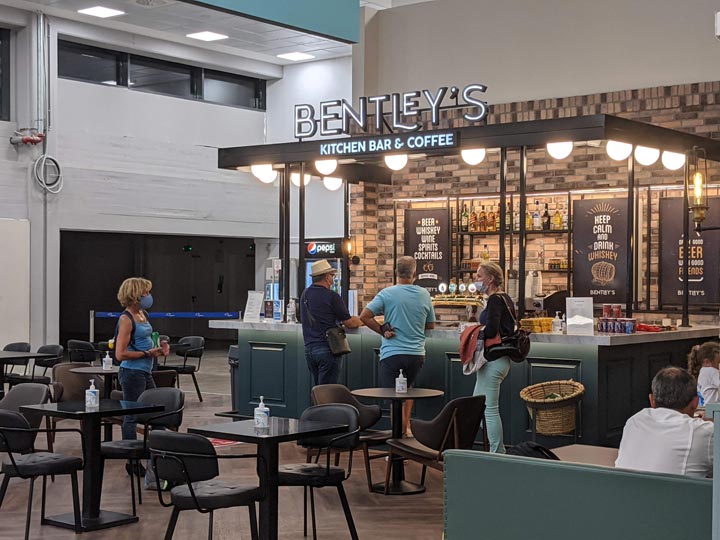 This is a European fusion restaurant where I managed to get hold of a big bottle of water, which was surprisingly hard to find in the airport, despite this arguably being the most popular option for people to order.
For those looking for a quick tipple before their flight, this bar had a great selection, but we were exhausted and decided to give the booze a miss.
Queues In The Airport
Our flight was with Jet2, who had a nice short queue, as did a few of the other airlines, however the TUI queue was incredibly long.
It took us about 30 minutes to get through boarding, before going to security and then getting to relax and eat some food, so not the quickest, but we arrived with plenty of time to burn.
Rather than jumping into a queue going outside of the airport, make sure it is for your airline, as the long queue was for TUI and we almost made the mistake of joining a queue we didn't need to be in. Fortunately, the Jet2 staff were on hand to redirect us to a much shorter queue, winning!
Can You Charge Your Phone?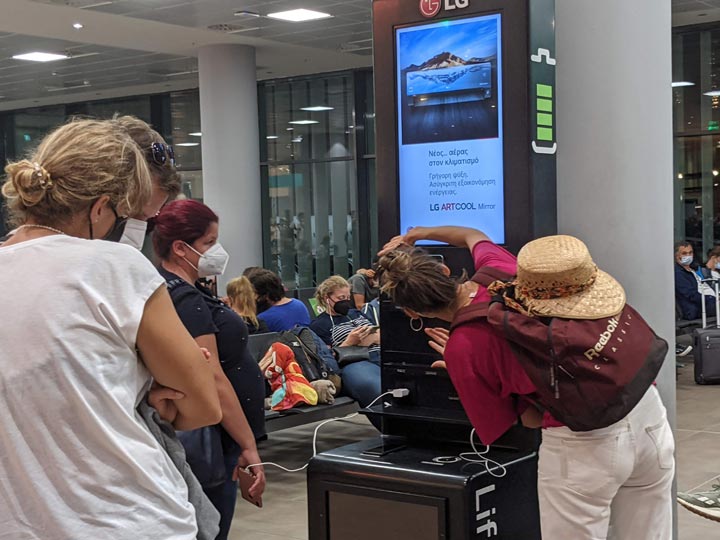 They had an LG charging station, which was at 100% capacity when we visited, with a dozen people standing around it charging their phones.
However, our hidden trick, inside Burger King (plus undoubtedly the other restaurants), we found charging points, including both main plug and USB, against the wall, so we enjoyed some food while our phones charged.
We seemed to be the only ones doing this, despite the mad rush for the LG charging station.
How Were The Toilets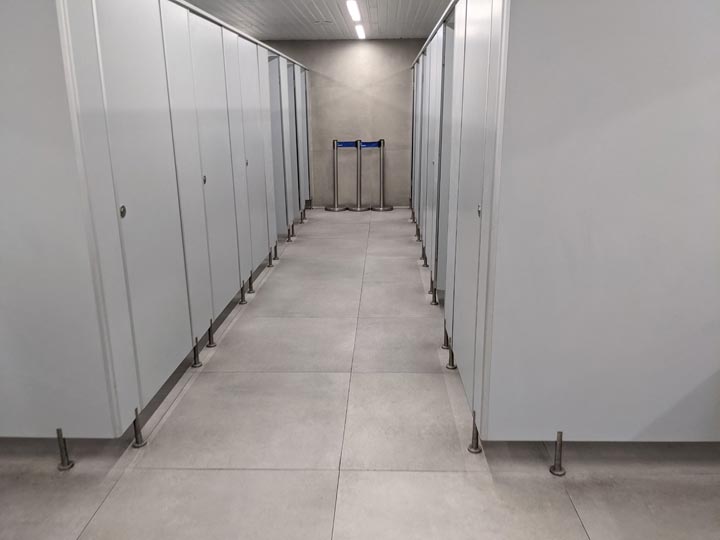 There were around ten cubicles, while they were all kept relatively clean, so I can't complain at all.
They did however have electric paper dispensers after washing your hands, but they didn't work when I had a try on them (maybe I just couldn't get the hang of it).