After spending a few days in Kyoto, we headed on to Osaka, the city of bright lights and oh so much food! There were a few clear winners and a few disappointments in Osaka, so I have only included the best highlights of Osaka so you know what you have to book.
If you haven't picked your hotel yet, make sure to opt for somewhere downtown, not too far from the Dotombori district. This means you will have a short journey to almost everything you want to see (except Universal Studios).
1) Universal Studios Japan
The first step to explain is booking your tickets, as that was a bit of a nightmare, as you have to book them in advance and they're really not as straight forward as you think. Of course, you can pay at the ticket gate on the day, but everyone recommends booking in advance to get access to certain aspects.
You pay for your studio pass, which gives you entry to the park, costing 8,600 yen per adult (or 5,600 yen for a child). However, you also really need to pay for an express pass, as otherwise you don't get access to everything, including some of the most popular spots, so this is an added cost to the pile, making it all very pricey.
The Universal Express passes basically give you access to certain sections of the park at set times of the day, to stop it overcrowding (actually a clever idea, if it wasn't purely based on increasing profitability). It also gives you queue jumps on certain rides, which is worth its weight in gold, as this drops a queue from 50 minutes to 5 minutes!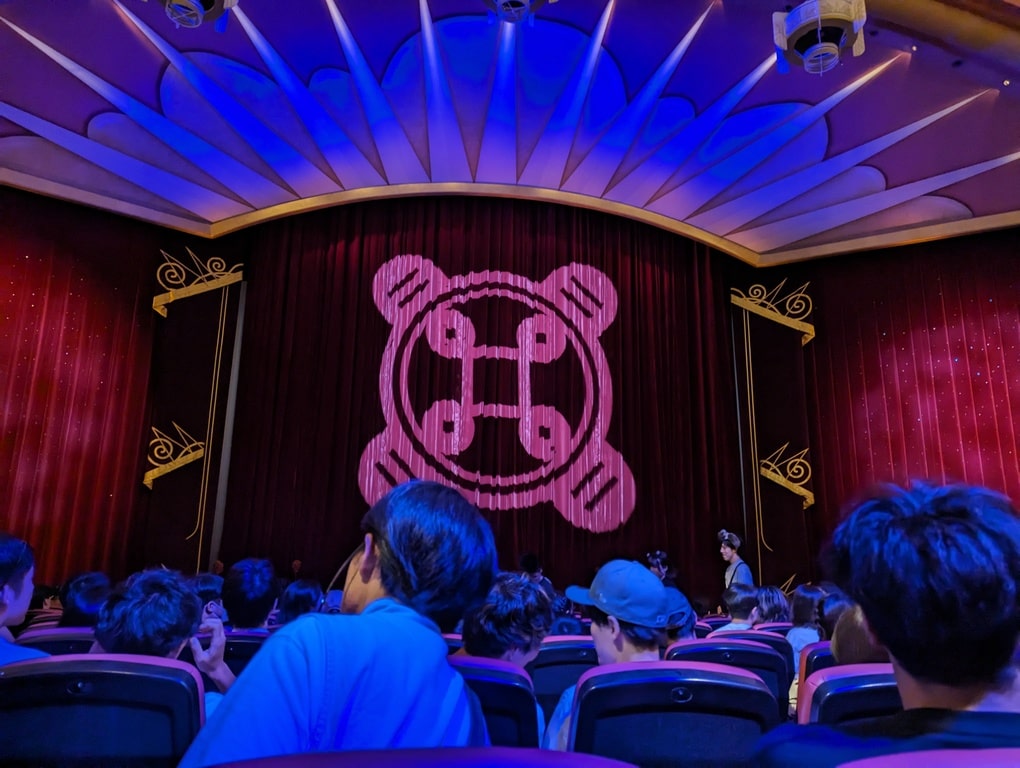 We started off with the 4D cinema, which was a little disappointing purely as it was in Japanese (obviously) with no English subtitles, so I'm not sure what we were expecting but we did get a little bored through the show. The 4D aspect also isn't great, as you expect to move around quite a bit, but it really is minimalist.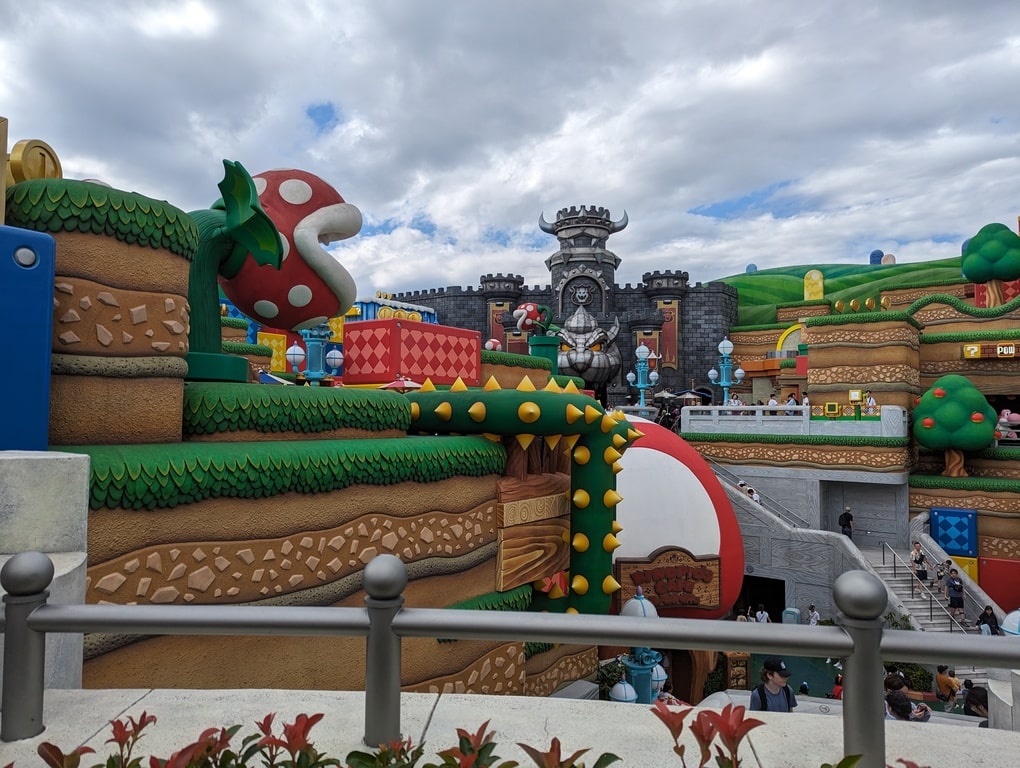 So, here comes the good and the bad….I'll start with the bad. The Nintendo World part, the main area I was excited about and wanted to visit for, was very disappointing. I mean, when you walk in it's spectacular, it takes your breath away, you're in a literal world of Nintendo with giant characters everywhere.
But the glamour quickly wears off, as it seems to be filled with 5 year olds who hog everything, so you won't get a chance to try most aspects, well, unless you have a young child with you.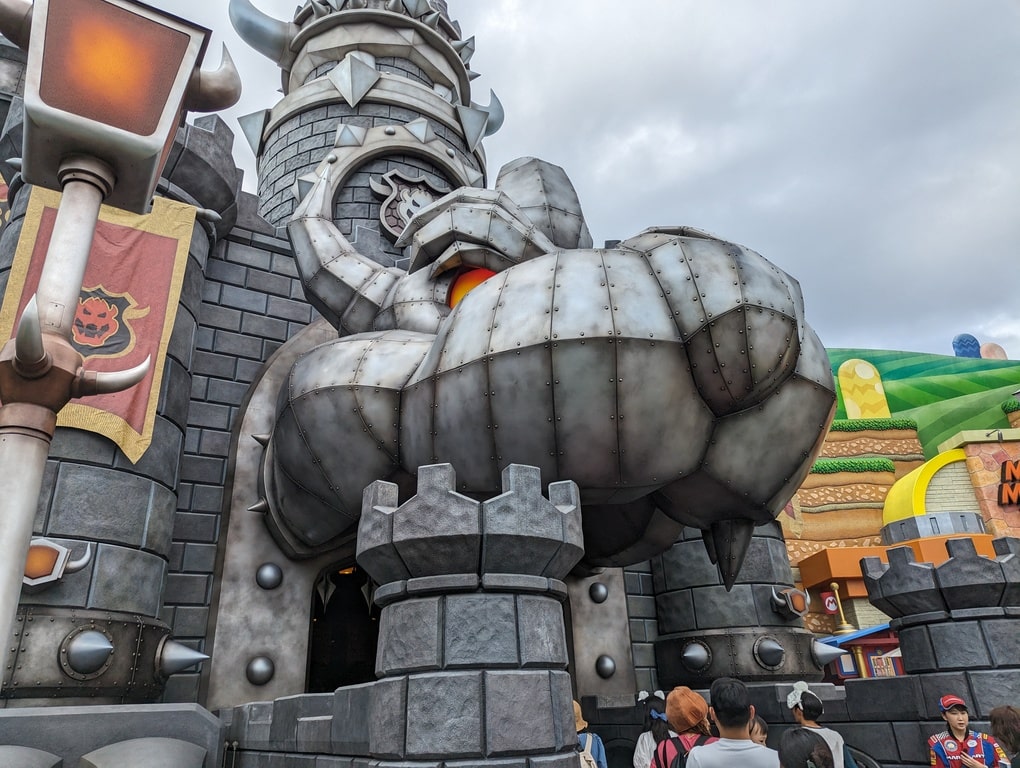 There were two rides, which were seemingly aimed at 5 year olds as well, so they certainly weren't worth the wait.
I would then talk about the brilliant Spiderman ride, which has won numerous awards for being the best ride in the world, but it is actually closing down in a couple of months to be replaced by something else after 20 years being there.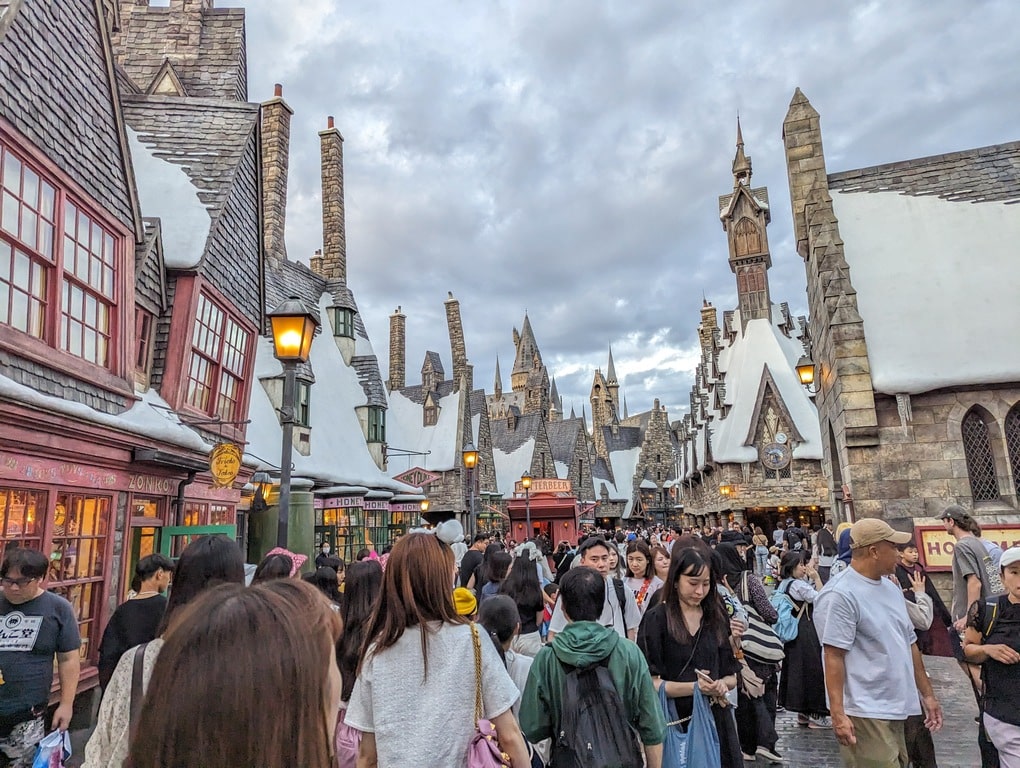 But here comes the good, the Harry Potter world! This beat my expectations comfortably. You walk into this snowy scenery which truly makes you feel like you're there, despite it being 30 degrees. They even have a huge Hogwarts building that left my jaw on the floor.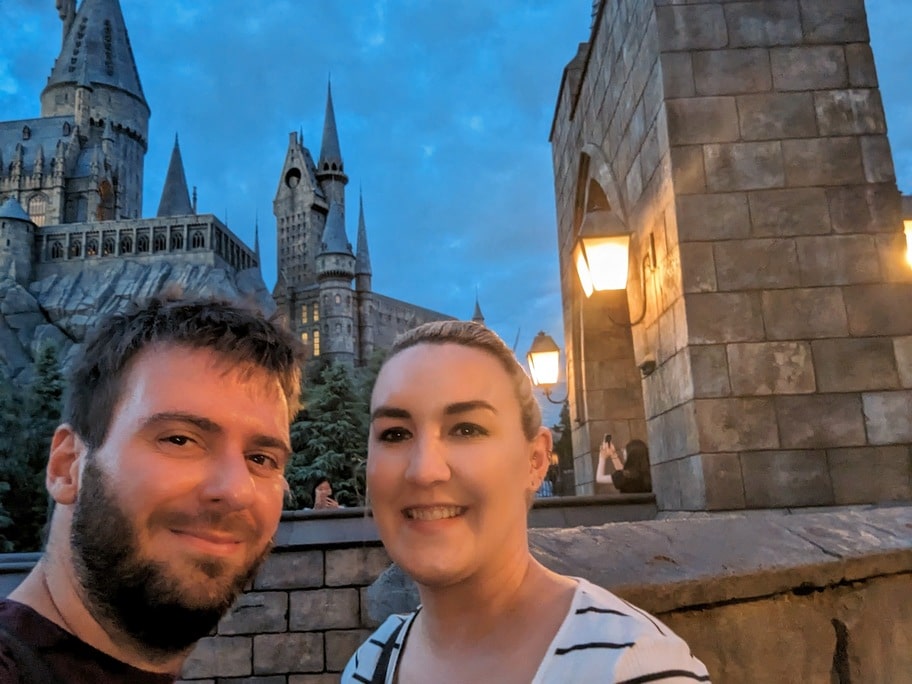 But even better, the Forbidden Journey was the best ride I've ever been on in my life! It's not intensely scary, so if you're looking for something absolutely horrific and with ten loop the loops then this isn't that. But it combines a fun ride with 4D aspects and left me and Raquel, not to mention the others next to us, giggling and smiling by the end.
We got off and went straight back into the queue, if I could I'd still be riding it now!
In the same area is the less exciting Flight of the Hippogriff, not because it's not fun, but because it lasted about 30 seconds, which makes the 40 minute wait seem a bit excessive!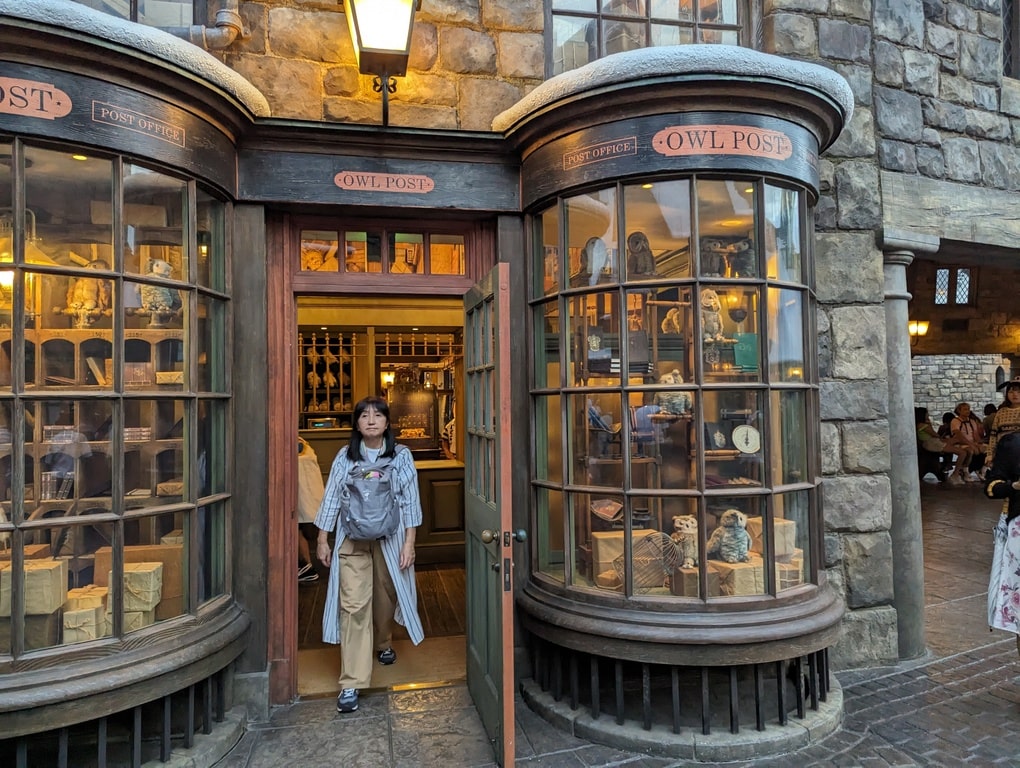 We even stopped off for a pint of butterbeer (sadly containing no alcohol), while we also watched an immersive experience where a kid got to pick out their wand and see items fly off the shelves.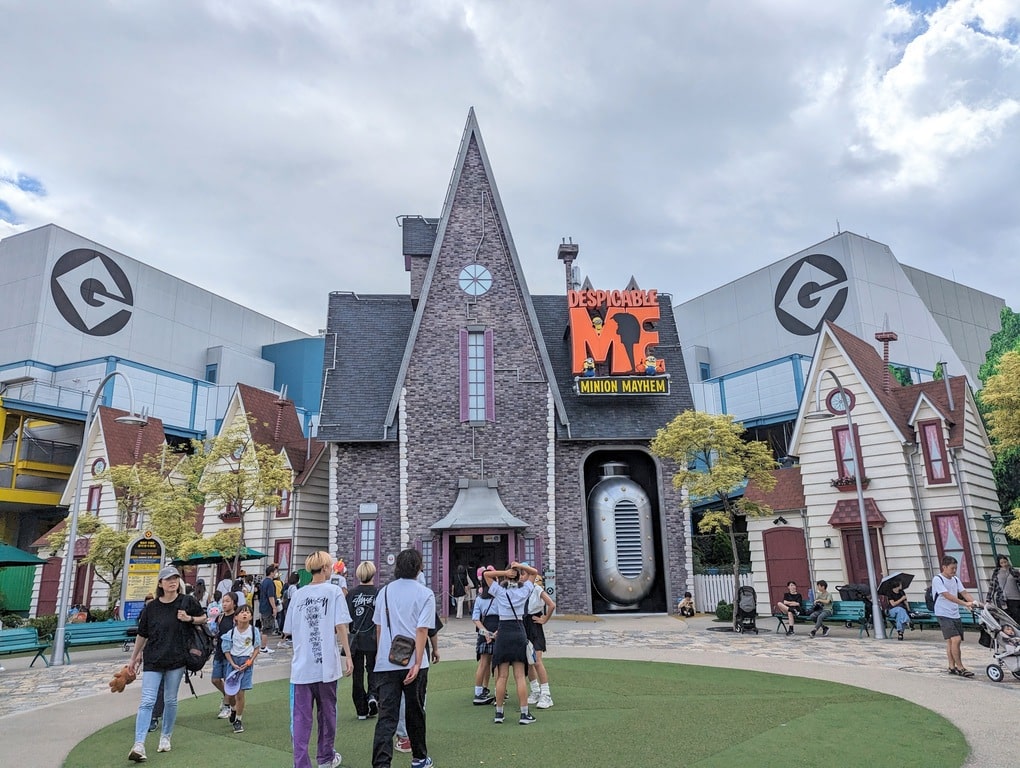 Beyond this, there is also a Minion park, which is good fun, but again aimed at a much younger audience, as well as a Jaws section, which is great entertainment even if I didn't understand the language.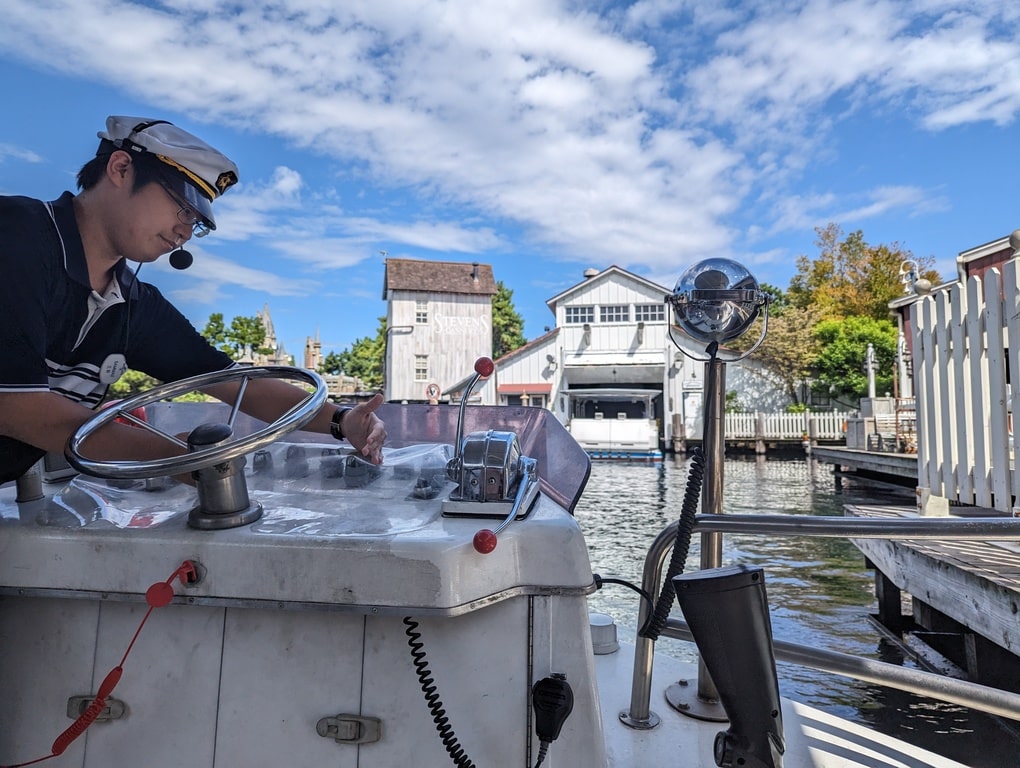 Oh, I almost forgot, the Waterworld section, here it's not multiple attractions but one big show taking place. I was initially scared I was going to see something with animal cruelty involving dolphins, but fortunately it wasn't. It was so much better than I could possibly imagine, with pyrotechnics and extreme acrobatic moves.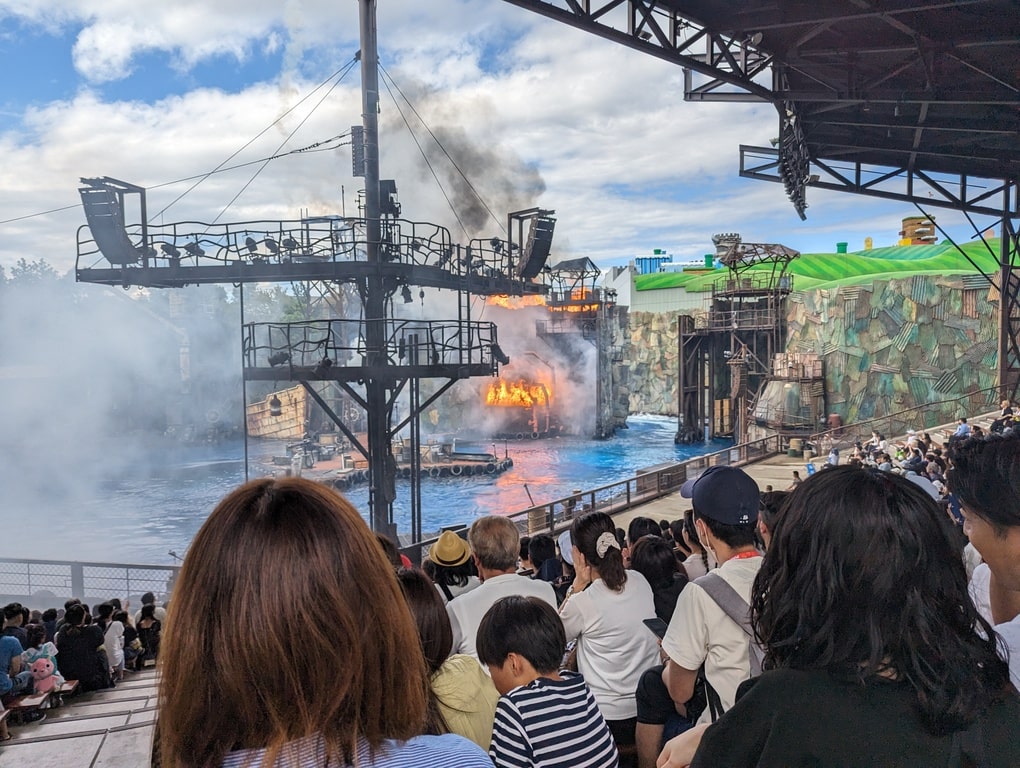 Sure, you don't understand the words being said, but you don't need to, it was so dramatic and over the top. It definitely wouldn't pass health and safety in the UK, but that's what made it so spectacular.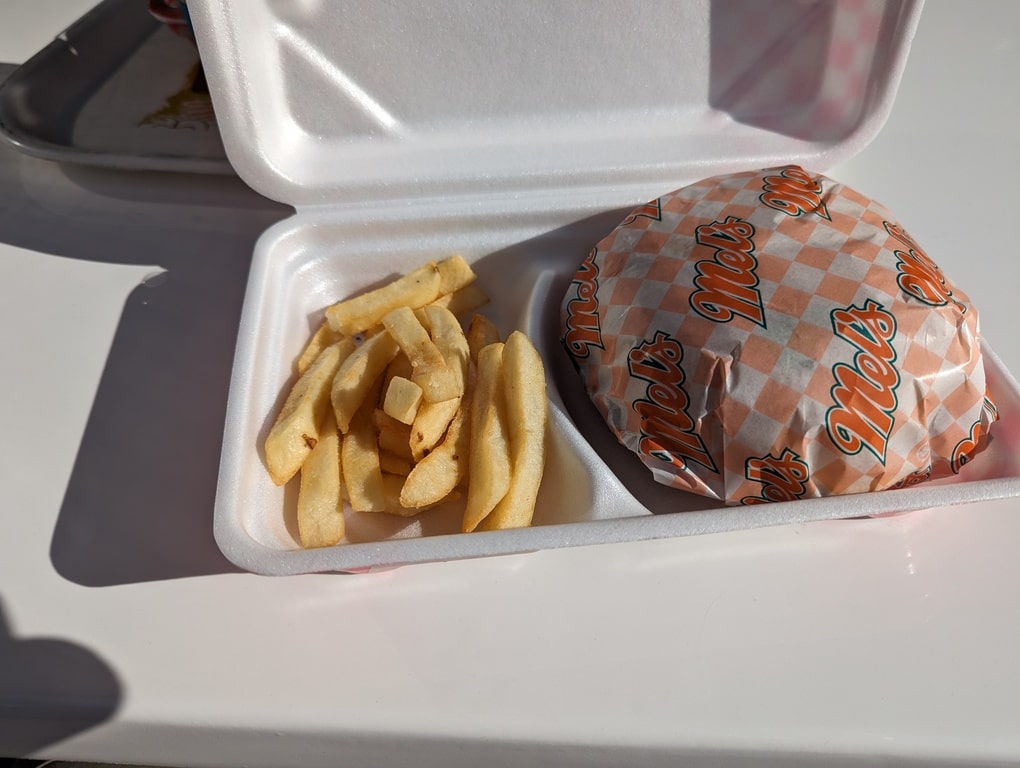 The food? Well, you can't bring food into the park which is a shame, because it was all pretty nasty. They largely just offer burger and chips, or other basic dishes, all which taste really low quality and bland. I guess I shouldn't expect much, while they're clearly catering for a largely child-based audience.
2) Explore The Dotombori District
This isn't just about finding somewhere to eat or to shop, it's more about how eye catching it all is. Every building has some form of design, whether it's a giant moving crab or a huge dragon, it was absolutely spectacular.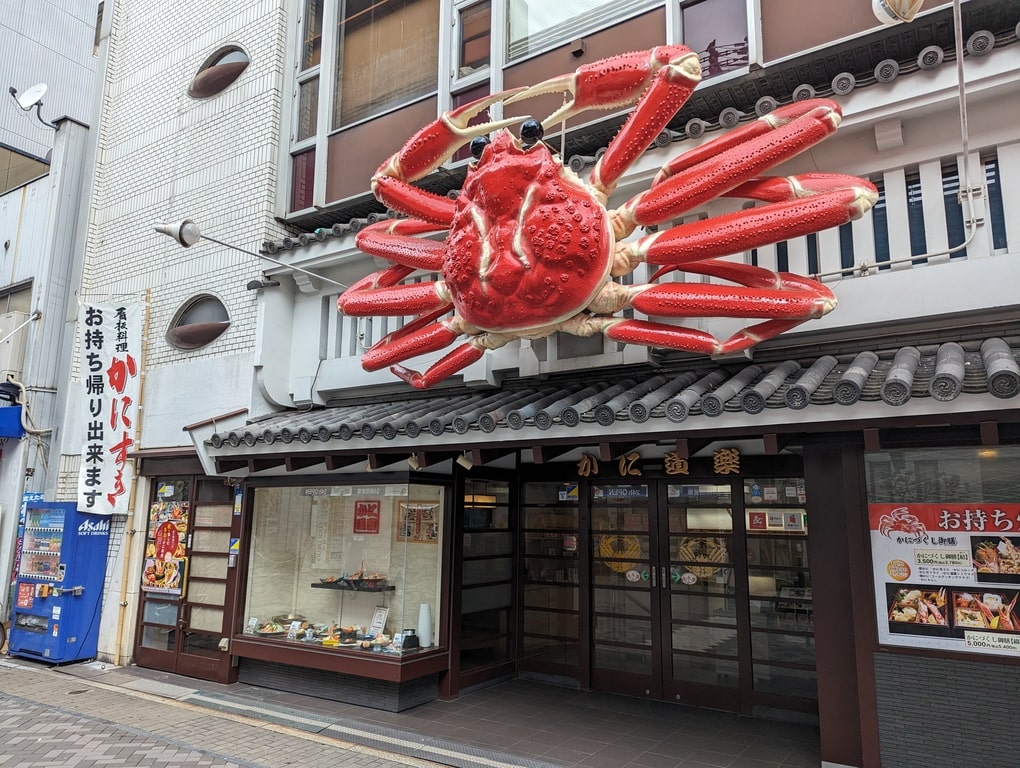 I would also recommend heading to the bridge in the evening at 1 Chome Dotonbori, Chuo Ward, Osaka, 542-0084, as you can get some great photos, as can be seen below.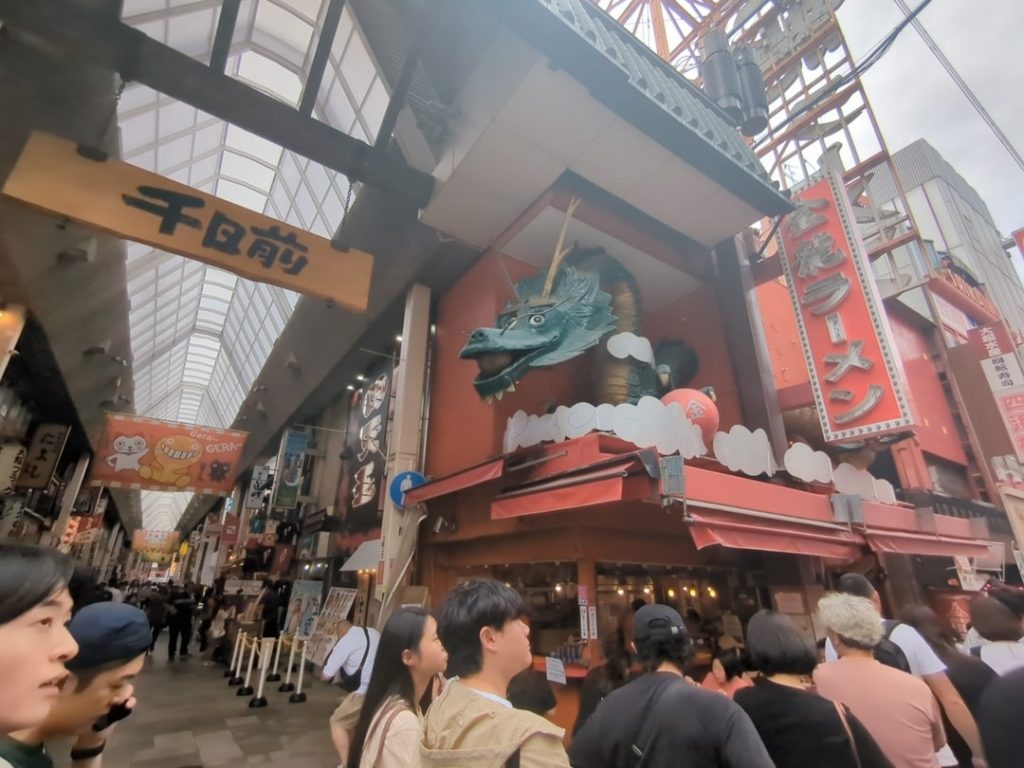 Walking around at lunch time with all the hustle and bustle, people stopping to eat everywhere, it felt so lively and exciting, this was what I was hoping to see when I had arrived in Tokyo but found it in Osaka.
If you see a queue outside a certain restaurant, that's normally a very good sign that it's a great restaurant, but you may have to wait up until an hour to go in, so I commonly went elsewhere as we didn't have time for queues with our busy schedule.
3) Enjoy Your Own Food Booth
While walking along Dontonbori, you will find a number of great places to eat, but I wanted to put forward somewhere that we absolutely loved and found by complete chance.
Ok, the restaurant name is クインソフト, but I know that might not help, so here it is on Google Maps. The address is 1 Chome-4-20 Dotonbori, Chuo Ward, Osaka, 542-0071, Japan.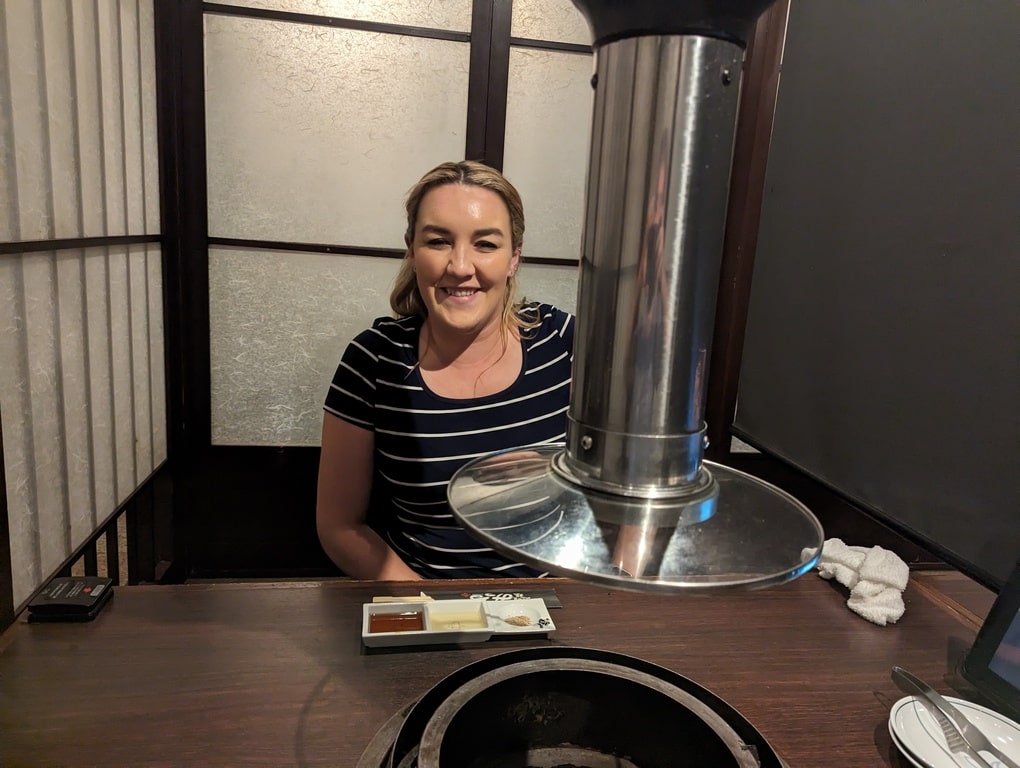 This is better suited for meat lovers if I'm honest, so you might want to skip this if you're vegetarian or vegan, they have some alternatives but not a great selection.
You're led over to your own private booth area, where you swap your shoes for slippers and they close the walling. You then don't have to worry about confusingly ordering, as they have a machine in the booth, which can switch to English, where you can order anything you like as often as you like.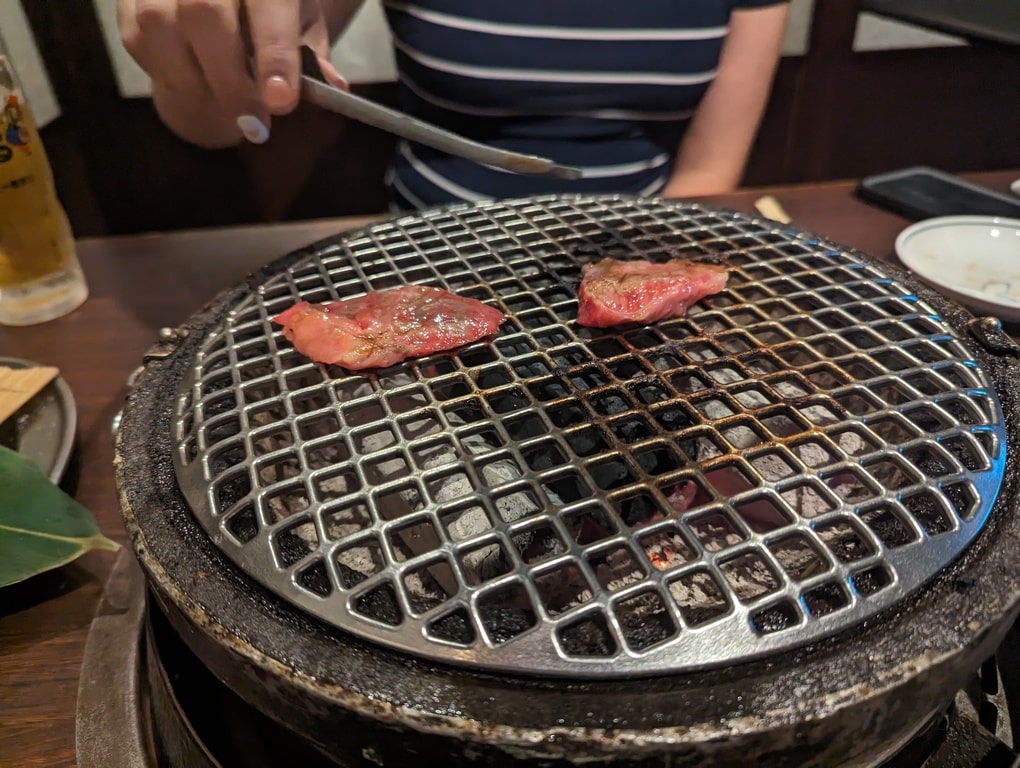 We ordered multiples cuts of beef, from sirloin to premium cuts of gorgeous wagyu beef. You are brought a heater, which goes in the middle and you then cook your own meat cuts.
Of course, if you'd prefer food cooked for you, they had a number of noodle and rice dishes, something Raquel enjoyed. But I was hooked to the high quality meat, it was some of the best I've ever had, each bite melted in my mouth.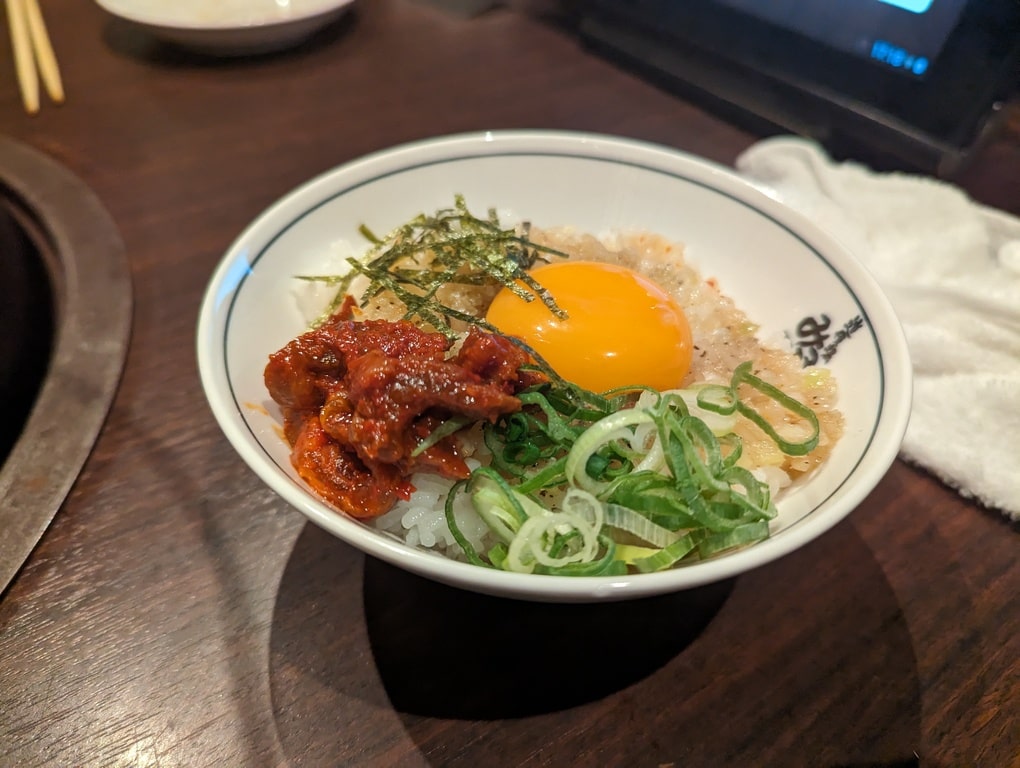 We ordered a huge amount of meat, 4 pints, a noodle and a rice dish, while it all came to £40, which seems bizarrely cheap for the quantity we ordered. Back home I dread to think what we would have paid.
4) The Glico Running Man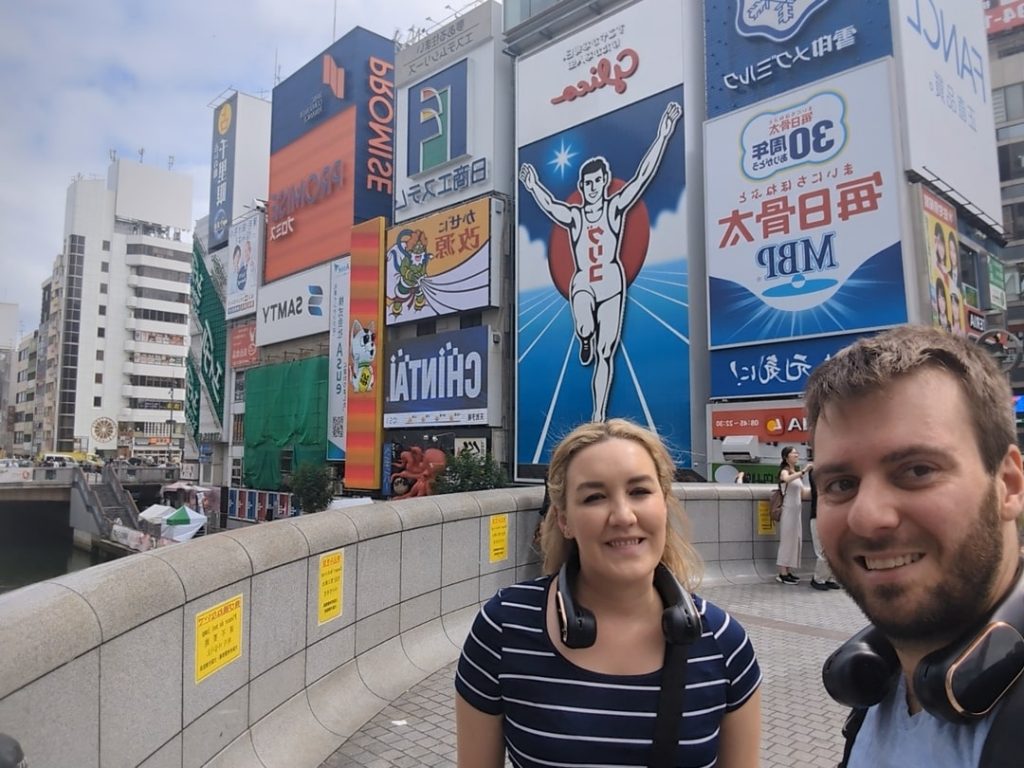 This is one of those sights that you have to tick off, but you merely need five minutes there before heading on. People are captivated by this sign, sometimes it is hard to really tell why, but once you get there you find yourself getting in the moment and you have to get some pics.
This is arguably the most famous landmark of Osaka, just as you reach the Dotombori canal. If you're already exploring the Dotombori District then this can quickly be ticked off.
If you want to get a photo without crowds then you should arrive early in the morning. Personally, I don't mind a few people in our pics, it wasn't too busy that you couldn't get a good photo despite turning up at peak times, but for that glamorous shot of just you it could be easier in the morning.
This is actually just one of many amazing signs along the canal, which I'll get into later.
5) Visit The Namba Yasaka Jinja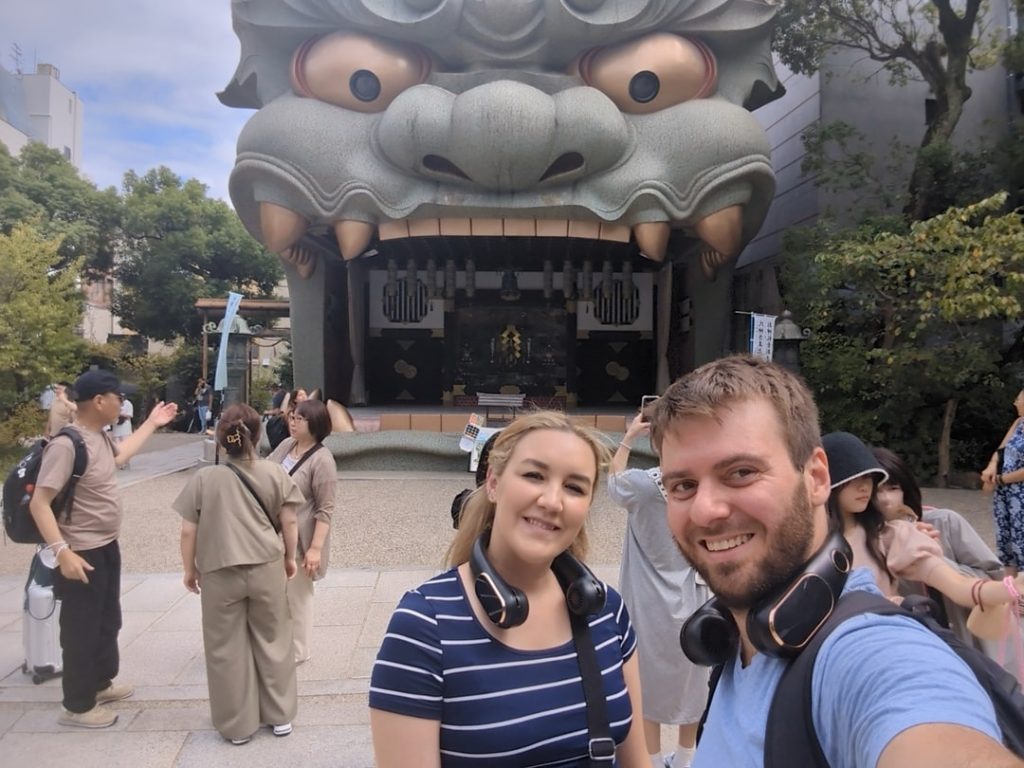 Jinja means shrine in Japanese, while this shrine is easily my favourite from our holiday in Japan, with the giant lion head and its mouth open and teeth on show. I actually thought it was a dragons head, it's only a couple of weeks later writing this up that I've learned it was a lions head!
To get there, we just had a 10-15 minute walk from the Dotombori District, which was nice as you can escape the busy crowds and see a slightly different side to Osaka, walking through a small park and passing some interesting restaurants on the way.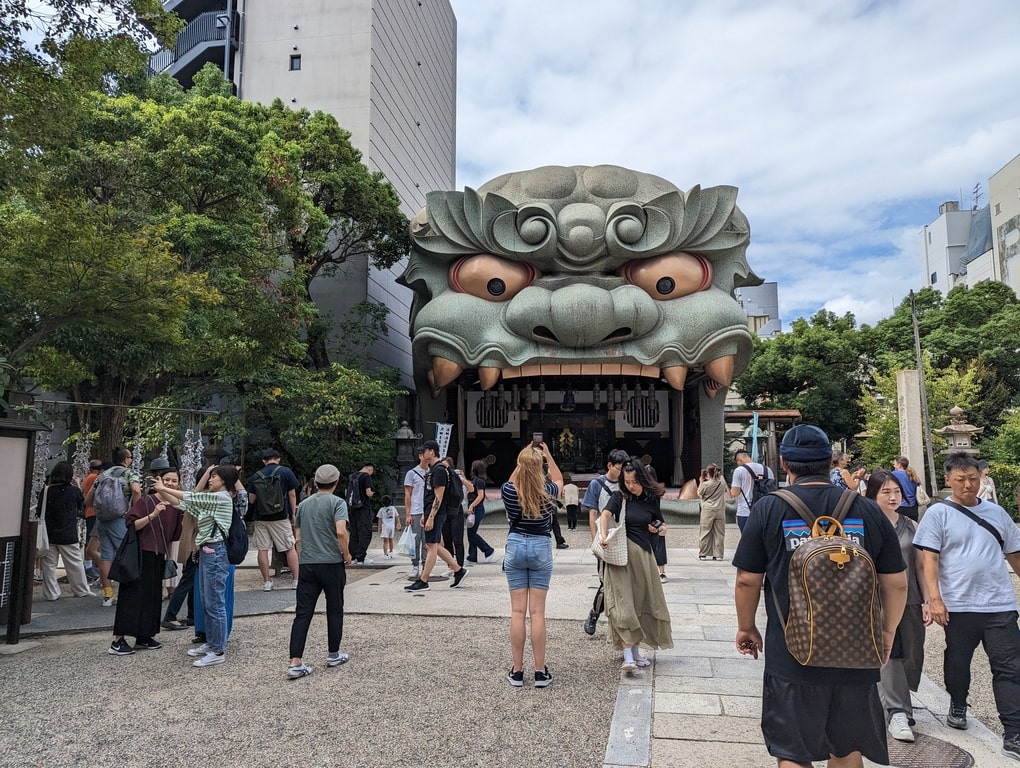 The trees around the shrine are cherry blossoms, but they weren't blooming at the time we visited, but you might just get lucky, making that incredible photo even better.
Just remember when snapping some shots, this is actually a place of worship, so you still need to be respectful and considerate to others.
Your closest station is Namba station, which was useful for a number of trips we took.
6) Try Some Cakes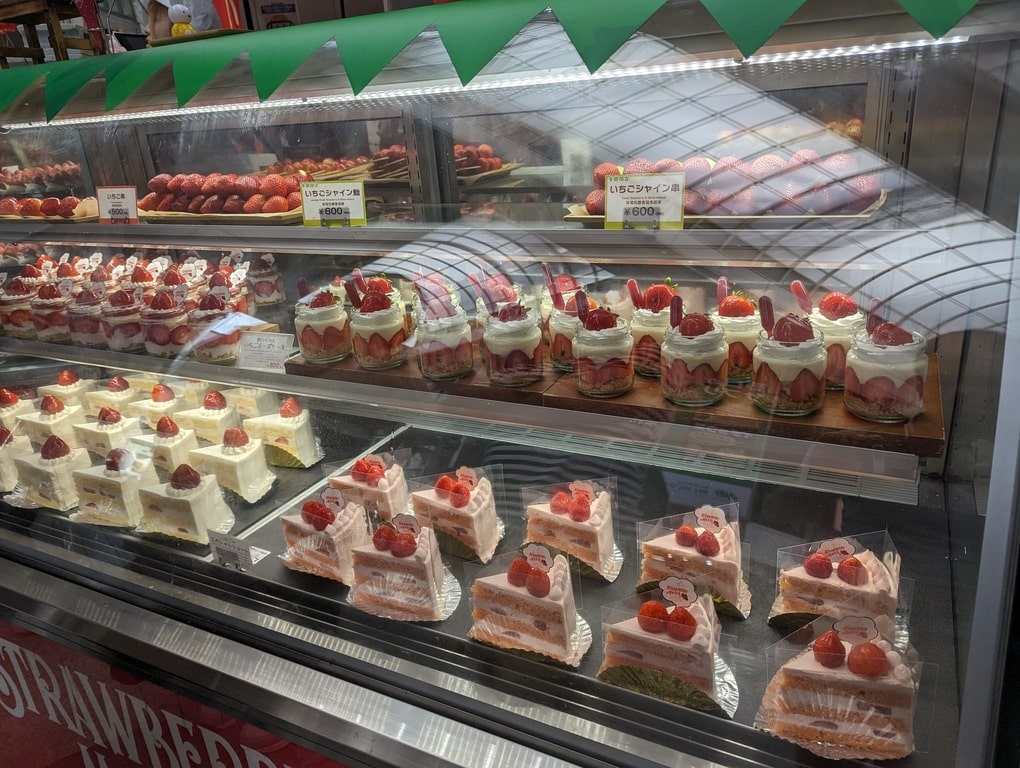 The first recommendation I have to give is the raspberry macarons in the Dotombori district. I've always loved macarons, but Raquel hasn't been so keen on them, but this was a game changer, with some jam in the middle, meaning we were actually hooked. If they weren't cream based in 30 degree heat, I would have taken a pack with me to nibble on over the next few days, but I had to settle for just a couple.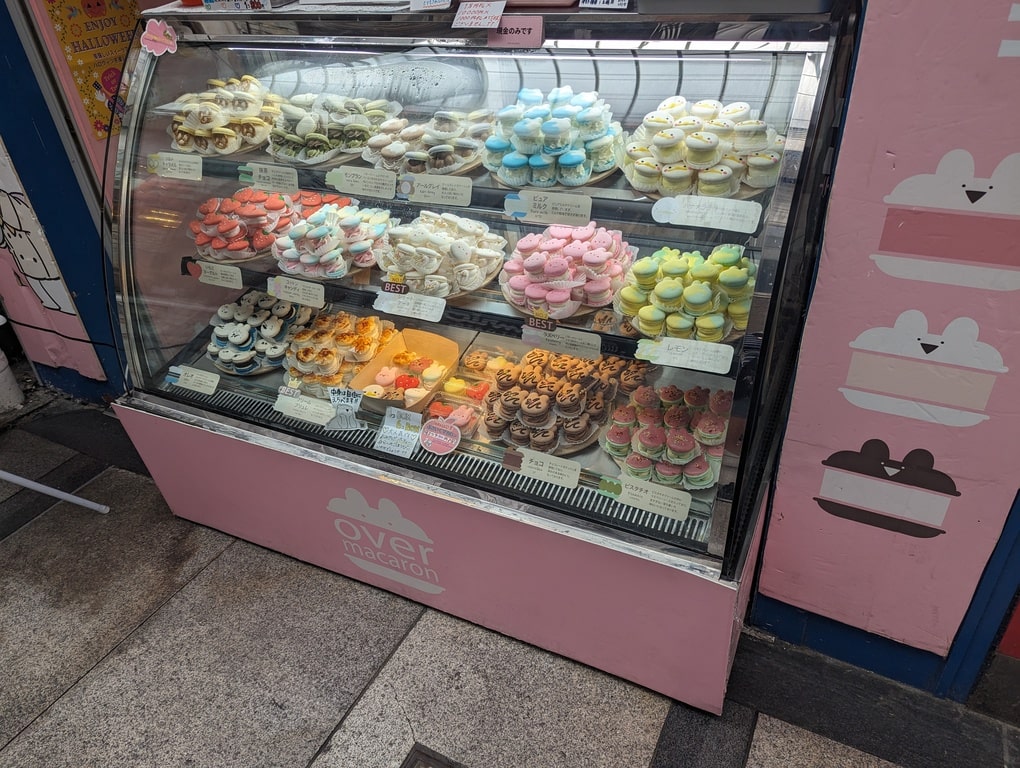 There are also multiple stores selling strawberry based desserts, with everything from sponge cakes to popcorn. They also have these famous desserts everyone goes on about, I've included a photo below but I'm not sure of the name, but the one recommendation I would provide would be to avoid the matcha flavour!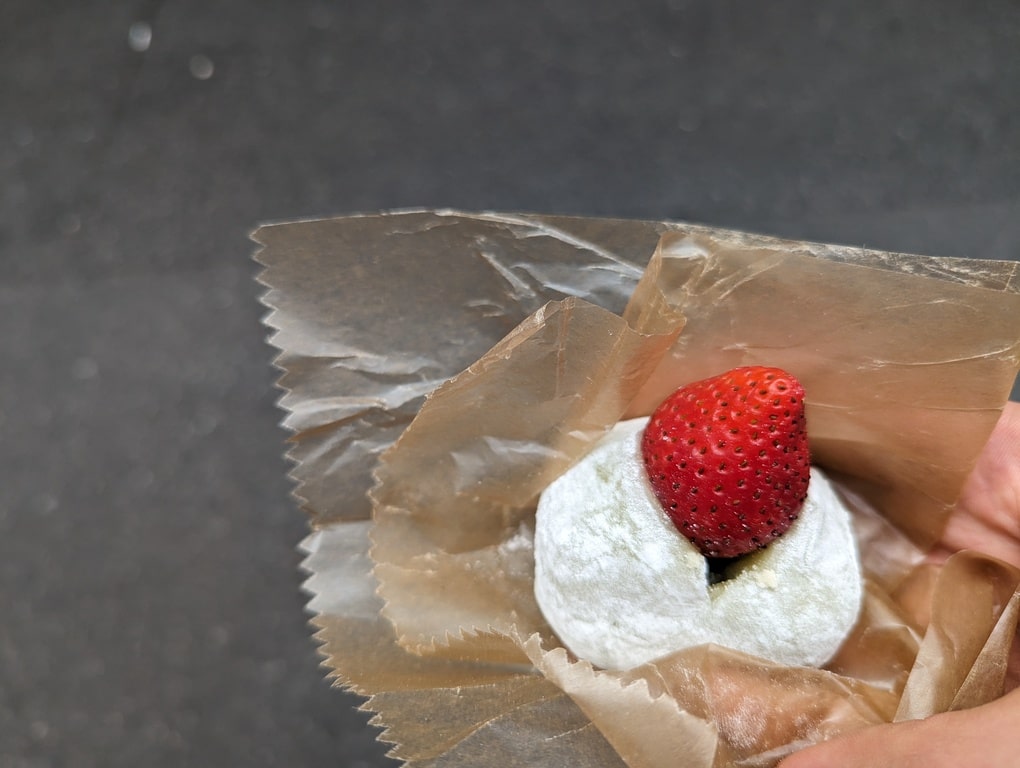 7) Walk Along The Dotombori Canal
We thought we had seen it all along the famous streets, then suddenly we got to the canal and we realised we had only just scratched the surface.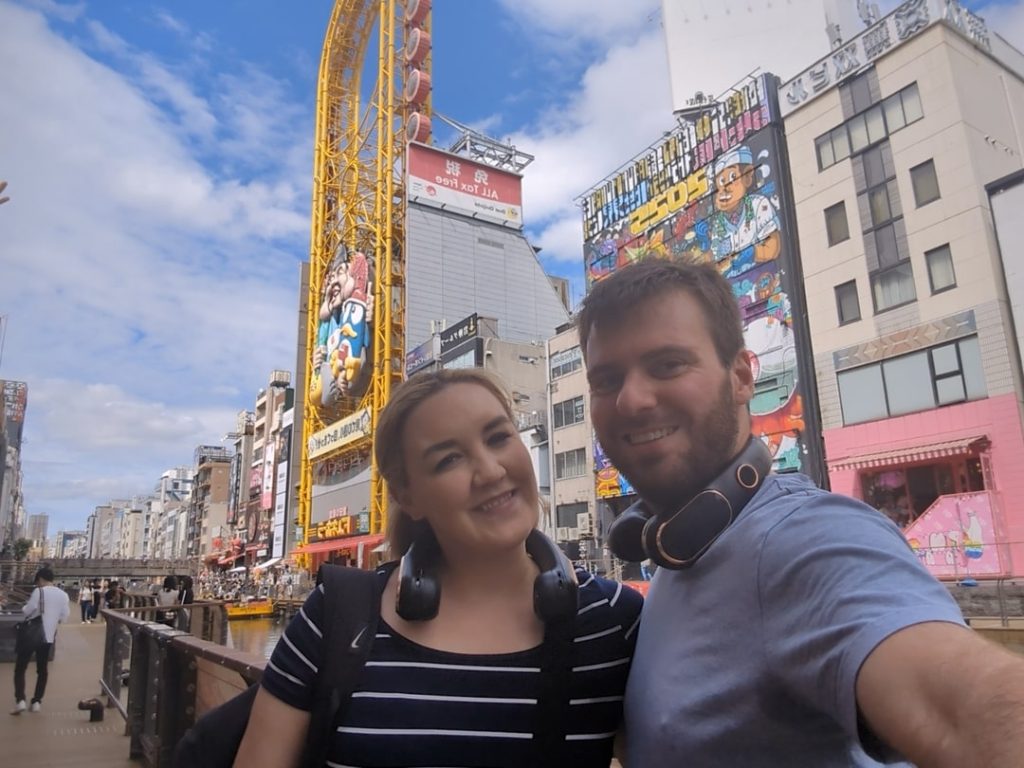 There were numerous signs outside store fronts that were implausibly large. They also had numerous animal cafes along the area, but we didn't have the best experience with this, as highlighted further on.
We also found some fun shops with plenty of souvenirs to bring home, not to mention every version of KitKat you can ever imagine. Plus, of course, there were a lot of food vendors, so you could try the 10-Yen cheese coins or the onigiri balls, whatever picks your fancy.
8) Tombori River Cruise
Ok, this is one I have to quickly admit something about, we queued up to do this but the queue was taking a bit long, so we didn't go ahead with it in the end, but I wanted to write about it as it looked great fun.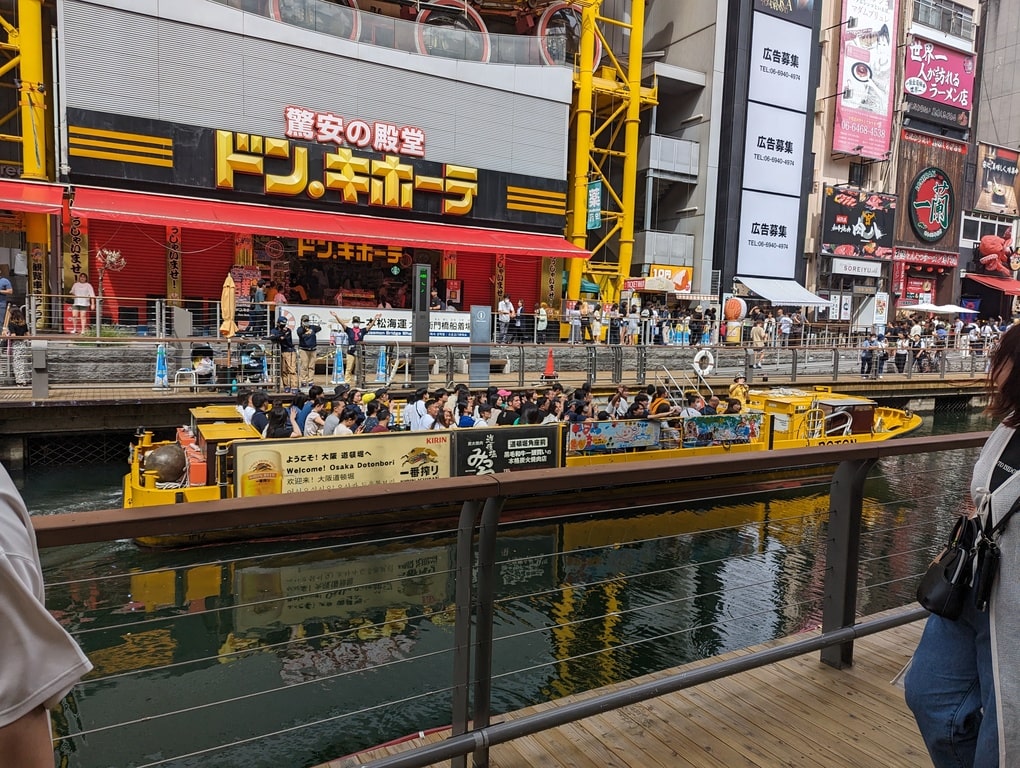 We watched the boats go along the Dotonbori canal, guiding you across the famous sights. They did really pack the people on, which might have weighed in Raquel's mind when she changed her mind part way along the queue, but I still think it looked like it would be great fun.
The boat ride lasts 20 minutes, while they pick you up from the Tazaemonbashi bridge boat dock. The price was 1,200 yen, which seems reasonable for what you're getting.
There were also some more private boat rides, which I'd maybe prefer, but I'm not sure what the cost would have been.
9) Ebisu Tower & Ferris Wheel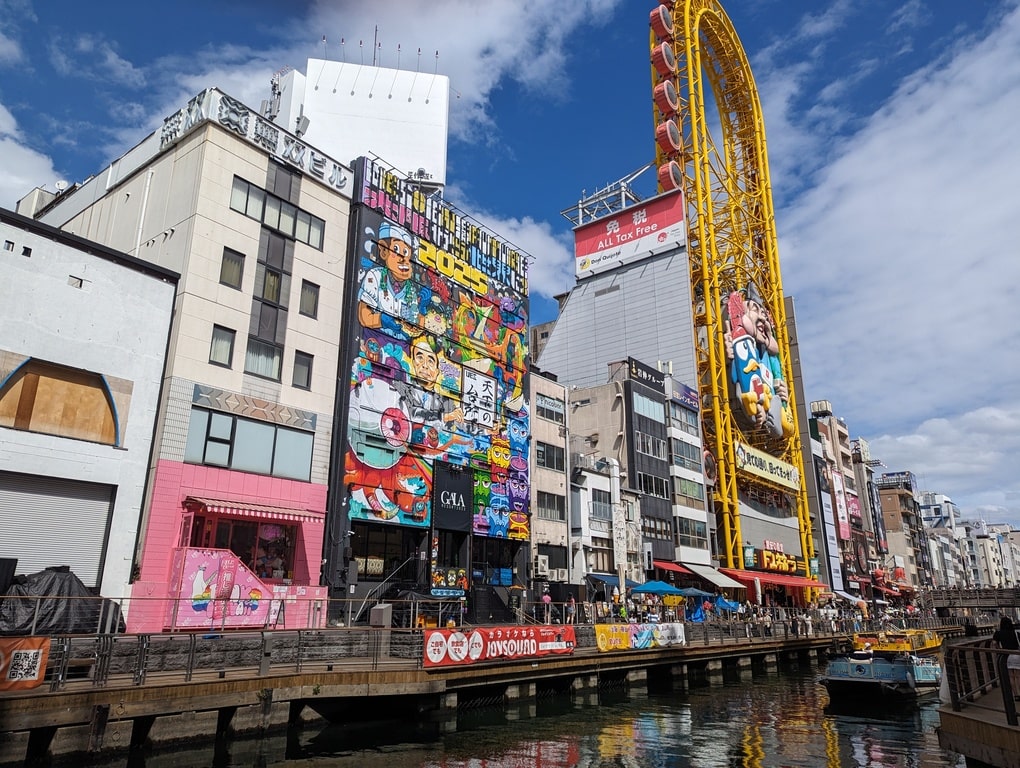 Ok, this recommendation comes as a one or the other (or both). The Ebisu Tower along the Dotonbori canal looks stunning from the outside, so you may just want to admire it from the riverside and get some pics.
Along the outskirts you will see the ferris wheel pods, which you can ride, something I was keen to do but it was closed when I got there. A lot of travel guide websites were incorrectly listing it as open from 11am to 11pm, which wasn't true. Instead, they had a break during the day, I think it ran from 11 till maybe 3pm, then they closed until 5pm, so I arrived at just the wrong time, same as many people around us who were trying to work out why it wasn't running.
However, if big rides aren't your thing, then I would still recommend visiting the building, as it's a huge store with multiple levels, containing some great items whether it's for you to snack on or as a souvenir. There was an entire floor just for chocolate bars!
They even had an entire section dedicated to Pokemon, which I couldn't help but dive into.
Hidden Gem
I wanted to highlight somewhere we at for lunch, as it was away from the main tourist spots and we loved it.
I was really keen to get some sushi, while Raquel wanted to witness the conveyer belts, so we ended up going to Kura Sushi. Sure, there were places closer to where we were, but this one had the belt so we travelled a bit further.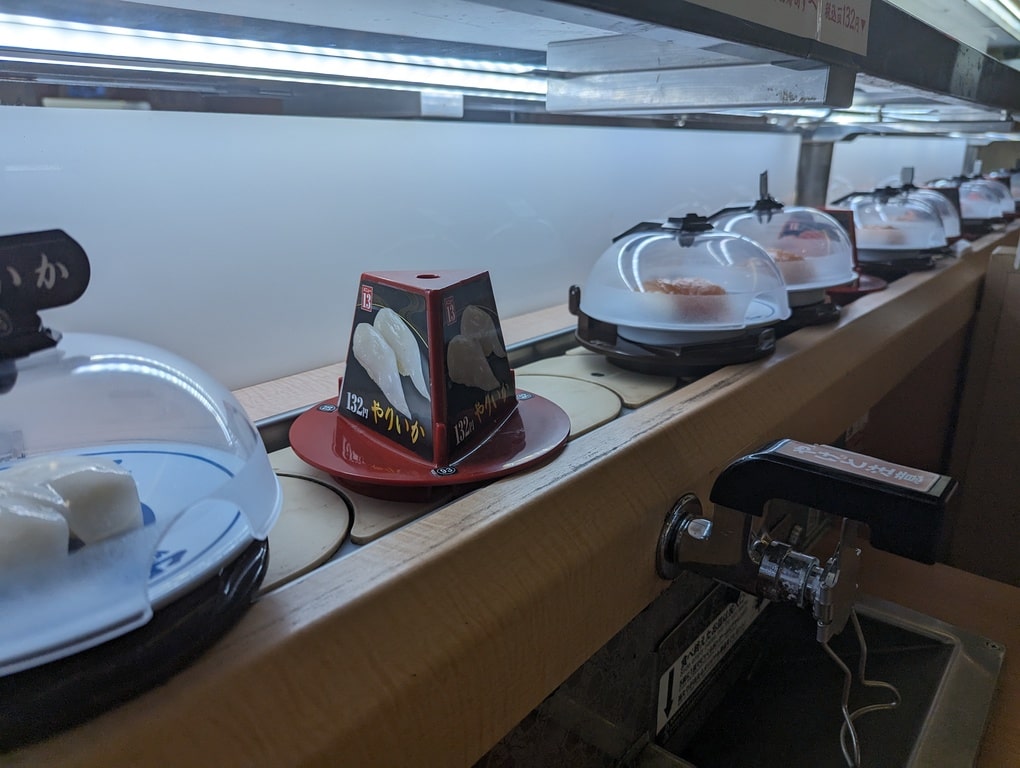 When we got there, it was impossible to initially find, as it was on the second floor and had a side stair entrance, so unless you were directly looking for it, you wouldn't know it was there.
You head in and go over to a machine to get given a ticket with a table number. We had table 17 so we headed on over, while we found a machine at the table which we could easily order from. This meant we could order as much as we like and as often as we liked, making loads of fun experiments.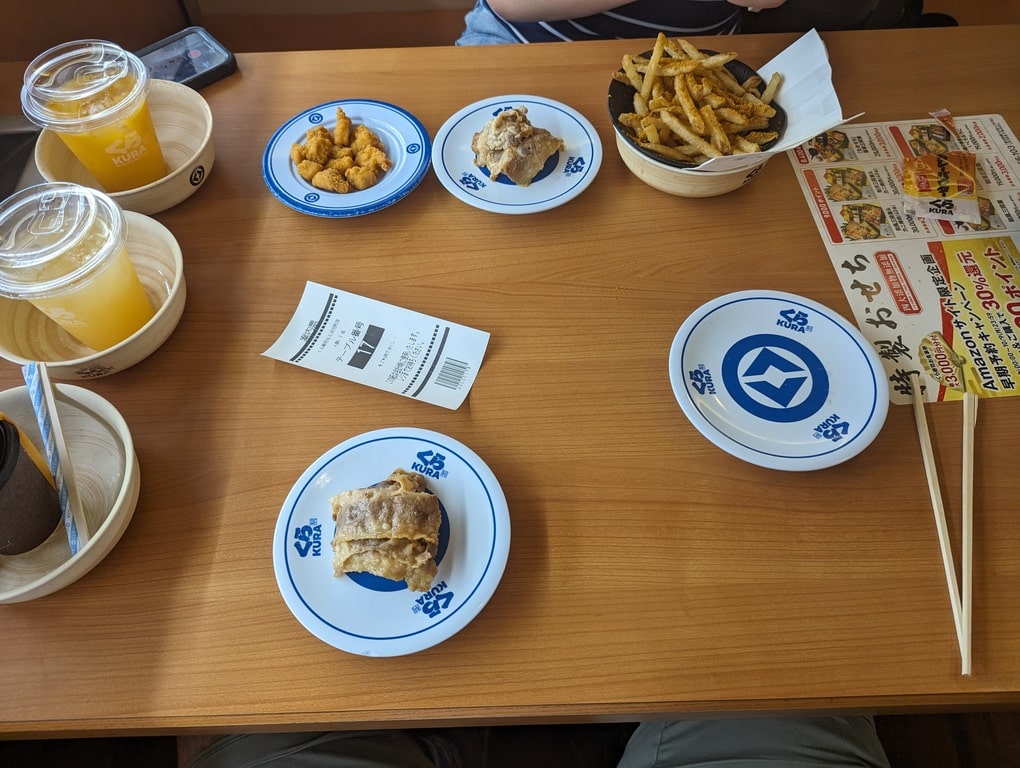 You can just grab a plate from the conveyer belt, but it's easier ordering from the machine. The item is then brought over on a higher level of the conveyer belt, with the machine beeping to let us know our order is coming in.
At the end, you put the plates in a whole on the table, which counts the plates on the machine, before 'checking out'. You then take over your receipt to a machine, which reads the code and lets you know how much you owe.
We ordered copious amounts of food for us both, as well as 4 different drinks and the total price was £8…I thought there was some mistake initially. £8! That's the best price I've ever witnessed in a restaurant.
What To Avoid
We decided to visit the Mama Shiba dog cafe, not something we had on our itinerary, but we passed the front and decided to pop in, next thing we knew we had paid and had a time scheduled. You book it on the second floor and it all takes place on the fourth floor of the same building, but they're often quite busy so we were booked in for an hour later. They also have a cat cafe on the third floor.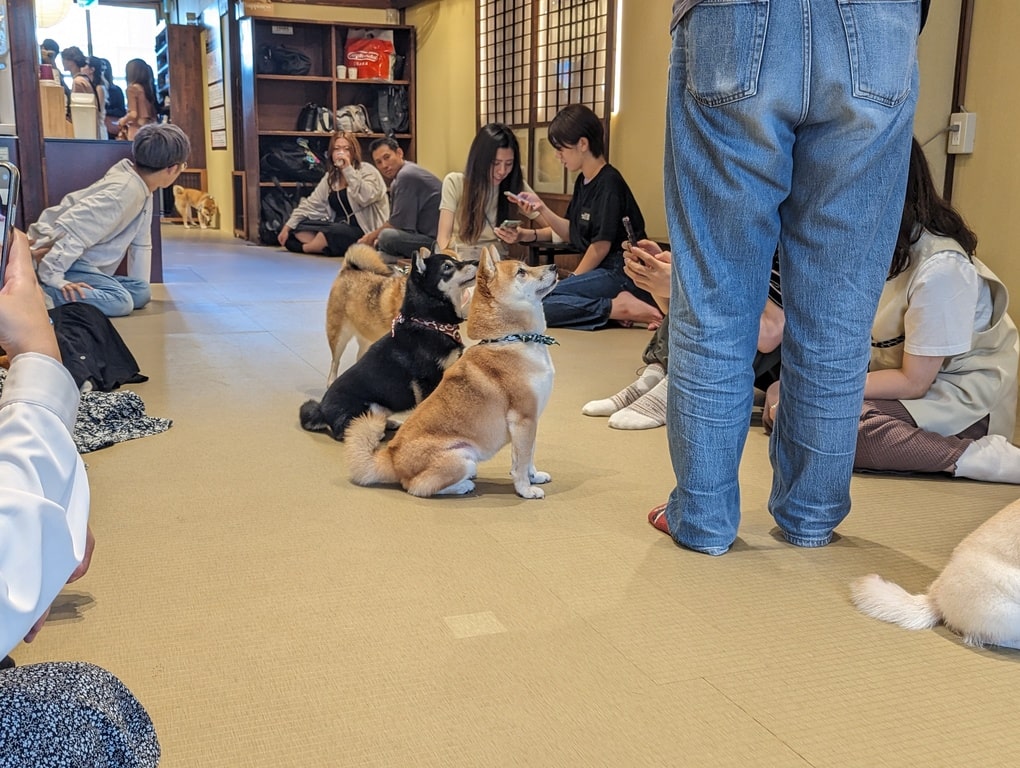 Once you go in, there are about 15 people sat around the long room, with various dogs wandering about.
They tell you not to pick up the dogs, but to wait patiently for them to come over. The reality however is that the dogs aren't interested at all in the constant visitors, they're only interested in the people that work there with the treats.
You get 30 minutes with your booking, but after about 5 minutes of staring at a couple of dogs from afar, it became obvious to us both how ludicrous this was. We have a dog at home and hang out with dogs as much as possible, but these were dogs that just wanted to keep away from people and were irritated when you stroked them.
I found myself counting the seconds until this ended, I never thought I would say that about anything dog related, but it was abysmal.