Bungee jumping may not have been invented in New Zealand, however they certainly brought it to fame, with some great spots to jump off. The nation is a centre for extreme sports, however there are other good locations around the world for bungee jumping, therefore I have tried to list all of the locations I feel would get my heart pulsating the most.
Royal Gorge Suspension Bridge, USA
Possibly the most popular location for bungee jumping in the USA, the Royal Gorge Bridge stands over the Arkansas river. You will be jumping 321 metres high up off a terrain that looks similar to the Grand Canyon, with breathtaking views.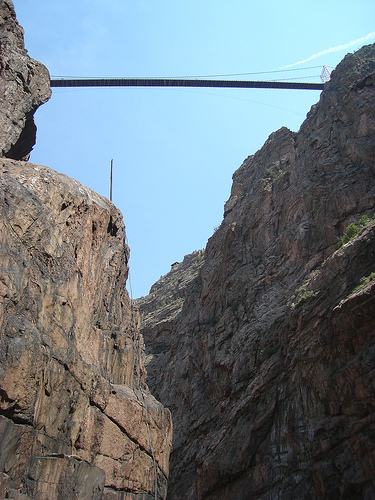 Kawerau Suspension Bridge, New Zealand
This was the first commercial bungee site in the entire world, however it is now surrounded by other locations for bungee jumping in Queenstown. This one isn't exactly the most extreme at 43 metres high, therefore if you are a full on adrenaline junkie, it would be worth trying out a few others, however this is a good stepping stone one (if that exists in the bungee jumping world), while the historic importance holds its ground.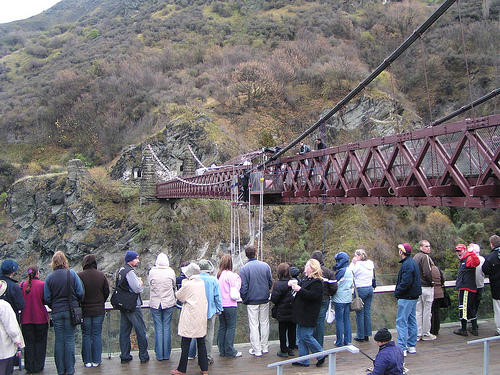 Bloukrans Bridge, South Africa
South Africa has everything, from shark diving to cheetah sanctuaries and they weren't going to disappoint when it came to bungee jumping either. The jump is 216 metres high and the bridges only purpose is as a commercial bungee jumping spot, therefore it has made it into the Guinness World Records as the highest commercial jump in the world. Enjoy the exquisite views, before you take the plunge, as there aren't many greater views you will have in your life.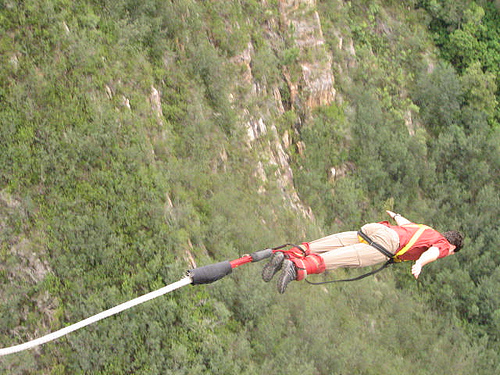 Verzasca Dam, Switzerland
Think of scenes of Pierce Brosnan in Goldeneye, jumping off the Verzasca Dam and you will have a good idea of the experience you will have. If you are interested in making this jump, you will need to reserve your place way in advance, so do this before booking your flights over. Not to mention, you will also have to ensure you are the proper weight and height as well as medically fit (it's not for the weak of heart).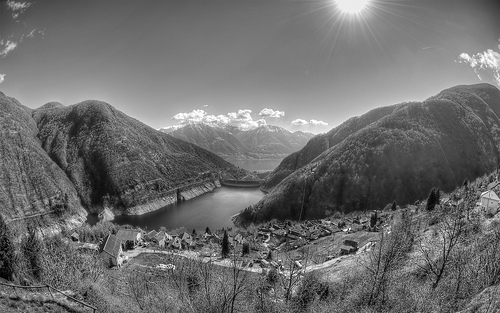 Victoria Falls Bridge, Zimbabwe/Zambia
This one is my FAVOURITE on the list, as you bungee jump right next to Victoria Waterfalls, easily the best view of them all. This comines two items on my list as bungee jumping and washing under a waterfall, as you will be completely sprayed by the waterfall in a wet and wild experience.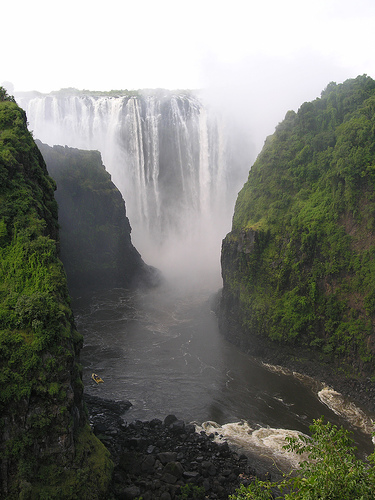 Macau Tower, China
If you have some friends who aren't so keen on jumping, they can chill out in the Macau Tower and look out over the Pearl River Delta. This one stands out to me as you will be jumping from a tower rather than a bridge, which I feel should offer a completely different experience, as you have the scary feeling of potentially smashing into the tower, which you simply couldn't get from jumping off a bridge. The one downside to visiting Macau is that there isn't much else to do other than gamble in the casino's, therefore this is probably only one to visit if you happen to be in China and craving the feeling of jumping off a high tower.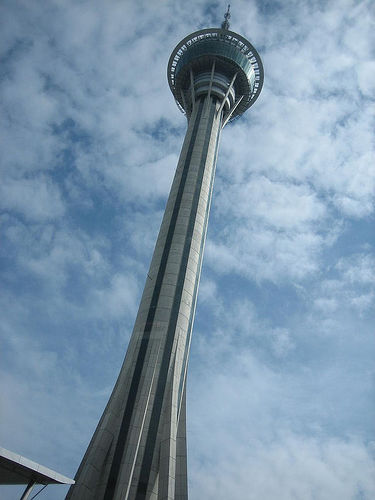 Europabrucke Bridge, Austria
The views of the Alps make this one a definite for the list, as you can stare in wonder before you jump into insanity. Placed on the bridge that connects Austria with Italy, you could also cross the border for a pizza lunch, if you can handle lunch after jumping off a 192 metre high bridge.
The Last Resort, Nepal
Brilliantly named 'The Last Resort', the jump over the Bhote Kosi River is perfect due to the natural feel of the tropical gorge surrounding you, which certainly beats staring at rocks as you descend downwards. Nepal is often an area left off the travelling ticklist, however with such a good jump site and of course the greatest mountain in the world, I can't see why you would leave it out.
Graskop Gorge, South Africa
I am naturally attracted to the idea of bungee jumping near a waterfall, therefore this is another one which I may be biased on, however you can jump with a perfect view of the Graskop Falls, with the gorge itself quite an eyeful. This isn't the highest jump you could make, however you will be offered the choice of either the 60 metre jump or the 80 metre jump. Whichever one you pick, you will undoubtedly enjoy the experience (unless you're a wuss like me).
Ponte Colossus, Italy
Standing at 152 metres high, this is the final jumping spot on my list, due to its natural beauty, while I also quite liked the appearance of the slender bridge, compared to some of the other chunky ones. The jump should cost you just under £100, while the bridge attracts approximately 2,000 daredevils each year. Italy has so much to offer, so you could spend a week skiing, relaxing on beaches, visiting the Colloseum, relaxing in a Gondola and finishing it with a bungee jump from Ponte Colossus.