More and more people are visiting Singapore as South East Asia has become the number one spot for travellers, recent graduates and adventure seekers. Singapore contrasts considerably when compared to other places in Asia, however there are still distinctive similarities, such as food or certain cultural lifestyles. If you are visiting Singapore any time soon, this list of things to do in Singapore should be really helpful.
1. Ride On The Singapore Flyer
The Singapore equivalent of the London Eye, This huge Ferris wheel will offer you a beautiful view of the magnificent skyline, while if you arrive about 6:15-6:30pm, you should be able to catch sunset perfectly! Ask a local for the best time and how long you may have to wait till you get a ride to time it perfectly, however it really does offer a great view of Marina Bay et al. Random facts: This is actually the second tallest Ferris wheel in operation, measuring at 541 ft.
Creative Commons image by Ecperez
2. Gardens By The Bay
You can't miss this one! With two giant conservatories made of glass and a supertree Grove, this is a cutting edge lights show, illustrating the combination of technology and natural beauty present in this stunning country. It is hard to explain how this appears, hence the image below helping to offer exactly what you will see, but expect a forest of lit up light bulb trees, showing multiple colours bursting out from its seams, surrounding some tropical plantation.

3. Singapore Zoo
I'm an animal lover and do enjoy seeing a bit of wildlife when away. Whether swimming with dolphins, helping out at an animal shelter or riding an elephant, I will always look to involve animals in some kind of activity while on holiday and you can certainly do so in Singapore. This zoo has very much an open enclosure, allowing you to get up and close with all of your favourite animals. Do try to time your visit so you don't visit during school holidays or the busiest summer months, or even weekends, as some of the main attractions will have kids galore surrounding the animals, meaning it will be difficult to get close and even harder to get a photo without people jumping in your way. Visit the Giant Pandas if you get the chance! Right next door to this is the Night Safari, I could easily place this as a separate activity, but as its next door, you might as well do both of these in one day, therefore I have grouped them together.
creative commons image by Gaelen
4. Get A Photo Of Yourself In Front Of Merlion
This might seem a bit cliche, but this skyline has an image which will remind you of New York. The Skyline has a perfect view when you are standing right next to the Merlion statue, of a lion spitting water (spitting water probably isn't the most beautiful way to describe this monument but its the best way I can think of at the moment). This one you can squeeze in on the first day when ticking off the touristy activities. It won't stay long in the memory, but the photos will and this is one you will show off or place as your Facebook profile photo, so try not to leave it out.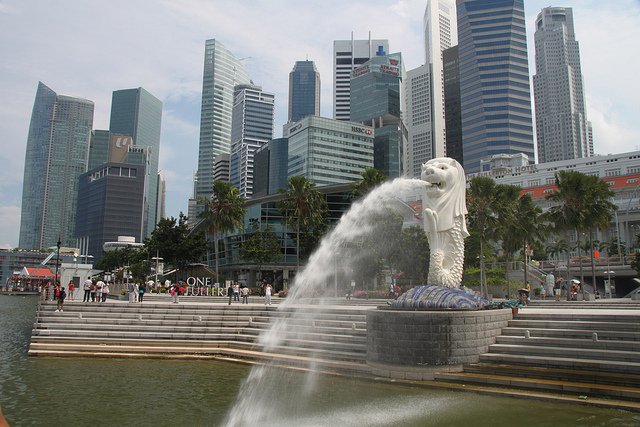 creative commons image by Yutaka Tsutano
5. Hawker Food
I am well and truly addicted to Asian food, while Singapore proudly offers everything from Indian to Thai food, as well as local delicacies. The Hawker Food market has become world renowned for its wide selection of choices, all at an unbelievably great price. A key recommendation is to get here as early as possible as it will get very busy at Amoy Street Hawker Center, which you will find at Tanjong Pagar. An extra recommendation to avoid the masses is to come on a weekday and visit before midday.
6. Visit The Botanic Garden
I found one of the best surprises when visiting Amsterdam was how amazing some of the parks were, much the same with Croatia. Many have also pointed out the botanic gardens of Singapore to have that same impact. Make yourself a picnic, pack some fun games and a book and head straight over there. Take a stroll through the rainforest, watch the swans on the lake and try to identify the local plants while having a kick about with the local kids, that sounds like a good way to spend a day off.
7. Little India
Everyone goes on about Chinatown in Singapore and to be honest it should probably be on this list, however I opted for Little India due to my love of everything Indian. The gorgeous aroma of spices will entice you in the general direction of Little India before you've got anywhere near. Indian music will be blaring out of every building, with a number of shrines and great tasting restaurants, this is another place to tick off in regards to food.