I will be heading abroad in a months time, so I thought I would focus the next month on places more close to home. My first Brighton based summer article for 2014 is on our beloved Royal Pavilion Tavern, of PavTav as we all know it, based on the end of North Street.
This bar has a 'rock' heritage, as it was the location we all used to go if you wanted to listen to rock music while I was at university, however it changed ownership and style in around 2012, where it adjusted its theme to a more commercial feel. Before anyone asks, I am in no way associated with PavTav, nor have I been paid or offered anything for this review, this is just a general tip and review based on a local bar as I have a strong passion for Brighton.
Food
They serve food much like what you would find in Wetherspoons, with similar quality and taste. The beer and burger deal is quite a good offer, while they also do daily deals. If you have kids on you, Monday is the best option for you as kids eat for only a pound! On Tuesday's you can get 2 for 1 on desserts, not the worst deal but I don't plan on buying a dessert from there anyway, so might not appeal to all. On Wednesday's they have a deal on chicken, I've never tried this deal so your guess is as good as mine. Thursday the deals are on grilled food, while Friday's special is fish. Saturday is pretty good as you can get a free starter or dessert with your meal, while Sunday is truly the winner as you can get a reasonably priced roast dinner. It isn't the best I've had by a long stretch of the imagination (it had no sausages, parsnips, apple sauce or plenty of other favourite parts for me, however the roast potatoes were pretty good and it was a great meal to eat in front of the football with a brilliant atmosphere.
Over 20 of the meal deals include a drink provided, which will include draught pints, bottles of beer, spirits & mixers, a glass of wine, a soft drink (in a ridiculously small glass) or a coffee/tea.
If you are a vegatarian then the sweet potato and bean burger tastes absolutely scrumptious to me!
Opening Times:
Monday to Thursday:
11am – 1am
Friday to Saturday:
11am – 2am
Sunday:
Noon – 1am
Drink Prices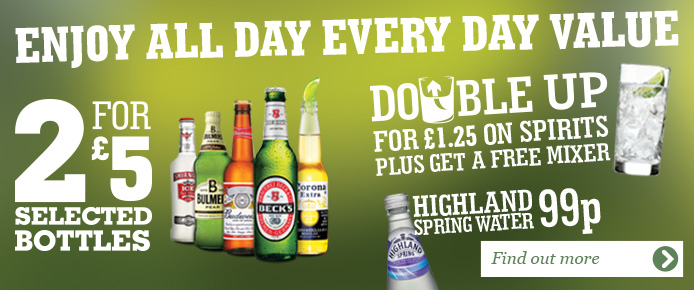 You can get 2 for £5 on a number of drinks, shown below:
Budweiser, Corona Extra, Beck's Blue, Becks, the Bulmer's original, WKD Blue and Smirnoff Ice.
Pints: Carling, Stella, Strongbow, Guinness & John Smith's.
Beers: Becks blue (alcohol free), Crabbies, Peroni, Desperado's (my favourite beer in the world), Corona Extra, Becks and Budweiser.
Cider: Kopparberg, Brothers & Bulmers
Alcopops: Smirnoff and WKD
Vodka: Absolut or Smirnoff
Rum: Bacardi, Captain Morgan's or Captain Morgan's spiced
Whiskey: Glenmorangie, Southern Comfort, Glenfiddich, Johnnie Walker, JD, Jameson's, Bell's or Famous Grouse
Gin: Bombay Sapphire or Gordon's
Random Spirits: Tia Maria, Pimms, Martini, Baileys, Harveys, Archers, Peach Schnapps, Pernod, Malibu, Cointreau, Cockburn and Disaronno (another favourite)
All spirits are served with a free mixer, while you can also double up for just £1.25, not bad if you are planning on a heavy one.
They also serve a number of red and white wines as well as rose and vinewood wines, plus some champagne if you feel like splashing the boat out. There are soft drinks for the harmless, shots for the hardcore and cocktails for the wild.
One tip, you can get any two bombs for £5, including Jager Bombs, Skittle bombs or Glitter bombs.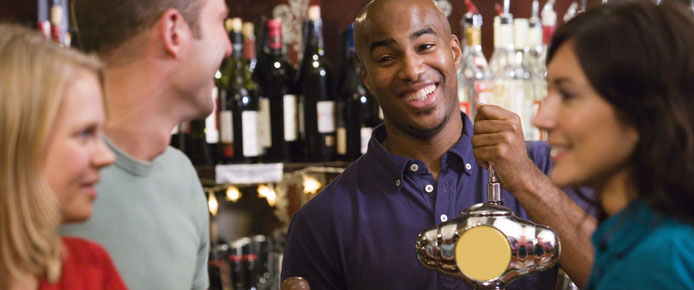 Other Facts
There is Free WIFI, an important factor for many people visiting, while they are happy for you to sit down for the majority of the day if you need somewhere to work on your laptop. The bar is pretty quiet through the day, however from 6pm onwards it does start to pack out.
The address is: 7-8 Castle Square, Brighton, BN1 1FX
Phone Number: 01273 735819
Review
Overall I'd say PavTav is a decent bar, not bad to go for pre drinks and to get some great deals, but I wouldn't really want to eat their unless I was short on budget or unless I was hoping to catch the footie. The best time to arrive is between 6pm and 10pm, while they often have a great turnout on Thursday's for some reason. I do really enjoy this bar, but don't expect anything classy, it is nicer than Whetherspoons but there are certain grimy sides to it, for example the toilets are revolting, while I have had a lot of mishaps with the food being dodgy and once had a bit of plastic arrive on my fish…yum.
But, as a pre drink place, it holds itself up as one of the best spots in Brighton and is definitely popular among students.