Following our trip to Sri Lanka, we made the short flight over to the Maldives. I mean when else will we be that close to the Maldives, we had to make the trip over, it was a once in a lifetime opportunity. Living up to its reputation, it offered beauty galore, with our first stay being at the Season Paradise in Thulusdoo, known for its surfing beaches and giant waves.
The Room
What can I say about the bed, other than it could fit half an army! It was simply giant. The room came with a balcony, with two seats allowing us to relax and talk during the evening, snacks in hand. The bathroom was also a good size and with a strong power shower. The TV worked a charm and had a number of channels, but this should be the last thing on your mind while in paradise.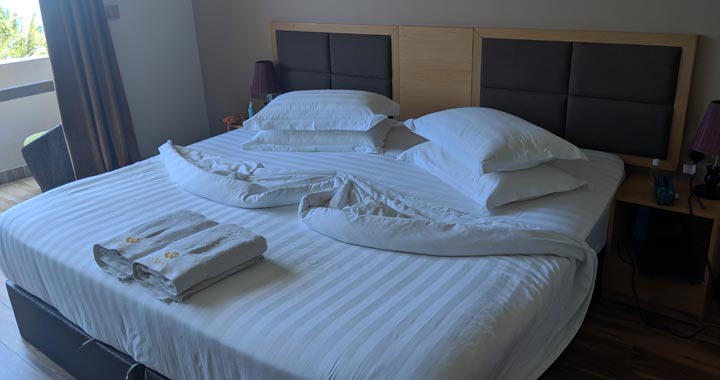 The Gym
I certainly didn't expect to work out with those views! Well, not that I did much exercise, but if you fancied jumping on a treadmill then you can run with views to die for. They also have a little bit of weight equipment, such as the cable machine and a few dumbbells with a bench. I did give it a try for ten minutes, before I remembered I was on holiday and jumped straight in the pool.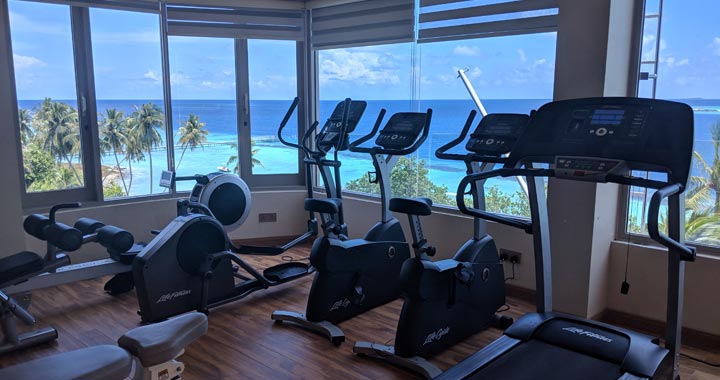 The Beach
With just a 1 minute walk to the beach, you will find yourself heading straight over at every opening opportunity. If you go to reception, they have a bucket of towels which you can use while on the beach.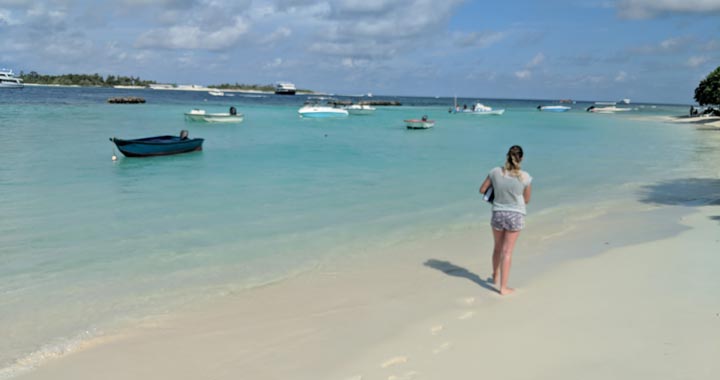 All Inclusive Food
I do love a buffet! The spread also includes desserts, which allowed my sweet tooth to come through. It also changed day by day, so you weren't stuck with the same dishes. Some example dishes were fried rice, a meat selection, Bolognese, mashed potato and a curry.
In the morning you could get omelettes made for you by the chef, as well as the breakfast buffet.
One slight relief is the water didn't seem to negatively effect us at all, if you know what I mean. We drank it regularly with slight fear at first, but our stomach's held together through the holiday.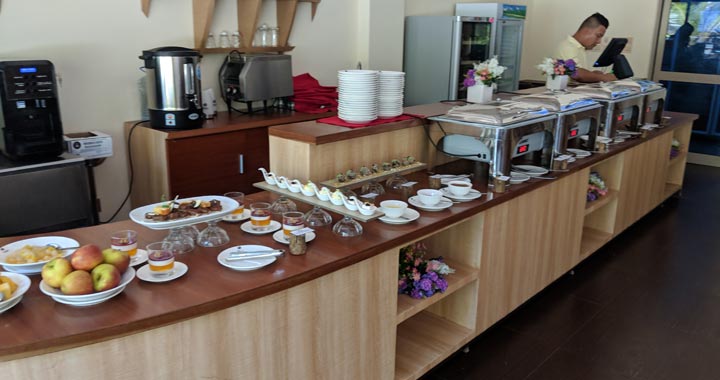 Sunset
Just a short walk to the side of the hotel you can find a beach which gets an absolutely picturesque sunset, something I'd highlight as a must while on your holiday. This beach does have strict rules regarding clothing, so make sure to cover your shoulders and legs.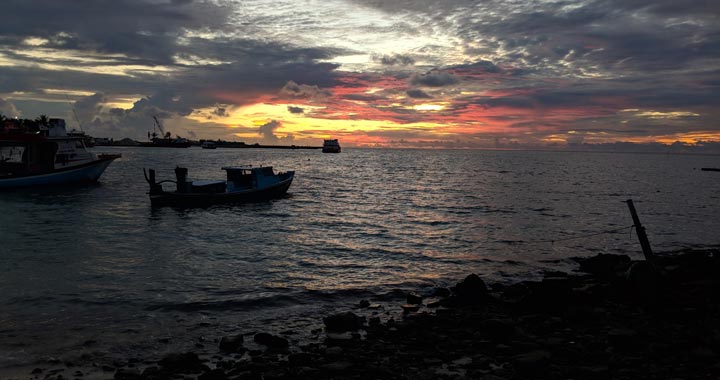 Alcohol
One slight hindrance is the difficulty in getting alcohol, as many of the local islands do not allow alcohol consumption under Islamic law. If you do fancy a tipple, there is a boat off the island, which sells cans of beer at $5 each. It's a nice change and is a great way to meet some new people. If you'd like to arrange a trip out there, speak to the staff on the front desk and they can call someone to take you over there by boat, costing £20 per person for a return journey.
Surfing
We didn't get round to surfing, but we spoke to around 20 people who had been hitting the waves throughout their stay and they couldn't stop talking about how amazing it was. Cokes beach is a little misleading, not really being much of a beach at all, but it is the central hub for anyone in the Maldives wanting to surf. It was just a 5 minute walk from the hotel, therefore if you fancy some watersports, this is the place for you.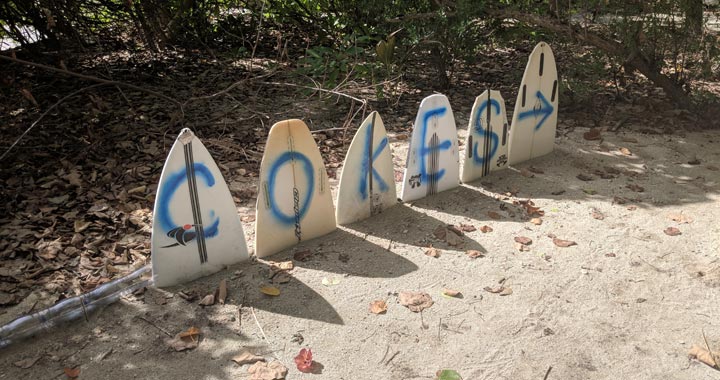 Watersports
Right outside the hotel is a watersports centre. Well, two guys that own a lot of equipment, but they are friendly as anything, seriously you will have a good laugh with them. They have the proper surfer dude look, while they can help get the equipment setup for you, as well as providing life jackets.
We tried the glass bottom kayak, which was a good laugh, while we followed that up with some snorkelling. You can also book a jet ski, but we never got around to this in the end.
The Pool
The swimming pool was virtually empty the entire stay, which was great as we got to swim and splash around without feeling like we were in anyone's way. It was an infinity pool and offered a great view of the surrounding islands.
As we spoke to others on the island, they admitted their jealousy of our rooftop swimming pool, as it was visual from most areas surrounding and was a hot topic of conversation.