This post could easily have been split into multiple posts, considering the size of the country, however I might do city based articles later on, however for now this will be a piece describing all the things you absolutely must do while on a holiday in China. I will straight away admit, half the people that have been to China will be surprised about the amount of things I have left out, but trust me when I say it isn't easy to rule anything out, give it a try yourself! This list could be several hundred long, but these are my personal favourites.
1.0 The Great Wall Of China
Everyone's first guess, this is on my list of 100 things to do before you die and is an absolute must. Visible from space, the wall stretches over 5,500 miles and began construction over 2,000 years ago! One of the most richest parts of human history, it was built to keep out the Mongols and any other potential intrusions.
by Colin Capelle
2.0 Hug A Panda
If you check out my top 100 list, you will see hug a koala, however for a long period of time I have been meaning to change that to hug a panda, something that might be changed by the time you read this. Incredibly lovable, docile and playful, how could anyone's heart not melt when hanging out with the beautiful creatures. There are plenty of Giant Panda volunteer programmes which you can check out, which will involve feeding them, cleaning the area, watching a documentary, but finally the part you might not be as interested in, weighing the panda feces (to check up on their health).
by George Lu
3.0 The Terracotta Army in Xi'an
As a teenager I would often play the game Civilization on my computer and would see the curious construction of the Terracotta army, so this has always been on my personal tick list. Around the Shaanxi Province, the army was created and set in battle formation in order to protect the first emperor's tomb.
by Richard Fisher
4.0 Yangtze River Cruise
There are a number of luxurious cruises that can take you along the Yangtze river, from Chongqing to Zhichang, or from Yichang to Chongqing. Shop around quite a bit before you buy as the prices vary significantly, so find one to suit your budget. There are multiple stops along the way, making it ideal for people who really do want to see a large amount of China.
by Eugene Regis
5.0 Forbidden City
A palatial structure and a UNESCO world heritage site, this imperial palace truly defines the Chinese history and really can't be missed. It is located in Beijing, meaning you can tick this off and Tiananmen Square in one day. In fact, many tours will actually show you both. This was the home to 24 emperors during the Ming dynasty and Qing dynasty.
by Dimitry B
6.0 Caves
There are a large number over this giant country, however one of the top tourist spots is the Zhangjiajie's Yellow Dragon Cave, with some truly stunning photos to be taken. This is the largest cave in China and for me wins hands down over the other things to do on this list. The list is incredibly long, so you might want to get a local guide to give you a list of the best ones, however some you could try include the Fleet Flute Cave and the Crown Caves.
by Viktor Lövgren
7.0 Look Out At The Shanghai Skyline From The Bund At Sunset
Quite a mouthful there, Shanghai is a great city to visit, with a stunning skyline, with the light reflecting off the the water below. What I find quite remarkable about it however is how quickly it has grown, with a lady in her fifties stating it was all farming land when she grew up, highlighting the state of growth in this city.
by Carlos ZGZ
8.0 Bungee Jump Off Macau Tower
If you do this, you are braver than me, much braver! This is the highest bungee jump spot in the world, in fact you can read more about bungee jumping off Macau Tower here. All I can say is I wouldn't do this for all the money in the world, but I have a huge amount of respect for people who would!
Image by Georgio
9.0 Jiuzhaigou
It really is difficult to limit this list, however I really didn't want to leave off Jiuzhaigou. This alluring paradise of a natural reserve shows the complete contrast this country has to offer. Glorious Mountains, giant waterfalls and clear blue lakes are awaiting you. Please send me your pictures if you do visit, I would love to see them!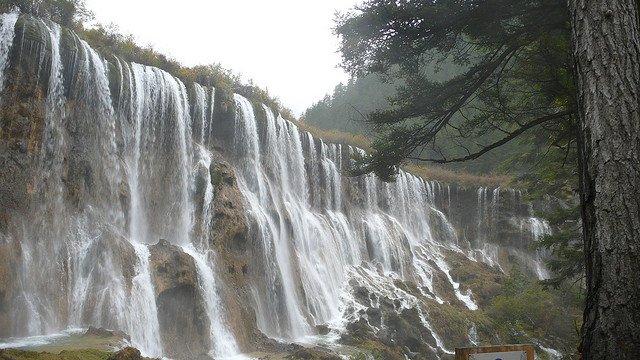 10.0 Karst Mountains in Yangshuo
The odd shapes of these mountains always reminds me of Halong Bay, looking like something from the front of a pirate lego box, I could sit and just admire the view for hours, albeit I'd probably have to dress up as Captain Jack Sparrow. You will also recognise the view from a 20 Renminbi note.
by Arian Zwegers
11.0 The Yellow Mountains
OK, I failed to keep this post down to 10, my original plan, however you will understand why when you see the images below. The Yellow Mountains have everything from hot springs for you to relax in, difficult treks for you to accomplish and twisted pine trees for some interesting snaps. There are many national parks I could have listed, however this is my number one, but don't be surprised if this post gets expanded to include some others.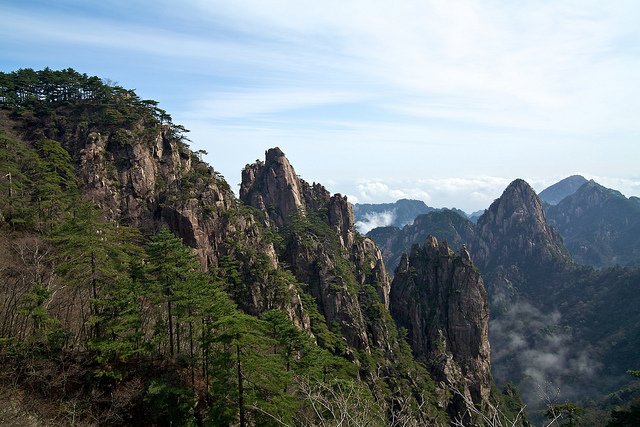 by Chi King