I had originally planned to propose to Raquel in Switzerland, on top of a mountain, in the Swiss Alps, however following our house purchase in August, the funds were running a little low for a quick getaway.
With Raquel's birthday coming up in October, I decided to merge two ideas, as she had always wanted to visit the Golden Retriever Experience.
I mean, how could you not? It involves playing with dozens of dogs!
So for her birthday I booked us our train tickets, a hotel along the seafront and tickets for the golden retriever experience, along with a photographer (that might have given some clues away).
Considering the hundred questions I've been asked since we had the unbelievable experience with the pooches, I thought I should do a write-up on our experience for anyone else looking to book the Golden Retriever Experience.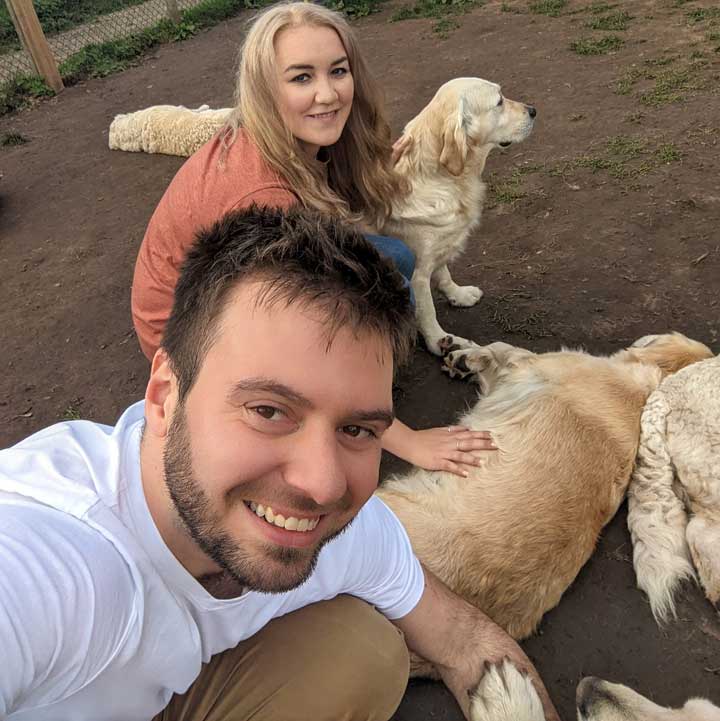 Where Is It Located?
The farmhouse is near Minehead / Carhampton, they don't state exactly where on their website to protect their dogs from theft, so I won't put the address up here either.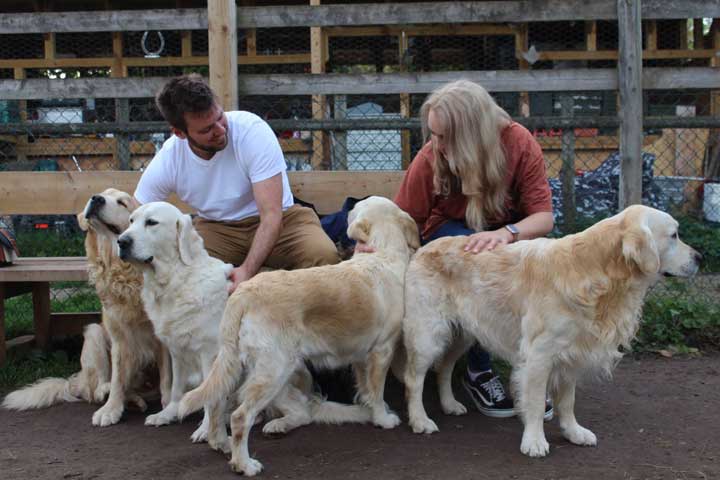 How Do I Get There?
If you stay in Minehead, you can catch the 28 bus, which takes around 20 minutes. Alternatively, most people drove up to the entrance.
If you're coming from London, you can catch a train from Paddington to Taunton, before jumping on the 28 bus, which heads up towards Minehead, passing through Carhampton, which is near the Golden Retriever Experience, so you could go directly.
They don't have area to host you beforehand, so don't arrive early.
Where Should I Stay?
We stayed at the Old Ship Aground, which is located along the Minehead seafront, but if I'm honest, I wasn't overly impressed.
The staff were incredibly friendly, but the 'extra large bed' I paid extra for was two twin beds stuck together, while the food was abysmal.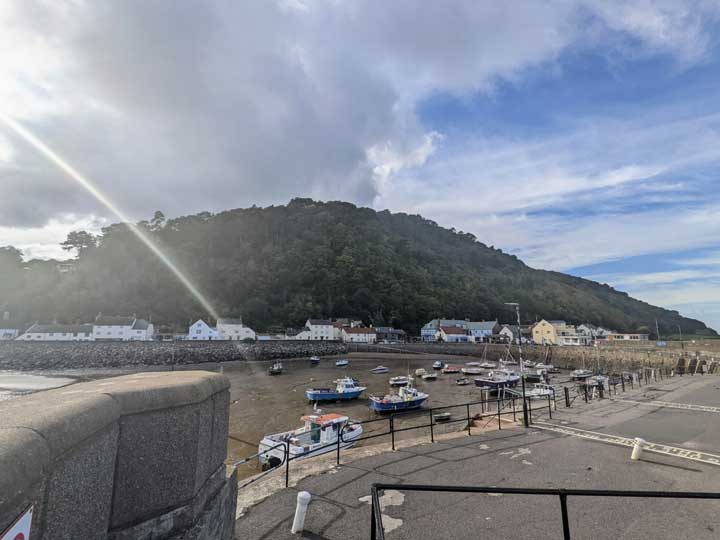 I did see down the road is the Quay's Inn, which was the winner on Four In A Bed (not a kinky show if you're confused, it's a Channel Four show on B&B's).
You could also opt for Carhampton, however if you plan on staying for a couple of days, there isn't much else there, so I opted for the slightly bigger town.
Some others stayed at Blue Anchor, which is an earlier stop on the 28 bus from Taunton, a nice area along the seafront, but again there was a bit less going on, so I opted for Minehead.
How Much Does The Golden Retriever Experience Cost?
The experience costs £65 per person, however you can get a £10 discount if you're either a student or a senior citizen. Kids can also enter for £35 each.
If you have a dog, you won't be able to bring the dog inside, but they have a 'doggy day-care' option for £20 where they will look after your pooch.
If you want to add a photographer to your experience, this will cost £50.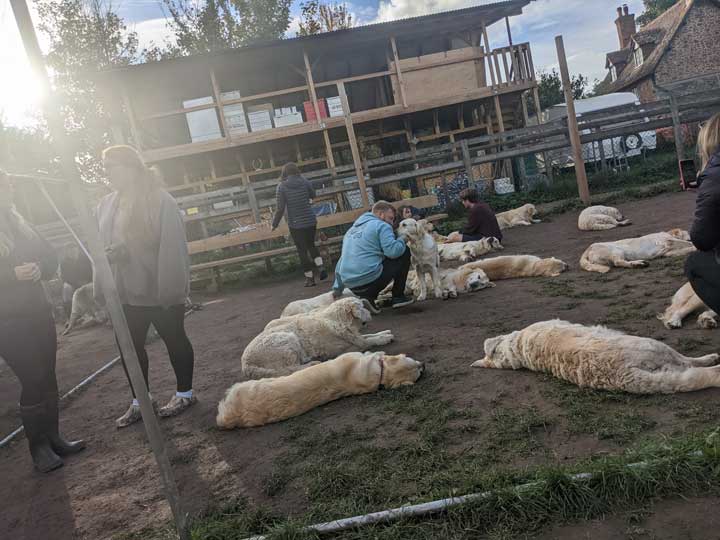 What Happens During The Golden Retriever Experience?
You take a seat alongside around 12 others on the experience, before they begin talking you through what will occur on the day.
They have free soft drinks available in a cooler at the back, which was useful as we had forgotten to bring some water with us.
After a few minutes, you see the Instagram-famous scene of the dogs charging from around the corner, racing towards their eager guests ready to play.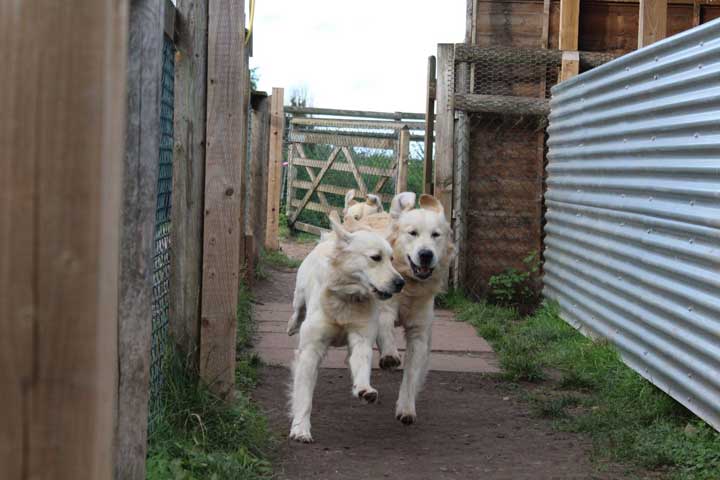 The dogs were a mix of adults and puppies (1 year old puppies at the time of us visiting). Initially you think you'd prefer the puppies, but actually the grown-up dogs want more attention and so you spend most of your time with them.
After around an hour of stroking them, you're then led over to the entrance of the farmhouse area, where the adult dogs are sat down and you can get a photo with them, as can be seen below.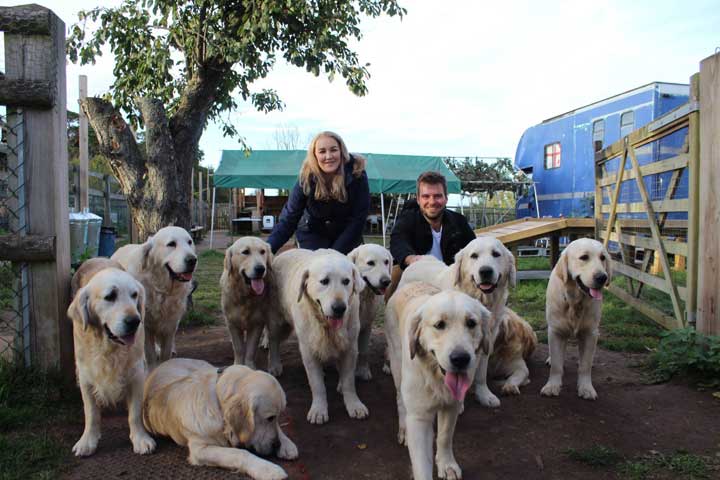 After everyone has a snap, we're then led to a field where you play catch with the dogs, while the staff make sure to give each person the balls a few times so everyone can have a go.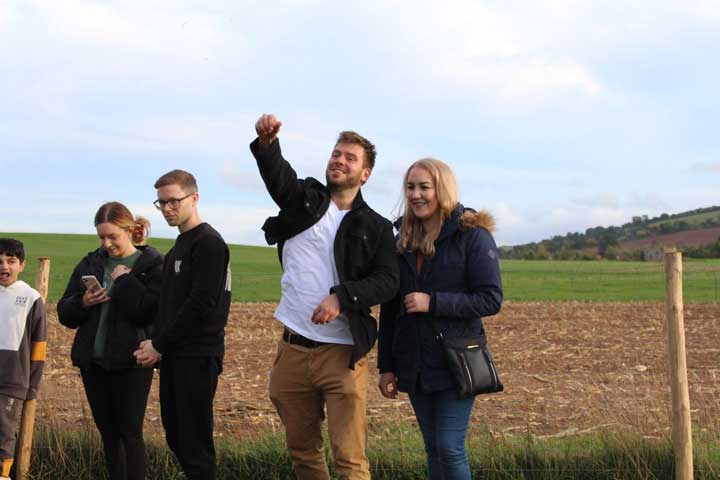 Following a good few throws, the group are taken back to the initial place, where people can grab a drink and stroke the dogs again. After this, the dogs are led over to a new section where they're fed. They're held back initially as their bowls are filled with food and vitamins, before all charging over to their dinner.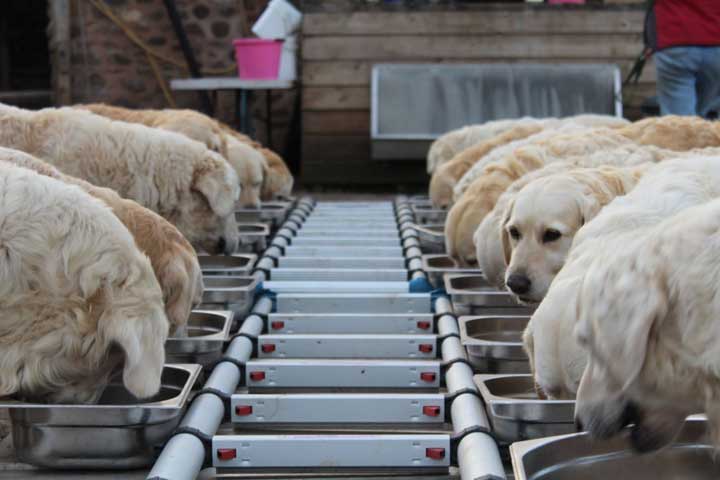 How Did The Proposal Go?
After playing fetch with the dogs, the photographer came up and gave a carefully rehearsed invitation to head over to the forest area for some extra photos as part of the 'photo package'.
We went over to a secluded area, away from the group, so Raquel wouldn't get embarrassed about me dropping to one knee in front of everyone.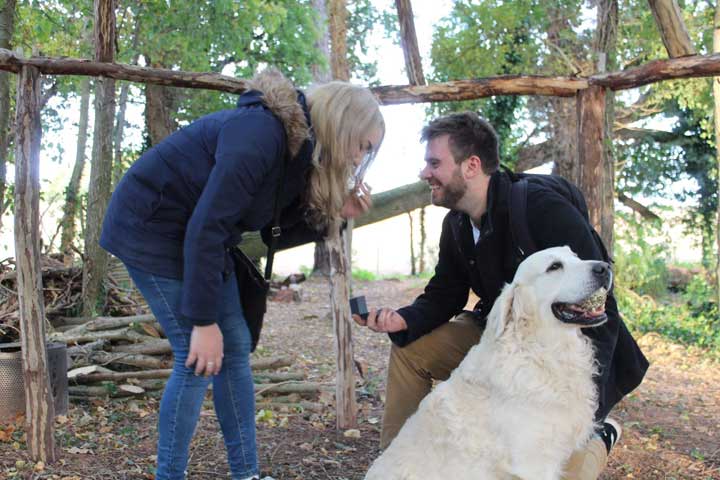 We had 2 dogs with us, while one quickly got a little bib put on before approaching Raquel, stating 'will you marry me', the hard work was done! Thank you pup!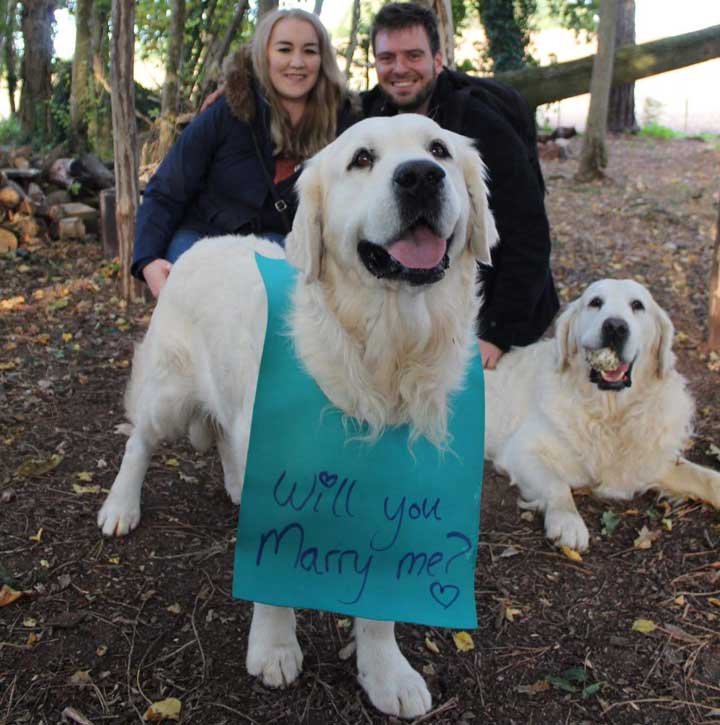 I then quickly dropped down to one knee and asked the magic words and much to my relief, she said yes!
We then headed back to the group, but I had brought along a bottle of champagne (sneakily given to the staff at the start when pretending I needed the toilet), which they brought over to us in a cooler.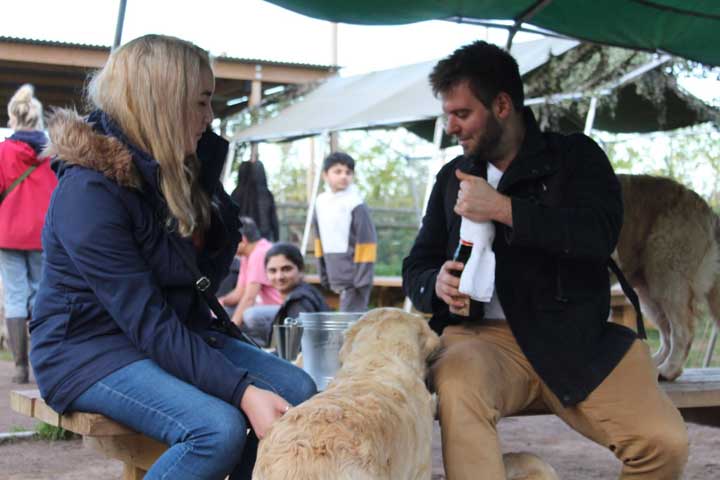 I have to doth my cap and say they handled the process so amazingly well. They actually had a proposal that morning, so maybe I'm not as original as I thought, but it's the perfect scenario, how can anyone say no while surrounded by dogs?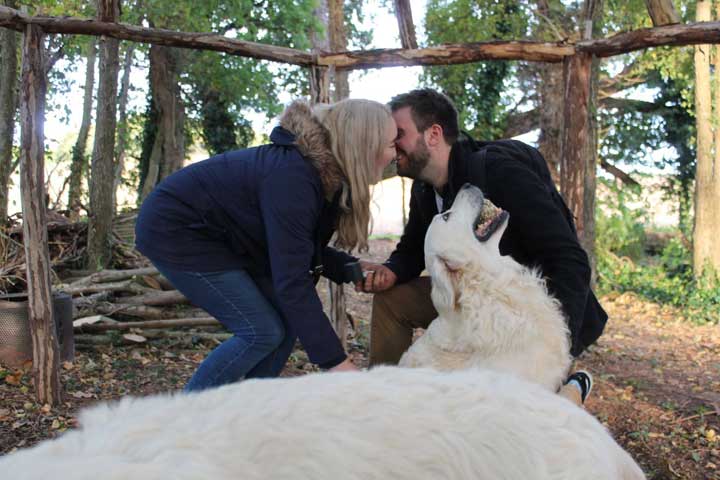 The ideas around the 'marry me' bib and the bottle of champagne were all by the team at the Golden Retriever Experience, so if you're planning on dropping to one knee, definitely let them know beforehand and they can help you with the entire process.
What Facilities Do They Have?
They have a toilet available, while you're also provided with free soft drinks. As far as I could tell, there were no options for food, so if you think you might get hungry, it could be worth bringing a sandwich along with you.
Would You Go Again?
Absolutely, I just wish it was a little closer to where we live, as the trip to Somerset took 5.5 hours, which knackered us out, but was totally worth it for the golden retriever experience and to hear her say yes.
To anyone who has been asking, I would certainly recommend visiting, they are taking bookings for next year, where I think they're starting the experience again from March.