Sri Lanka is known for its great beaches, however the biggest attraction to their coastal line is actually the amazing waves, offering the perfect opportunity for surfers to test their skills. Weligama is one of the key spots to visit for surfing, with more schools and classes than you could ever imagine.
Reasons To Do Surfing In Weligama:
The Waves – this is an obvious one, but without the big waves it is a no-go and Weligama can certainly quote this as a selling point, however they are smaller than Mirissa. Some of the waves do get pretty big, you'd have to be brave to go from certain points or when it's a stormy day.
The Classes – it doesn't matter what your skill level or what you've packed, you will be able to find absolutely everything here.
The food – after any form of sport, you will find yourself craving something to eat. Well unlike some surfing beaches, you really don't have to go far before you reach numerous bars and restaurants, offering food at very low prices.
The Accommodation – Prices on local hostels and hotels are ridiculously low, so costs shouldn't be an offput, while you don't have to go for the designated surfing hotels, as there are so many dotted around you can give a try.
Location – The simple fact of the matter is that if you don't see great waves, you don't have to go till you reach Mirissa and then you can try some alternative beaches, or even alternative activities such as whale watching.
The Scene – The atmosphere contrasted so much with every other destination I went to in Sri Lanka, with a huge amount of the locals having long hair and a very relaxed mindset, looking like a stereotypical Californian surfer. It is probably the influence from Californian music and movies illustrating the lifestyle of these people, but it certainly puts you in a relaxed mindset, where the days all merge to one and you have a constant smile on your face and beer in hand.
Who Can I Get Surfing Classes Or Equipment From?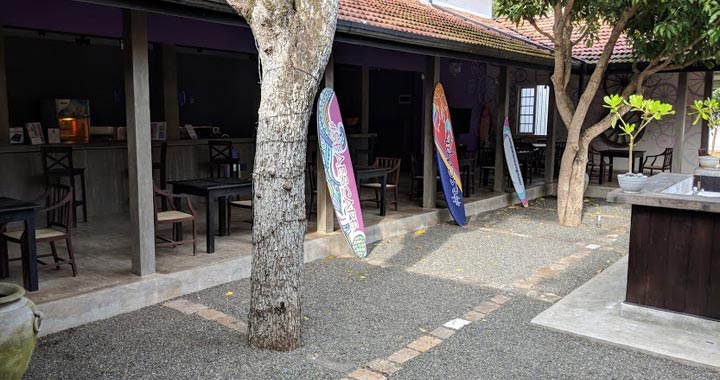 Below are some of the most well known surfing companies available in Weligama:
Kumara surf school
Surf school Weligama Sri Lanka good story
Dylan's surf company
Freedom school
Cocoplant surf inn
We would recommend going with Shakabay as the reviews are amazing.
Best Surfing Beach In Weligama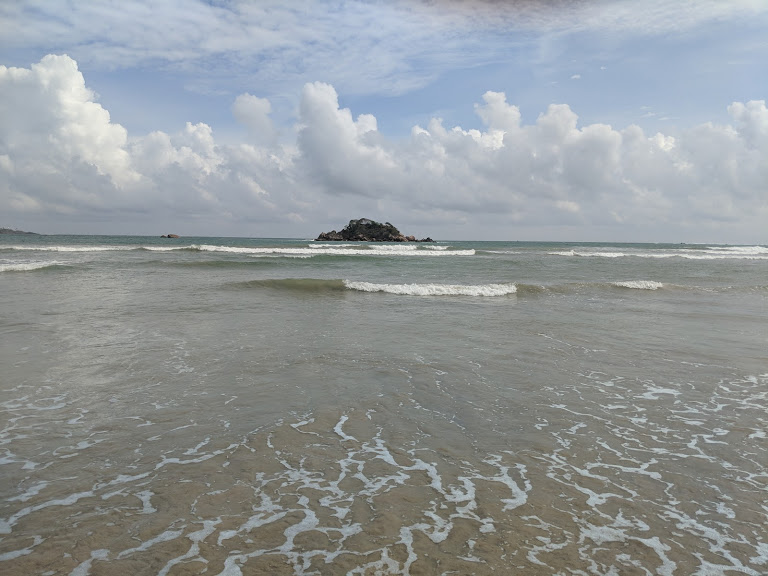 The area is realistically just one long beach, called Weligama Bay Beach, however it's impossible not to spot it as you come in, as there are only two roads going through the village, one going directly along the sea front.
The waves on this beach aren't as big as some of the neighbouring villages, but it is hugely popular for beginners and intermediates. Unsurprisingly, you can also book yourself accommodation right on the beach front, giving you some great views in the morning, as well as easily allowing you to go for a session in the sea as soon as you wake up.
When Would Be The Best Time To Visit?
The year is often split, with the best time to try being between October and April. This isn't to say you shouldn't visit during April to October, just that the conditions might not be perfect or there might be a bit of rain.
Alternative Activities While In Weligama
If you're done with surfing for the day then I recommend having a read of my list of things to do in Weligama. If you're feeling brave, you may even want to take the 14 mile journey to Snake Farm, containing a huge amount of scary reptiles and some seriously poisonous pythons. However, for most that want to stay local, you should try to spot a stilt fisherman and have a go at scuba diving or snorkelling.