We felt honoured to stay at the incredibly grand and majestic Hotel Du Vin in Wimbledon, a 19th century house located alongside Cannizaro park. Considering the beautiful location and hotel that looked like something from Downton Abbey, it was certainly the perfect scene for a romantic getaway. I hope you enjoy our review, looking at everything from the food on offer to the room and the stunning bath tub.
The Room
The room was phenomenally large, while the walls cleverly had wallpaper appearing like photos of people from past generations. It created a sense of royalty, which was met with the style of furniture décor.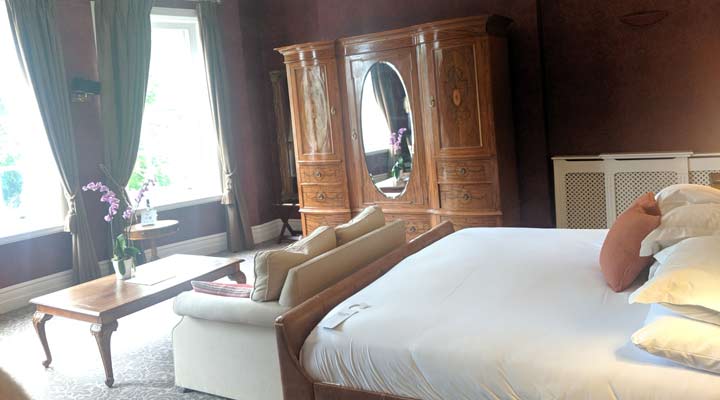 The bed is probably the first thing we look at when we walk in, always hoping for the biggest one possible, well we weren't disappointed. So large, it had three sets of pillows, meaning there certainly won't be any bumping arms during the night.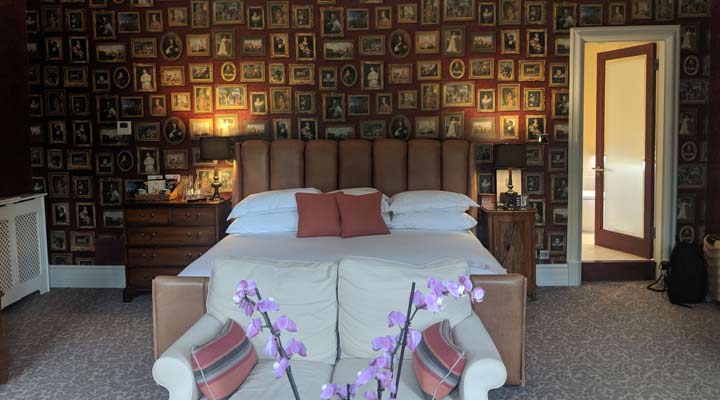 You always expect the usual coffee bits with any room you book, but again they went the extra mile, including a premium hot chocolate, plus various different tea options such as peppermint and a Great British cuppa. There was also an espresso machine, but I tend to struggle with working these machines so I gave it a miss. Still, for anyone who loves a quick espresso before they head out, this is a great option.
The Bathroom
There was a giant walk-in shower which we both could have shared easily, however the moment we spotted the stand alone bath tub, we fell in love!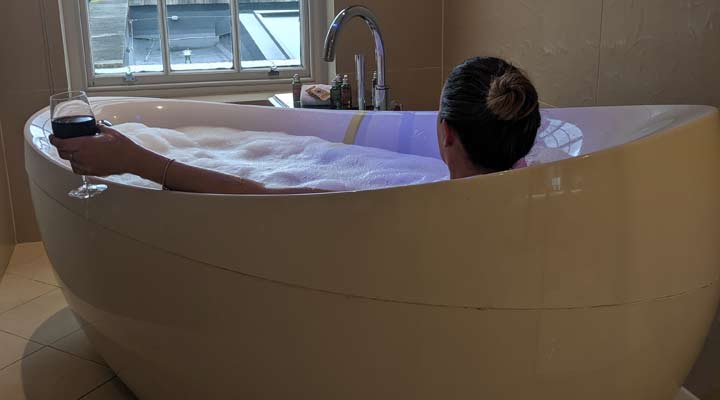 I do have a pet peeve for hotel bathrooms that don't cater with enough shampoo and shower gel, however this won't be an issue at Hotel Du Vin. We ended up having two baths and there was still plenty left over.
The View
As you probably already know, the building is based on the West Side Common, connected to the Cannizaro park. The room overlooked the beautiful flower setting out of the back of the building, which is also the view we got when eating dinner in the evening and breakfast in the morning.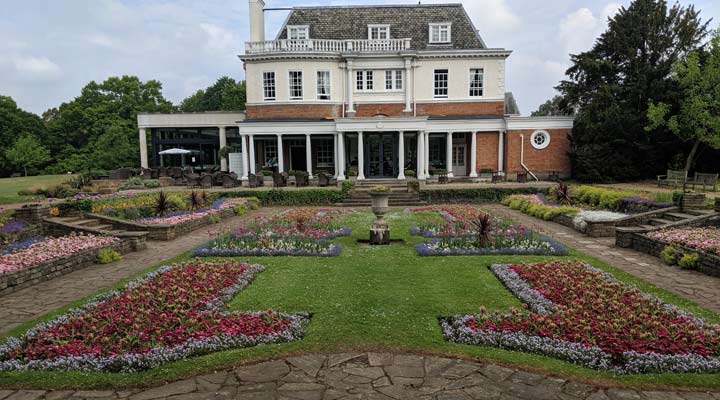 Restaurant
We sat down for a 3 course meal in the restaurant within the hotel building, with incredibly friendly staff and a mouth watering menu to choose from. While there is an extensive menu available, we opted for the 3 course menu, priced very reasonably.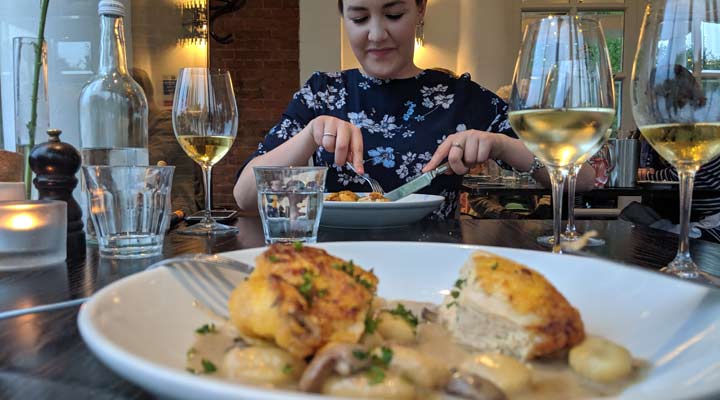 The starters included:
Duck confit and potato terrine – onion marmalade and London gin jelly
Baked tomato galette with reblochon – tapenade and Cannizzaro herb garden salad
Grilled octopus and fennel – curious apple cider velouté
Raquel opted for the baked tomato galette, while I chose the duck confit. I was actually really surprised by how much I LOVED the onion marmalade, which tasted perfect with the duck.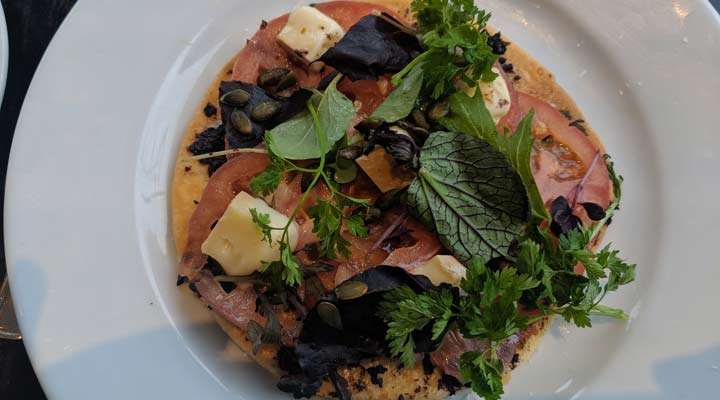 The mains included:
Pan-fried black bream – petit pois a la Francais with Wimbledon brewery ale sage beignet
Smithfield market corn fed chicken breast – potato gnocchi and mushroom velouté
Spring vegetable and Kentish blue risotto – basil pesto and watercress
We both opted for the corn fed chicken, which tasted so fresh and definitely a cut above what you'd normally get. Raquel isn't a fan of mushroom, so this time it was her shocked how much she loved the mushroom velouté! It was exquisite. The potato gnocchi also soaked up the velouté very well.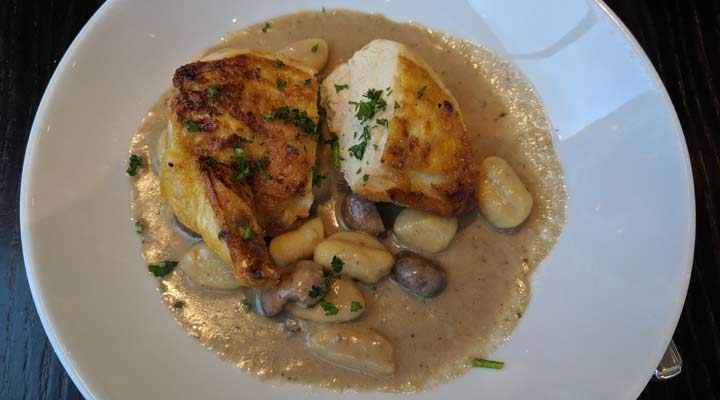 The final desserts included:
Wooden spoon honey and vanilla cheesecake – vanilla and mango compote
Warm chocolate orange sponge – Britagne Brut reserve English sparkling wine crème Anglaise
Winterdale Mature Cheddar – Peter's Yard crispbreads and chutney
Raquel is a sucker for chocolate, therefore there was always one option for her, while it also came with custard which instantly ticked the box. For me, I've always been a little obsessed with cheesecake, while they got the biscuit base just right against the creamy cheese.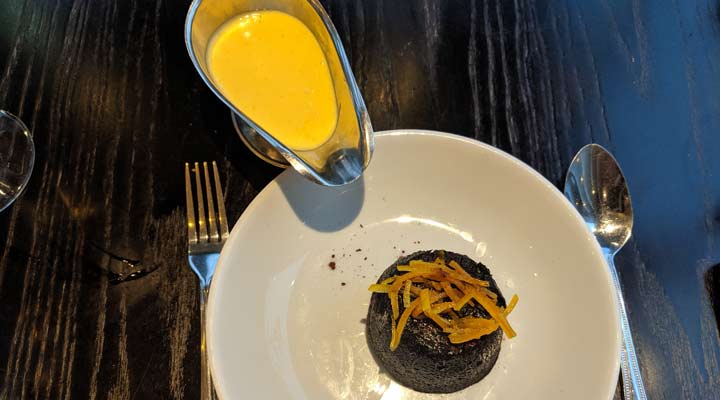 For anyone looking to order a glass or five of wine, you will be spoilt for choice, while the staff are great at offering advice around the best wine based on what you're eating.
Breakfast
There are plenty of options on the menu for cooked breakfasts, however I went down the obvious route and chose the traditional English breakfast which tasted great. Raquel opted for the eggs Benedict, while the eggs were cooked to perfection.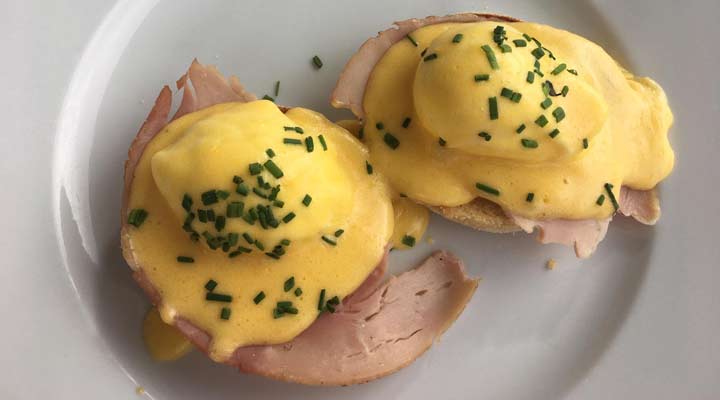 There was also the continental section, filled with juices, pastries, yogurts and cereals. The juices felt a little more luxurious, being in glass bottles and tasting a step above what we're used to getting. Just the same, the pastries were scrumptious, I found myself running back over to grab quite a few more.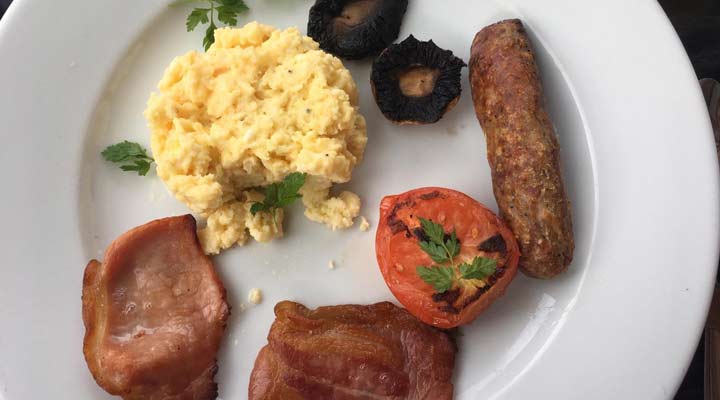 The Park
We had never visited Cannizaro park before this weekend, but we found ourselves lost in a fantasy land. Entering along the side of the hotel, we quickly found an aviary filled with exotic birds. Right next to the aviary was a tree stretching far into the sky, something I haven't seen outside of the Redwoods.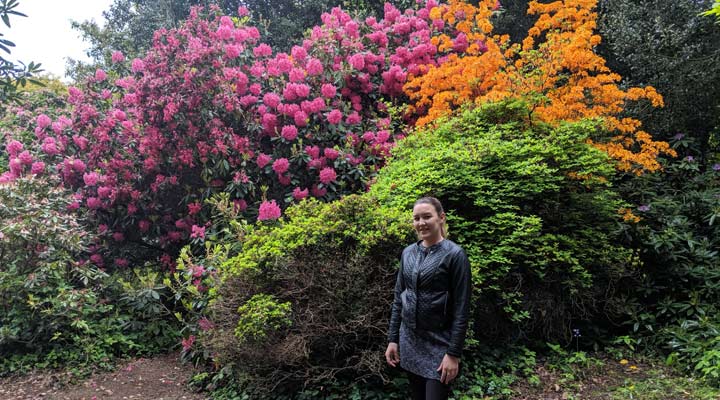 As we walked further along, we found ourselves surrounded by flowers of all different types, before reaching a rose garden. It seemed every turning offered something new, however as dog lovers we found ourselves chasing and stroking all pups in sight!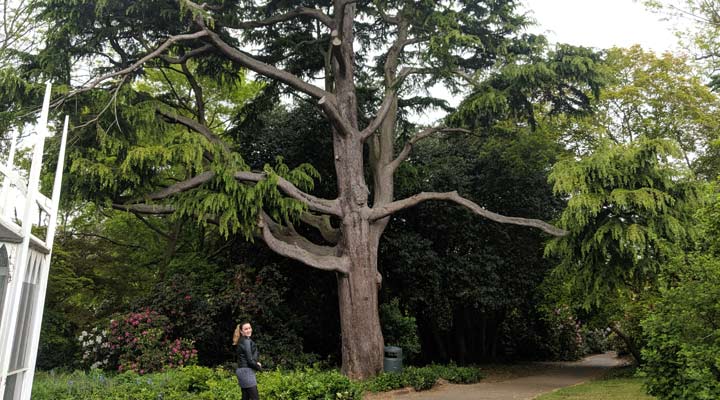 Considering the location, it certainly makes this hotel a perfect option for families or couples.