Since we got Ruby a year ago, our holiday plans always have one extra consideration. Will the hotel allow dogs? Can we bring her into a restaurant or can we at least sit outside? Will she be allowed near the big attractions or will we be told off?
I've therefore listed the best activities, hotels and places to eat while in Brighton if you're with your furry pal.
Dog Friendly Brighton Hotel – Selina Hotel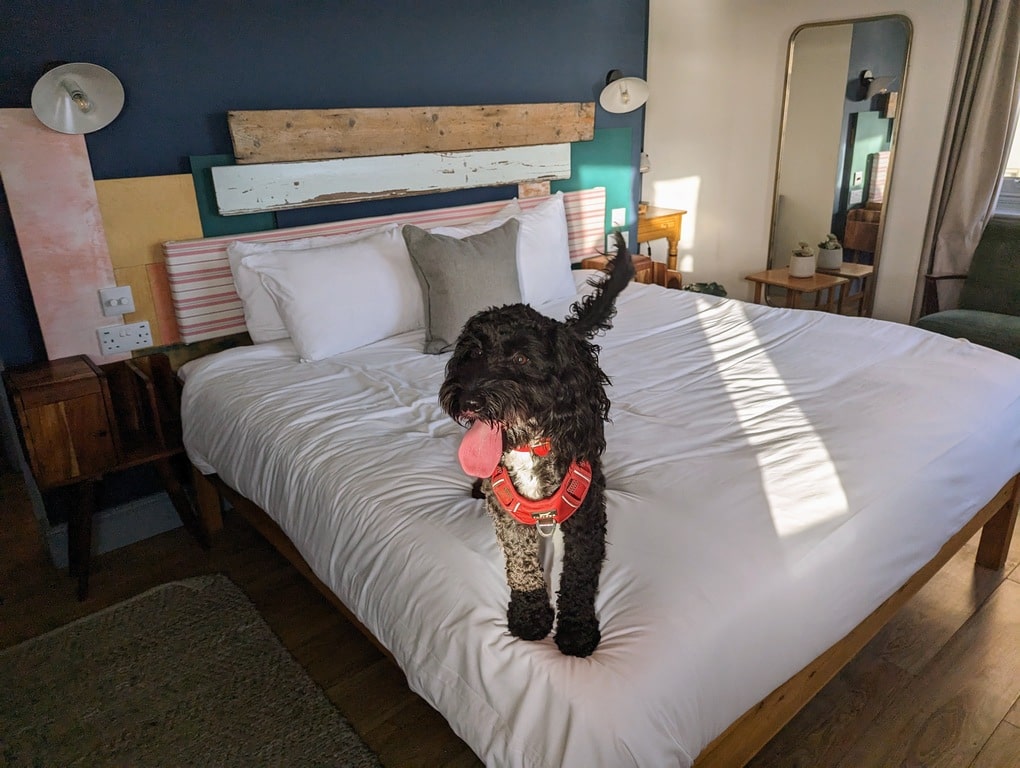 Selina is a hotel found along the Brighton seafront and all over the world, offering a cosy stay at a decent price with a great atmosphere.
Honestly, the focus on a nice atmosphere is brilliant, it makes me wish this was around when I used to go backpacking.
But most importantly, they were dog friendly and all the staff were delighted to meet Ruby.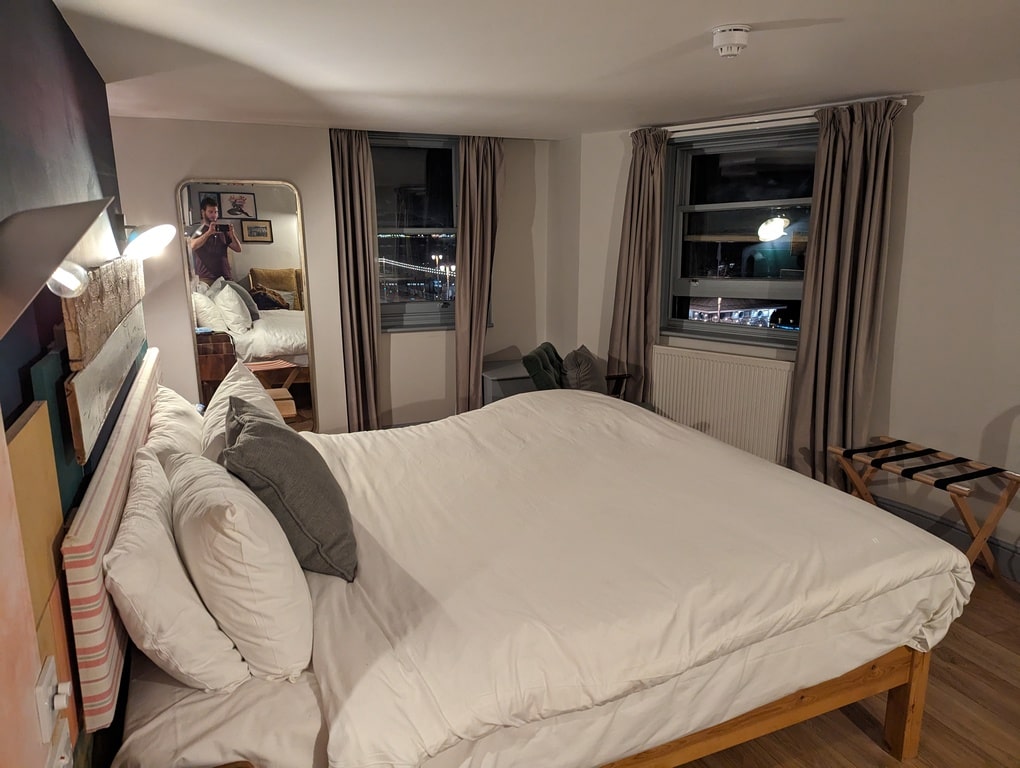 You can either stay in a private room or a shared dorm, while our private room overlooked the West Pier (also known as the burned down pier or ruined pier), as well as the i360, plus a 1 minute walk from the upside down house (worth looking at if you haven't heard of it before. This also made for a great walking spot in the morning, as we headed down at 7am and walked along the scenic coastline, a nice change from the local park.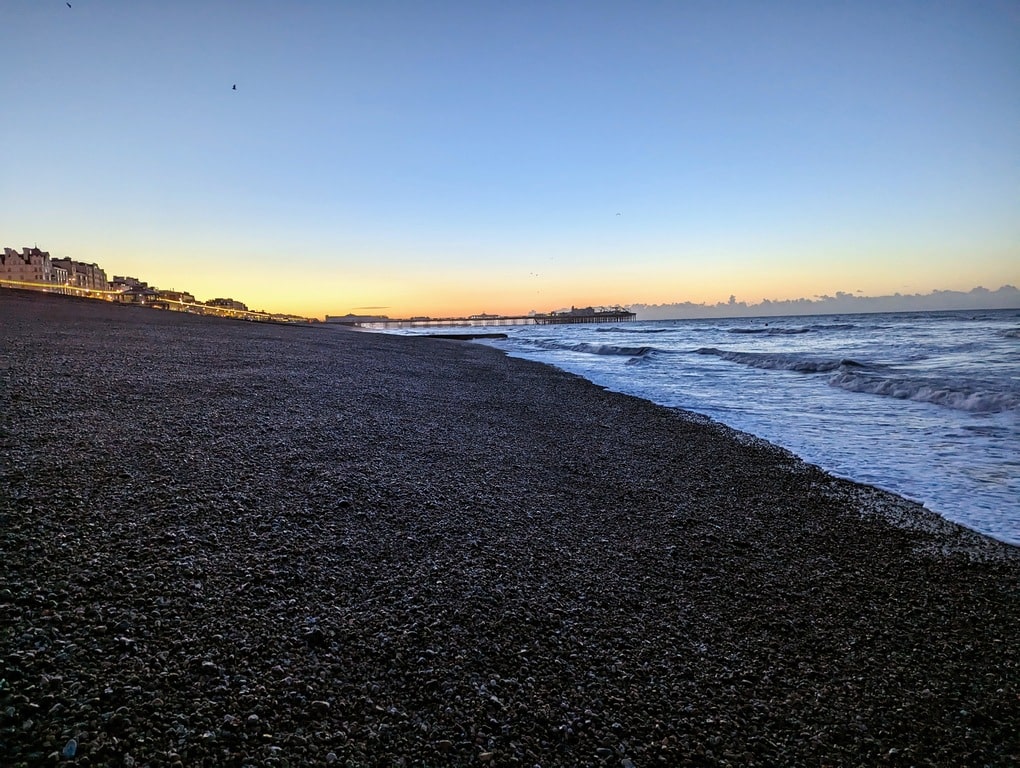 The room was a brilliant size, with plenty of space to put down our bags and all of Ruby's extra bits. They had a table at the side for Raquel to do her make-up, plus plenty of lighting and a funky decor.
The bed was incredibly large, ideal when you've got the two of you and the pooch in the middle. I'm a bit fussy when it comes to pillows in hotels and I loved these, they were plump and soft, but not too plump so that your head feels pushed up. I fell asleep incredibly easily and felt so comfortable.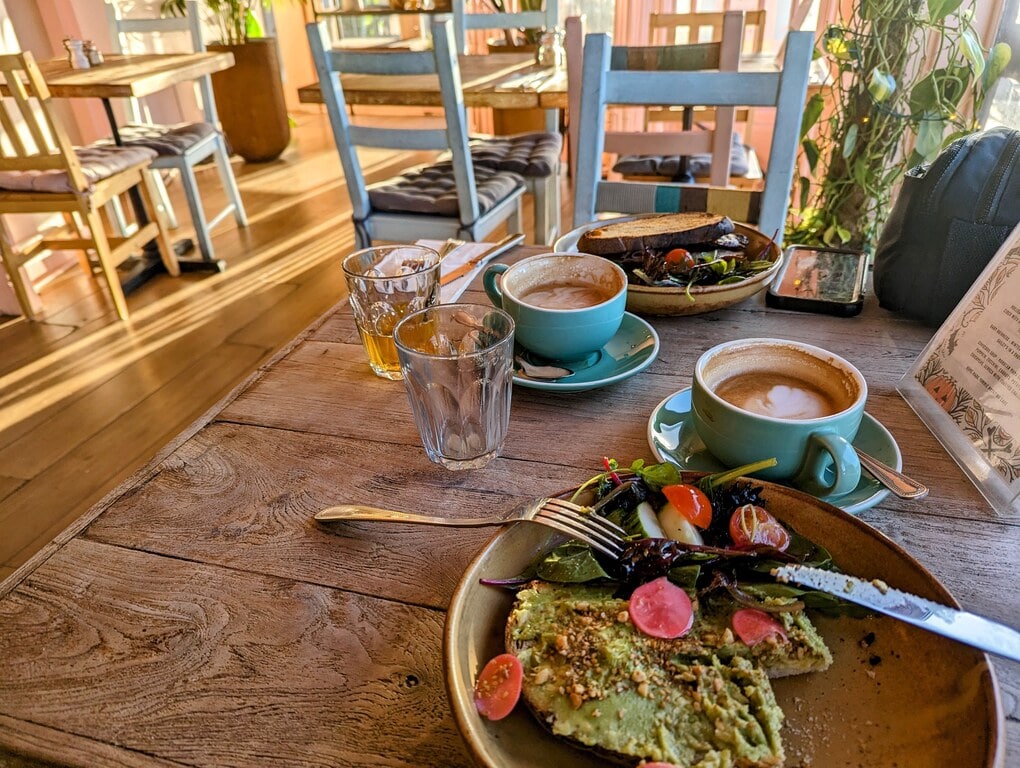 We had breakfast included in our stay, while you were welcome to bring your dog down. You get a breakfast main, served with a hot drink and a juice. The options were:
Bacon Buddy: Three bacon rashers with butter and chilli jam sandwiched between two slices of toasted sourdough. Served with a mixed green salad.
Avocado Bomb: Rough chopped avocado and preserved lemon on a slice of sourdough toast topped with dukkha spice. Served with a mixed green salad.
Selina Granola: Greek yogurt, homemade granola loaded with nuts and seeds, topped with fresh fruit and honey.
Porridge Deluxe: Creamy organic oats topped with crunch granola, fresh fruit and maple syrup.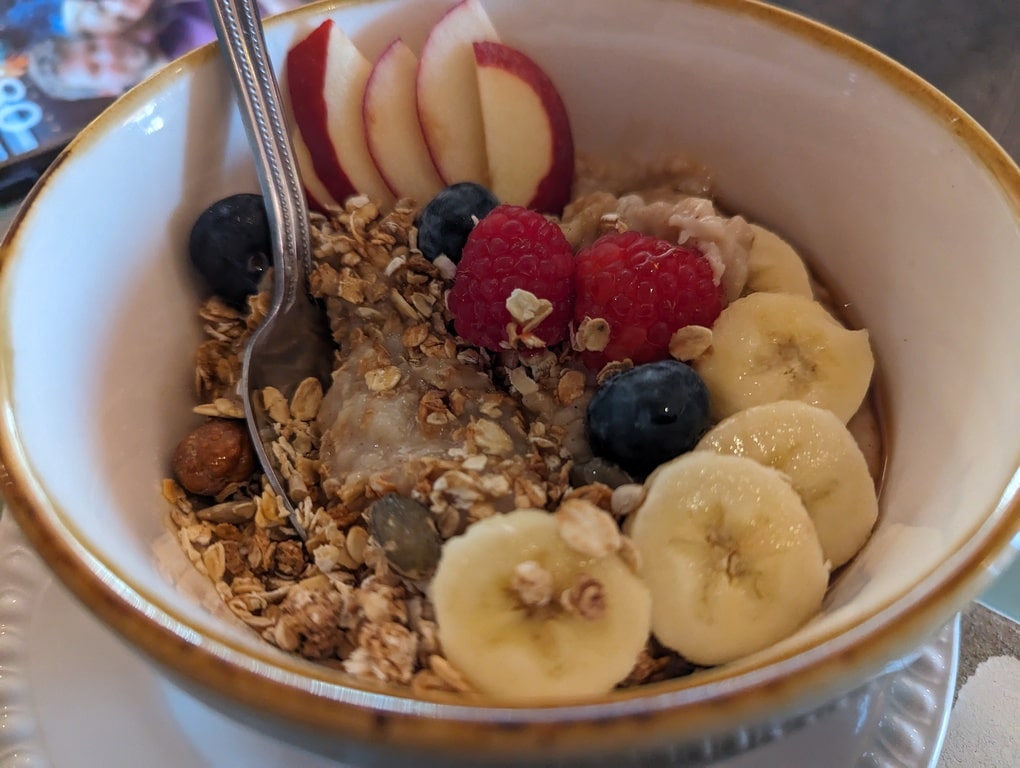 My personal recommendation would be the Selina granola, which was both nutritious and delicious. The fresh fruit you got was raspberries, blueberries, apple and banana.
A shout-out as well to the bar area, we also enjoyed a couple of pints here, the Goose Island Midway session on tap was gorgeous, while they had a DJ set going on which added some atmosphere without blasting it too loud, so we could still talk to each other. I have a massive pet peeve for when the music is too high, so it was great to have some tunes on without feeling deafened.
Dog Friendly Brighton Restaurant – Zarqa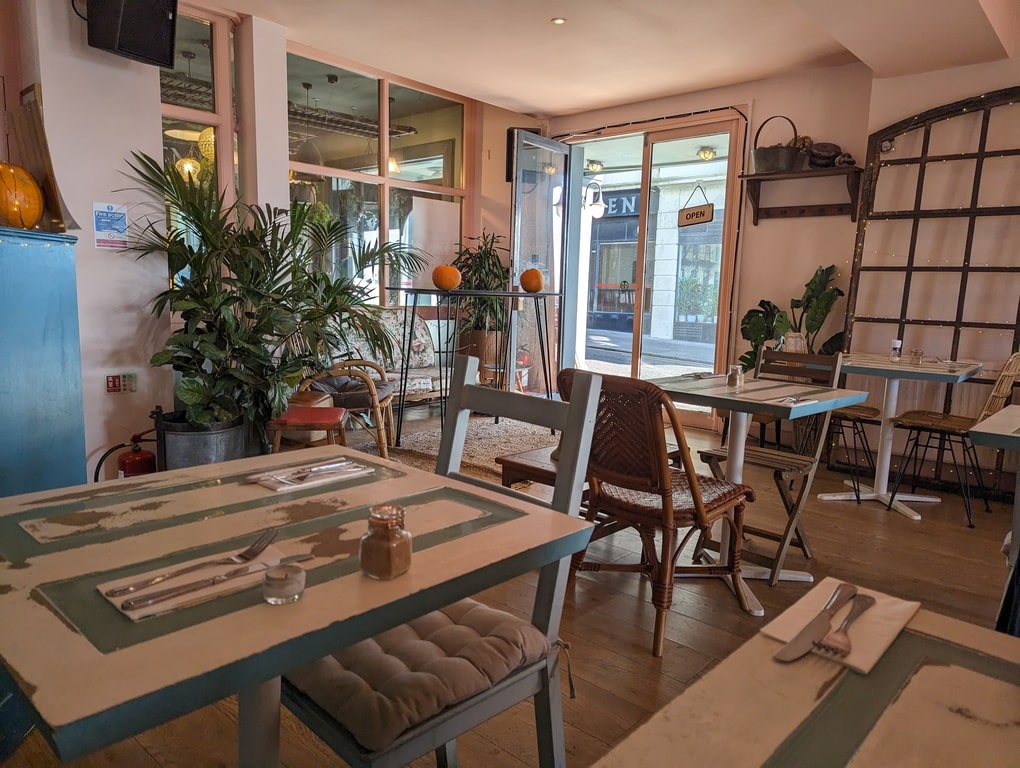 I've already slightly mentioned Zarqa inadvertently, as this is the restaurant located within the Selina hotel, however it deserves a big shout-out as the food was incredible!
They have a morning menu until 11, then from 11:30 onwards they have their brunch menu. The options included:
Avocado on toast
Very very slow cooked shakshuka
Fatousheli salad
Drop a beet (beetroot salad)
Hummus complete (with a mushroom shawarma)
Hummus Carnivorous
King Zarqa Arka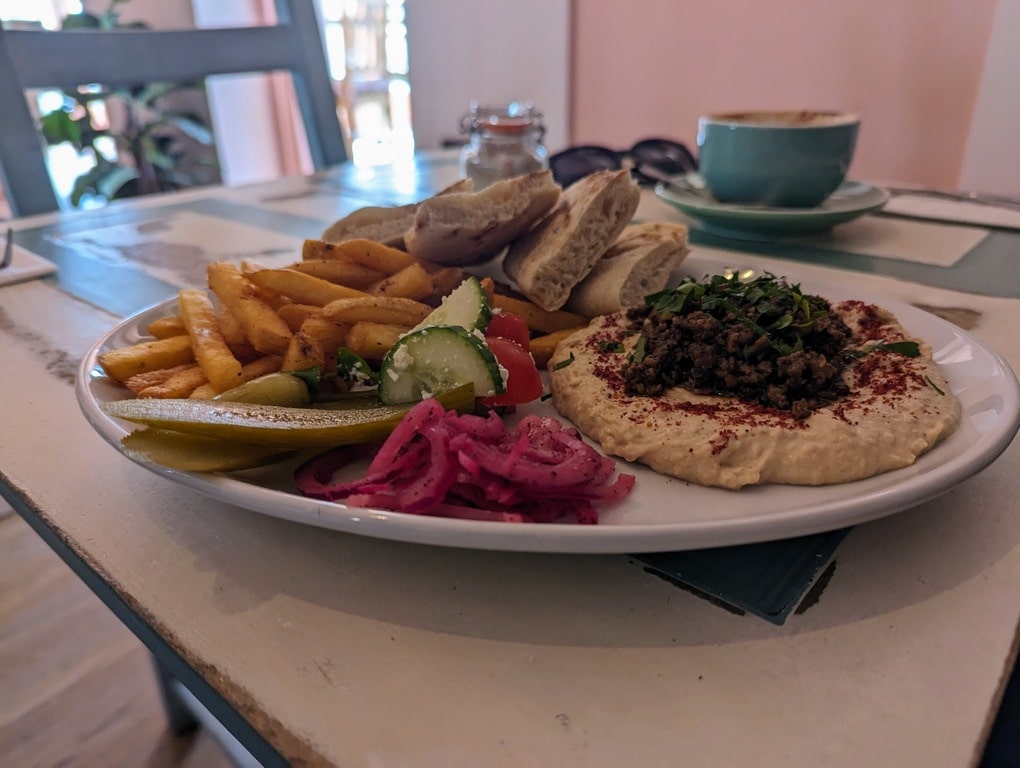 I've had shakshuka before and relatively enjoyed it, even making it ourselves a couple of months ago, but this was so much better! It was so succulent, the eggs were cooked to perfection and we scraped every bit out of the bowl!
We also enjoyed the hummus carnivorous, for anyone wondering what the carnivorous aspect is, it was some amazing steak mince. This was also served with fries and pita bread which was great to dip into the hummus.
Dog Friendly Brighton Pubs – Sidewinder
There are numerous pubs I could highlight around Brighton and Hove which are dog friendly, but this is probably my favourite.
The pub has a surprisingly large back garden (if the weather is warm enough), with booths and heaters setup.
Ruby was one of 5 dogs out there on the day, while we let her off the lead so she could play with a couple of the other dogs which was nice. They have dog treats readily available on the bar (for free), plus a water bowl for Ruby to drink from.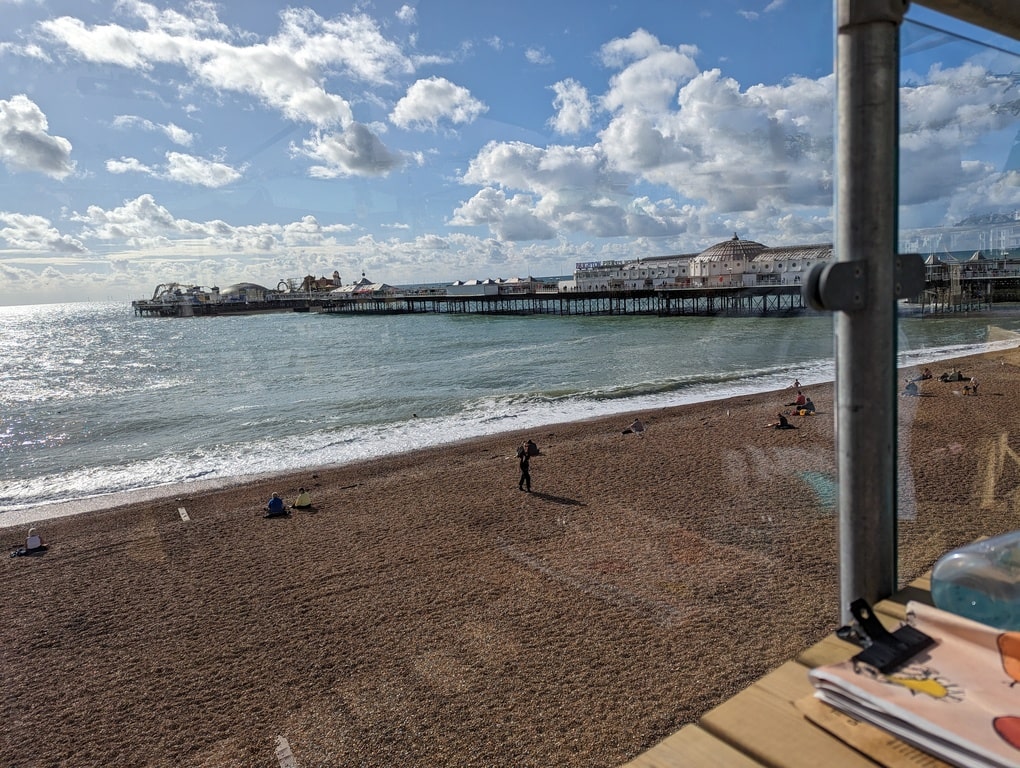 Shout Out: Another great option is Brighton Zip Bar, connected to the zip wire, to the left of the Pier. This is a rooftop bar that had a number of dog owners, while you can look out and admire the Pier in the sunshine, weather permitted.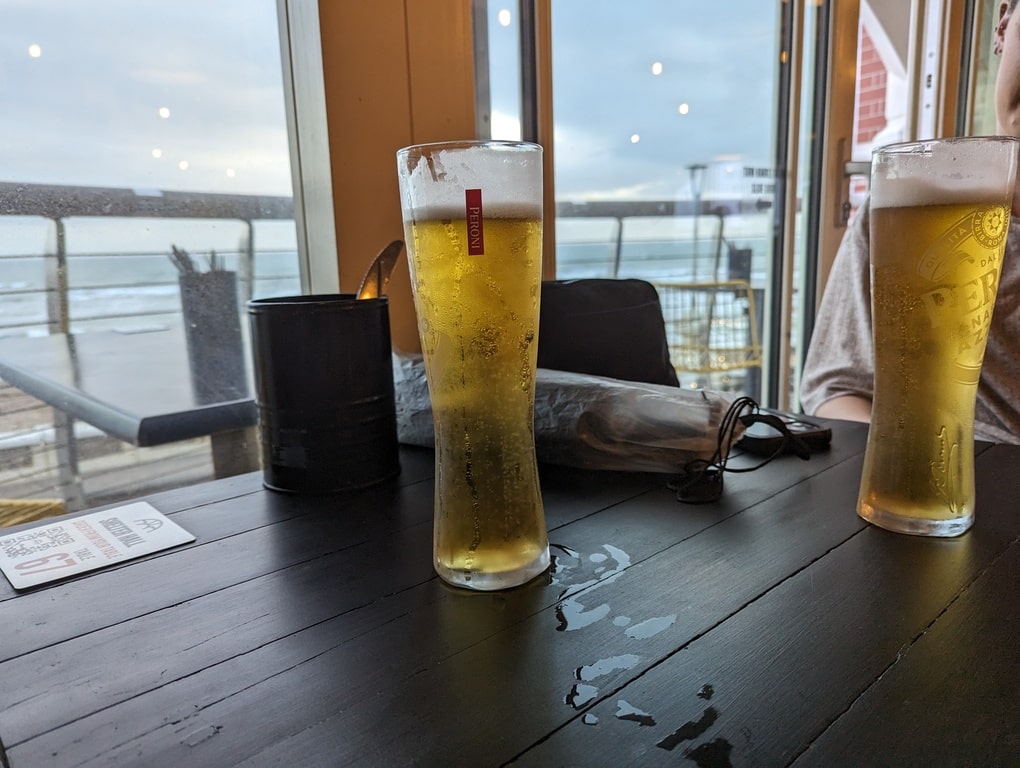 I'd also highlight Shelter Hall as another dog friendly spot you can enjoy a pint or two, albeit the tables are a little closely placed together, so you just have to hope the person sat next to you doesn't mind dogs. They also have a photobooth, so you can get a pic with your furry friend.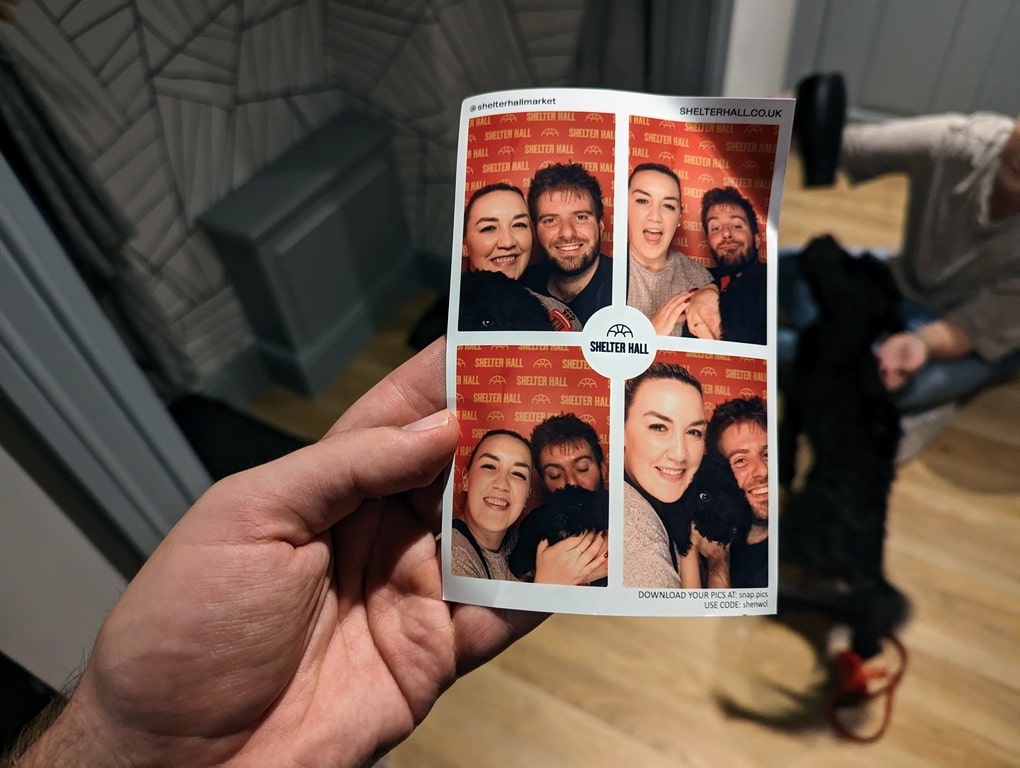 Dog Friendly Things To Do In Brighton
Having lived in Brighton for 15 years, I certainly feel comfortable talking about the different activities and experiences you can try while in the city if you're with your pooch. Inevitably, some of the big ones have to be left off. For example, you can't bring your dog on the Pier. But hopefully you will have enough on your itinerary from the list below:
1) Visit The Beach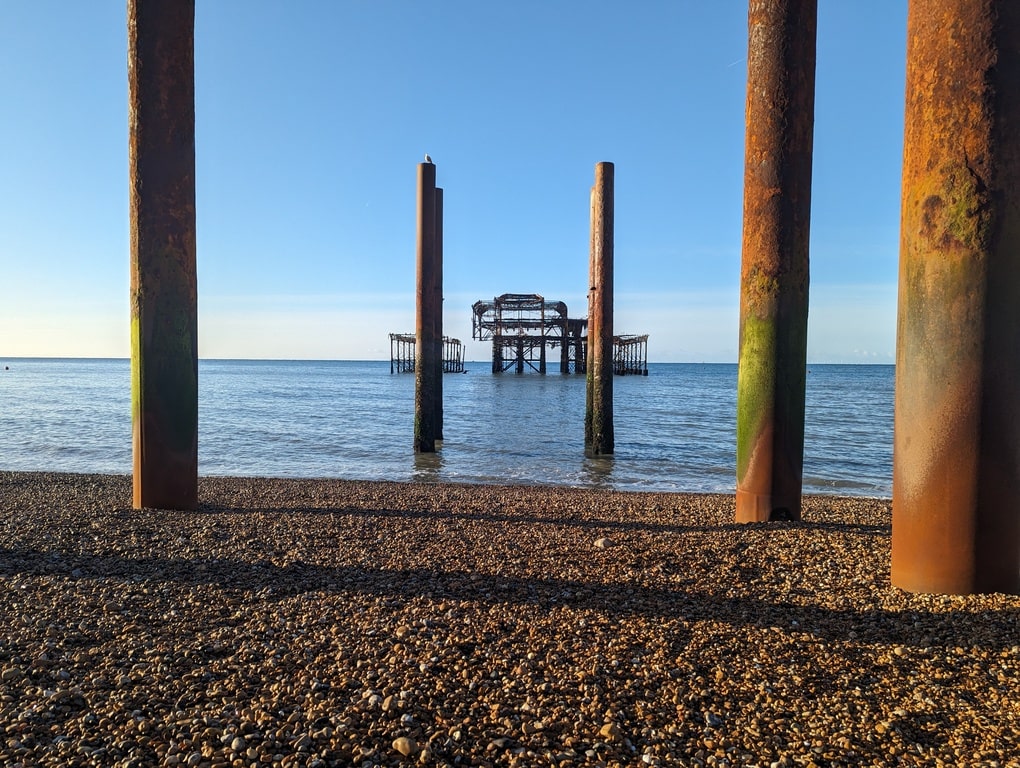 It was inevitable this one would make the list, but I was so excited to take Ruby to the beach! If you go early in the morning then it's virtually empty, whereas if you arrive midday during the peak season it can get pretty rammed.
Make sure to avoid the part of the beach straight down from the station, as this is the busiest area. You're allowed your dog on the beach, but they do have some rules during peak season when it's really busy that you can't necessarily take yours on, but I've seen plenty on there during those peak hours.
2) Go To The Pavilion Gardens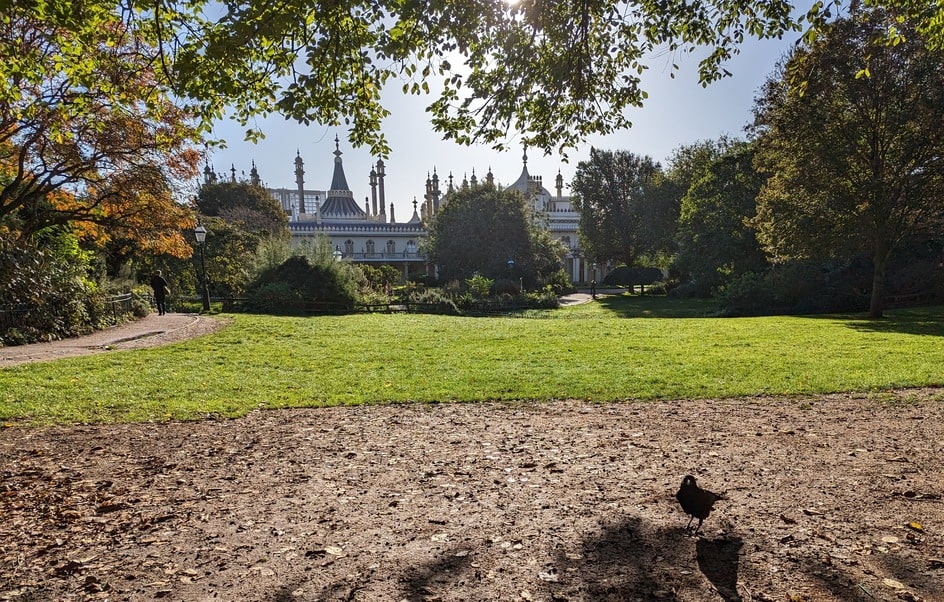 Another dog friendly area is the Brighton Pavilion Gardens, great to eat some lunch, see other dog owners or listen to the live music which is often in place from a busker. The backdrop of the Pavilion makes this a must for anyone visiting Brighton for the first time.
There are a couple of benches, but other than that you'll most likely have to sit on the ground, so this isn't the best option for those who may struggle with sitting on the ground.
Entrance to the gardens is completely free, you have to pay if you want to visit the museum or go inside the actual building, which aren't dog friendly, but the gardens is the best bit in my eyes.
3) Get Some Doggie Ice Cream On The Beach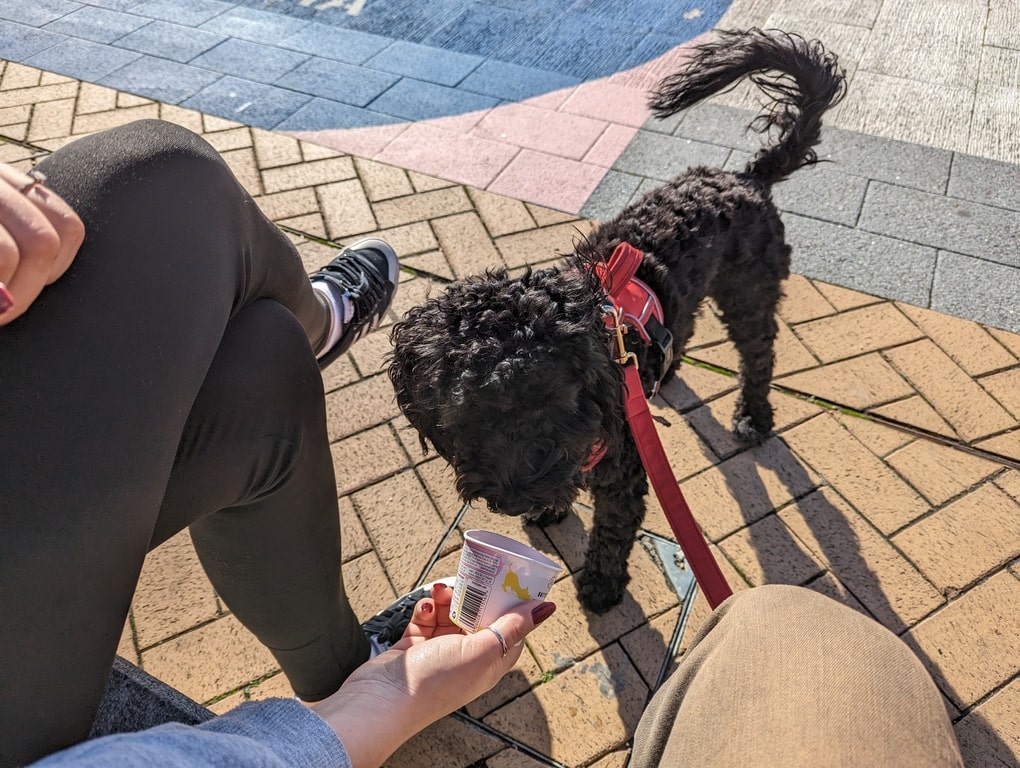 There are a few spots that offer this, we picked up some from Archie's Empawrium on the seafront, but a number of ice cream parlours also offer doggie ice cream nowadays.
These are dairy free, meaning they won't cause issues for their stomachs, but they look identical to the ice cream we all love and enjoy, plus it's a tasty treat for them to enjoy on their summer holiday.
4) Explore The Lanes
The Lanes is one of the most famous shopping areas of Brighton, not where you'd find your typical high street vendors, but the little tight lanes with unique stores (plus a hell of a lot of jewellery shops).
Located just off North Street, the Lanes are a great place to explore with the pooch, whether you're just window shopping or actually planning to buy something.
Not to be confused, you should also head to the North Laine, further up North (obviously) from the Lanes, where the streets are a bit wide and the shops are a bit more bizarre. There are also a number of cafes you can sit and relax in.
5) Hove Lawns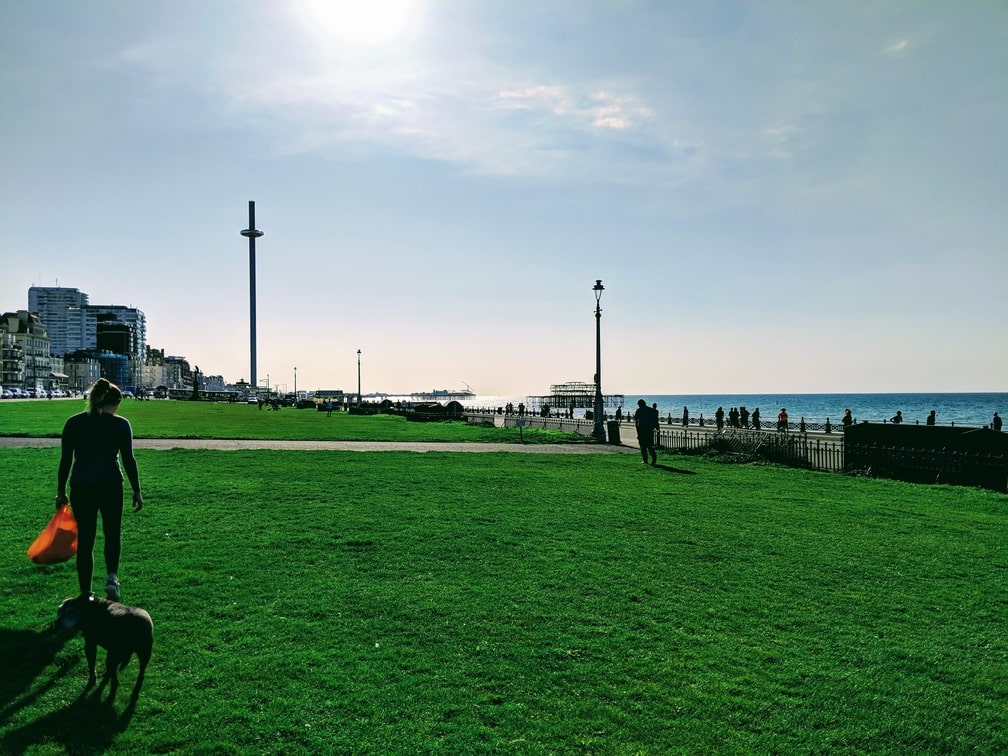 I used to live just up from Hove Lawns, so I have a soft spot for this one, but Hove Lawns is ideal for dog owners. It's arguably the most scenic 'park' you will find in Brighton, with beautiful views of the sea without having to sit on pebbles.
The only issue I would highlight around Hove Lawns is there is no gap between the grass and the bike lane and then the busy road. We didn't have issues, but if you had a dog that is more likely to dart, then this may have to be a consideration if you want to let it off the lead.
A benefit to this green area is you also have a public toilet available, so even if it is a lengthy walk from where you're based, you can quickly pop into the toilets, so you're not left short.
If you want a more expansive list of ideas, make sure to have a read of my list of the best things to do in Brighton.