If you've booked your summer break for Brighton then I'd love to help offer some guidance on where to stay, what to tick off the list and how to beat the tourist trap with my one week itinerary for Brighton. I'll try to highlight some of the most important things you should try and therefore you can pick and choose the ones to suit you or adjust if you are staying for a different length of time here.
I have worked this out as starting on a Saturday and finishing on a Friday, however once again, you may want to adjust this to your holiday plan so to get the perfect day plan sorted.
I have lived in Brighton for 12 years, so I feel like I've virtually done it all, while I have seen many great businesses come and go, as well as some truly bizarre attractions.
Day 1 – Saturday
If your hotel doesn't offer breakfast, then I'd recommend starting your day off at Billies café, located at 34 Hampton Pl, Brighton BN1 3DD. They have a great reputation among locals for their incredible breakfast, while if you don't manage to eat it all then you can take some with you.
Your next stop is the Pier, trying your turn at the 2p machines (a British tradition) as well as all the arcade games. Then as you head towards the back of the Pier, you will find the theme park style rides. These can be quite costly, at around £4 per ride, however you can pay for a wristband for £22.50 for adults or £12 for children under 1.2 metres, which gets you unlimited rides all day, which certainly works out cheaper if you plan on spending quite a bit of time here. This includes every single ride on the Pier, while my favourite is the log ride (providing it isn't too cold to get splashed). Also, if you purchase the wristband online then you can save 25%.
Once hunger starts to kick in again, I recommend heading into Kemptown to Curry Leaf, a brilliant Indian restaurant which is easily one of the best in Brighton. They actually have two locations in Brighton, but one of the locations certainly cooks the food better, therefore you should make sure your Google maps opts for the one located at 40-42 Upper St James's St, Brighton BN2 1JN.
Once the food has settled down a little, you may want to relax on the beach, allowing the food to go down. Once it has settled and you're feeling lively again, you could either head back onto the Pier or you could try out the Zip Wire, just to the left of the Pier. This is a great one for daredevils, but I wouldn't worry if you don't fit into that bracket, as I see a lot of children giving this a go, so it can't be too scary…Surely.
After a day of beach fun and rides, you need to complete one more seaside tradition, heading for some fish and chips. For those that aren't a huge fan of battered cod, you may want to try some battered sausage, a favourite of mine and Raquel's.
Day 2 – Sunday
Today I want to push the water based activities available across the sea front, of which there are several options. I used to love going out and kayaking on the sea, while the price isn't too bad either. They provide the wet suits, a changing area and the kayak's (of course).
Some of the places offering these water activities include:
Brighton Watersports Kings Rd, Brighton BN1 1NB
Kayaking 121-122 Kings Rd, Brighton BN1 1NB
Beyond kayaking, they offer plenty of other activities you can book on the day once you get down there, including snorkelling and scuba diving, paddle boarding, surf boards (not really the biggest waves but you can give it a go) and jet ski's (harder to book).
Of course, for the rest of the group who don't want to join in, they can relax on the beach and soak up the sun.
In the evening, I'd head to The Coal Shed, a modern restaurant located at 8 Boyce's St, Brighton BN1 1AN.
Day 3 – Monday
Brighton is renowned for both the Lanes and the North Laines, great shopping areas but don't worry if you're not a big shopping fan as this is just as much a spectacle, especially during the summer. The Lanes, located nearer the beach, between North Street and Bartholomew Square. There are no roads here, they are small little lanes you walk through, which offer some quite luxurious stores, plenty of cupcakes and fancy independent clothing stores. A number of people get their engagement rings from the Lanes.
The North Laines are located between North Street and Trafalgar Street, the true bohemian side of Brighton, with the most quirky shops you will find in the entirety of the UK. Below are some of the main highlights I can recommend on the North Laines:
Have an ice cream at Gelato Gusto – 2 Gardner St, Brighton BN1 1UP
Try out the vast range of musical instruments at Gak – 76-82 North Rd, Brighton BN1 1YD
Find some bizarre clothing at Dirty Harry Clothing, or Pretty Eccentric, or Beyond Retro, or To Be Worn Again
Look out for the street performers, including the legendary zebra playing the keyboard or the violinist on a tightrope. Many of these performers can be found on New Road.
I then recommend you stop for lunch at the Office Pub in the North Laines – 8-9 Sydney St, Brighton BN1 4EN. The reason why I highlight this pub is that it makes the greatest Thai food in the whole of Brighton. The red Thai curry is incredible, while it is also very reasonably priced. There is a calm atmosphere, meaning you can head there with your whole family, while I've also spotted a few celebrities eating lunch in there.
In the afternoon we are going to head onto a Graffiti tour of the city. I've written a post on the Brighton street art, while much of it changes each year, but the best spots are Gloucester road, Orange row, North road, Kensington street and Regent street just to name a few. When you walk out of the station, head down Trafalgar street and once you spot the Prince Albert pub, you will see some glorious graffiti, including the famous Banksy kissing policemen.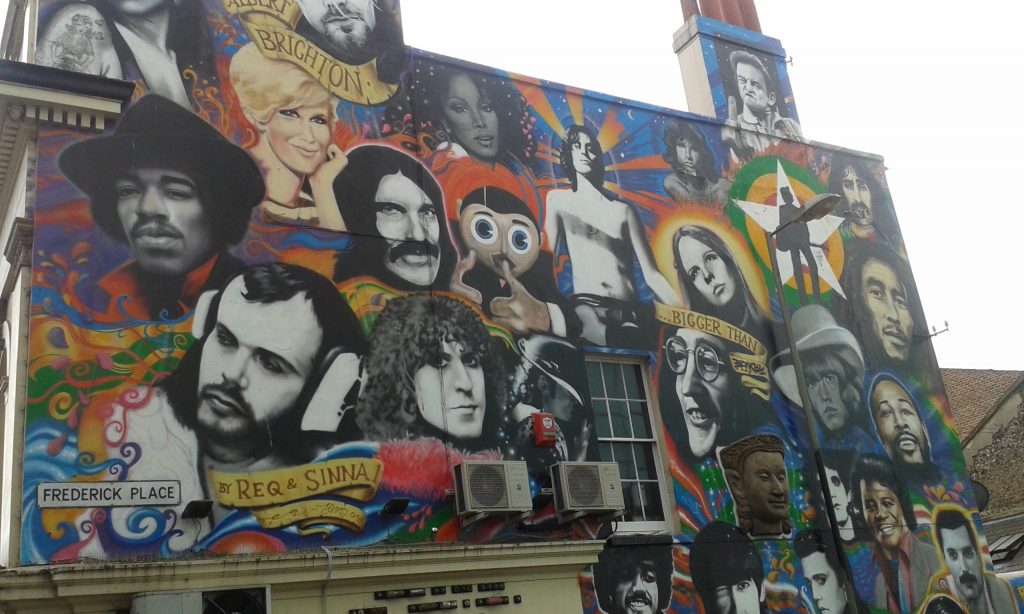 In the evening, I recommend combining two spots, a tip I have picked up and realised a lot of people do. You will have to first head to Burger Bro's, a place that has won numerous awards at creating the greatest burgers in the country! It's located at 97 North Rd, Brighton BN1 1YE.
However, they don't really have a seating area and the burger comes without chips, so then we take the 5 minute walk to BeFries, a small Belgium fries store at 46 West St, Brighton BN1 2RA, which will allow you to get the accompanying chips with a wide selection of sauces. My memory is shady, but the truffle sauce was incredible.
Day 4 – Tuesday
You might want to have a look in advance, but today you are going to watch a movie at the longest running cinema in the UK, the Duke of York. It has also won the award as the best cinema in the whole of the UK, so this is more about the experience than simply watching a movie. There are only about 4 showings the entire day, which is why you will have to look up potential options in advance, however if you're going midweek then you should be fine with getting a seat with plenty of room. The Duke of York is located on Preston Rd, Brighton BN1 4NA.
Being at the top of London Road, I'd now recommend one of two options for lunch. I'd either go for the Sunbird Deli for a vegan dish (109 London Rd, Brighton BN1 4JG), Fatto A Mano for a pizza (77 London Rd, Brighton BN1 4JF) or Carlito Burrito for some Mexican food (12 York Pl, Brighton BN1 4GU).
Following lunch, you are in the home of charity shops, so it is time for a little more shopping to find a bargain. I'm not exaggerating when I say there are a fair few, I'm talking about around 15 charity shops all within a 5 minute walking distance on London Road.
After shopping, you should next head on to a cookery class at the Brighton Cookery School (64 London Rd, Brighton BN1 4JE). These classes can be booked in advance, including macaron masterclass, canape creation, Spanish tapas, pasta perfection, Indian, Thai, Sushi and plenty more.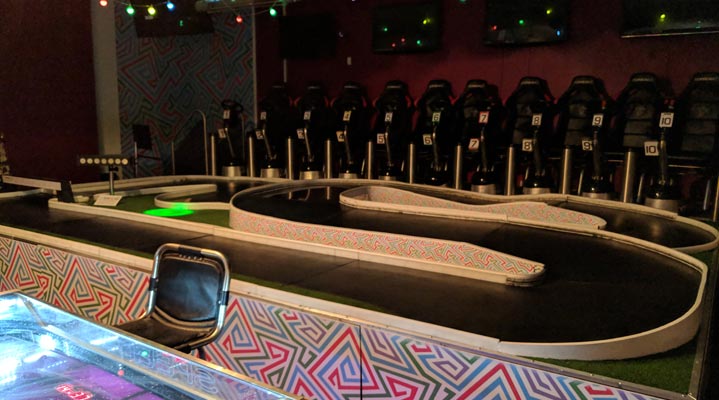 Near the top of London Road I then want to recommend a visit to The World's End. Sure, you can get yourself a pint, but it is the activities I really want to push. They have an escape rooms, which is great for group activities if you fancy a challenge. They also have a number of VR machines setup downstairs, while you can play multiplayer on your own sets which is surreal. However the true magic is upstairs, with a huge arcade which is pretty much empty, meaning you can go on whatever you want. My favourite has to be the giant racing game, much like a huge version of Scalextric. You can also get yourself some dinner from The World's End, unless somewhere else tickles your fancy.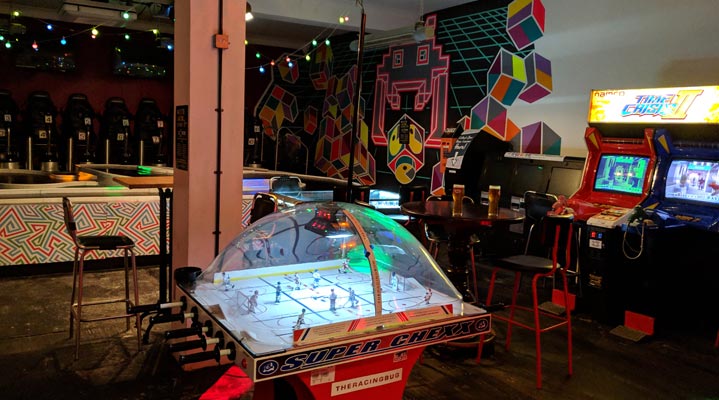 Talking of escape rooms, you could also check out another one at the bottom of London Road at The Hobgoblin (31 York Pl, Brighton BN1 4GU) called the Bewilderbox Box Initiative.
Day 5 – Wednesday
Today we're going to head somewhere a little different, over to the Marina. The main way you can get there is by the 12 bus. The bus comes every 6 minutes and has multiple stops throughout Brighton so you can find the one closest to your hotel.
There are a number of things you can do at the Marina, therefore rather than dictating your plan, I'd rather offer some ideas for you to pick the best for you.
Power boat ride
Globalls crazy golf
Sailing sunset cruise
Jet ski tour
Bowling
Cinema
Walking along the front and taking plenty of photos of all the boats
Volk's electric railway
It should be noted that there is a huge parking area, meaning you can bring the car if you prefer over the bus.
There are also a number of places to eat or drink, including:
Nando's
Las Iguanas
Memories of India
The Brasserie Fish & Grill
Gourmet burger Kitchen
Five Guys
Pizza Hut
Bella Italia
Wetherspoons (for a cheap drink)
Day 6 – Thursday
Today we're going to be a bit more of a tourist, making sure we tick off all those great sights. I'd like you to start by heading to the Royal Pavilion. The cost of entry is around £15 for adults and £9 for children, however you can also get a deal on a family ticket.
The Royal Pavilion is quite a sight, looking more like a building constructed in India than Brighton, but just as beautiful as the inside is the gardens surrounding it. Providing you have some good weather, I'd recommend sitting in the gardens and having a picnic. There is normally a busker playing soft music for everyone to listen to, making it quite a nice relaxing part of the week. Just a quick reminder that you can also find Brighton Dome right alongside the Royal Pavilion, which is a great arts and music venue, host to Eurovision where Abba became winners. You could also combine your trip to the Pavilion by checking out the Brighton Museum and Art Gallery.
Once you have finished your picnic, I recommend heading towards the Pier, where you can visit the Sea Life centre, located on Marine Parade. This is a great activity for families, while once again you will have dodged some of the weekend crowds by doing this on a Thursday.
Following your trip around the aquarium, I want you to walk along the seafront towards Hove, until you reach the British Airways i360 (Lower Kings Road, Brighton BN1 2LN).
A trip up the i360 lasts around 20-30 minutes, however there are no toilets up there, so I recommend going to the toilet at the bottom before you head up. There are also a number of slightly more bizarre trips up you can book, such as a silent disco ride or even yoga in the sky (which takes place in the morning).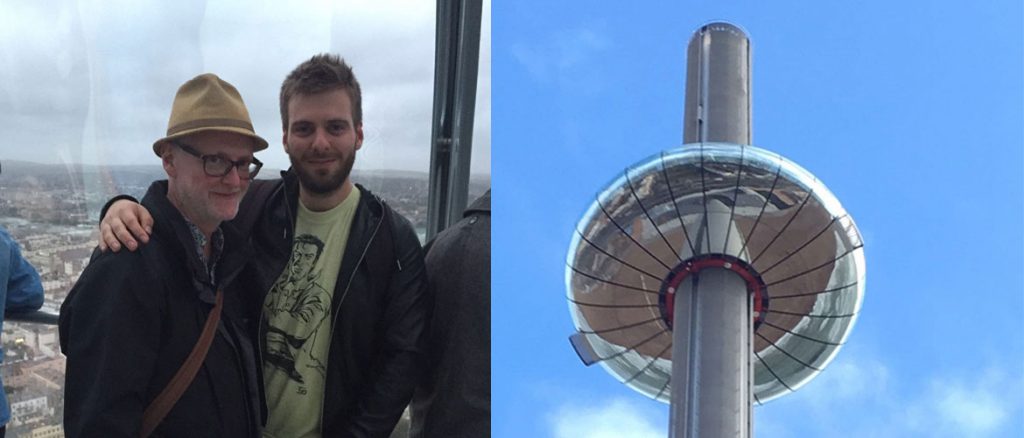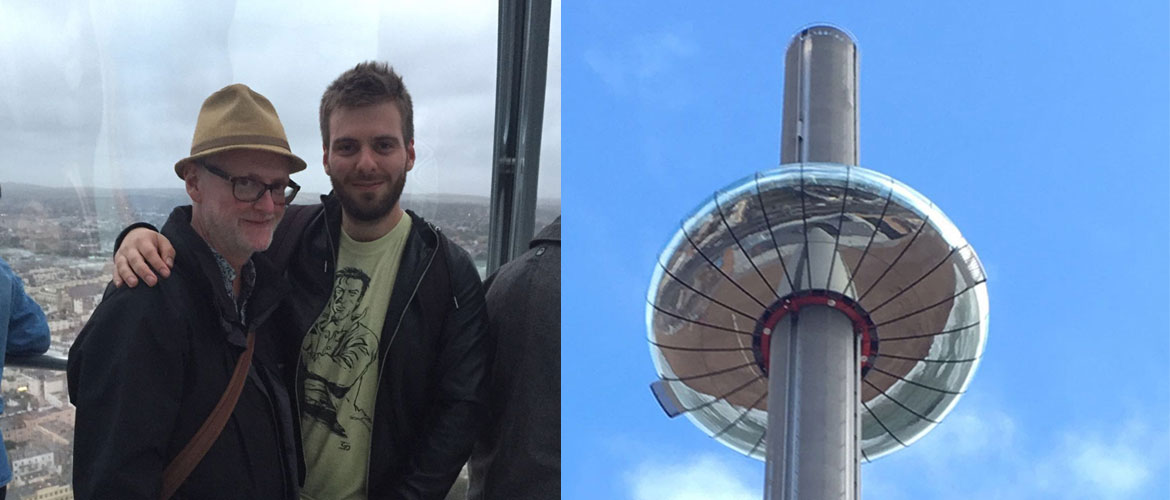 In the evening, I can strongly recommend some live comedy action at Komedia. If you head onto Groupon (in advance), you can often book the tickets for live comedy on Thursdays at a fraction of the price. This is based on a few smaller acts getting their chance, so you never know if you might be seeing a star in the making, we have seen some gems here. The tickets on Groupon include a meal, which is a burger and chips, not great tasting but cheap when you work out the total cost.
Day 7 – Friday
We're on our final day of the week and I hope you have had great fun along the way! For my first activity on Friday, I can recommend the Brighton Food Tour. This activity starts at 11am and takes you up until 2pm.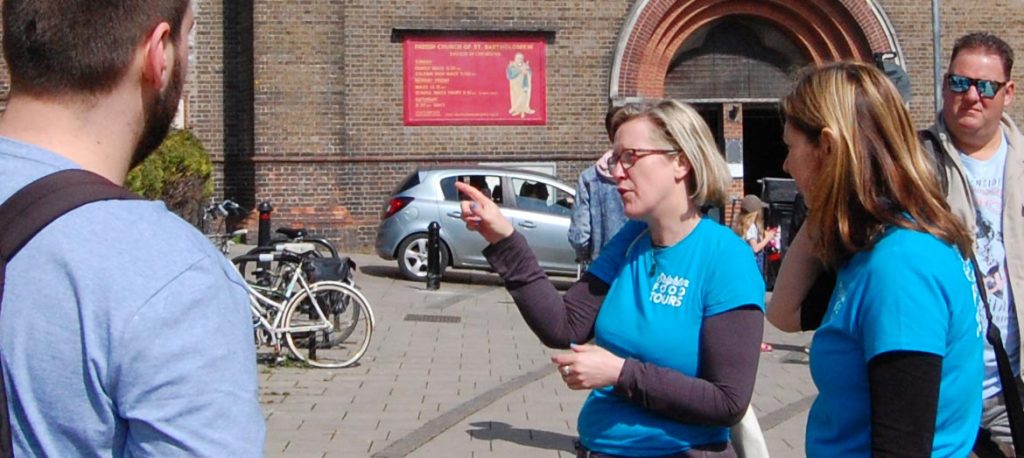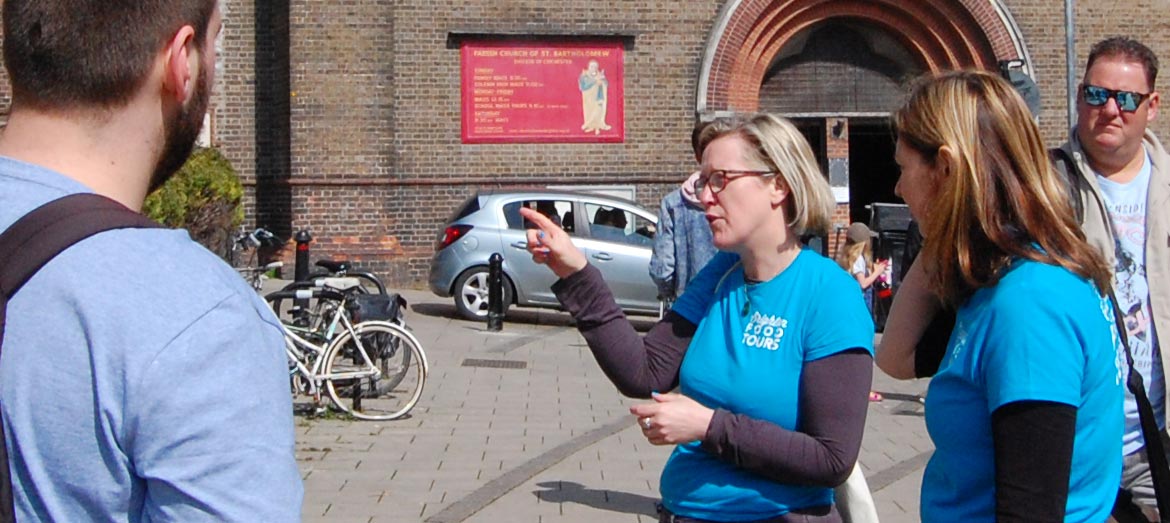 It might vary since I took the tour, but this could include some gorgeous garlic houmous along with falafels, a homemade melted hot chocolate and some award winning cheese, just to name a few.
Providing you're not too full by the end of this, you can then head on to the Brighton Toy and model Museum – 52-55 Trafalgar St, Brighton BN1 4EB.
If your energy levels are still there then you can finish it off with a trip to Phileas Foggs World of Adventures at Sussex House, Crowhurst Rd, Brighton BN1 8AF, an immersive and interactive theatre experience. However, if you're starting to lag by this point then I recommend heading for dinner, at the Chilli Pickle – 17 Jubilee St, Brighton BN1 1GE.
Final ideas
I have tried to offer my best ideas for a week, however you may want to go through my list of birthday party activities in Brighton for inspiration. I have also listed some other options below:
A trek through Devil's Dyke, ending with a pint in the local pub
A ghost tour, taking you through the South Lanes
A sewage tour, not exactly a popular option for everyone, but something quite unique!
Wakeboarding over in Hove on their specially built venue.
If in the winter, you can do ice skating on the Royal Pavilion ice rink