When you're a travel blogger, you get used to travelling around a globe, but not inside of one! But that is exactly what I was able to do when I was attended the unveiling of the Bubble Football World Cup in London! This was an opportunity to play a brand-new sport, burn a few calories and in general have an awesome day out in the Capital.
The game is much like your classic five-a-side sunday mash-up down the park, but with an added bonus (or handicap) of having an inflatable bubble around you from the waist up. This allows you to bump and bounce into players, walls or the floor, making it a hilarious yet difficult sport to master.

I got to play a few games with other journalists who were invited, involving members from BBC, Mundial and Yahoo Sport. I managed to score a few goals but the game was extremely difficult due to being hit by other players all the time. Just as you think your about to storm through on goal, you're hit from the side by a giant blur, and due to the way the bubbles work, you are sent flying. Obviously I took my revenge! That's the great thing about bubble football, because of the protection it means you can hit without worry for the other person. When you work up a sweat though it can be difficult to wipe your brow because your hands are tucked in with your body. This makes it difficult to run as it is harder than you think to run with no swinging arms. Luckily games are short but furious! Each half was just five minutes, as you got pretty stuffy inside those balls, making that the perfect length of time.

Another cool part of the day was the chance to see Mark Harlow, who has some serious tekkers when it comes to playing with his balls. He is an exceptional freestyler and it was interesting to see him have a go with the bubble on too!
The world cup will feature countries from all around the world as well as some of those which were my favourites and were absolutely football mad. Countries like Brazil, China and Spain! It takes place just before the real thing in 2018, in Russia. The bubble version will be played in London. Shoreditch specifically.

England have not won the World Cup in over 50 years now and let's be honest, with the way it has been going in the last few tournaments the next one is still quite a way off. This means the Bubble Football version could be England's chance! As a proud citizen of this green and pleasant land I would love to see it. Especially now I have given it a go myself.
The organisers of the tournament, The Stag Company, are giving everyone a chance to represent this country of ours by running another tournament this year called The England Qualifiers, where the winning side will be the sole representatives of England in the world cup the following year. It will be a double bonus if not only England can win a world cup but also are a regular bunch of blighty locals!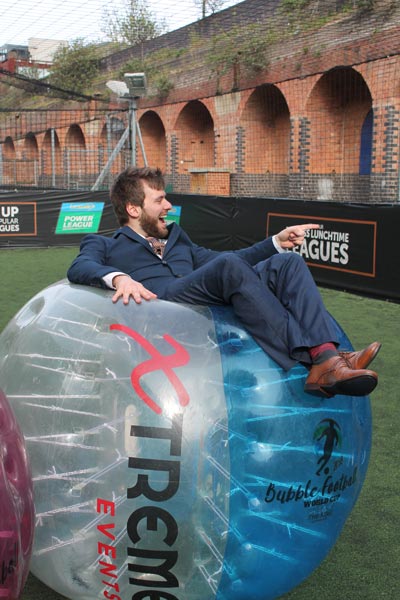 I want to say a massive thanks to the guys from the Bubble Football World Cup for such a wonderful time and also for the goodie bag filled with energy bars! I love my job sometimes!
If you are English and happen to be free on June 25th, then make sure you sign up with a few of your mates, you never know how far you could go!