Elegant. Picturesque. Luxurious. We simply don't have enough superlatives to describe the Clingendael Boutique Hotel in Kandy. Located on Coconut hill, you are surrounded by beautiful mountains and a golf course resort that would fit royalty.

We were met at the door, taken down the steps towards the mansion and then handed a smoothie as the bags were placed down. From the moment you arrive, you feel like a celebrity, with a team of staff on hand for your every beck and call. So read on for the complete Spaghetti Traveller review of the Clingendael Boutique Hotel.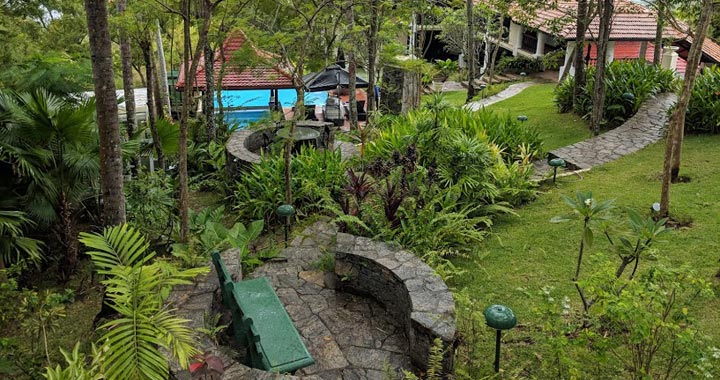 The Butler
This might sound like a normal concept for the rich and famous, however the mere notion of having our very own butler left us shocked. Friendly was an understatement when describing the incredibly kind and accommodating Mohinda. From dawn till dusk, he was there to help us with everything we needed.
The Room
We decided not to look up photos before arriving, so we were stunned silent when we walked in, as we admired the multi-floor kingdom. The bed was giant, I mean seriously, we could reach across to each other while sleeping.
There is also a bell button by the bed so you can call on your personal butler at any time if you need something. We're not used to this type of service, so we were a bit nervous when we first rang it, but Mohinda was so incredibly friendly.
A nice little touch (there are a lot of them) was the two pieces of chocolate cake at the side, which truly melted in our mouths.
There was a walkway upstairs within the room, leading you to a spare bed with rose pillows and one with a diamond in, truly glam! The views out the windows from the top floor were amazing as well, with us reaching over the tree tops for a more clear view.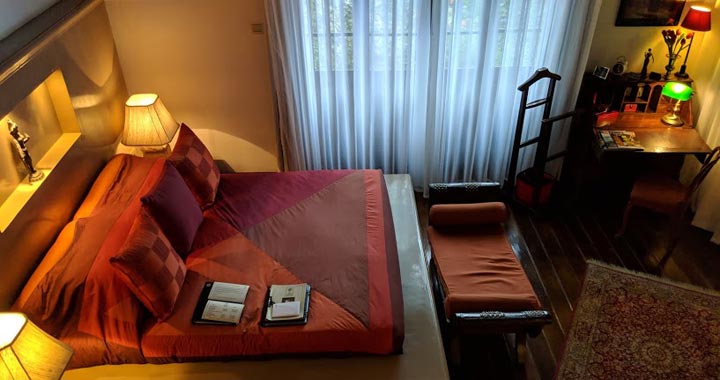 The Bathroom
I've never stayed in a hotel that has two showers opposite each other before, both power showers with giant heads, meaning there was no fighting for the water (*cough*, not that we normally fight over the water).
While there are bottles of water in the room, there were a further three in the bathroom, which were topped up when empty. This is a nice added touch as we sometimes forget to use bottled water when brushing out teeth, therefore we were very grateful!
The sink was so deep I could reach my arm completely inside, while the shampoo and conditioner smelt divine.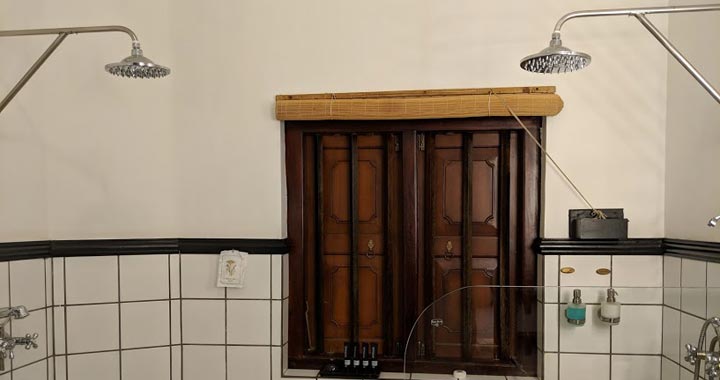 Insect repelling ring
While eating dinner, they came round with an arm band. Upon further inspection, it was an insect repellent ring to keep away mosquitos. They are a smart, non-irritant and safe way to keep away mosquitos, plus something showing they are going the extra mile. I'd still recommend applying some bite spray as mosquitos are inevitable in Sri Lanka, but I love the fact they offered us these.
Dinner
On the first night I had a vegetable lasagne, while Raquel tucked into a spaghetti Bolognese…I know, leave the judging glances, we have had Sri Lankan cuisine almost every other day, but we were tempted by the options we have regularly back home.
There was also a great wine list, while we spotted another love from back home, prosecco! Not readily available in most places, we didn't hesitate to buy a couple of bottles.
The view with dinner was just simply remarkable, overlooking the mountaintops and golf course, it felt truly surreal. We even had a visit in the tree from a baby owl during our meal, which was unbelievably cute.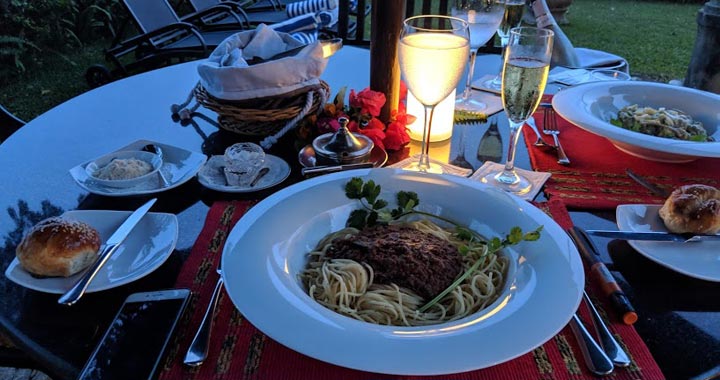 Breakfast
You start, as you do in Sri Lanka, with fruit for breakfast. It included the likes of watermelon, pineapple, apple, mango, dragonfruit, banana and grapes. You also get a smoothie, as well as some water and a coffee, so plenty to drink! The fruit also comes alongside pancakes and jam.
After your fruit and pancakes, you are then offered an egg based breakfast, such as Sri Lankan omelette, scrambled or fried, with the option of bacon on the side. I can 100% honestly say I have never had better scrambled eggs in my life, so I doth my cap.
We had a good three coffee's before making our way, while there was plenty of milk offered (sometimes an issue at other places) meaning I got to have more of a latte.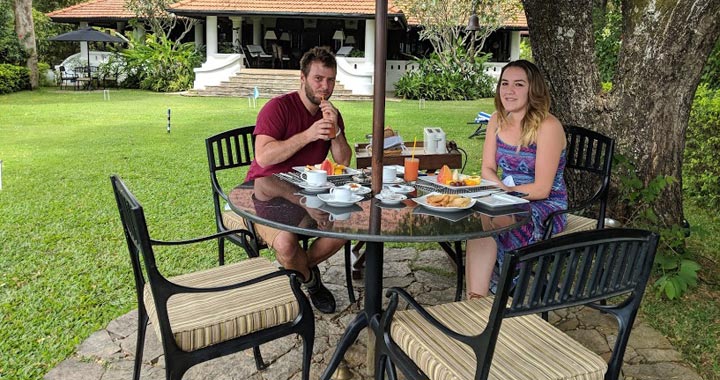 Croquet
Considering I never quite made it to Oxford or Cambridge, I can't say I ever played croquet (nor was I even close to one of those Uni's). But that just made it all the more intriguing. At the back of the hotel, where the views of the mountains are best and you tend to eat dinner, is a croquet course (is that the wording…Sure, why not). Mohinda also offered to teach us if we wanted to learn, therefore you don't have to worry about guessing the rules.
Swimming Pool
Who can say no to a swim while on holiday? We had a nice swim after breakfast, while they also have bar stools within the water so you can sit at the side and admire the views or spin around to the jacuzzi to chat to someone.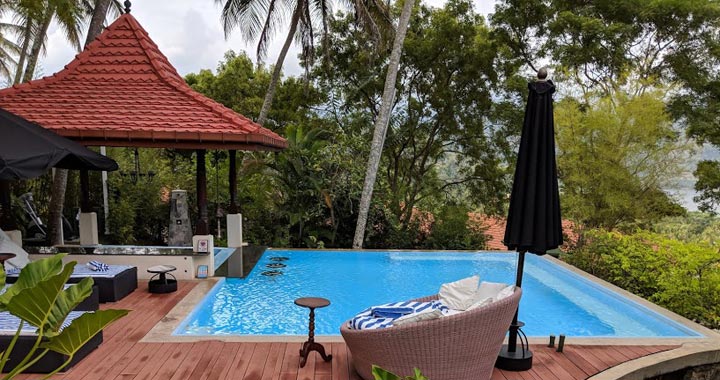 Jacuzzi
This is no normal jacuzzi, it is exceptionally spacious, to the point I was tempted to swim around in it! There was also a bell alongside, so soon as we wanted bubbles we could ring to the butler for him to turn it on.
The views from the jacuzzi, much like the pool alongside, are simply stunning.
Gym
We're on holiday, the chance of us using the gym much were minimal, but I was very happy to see one, as no other hotel we have stayed in on our visit to Sri Lanka has had one. I had all the intentions of heading out there in the morning, but that never quite happened.
It's an outside area, however it is covered so you can escape the heat of the sun. There are bottles of water on-site, as well as towels and an outside shower.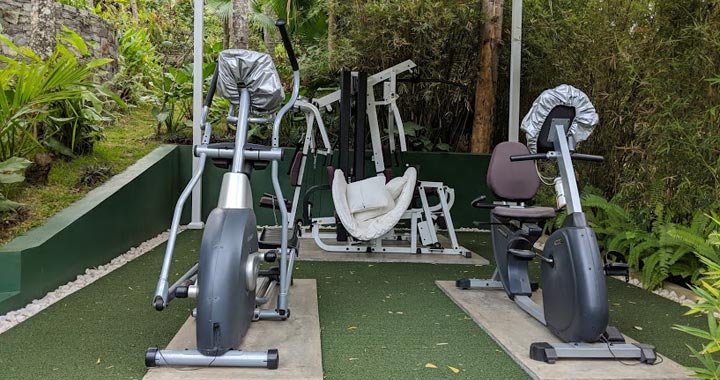 Exclusivity
We looked around the grounds and kept expecting to find other guests at the resort, but none were in sight. After speaking to Mohinda in more detail, he stated that there are 5 rooms on the giant land, which highlights the exclusivity, however there were no other guests at the time. This means every staff member is here for you, to cook your food, to make your bed, to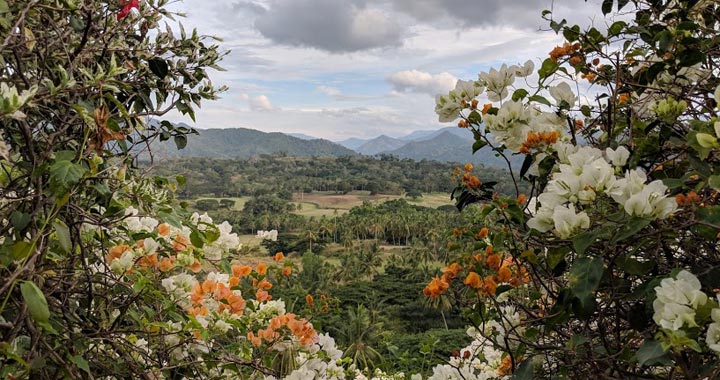 Massage
There are a number of spa treatments on offer, while they offered us a complimentary spa treatment, therefore I opted for a head massage. I won't lie, I'm always sneaking head massages of Raquel, however this was my first ever professional head massage.
How do I find the words for it…JUST DO IT. I felt like I was floating afterwards, I could barely stand I was so relaxed. Every bit of stress and anxiety from work just disappeared and was replaced by tranquillity and serenity. I felt more relaxed than I can ever remember being.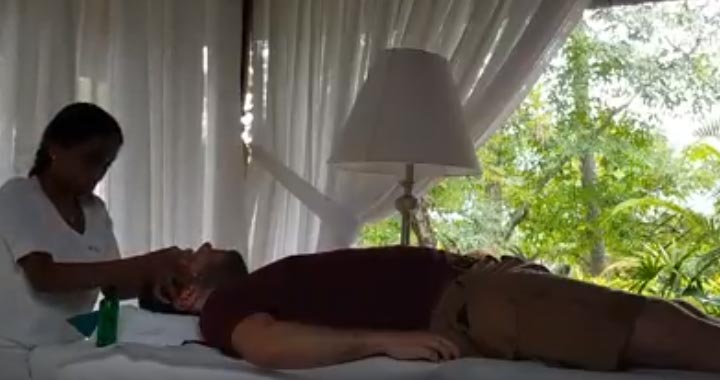 So if you're thinking of booking some of the massage options, take a look at the options below (prices may vary, accurate at time of visit):
Massage Therapies
Holistic – 60/90 minutes USD 40 USD 55 net
Energizer – 60/90 minutes USD 40 USD 55 net
Oriental – 60/90 minutes USD 40 USD 55 net
Detox – 60/90 minutes USD 40 USD 55 net
Target Massage
Head Massage – 30 minutes USD 22.50 net
Hand & Arm Massage – 30 minutes USD 22.50 net
Neck & Shoulder Massage – 30 minutes USD 22.50 net
Foot Massage 30 minutes USD 22.50 net
Golf
We didn't quite get time for a game of golf, not really being our sport it wasn't top of the itinerary, however we wandered over to the golf course to take a look and WOW were we impressed. The resort is huge, I'm not sure I could hit the ball that far. It might take 20 swings before I get close to the hole.
There was one person playing at the time, while there were an elderly couple in the bar alongside having some lunch, but other than that there wasn't another tourist in view. Once again, exclusivity was the feeling we were offered instantly.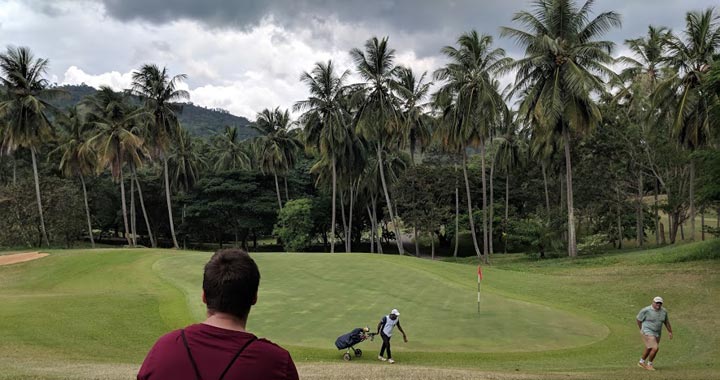 Conclusion
Would I recommend this place? Too right I would! We felt so incredibly honoured to stay at the Clingendael Boutique Hotel and feel like we have spent the last few days living like a king and queen.