We went on a trip all the way across Sri Lanka in 2019, yet when I looked back over all of my Sri Lanka content, I was surprised to see we hadn't once written a guide on the best things to do in Sri Lanka.
So, my apologies for this coming two years later than it should have, but say hello to the ultimate Sri Lanka bucket list.
1) Train Ride From Kandy to Ella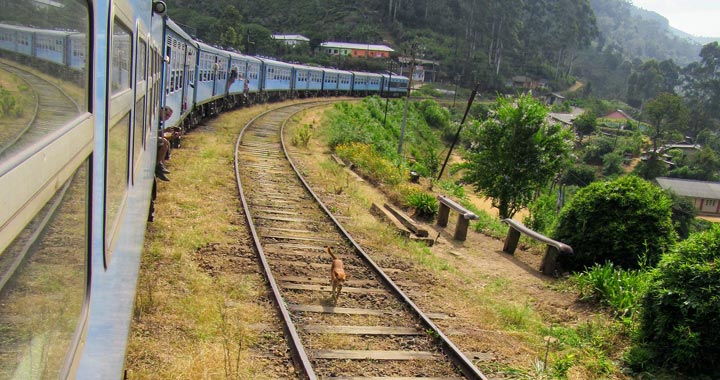 We're not talking about a packed tube journey in London, this is quite a unique experience, recognised in multiple guides as the best train journey in the world.
The 7 hour train ride from Kandy to Ella (or in the reverse direction) takes you through the tea plantations and offers glorious views of untouched lands, as well as rolling rice fields.
The famous photos are taken from the open doorways, where as long as there aren't too many tourists on your train, you can sneak a good spot and snap away the whole time.
Some even lean off the train to get a photo of each other, but I would strongly recommend being very careful and not doing this for obvious reasons.
2) The Temple of the Sacred Tooth Relic

I wrote about this one in my guide of the best things to do in Kandy, placing it in number one spot for the city due to its popularity.
This is one of many Buddhist temples which are worth checking out on your visit to Sri Lanka, but this one is arguably one of the greatest buildings you will come across, with a very interesting history to match.
3) Surfing in Weligama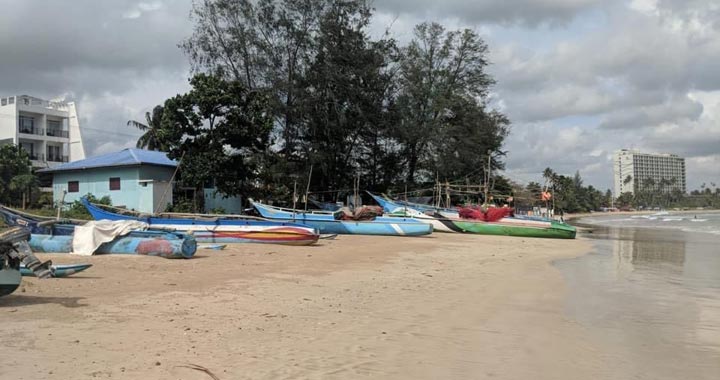 I might be absolutely useless at surfing, but for those that are eager to hit the waves or learn a new skill then this should be high on your agenda.
The waves were surprisingly big in Weligama, while every hostel and hotel was perfectly catered for surfing holidays, with surf boards available to rent all across the beach.
If this intrigues you, then I'd recommend having a read of my guide to surfing in Weligama.
4) Visit A Tea Plantation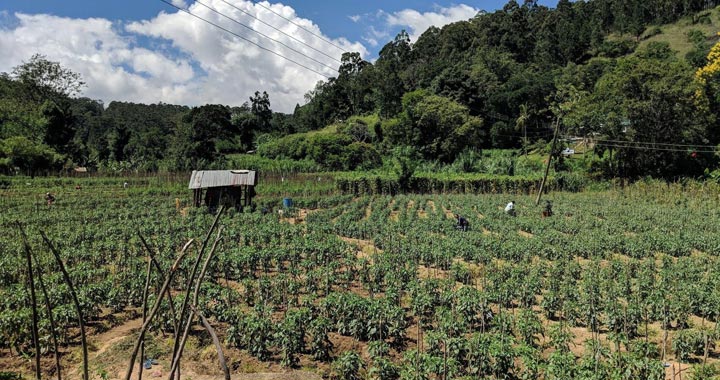 Have you ever drunk Ceylon tea before? It's one of the most famous sources of tea around the world, which is produced in Sri Lanka and is one of the country's biggest exports.
It tasted incredible, but equally I loved walking through the beautiful plantation, taking a guided tour and listening to the farmers talk about their families, their lives and experiences.
5) Ella's Rock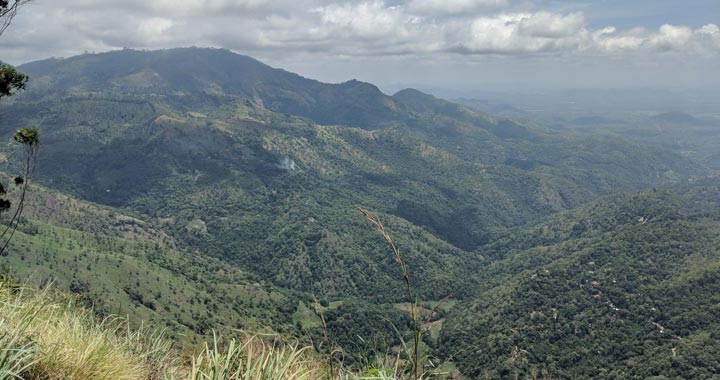 We had a guided tour to Ella's Rock, as we walked along the train tracks, before venturing up the mountainside to get to see the beautiful views we had been hearing so much about.
The heat was quite intense considering the time of year we visited, therefore I'd recommend packing plenty of water and some sun cream lotion.
Certain aspects were relatively steep, not scary steep, but more a warning to wear appropriate shoes as we stupidly wore flip flops (I know, amateur hour) and we were slipping all over the place.
But these were easily some of the most breath-taking views of Sri Lanka we came across.
Several parts involved going right up to the edge, or at least for the brave soles that didn't mind the steep drop, but I took photos from a safe distance.
6) Nine Arches Bridge
Another famous scene you will see in travel guides of Sri Lanka, the Nine Arches Bridge isn't too far from Ella's Rock, so both can be seen within a day.
You can walk between the two, however if you're feeling tired then you can always take a Tuk Tuk, which won't cost a huge amount.
Also known as the bridge in the sky, this was a colonial construction that is still in operation, so you do have to be wary when walking on the tracks that trains will come across.
Getting photos from the mountaintops above make for some great photos of the Nine Arches Bridge.
7) Learn To Cook From Locals
While in Ella, we went to a families hut, where they taught us to cook a Sri Lankan curry. The vegetables we pulled from the ground, while I had to make the coconut milk by rubbing the coconut husk against their self-built grinder attached to the chair.
One additional amazing aspect of this trip was that they had found a set of puppies that had been abandoned, so they had taken them in and looked after them, so we were surrounded by little puppies, making it really hard to leave!
If you do decide to visit a local hut (obviously arranged by a tour guide, don't just walk into someone's house and demand some dinner), make sure to tip a lot at the end.
8) See Stilt Fishing Up Close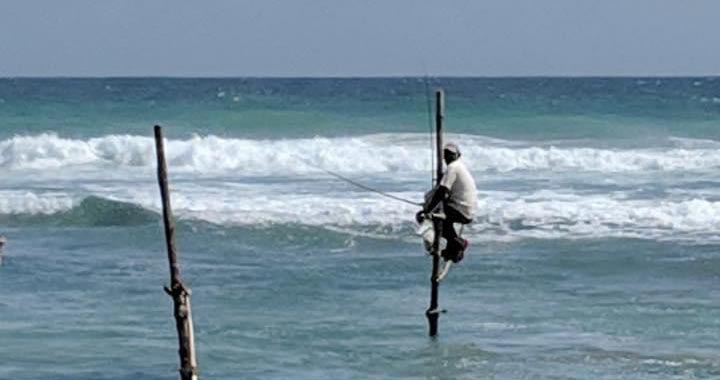 Stilt fishing is beyond cool, I found myself fascinated as I watched these fishermen sat on top of a log in the ground, as the waves crashed past them, catching the fresh fish of the day for the local restaurants.
This is a dying tradition which isn't so commonly seen anymore, however rather than travelling all over to spot this, I have one spot where I know you can see it directly from the resort (or at least you could in 2019, I assume nothing has changed since).
At the Mosvold Villa in Ahangama, along the South Coast of Sri Lanka, the fishermen were placed on the beach in front of the hotel.
The winds meant we stuck to the swimming pool over the beach, other than a bit of wave jumping, but it was also nice to relax with a cocktail in hand and admire the fishermen at work.
9) Sigiriya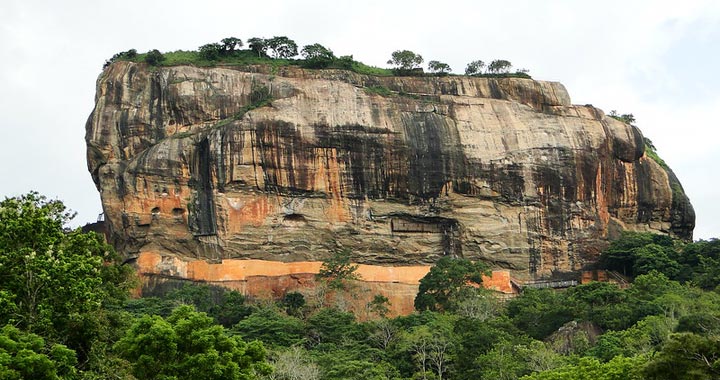 Known as 'Lion's Rock' or 'Lion Fortress', Sigiriya is found in the less commonly visited North Central province of Sri Lanka.
Surrounded by the forest is this ancient rock fortress which is now a UNESCO World Heritage Site. I hope your fitness levels are top notch, because you have 1,000 steps to climb to reach the top, so pack plenty of water.
I'd recommend going early in the morning to avoid the main crowds. The rock is a massive 660 feet tall and is one of the biggest tourist attractions in Sri Lanka.
10) Watch A Cricket Match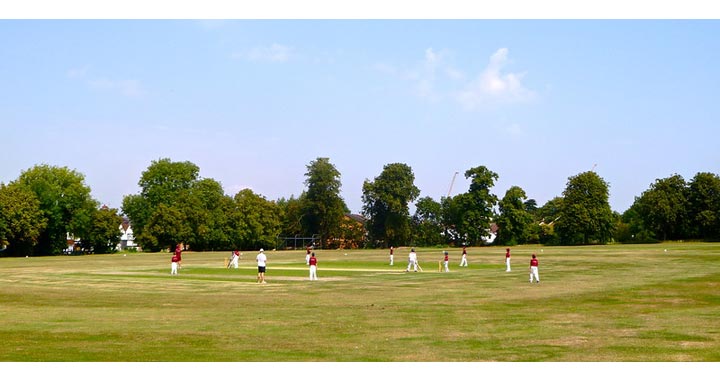 I was sat in a Tuk Tuk in Colombo when the driver asked me about my favourite cricket team. I claimed I wasn't a fan of cricket, I was a passionate football fan, at which point it all went silent.
I didn't realise at that point how obsessively addicted to cricket everyone was here. It was like he had shown me a picture of his baby and I had insulted the child's appearance.
But it's hard not to fall in love with a sport when you're surrounded by that much passion, so watching a cricket match live should certainly be on your agenda while in Sri Lanka, whether that's a huge game between India and Pakistan or just a local match, you will see people watching and feverishly shouting whatever the scale of match.
11) Gangaramaya Temple
Considering how much there is to see in Sri Lanka, I would recommend keeping your time in Colombo to a minimum, however while here you should make sure to visit the Gangaramaya Buddhist temple.
It can be tempting to get a photo, but I was reminded beforehand that they don't appreciate this and you don't want to cause offence, so don't take a photo when you're there, you can take a photo of the building from afar though.
12) Bahirawakanda Vihara Buddha Statue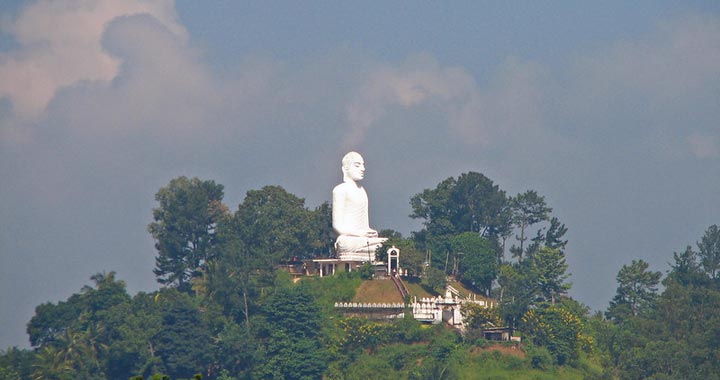 Another one of the most famous scenes of Sri Lanka, the huge state of Bahirawa Kanda is also known as the 'Big Buddha', probably as that's what all of us tourists simply call it.
Being just 2km from the Temple of the Sacred Tooth Relic in Kandy, you can definitely tick both of these experiences off within a day.
Standing an astonishing 88 feet high, placed on top of a hill, the white statue is something to behold up close, while you can spot it from most points in Kandy.
13) Udawalawe National Park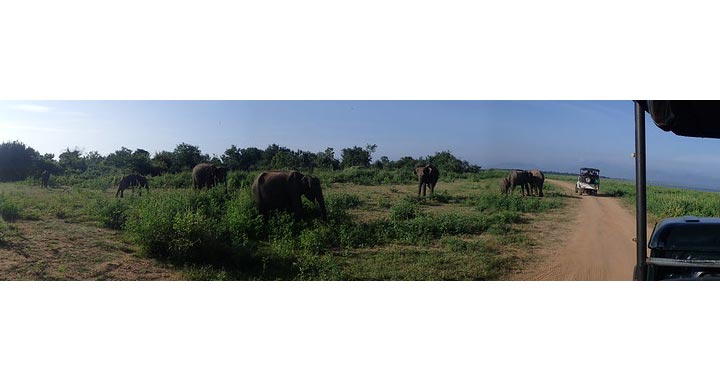 One of the best aspects about travelling is seeing the wildlife and this should be high on your list if you're heading to the South of Sri Lanka.
A safari tour is quite pricey, so make sure to save up your money for this and book it in advance. You can stay in the accommodation in the national park, taking early morning jeep tours so you can see the elephants walking past.
There are apparently around 500 elephants in the Udawalawe national park, found wandering in herds of up to 100, so this is quite a sight to see.
Compared to the African elephants we saw, the Sri Lankan elephants are much smaller, but you still need to practice caution when nearby, especially if they have a baby with them.
14) Explore The Markets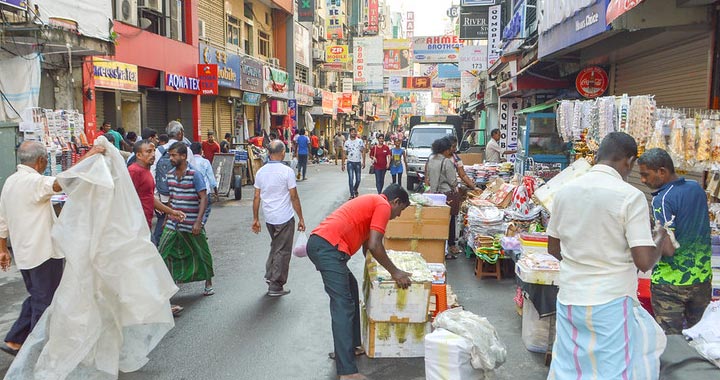 I love checking out markets while abroad, plus Sri Lanka has plenty of options, including Jaffna market or Kala Pola Art market.
This can offer you a great opportunity to get a souvenir for someone back home, or potentially some curry leaves for when you have a go at making a Sri Lankan curry for friends after returning home.
You can also pick up some Ceylon tea to take home, some aromatic spices, or even a traditional mask if you fancy it.
Plus, if you haven't packed some appropriate clothing and are struggling with the heat, you may want to pick up a sarees or a sarong.
15) Adam's Peak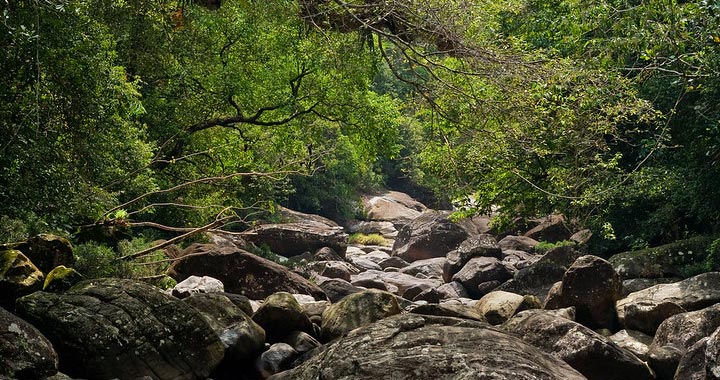 Found to the East of Colombo, Adam's Peak is not for the feint hearted, involving 5,000-6,000 steps, not in great condition, plus plenty of trekking, however you don't need to be an expert to make this climb.
Altogether, it should take around 3 hours to climb up and 2 hours back down, plus an hour at the top to admire it all, so make sure to leave early in the morning to give yourself plenty of time to do it all.
The altitude reaches 2,200 metres, while the area holds religious significant importance and should certainly be on your Sri Lanka tick list.
16) Ravana Falls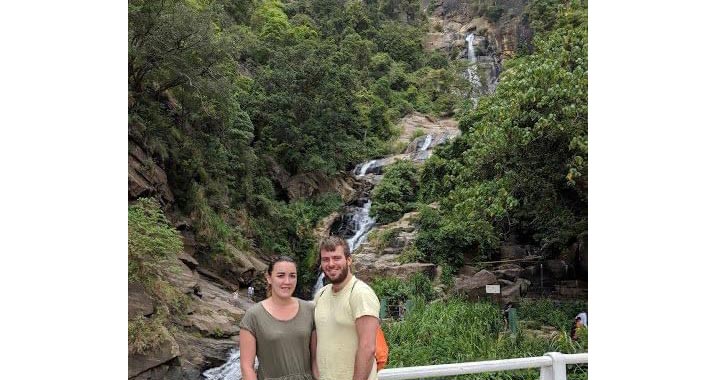 The water falls found in Ella were a nice sight, but it was quite a distance to reach by tuk tuk, were located alongside a road and were slightly underwhelming, therefore if you're short on time, I'd potentially give this one a miss.
Having said that, I don't want to put you off visiting, but they're certainly further down on this list.
The Ravana falls are just one of many waterfalls you can see in Sri Lanka, dropping 82 feet along the mountainside. One highlight I will say is that we saw it in the dry season, but apparently it's much better in wet season.
Where To Stay In Sri Lanka
We stayed at some gorgeous places while in Sri Lanka, therefore I've quickly highlighted our favourite hotel in each city below. If you're after any particular recommendations, don't hesitate to get in contact with us, we'll always do our best to offer advice where possible.
Getting Around Sri Lanka
While in Sri Lanka, we travelled around a huge amount, getting to all sides of the island, however it did mean we spent a huge amount of time in tuk tuk's. I will dive into the different forms of transportation available to you, as well as the pro's and con's.
Uber
When we arrived in Colombo, we were delighted to see Uber was in place, so we took this to all of the biggest tourist attractions.
On the day we planned to leave Colombo to go to the South coast, we got an Uber which was incredibly well priced and took the five hour journey.
However, upon leaving Colombo, we realised that was the only city where Uber existed, so be aware that it's simply something you can take while in the capital.
Tuk Tuk
This will easily be your most common form of transportation while in Sri Lanka, plus if you have the time available, you can take the tuk tuk journeys between cities.
I will say honestly, I've never seen such reckless driving in my life, on day one your heart will be in your mouth as you prepare to die constantly. But once you get used to it, you'll see the constant swerving between vehicles doesn't seem to lead to many crashes and you stop getting nervous.
You should agree a price before taking the tuk tuk, so you're not stung with a price you weren't expecting, but they're very reasonable here and you don't get people trying to hustle you like you would expect in Thailand.
Private Driver
If you're looking for a bit more luxury, you can hire a private driver, something we did on a couple of occasions, where you'll be sat inside a car with air conditioning.
I would normally prefer to take a tuk tuk and see everything up close, but the tuk tuk's can't go very fast and if you're taking a long journey between cities then you could half your time by going by car. There is simply no way we could have gone from Ahangama to Ella by tuk tuk.
Train
I've mentioned the train journey being one of the most popular options available to you.
Sometimes you might want to skip the train, as you have to fit around the timetable, the best tickets can be taken quite quickly and you might have to sit in 'third class' meaning no air conditioning and cramped spaces.
But the views you'll take in are unbelievable, so a train journey should certainly be on your list at some point during your holiday in Sri Lanka.
Things To Remember Before You Go
Tap Water
I wouldn't recommend drinking the tap water, we stuck to bottled water which is the general recommendation given out when visiting Sri Lanka.
Make sure the bottle you buy is completely sealed. There are also a number of water filtering systems you can use if you have to use tap water at any point.
Remember to use the bottled water when brushing your teeth, many people forget this. You also have to be aware that salads will be washed with tap water.