When we think of party holidays, we normally mention Ibiza, Ayia Napa, Cancun or Magaluf. However, often missed from this list is potentially the biggest party in the world, New Orleans. In fact, I previously wrote about the biggest party cities in the world and missed off New Orleans, but I'm going to have to change that soon as it is my favourite party town in the world.
A large city located in the state of Louisiana, New Orleans is nowadays remembered for Hurricane Katrina, the natural disaster that tore the city apart in 2005. A large amount of effort has been put into repairing the area and bringing business back, however the the nightmarish history of this city is incontrovertible.
The city has one other reputation which it is known for around the globe, Mardi Gras, consisting of drunk people partying the night away and girls flashing in exchange for beads. The real history behind why Mardi Gras occurs is to do with the preparation for the christian season of Lent, however I do not care for why it occurs, I am just happy it does!
And the best part about visiting New Orleans for a night out…It doesn't have to be Mardi Gras for people to be along the main strip, getting drunk beyond belief and hooking up with strangers. This truly was a mad town.
Rather than clubs, this was a great place to visit bars, as it was incredibly easy to start talking to everyone. It helps having a foreign accent as it is instantly a conversation starter, but everyone here had that festival attitude where they want to make friends with everyone. The main street in New Orleans was split where the first 2/3 were normal bars and the final 1/3 were gay bars. We spent the vast majority of the time in the normal bars, however one night we went into a karaoke bar down the other end of the street. We didn't end up singing, however we became very close, as I decided upon Secret Smile by Semisonic as my tune if I eventually went up on stage.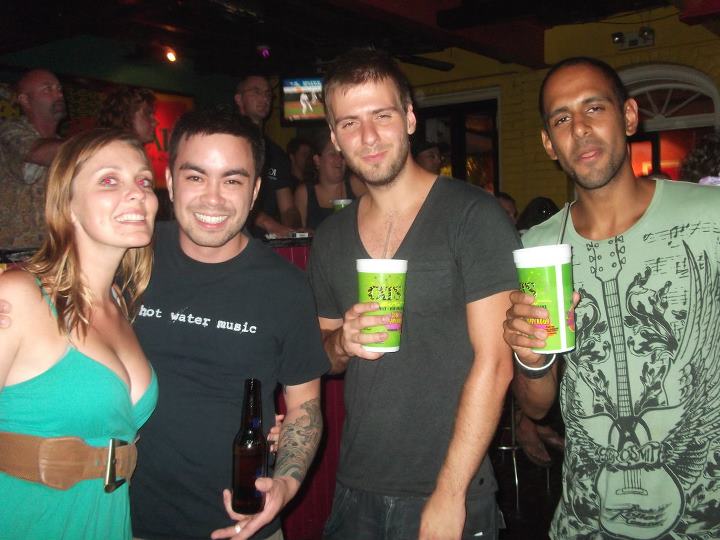 At the opening of Maine Street, there is an open bar which sells giant cups of cocktails, some of which are filled to the brim with spirits. Not wanting to insult the locals, we felt it was our duty to try at least one of every cocktail, as we walked along the street making friends with everyone we saw.
If you want to escape Maine street, you can really experience the real New Orleans as there are a number of jazz bars, all with a rich heritage and atmosphere in them. There were a number of street artists, however they much more talented than the average street artists, playing rhythms so fast it had my head spinning.
Remember to look out for pickpockets, I was pick-pocketed on the main street, and I doubt I was the only one that night to be robbed of my notes. I'm just glad it wasn't my passport!
Following on from a heavy night of drinking, two of the people I made friends with from the hostel asked me if I wanted to join them as they drove around New Orleans in their convertible. I had never been in a convertible, let alone standing up in one with the rooftop down and Led Zeppelin at full volume. At this moment I felt free and relaxed and incredibly jealous of the India Hostel staff. Once we got back to the hostel, I may have taken a small amount of illegal substances, without wanting to divulge too much in this area. What I will say is I spent the next four hours hallucinating £5 notes floating in front of my eyes.
One of the most unusual activities while in New Orleans consisted of visiting a house which was owned by a couple who converted the land to offer somewhere for the victims of the hurricane to have a bit of fun. There was a giant tree house in the garden, while they played dubstep music in the garden all day. It really pulled on the heartstrings that this couple had just allowed a whole city to enter their garden any day, any time, as a safe area to rest, socialise or sleep. When we arrived, their was no-one around except for the couple themselves, however it has been 7 years since the hurricane tore through this area.
New Orleans is also known for its tasty cuisine, which we were more than happy to delve into. I tried crocodile sausages, which was insanely juicy, hands down the greatest sausages I have ever had, while my friend had a Po'Boy which he absolutely loved.
Anyone know what type of music was invented in New Orleans….I'll give you 10 points….the answer is Jazz. I find Jazz music nice in small amounts, but I have to admit I love the saxophone and since visiting New Orleans I have bought a shiny new sax (not played it at all though).
If you plan on visiting New Orleans, I cannot stress how important it is that you stay in the India House Hostel! I travelled across the USA coast to coast, yet the India House Hostel was by far the greatest place I have ever stayed in my life! Well, since writing that, the Ammatara Pura Pool Villas has clearly run away with the accolade, but as hostels go it was certainly the best.
Where to start; For a price of around £11-£14 a night, we got a swimming pool, which was always filled with happy drunk travellers playing games and drinking beers. The people who stayed in the hostel all were nice, and we were there for a good while so we got a fair reflection of who stayed, it didn't seem to matter when one group left and another joined as they were all as fun as the last. We would head into town as a group of 40, people which I have on Facebook now and I have promised myself I will one day visit again.
For the ultimate hangover cure, they have a chef who serves you food (for a few pounds, not too much) such as an English breakfast or a smoothie. I settled for an incredibly tasty smoothie every morning, to make up for my alcoholic consumption the night before.
In the kitchen, there is a huge shelf filled with food that has been left behind and is welcome to the community. All i needed was cheese, and there was enough pasta and sauce to feed a town! Obviously, try and leave something behind for others as well, it's only fair.
The other cool thing about New Orleans, the storms are like nothing I have ever seen before! With lightning forks all over the skyline, and the entire building shaking from the thunder, I was completely awestruck. I sometimes even struggled to hear my friends talking when the thunder echoed around us.
While in New Orleans, we went on an alligator tour in a local river. The tour guide was incredibly funny with great historical knowledge of the local area and their way of life. The photo above shows one of the biggest alligators in the river, while there were hundreds of smaller ones. He also had a taped up baby alligator that we got to hold, which can be seen below: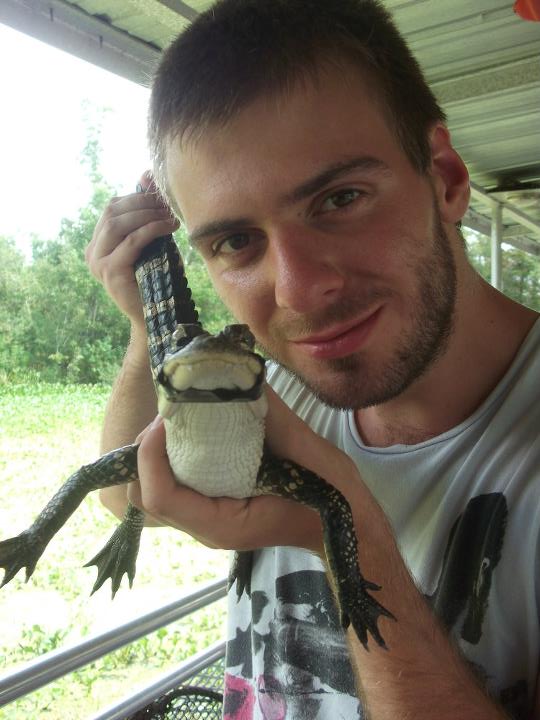 I have promised myself I will visit New Orleans again some time, so if you plan on going out there, let me know!